Oddsone Edouard, it seems , is in discussions…or rather his agent is…to sign a new deal at Celtic that will see him around until the end of next season, which would be nice.
Lennon himself has been involved in the discussions..
to which the French forward reputedly said;
" Je resterai. il suffit de sortir cette putain de langue de mon oreille.." 
The new deal will include a gentlemans agreement that he can go at the end of the next season, but also bumps up his price for when he does..
Meanwhile, the Cornavirus edges nearer to being the main hurdle to nine in a row..
The Scottish football authorities have announced a joint approach to addressing the implications of the coronavirus outbreak.
A response group including the respective Chief Executives of the Scottish FA and Scottish Professional Football League, Ian Maxwell and Neil Doncaster, has been convened to centralise guidance, evaluation and action on the impact the global spread of the virus will have on Scottish football. The group will also include the Scottish FA's Medical Consultant, Dr John MacLean.
It will have jurisdiction to consider implications for all professional domestic fixtures, domestic cup competitions, and men's and women's national team matches across all age groups.
At its first formal discussion this morning, the group has committed to a joint approach to ensure consistent and co-ordinated messaging to supporters, clubs, national teams, players, match officials, staff and other key stakeholders potentially affected by the escalation of the outbreak.
Ian Maxwell, Scottish FA Chief Executive said: "The safety of everyone involved in attending or participating in a major football event is our foremost consideration and given the developing situation locally and internationally, it is incumbent on the football authorities to speak with one voice in providing guidance and reassurance to stakeholders. This applies to matches hosted here in Scotland but also for teams participating in competitions outwith the country.
"Our Medical Consultant is in regular dialogue with experts and colleagues across the UK and beyond and we will be guided by the U.K. Chief Medical Officer as well as Dr Catherine Calderwood, the Chief Medical Officer for Scotland.
"While it is important to stress that the current government advice states the risk to individuals is moderate, nonetheless we are starting to see the impact the spread of the virus is having, with the postponement of sporting events across Europe.
"The response group will co-ordinate activity daily to ensure Scottish football takes the necessary measures to safeguard the wellbeing of everyone involved in the national game amid the outbreak."
Neil Doncaster, SPFL Chief Executive, said: "We are in regular dialogue with our counterparts in England and leagues in Europe to share news and best practice on what is clearly a serious and concerning situation.
"At the moment, there have been no indications that match schedules will be affected, but we are monitoring events closely and liaising with the Scottish Government to ensure we are as well prepared as possible.
"Together with the Scottish FA, we will co-ordinate the game's response to the challenges posed by the coronavirus outbreak in a responsible and planned manner. We will obviously update clubs and fans on any developments."
If, as some outlets are suggesting, well, screaming, this particular illness is indeed an apocalyptic pandemic, then it's good to know there are guys of the calibre of Doncaster and Maxwell co-ordinating a response.
Then again, there's much more to these kind of people than you think. They've even created a protestant storm to damage Ireland…

#StormJorge
All of Ireland is now under Status Orange wind warnings for Saturday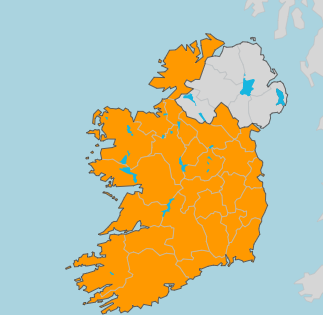 It's also possible that you missed another conspiracy that has been doing the rounds, or at least not acknowledged it.
Steven Gerrard , the latest manager of Scotlands latest club, has been "considering his future ", a response to the apparent fact that the players that don't like him aren't exactly jumping through hoops for him, and the ones that do are just taking liberties.
As he has underperformed in the two years he's been in charge, given the money he's spent, there is talk that the club want to replace him , probably with Graeme Murty, possibly with another fall guy who thinks it's easy to come to Scotland and rebuild your reputation, such as Neil Warnock or some other non-entity.
However, if they want to get rid of him, they will have to pay him, and they cannot afford that, so there have been one or two in the media beginning to pile on the pressure, with stories of his home life being not perfect, his morale being low and his general all round displeasure at the way things have turned out.
This narrative will remain sympathetic, as it gives him a chance to resign and save face, but if he doesn't , then you'll see more and more of the vitriolic fans getting airtime and column inches as the campaign for a fresh start begins.
Especially as they may yet have a few quid from their European run to make one last stand against a tenth successive Celtic title.
Whoever gets the gig will have a serious rebuild on their hands, as the core of their side is getting on a bit..Defoe, Davis, Macgregor…..
and the few that can be counted as decent players will want out…Morelos, Tavernier, Barasic…and of course, as they will have to find another £5m for Kent, it's likely that even as we speak they are trying to find the receipt so they can return him to Liverpool under The Sale of Goods Act, which insists that all goods bought must be fit for the purpose they were bought for…
As you can see, one of their online forums seems to have made it's collective mind up on the current situation…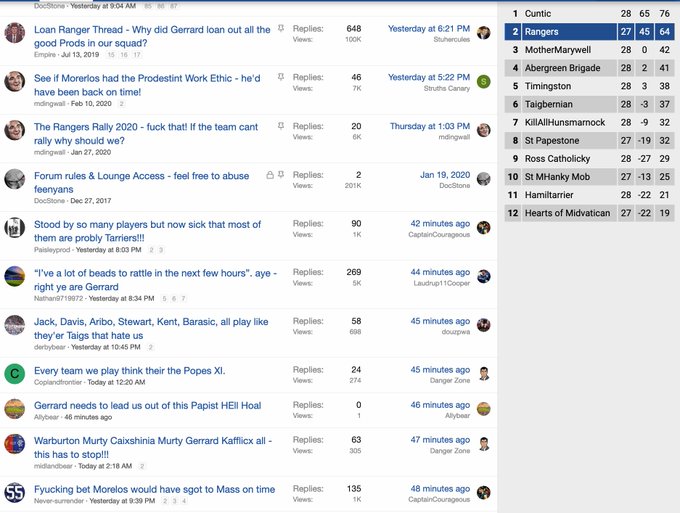 They do seem somewhat obsessed with religion….
One of them threw his hat into the ring for any possible managerial vacancy when he tried to rally the troops with a different reason for their recent cup exit…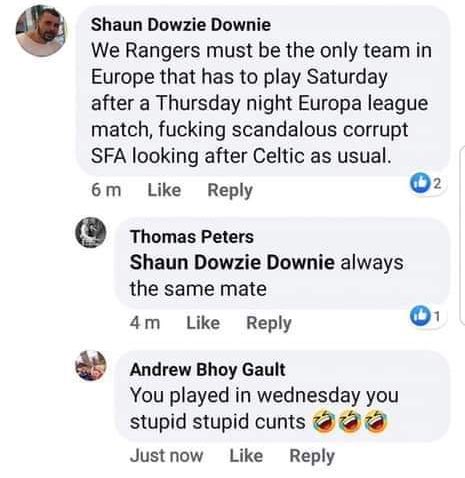 Back with the good guys, well, sort of good guys, the bizarre career of anthony Stokes took another twist when he arrived at the airport…
FORMER Arsenal forward Anthony Stokes was nicked by armed cops after getting off a plane, it has been claimed.
The ex-Celtic star, 31, was arrested over an outstanding warrant at London's Gatwick Airport as he returned from a Dubai break. 
Stunned witnesses claimed he left the Emirates jet flanked by officers before the arrest.
The forward — now with Iran's Persepolis FC — was due to appear on Monday at Hamilton Sheriff Court in Scotland.
One passenger who was on Friday's flight said: "I heard raised voices in the cabin and we were all told to stay in our seats for them to deal with someone on the plane.
"They asked for Mr Anthony C Stokes to come to the front of the plane with his luggage.
"He was walked off and I later saw him and another man standing by the baggage belts."
A spokesperson for Police Scotland said: "A 31-year-old man has been arrested in connection with an outstanding warrant."
Stokes, who made one senior appearance for Arsenal from 2005-07, earlier shared pictures with Instagram followers of his stay at the luxury Palm Jumeirah Dubai hotel.
His club revealed they had no idea of his whereabouts after claiming he failed to return to training — and it was alleged he had blamed coronavirus.
It comes weeks after the Irish frontman signed for Persepolis on a six-month deal.
Amir Shafizadeh, who runs the club's Facebook page, said: "Stokes said he's in Dubai as he didn't join us since our last match.
"He asked our coach for permission to stay two more days in Dubai because of his family.  
He could have been a contender, you know…
We have to go back to last Thursday….yeah, I don;t want to go back there either…for the last caption competition…
Today..