Today's William Hill Scottish Cup match against Celtic will go ahead as planned, following checks and discussions with the relevant authorities this morning. 
 Wrap up warm and take care on the roads.
We've been in touch with our source at the Met Office, and he's given us the latest weather forecast…
 If nothing else, it should make for an entertaining game, although we could probably do without the excitement.
 The Cup throws up the occasional surprise and Celtic have been on the receiving end of more than their fair share.
What we should do is take a leaf out of the new approach favoured by the new club on the other side of the city. They cruised past Hamilton yesterday with a 4-1 win , and their investment in quality paid off again with Alan Muir putting in another man of the match performance.
 He seems to specialise in Cup games …you'll remember he failed to spot a handball by Josh Meekings that denied Celtic a goal during the Deila Days, and yesterday he failed to spot a handball from conor goldson,who dived spectacularly to save a cross which threatened the "rangers " goal.
 No penalty for that, but he was on hand to award his favourites their customary spot kick to help them out of a hole.
Muir is one of the more dependable Ibrox employees, having helped them out at this stage of the competition last year as well, when Kilmarnock looked to stop the Scottish cup income reaching the somewhat sparse Ibrox coffers…
At the same stage of the cup last season Alan Muir denied Killie a penalty after 3 minutes and sent the Killie goalie off after 25 minutes for an absurd "elbow" on Kamara. After that, rangers went on to win easily
Muir is doing well, but keep your eyes out for this fellow as he makes his way through the grades…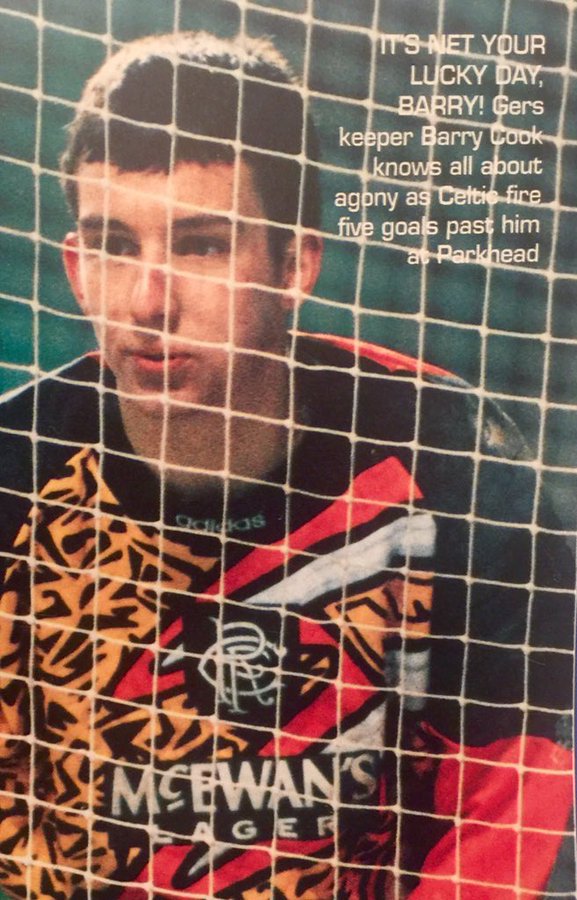 Celtic have former Ibrox favourite Bobby Madden in the middle today,and there's a reason he's a former favourite over there.
 He seems to have realised that unless referees start to do their jobs properly there is little chance of Scottish refs getting those gigs in europe and beyond, as UEFA and FIFA have dropped them from their lists, so he is probably the best of a bad bunch these days.
 Hopefully, he won't feel the need to ingratiate himself with his colleagues at the SFA or his chums at the lodge any more,and we'll get a fair crack of the whip today.
 Yokerbhoys preview is elsewhere on the site, and I tend to agree with him. Celtic should have too much firepower for Clyde, but there's always the weather, the officials and the fact that it's a one off game to consider.
 Let's just get the win, and get out of there.
The go ahead for the game, despite the somewhat adverse weather, is probably down to the TV companies. Falkirk played Hearts last night, and some of the tv pictures, from the BBC, showed that there were probably better places to be than at the football….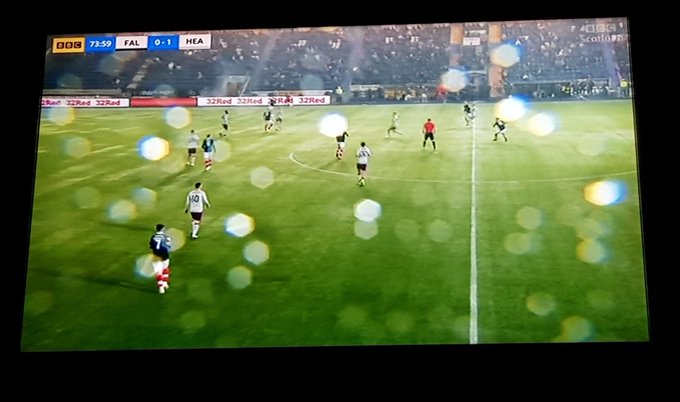 Then again, it's the BBC, who have recently proved that not only the camera lies, they perhaps embellished it a wee bit to add to the drama,as Falkirk TV seemed to be better prepared, and it's amazing the difference a paper hanky can make…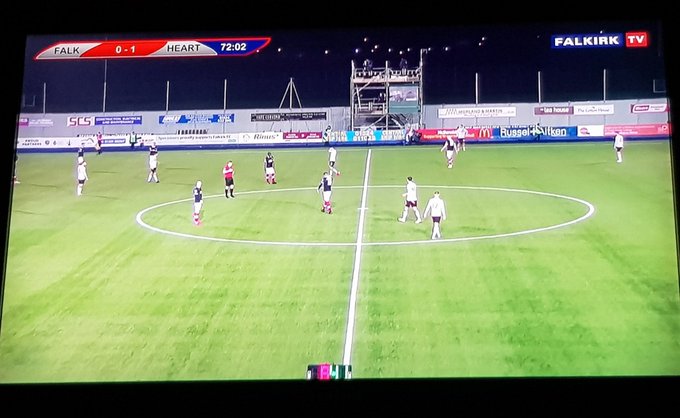 The row concerning Michael Stewart and his removal from BBC Sportsound after he called James Traynor "dangerous " rumbled on, and the grand old man of Scottish football, Hugh Keevins, kind of showed why the likes of Traynor can get away with what they get away with…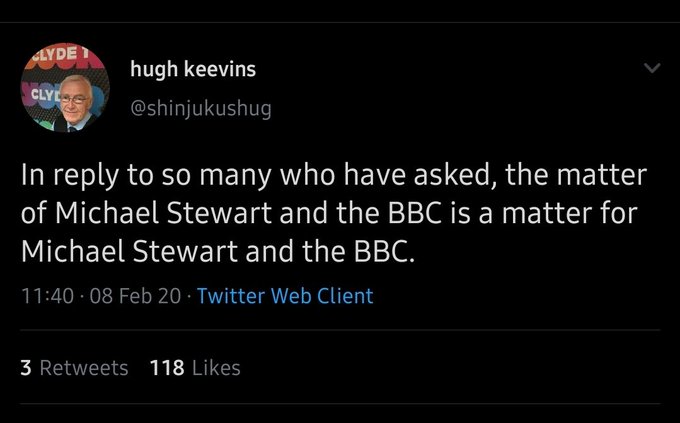 Actually,it's a matter for all journalists, whether they are on the radio,the television or in print.
Not just because of what he said, but the freedom to be allowed to say it.
Graeme spiers,himself once the victim of saying the wrong thing at the wrong time sort of got it right..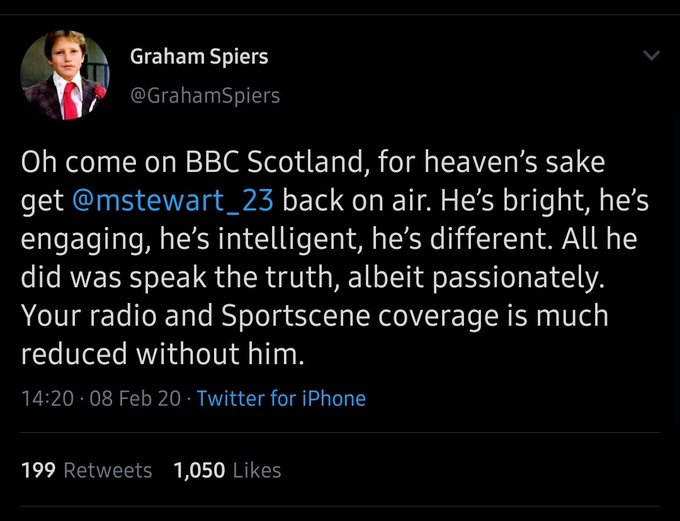 But he misses the point,and perhaps all hacks and pundits should refuse to go on BBC Sportsound, as their opinion, for which they are being paid, isn't allowed if it doesn't fit in with the narrative of the Fat Controller.
 Stewart should tell the BBC he wants no part of their Orwellian approach to news and views,and then perhaps others will stand up for themselves as well.
We all know what's going on,and it's upsetting and dangerous to think that they are allowed to get away with it..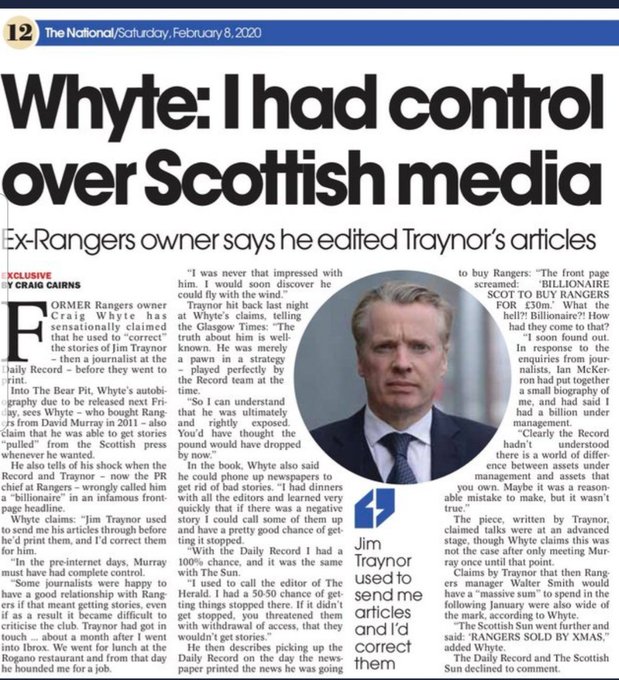 Although thankfully,this media control has given us some more than valuable new outlets, including the daddy of them all…

On the ability of Rangers to spike stories. The RTC blog was a direct response to the difficulty of getting the truth printed in the Scottish press. 
I gave a journalist the material for an exclusive: Rangers' tax strategy originated from Paul Baxendale-Walker- a struck-off lawyer and a pornographer. The journalist was commissioned to write story for a tabloid but it never saw the light of day
Can you imagine a probably true story involving football ("Old Firm"), a tax scam, and pornography- and a major tabloid paid for it and killed it?
The Scottish press had to be by-passed. Then, as now, they could not be trusted.
That all said, I will not be buying Whyte's book. This man, and his kind, have left a trail of corporate devastation, unpaid bills, and unfunded pension liabilities in his wake.
Anyone who has ever tried to mention Resolution 12 and the corruption at the SFA to a journalist will verify that last line.
Mind you, even the best of us get it wrong. And me.
Yesterday we -notice how it's always "we " when I make an arse of it- and copied the accounts from last year instead of the interims, which a number of you pointed out.
So, today, let's have a look at the ones I thought I was looking at yesterday… with comment, of course. comment which is now far less valid on account of not noticing yesterday what I was actually commenting on.
CELTIC have released their Interim Report for the six months to December 31, 2019.
Operational Highlights 
• Currently top of the SPFL Premiership
• Winners of the Scottish League Cup for the fourth season in a row
• 21 home fixtures (2018:17) 
• Secured qualification for the round of 32 of the UEFA Europa League for the third year in a row
• Conclusion of the most successful decade in the history of the club with 18 trophies won 
The word "conclusion " is an odd choice, as it implies the success is over. Surely it would have been better to say something about continuing it into the following decade…
Financial Highlights
• Revenue increased by 6.6% to £53.3m (2018: £50.0m)
• Profit from trading was £7.1m (2018: £6.2m)
• Profit from transfer of player registrations (shown as profit on disposal of intangible assets) £23.0m (2018: £17.6m)
• Profit before taxation of £24.4m (2018: £18.8m)
• Acquisition of player registrations of £15.0m (2018: £1.9m)
• Period end net cash at bank of £32.9m (2018: £38.6m)
• Period end net cash, net of debt and debt like items, of £45.1m (2018: £37.7m) 
That's a fair few quid,and one wonders why it's being hoarded. Little investment on the field and no sign of the hotel and museum yet.
CHAIRMAN'S STATEMENT
I am pleased to report another strong set of interim results, for the six months ended 31 December 2019. These show revenues of £53.3m (2018: £50.0m) and a profit before taxation of £24.4m (2018: £18.8m) that included a profit from trading of £7.1m (2018: £6.2m). Period end net cash at bank was £32.9m (2018: £38.6m). The introductory page to these interim results summarises the main highlights.
Following the permanent appointment of Neil Lennon in May 2019 and the securing of an unprecedented "Treble-Treble", the Club entered the new season with optimism. Whilst we were disappointed not to qualify for the UEFA Champions League, Neil and the team quickly put this set back behind them and took on the challenge of a testing Europa League group. They performed with real distinction by winning the group with a match to spare, a first-time achievement, and defeating an Italian Club on its home soil which was also a first for Celtic in the current format of competitive European football.  The Club went on to secure its tenth consecutive domestic trophy by defeating Rangers FC in the Betfred Cup Final in December 2019.  As 2019 drew to a close the Club reflected on the most successful decade in its history, having won 18 trophies from a possible 30.
Whilst the financial results were absent of the enhanced income associated with Champions League Football for a second year, the overall financial performance improved.  In addition to significant gains from player sales, the underlying trading remained buoyant through revenues from commercial arrangements, match day sales, hospitality and merchandising.  The profit on disposal of intangible assets recognised in the period amounted to £23.0m (2018: £17.6m). A key contributor was the sale of Kieran Tierney to Arsenal FC.  Our period end net cash at bank of £32.9m (2018: £38.6m).
Crucially, we continue to commit substantial funds to our football department. 
Continue ?
Salaries have increased over the same period last year and in the summer and winter transfer windows 2019/2020 we invested in ten new player registrations.  During the period under review, we secured the permanent registrations of Christopher Jullien, Hatem Abd Elhamed, Boli Bolingoli, Greg Taylor, Jeremie Frimpong, Luca Connell, Lee O'Connor and Jonathan Afolabi as well as acquiring the temporary registrations of Fraser Forster, Moritz Bauer and Mohamed Elyounoussi.  In addition, we extended the contracts of James Forrest, Callum McGregor, Nir Bitton, Michael Johnston and Scott Bain. In the January transfer window we subsequently acquired the permanent registrations of Patryk Klimala and Ismaila Soro.  And we continued to supplement our first team by developing our own emerging talent, with Karamoko Dembele beginning to secure more first team appearances in recent months and Michael Johnston becoming a regular first team player. 
There are costs such as signing on fees , bonuses and wages that don't seem to register with the support,and in fairness,they can be substantial. And wages go out every month,and there is now no more major money coming in until renewal time or a possible european run.
At the time of writing, we sit at the top of the Scottish Premier League having secured 67 points which equates to 10 more than the same stage last season after 25 matches played.  By almost all key footballing measures, performance has improved relative to the same period last year.
The Board is keenly aware of the inherent volatility that exists in football and continues to adopt the self-sustaining financial operating model that has delivered stability and the all-important objective of football success. We will continue to pursue this strategy, whilst balancing the key short term objectives of retaining the SPFL Premiership title, the Scottish Cup and advancing in Europe.
As in previous years, our trading seasonality dictates that the financial performance in the second half of the financial year ended June 2020 will most likely be lower than the first half, owing to playing less home matches and the expectation of receiving less distributions from UEFA competition.
Finally, on behalf of the Board I would like to reiterate to our supporters, shareholders and partners that their commitment is greatly appreciated and their contribution has been once again outstanding in helping to deliver continued success. 
Ian P Bankier
7 February 2020
Chairman
To read the full Interim Report, CLICK HERE  
Is it me, or is he playing it all down a bit,as though he knew he had to say something, but did his best not to say anything ?
Strange days ahead… especially given that the Dutch and Belgian leagues are apparently talking of a merger.
The Dutch Eredivisie and the Belgian Jupiler Pro League are allegedly in talks to merge their leagues to create a new 18 team league. 
Sky TV want more from football for their money, and there is certainly the wind of change in the air, so one wonders of hoarding a few quid to make sure Celtic don't get left behind is maybe a little more prudent than we think…
Away from that, the Times of London seems to be quite pleased that a famous name,of not famous player, is now associated with our neighbours at Ibrox…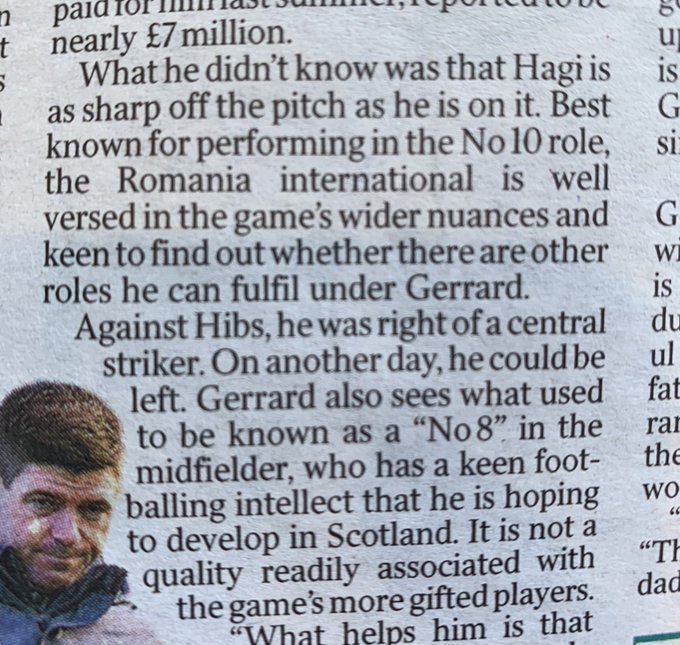 None of that makes any sense, but then neither did Pele,the great Brazilian, when he had a trial at Ibrox, but turned them down after he figured the crowd weren't really his sort of peepil.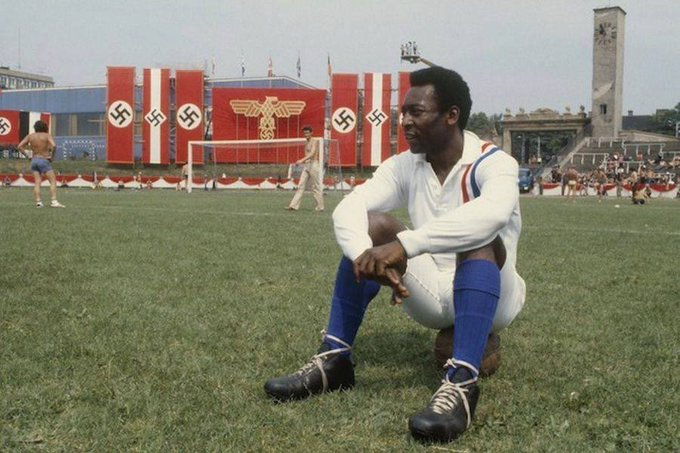 Yesterday, we had this…
caption why is ally mc moist dressed as a wummin wae wings
today…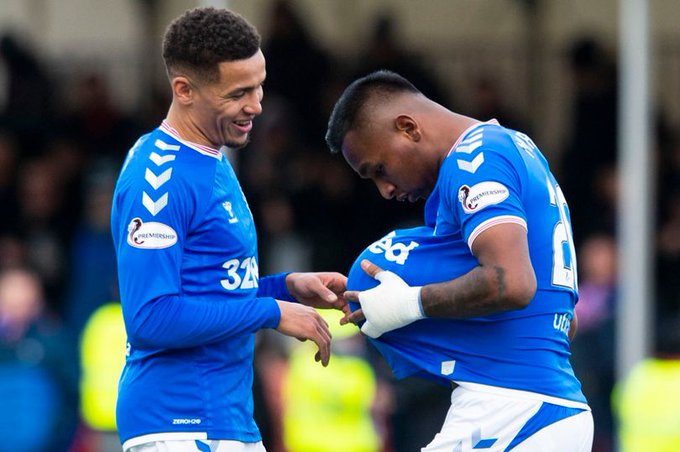 At six bells tonight, Schrodingers Cat presents a piece on here that examines the power struggles behind the scenes at Celtic, and it's well worth a look and it will leave you thinking about what else goes on behind closed doors…