Celtic recruitment chief Dudu Duhan revealed his latest signing yesterday as Celtic moved swiftly and surely to fill up the spaces in the development squad left vacant by the current half arsed clearout.
CELTIC are delighted to have completed the signing of Ismaila Soro, who has joined the Scottish champions on a four-and-a-half year deal.
The Ivorian midfielder has moved from Israeli side, Bnei Yehuda, where he played for the past couple of years.
And the new Bhoy will link up with his new team-mates at Lennoxtown tomorrow (Tuesday) to begin training with Neil Lennon's squad. Ismaila Soro is the club's second signing of the January transfer window following the arrival of Polish striker, Patryk Klimala.
Well, here we go nine in a row.
Am I alone in feeling my whelm distinctly undered ?
Soro dutifully said his piece to the Celtic website, through an interpreter,, and frankly, who cares if we've signed someone that can't speak English. Lennon doesn't bother with tactical talks anyway.
"People talk about what you want from a team. I know Celtic will give me everything I want. I am joining a massive club, one of the world's truly great football clubs with fantastic players, a beautiful history and the best fans around.
"I won't look ahead too much but I have signed a long term four-and-a-half-year contract and across all these years I want to be part of more and more success at the club."
I'm going to give absolutely everything to continue the success here at Celtic," 
"I'll give everything and more to continue the success this club has achieved. The reception here has given me the desire to go and work even harder for the fans, my team-mates and the manager.
"I want to settle into the team and give everything for the manager in training," he said. "I understand that breaking into the team will happen in stages and I'm prepared to be patient as I work towards this. I'm confident that I will settle quickly and impress the manager enough to earn the chance to play." 
"I've watched a lot of Celtic games recently and I can't wait to get started here. The stadium is huge and with the reputation of these great fans I know the atmosphere at Celtic Park will be unlike anything anywhere else. The stadium is amazing and I can only imagine how great it will be when it's full of fans." 
Well, he will get plenty of opportunities to sit amongst them and ask them.
That's four Ivorians now. Bayo, Toure, Kouassi and Soro.
You have to say the African nation is a rich seam of talent. Though not with any conviction.
And to think we didn't bother with any more Chinese after Du Wei.
Dudu Duhan , the Israeli agent who seems to be permanently on the Celtic payroll, is not the only agent out there. but fair play to him, he does seem to have found a market for his payers, and a decent medical facility for them to recuperate in.
Conor Hazard and Jonathan Afolabi became the latest two to go on loan, with the latter going to Dunfermline, presumably to toughen him up, and the keeper heading back to Dundee for the rest of the season.
We'd probably have been better keeping them and saving a few quid on their replacements.
All is well at Celtic if you consider the trophy in the cabinet adding to the last few years successes, and with Steven Naismith's own goal against "rangers " setting Hearts up for a surprise three points on sunday, Celts are now back in the driving seat for the title, but there is a feeling that the club are driving there in automatic, as opposed to manual.
We won;t complain if the results are there come May, but it's difficult to shift the feeling that somewhere under the surface there are problems, and given what we know about Lennon's lack of authority on and off the field, there is considerable doubt that he is back in the saddle again.
At least let him make his own mistakes, if he is going to make them.
The Europa League kicks in again soon, with Celtic facing Copenhagen, and their is scope for changing a few names in the squad…as Moravcik 67 explains..
European stuff. We have until 11pm next Monday (3rd Feb) to update the squad for the knockout stages of the Europa League. We can make up to 3 changes to the squad – as long we stay within the normal squad rules. Once submitted, that's our squad set all the way to Gdansk. 
Currently we have 23 players in the main squad – called List A. That's the most we can currently have because of UEFA squad rules. If we want to add Klimala, Soro and Frimpong (who isn't in the squad), we need 3 to drop out. 
The squad currently includes Sinclair and Morgan – who will free up two places. But Hendry and Kouassi weren't in the squad, so they won't free up the last place. Someone else will need to drop out. 
Current squad is attached. Shved would be the obvious choice, but with all the injuries we have just now who knows. We also have 3 keepers, which is probably overkill. Ajer, Johnson, Eddie and Dembele are on List B for young 'uns, so don't come into this at all.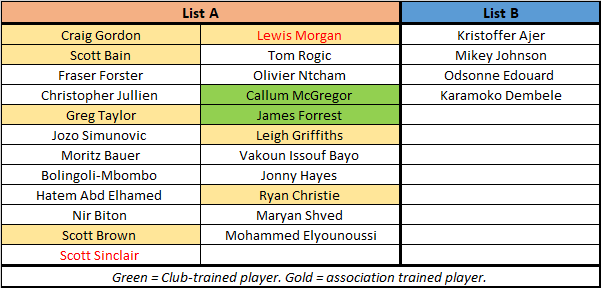 Finally, if we sign anyone else before the end of the transfer window (yeh, I know) NL would then have to choose which of the new signings (and frimpong) he wanted in the squad. We can only add 3 of them, so someone would have to miss out. 
That all depends on Coach Dudu…
In another bizarre episode that highlights just how far away the feelings of the club are from the feelings of the fans, Celtic Twitter wished a former manager a happy birthday…

The replies were, predictably, none too complimentary, forcing the official club feed to actually delete some of them.
One in particular wasn't very nice…
Shoulda been him not Kobe
Yet again, we have an example of the detachment felt within the club from thise with an emotional and finacial investment, and whilst I'm not going to dwell on it just now, keep an eye out later on for "A Shareholder's Tale ", on this site around oneish, which goes some way to explain how we all feel.
Radio Clyde, the west of Scotland broadcaster where broadcasters go to die have done commendable work in keeping Hugh Keevins in gainful employment. They also offer a home to the more narrow minded in the media, and a place for ther kindred spirits in the area to listen to their somewhat novel and refreshing opinions.
There's a phone in of an evening, where matters pertaining to "rangers ", Scottish football and "rangers " can be discussed and views shared in an entertaining and thought provoking way ( Are you sure ?  -Ed ) by those with more than a passing allegiance to "rangers " in the hope they'll upset those with perhaps non-"rangers " allegiances to have a moan and boost listening figures.
Keevins, who has this comfortable "granda " image is more or less allowed to ramble on incoherently because he is seen as the impartial voice of common sense, and not alzheimer's as was previously indicated on this site.
But sometimes, you do wonder if it's time to call the nurse to help him back into bed again…
'I don't believe the result at Tynecastle automatically means that Celtic win the title….the title comes down to 1 game at Ibrox & 1 game at Celtic.'
Whether or not it's just a plug for the box office game demanded by the TV companies is unclear, but it's another sign to me that the dream of a powerful Old Firm in Scottish football is perhaps more embedded in the media than even we previously thought.
As for Keevins, he's only trying to provoke conversation, but surely given such a platform, the whole of the game should be promoted ?
The station would argue that such nonsense is good for viewing figures, but , as with Talksport Radio, thats clearly not the case.
Quite how anyone feels that alienating part of a potential audience is good for figures is beyond me, in a similar way to sites such as John James, who limits his audience by charging them to read…
Elswhere, the meltdown at Ibrox continues as they are now offloading two of last summer's signings in a bid to cut costs.
Jordan Jones and Brandon Barker have been told to fond a new club, when in all fairness they are already at one.
The fans just aren't feeling the love any more…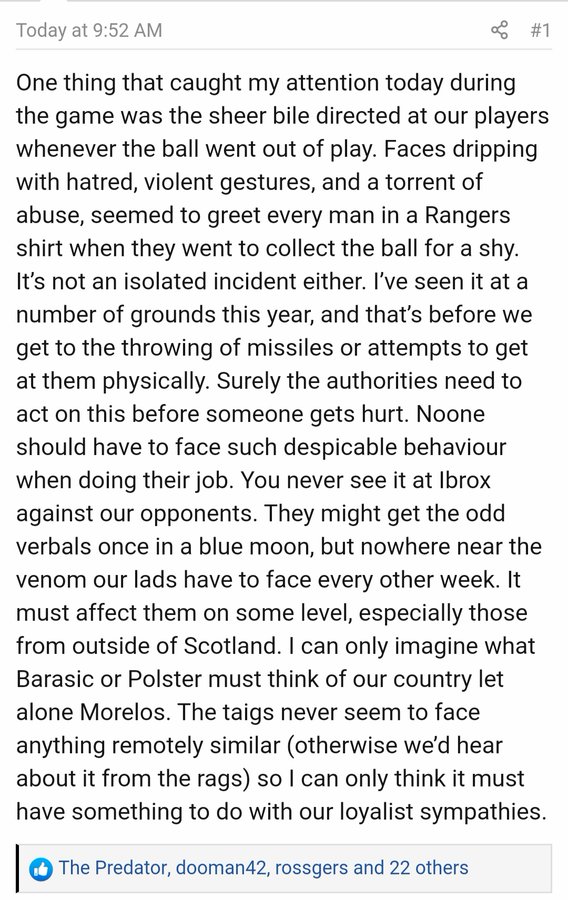 Taking everything in to consideration,  it seems number 55 has indeed hit the buffers…
They may have to go for Plan B…
Spare a thought for them, this weekend they have gone from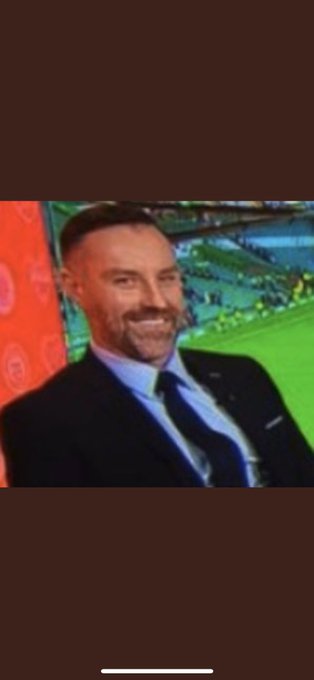 to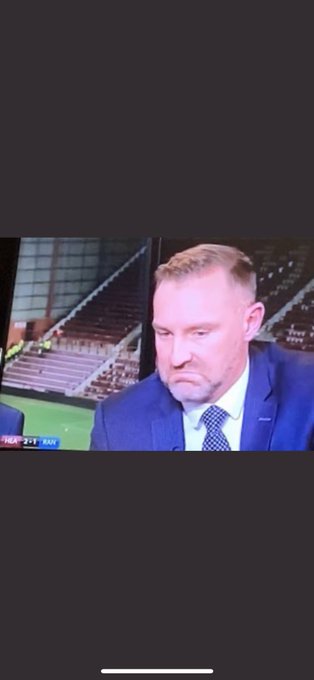 in just a few short hours…..
Anyhoo, nothing that happens over at Ibrox can now affect our title bid.
It's that simple, all Celtic have to do is win more games than they do from now until May.
And we can start with St Johnstone tomorrow night in Perth….
We go back to Friday for the last caption competition..
Sometimes I'm sure you can hear me groan…
Caption: Chaos at Sevco as new signing Deli Ally is unveiled.  
Today…