Although Jupp Heynckes, the veteran brought in to stabilise the ship in Munich, inspired his side to a 5-0 win over Freiburg at the weekend, it has come at a cost..
Javi Martinez, the experienced Spanish midfielder/defender hurt hs shoulder, and was replaced a=on the hour mark at his own request..Heynckes confirmed he'll miss the Celtic game.
"Javi will miss the game against Celtic," 
 "It is a concern. He's a tough boy and never usually asks to come off." 
Bayern and their players have a little more respect for Celtic than perhaps an English team would, and certainly more than the media may lead us to believe.
Midfielder Thiago, who was at Barcelona when the Catalans lost in Glasgow explained..
"I was at Barcelona when we played Celtic five years ago. 
"It was a weird game. We had the most possession. Suddenly they scored two goals and won the game. For sure that could happen to us but we will prepare well for the challenge.
"We will look at all aspects of the game and we will be ready for Celtic. I know all about Brendan Rodgers . He did a great job at Liverpool.
"I expect a tough game. Playing Celtic is like playing Premier League teams. They are always great games and Celtic will be difficult opponents." 
The Bayern support clearly agree with him. with an allocation of just over 3,000, the minimum five per cent demanded by UEFA rules, the Bavarian club has been a little surprised that around 35,000 fans have applied for a ticket for the second match in Glasgow, causing a bit of a worry for the police, who like to have something to worry about so they can kick peoples doors in a dawn.
"We could not believe the number of Bayern fans who applied for tickets. With 34,500 applications, that represents half of their stadium in Munich. It also means 10 German fans wanted to come for each ticket available.
"We are just keeping our fingers crossed that we don't end up with a similar situation to Cologne in London." 
Well, you won't.
Celtic sell out their own ground, and flogging your ticket to visiting fans is almost unheard of .
As far as the first game in Munich is concerned, Celtic are a little more relaxed away from home, and its certainly not beyond them to get a positive result in the Allainz Arena. Two draws and a win in their last three trips mean that the style adopted by Rodgers is working, and the side are playing with a maturity that is beyond its experience.
When the draw was made, most observers immediately had Celtic battling for third with anderlecht, but the 3-0 win in Brussels means we can set our sights a little higher.
But we must not forget this is Bayern Munich we're playing, and we must remind them that they are playing the famous Glasgow Celtic.
thats why wearing the hoops is of utmost importance tomorrow night, if rules permit.
Playing for the jersey isn't quite the same when its not green and white hoops, and surely we should wear them if we can ?
One man who always plays for the jersey os Keiran Tierney, and the battle between the left back and Bayerns Arjen Robben will be one of the things to keep an eye out for.
Mikael Lustig offered some words of advice for his young team mate, having recently faced the dutchman at international level.
"He'll be a big threat for Bayern – he's one of the best wingers there has ever been,"
"That left foot, you know he's going to go inside but you can't stop it. We've seen it so many times over the years.
"I'm glad he's on the other side of the pitch! But it will be a great challenge for Kieran. He won't be daunted. He's quite calm and it doesn't matter how big the game is. He's just getting better.
"What can you say to Kieran about Robben? Get to him early – but if he gets the speed up it's hard. He can go left or right. And you hope to get a midfielder across to help out." 
James Forrest is better than Patrick Roberts at tracking back, and is quicker and more direct than the Englishman. forrest runs straight towards the box every time he has the ball, and is more likely to win free kicks or even a penalty to relieve pressure and create a chance.
Moussa Dembele isn't quite up to speed yet, but may be preferred at the start to Leigh Griffiths, as his strength in holding up the ball could be crucial.
Stuart Armstrong may be given his old number ten role as he has the engine for this game, and tom rogic flits in and out of games.
More than anyone else, though, we need the experience , guile and leadership of Scott Brown.
He has been missed by club and country alike during his recent absence, but should return for the munich clash.
Despite the praise handed out to dorus de Vries, Craig gordon should be given hs shirt back, with Lustig and Tierney on either side of Simunovic and Boyata.
Alongside Brown will be Olivier Ntcham, with any two from Roberts, Forrest and Sinclair. I'd pick Forrest and Sinclair, and leave Roberts, along with Griffiths , to enter the fray as Bayern tire. Though that in itself isn't a given
Dembele would complete my line up, not because he;s any better than Griffiths, but because his style is better suited to this game.
Absolutely anything from this game would be a bonus, and give us a shot at knocking out one of the tournament favourites.
Which would be rather nice, don't you think ?
An early candidate for Knob of the Week appeared yesterday.
At Saturdays game with dundee, the Green Brigade displayed another banner, this time against the Offensive Behaviour at the Football Act, which will be seen by future historians as the precursor to the Offensive Behaviour at the Dominoes, Darts and Skittles Act.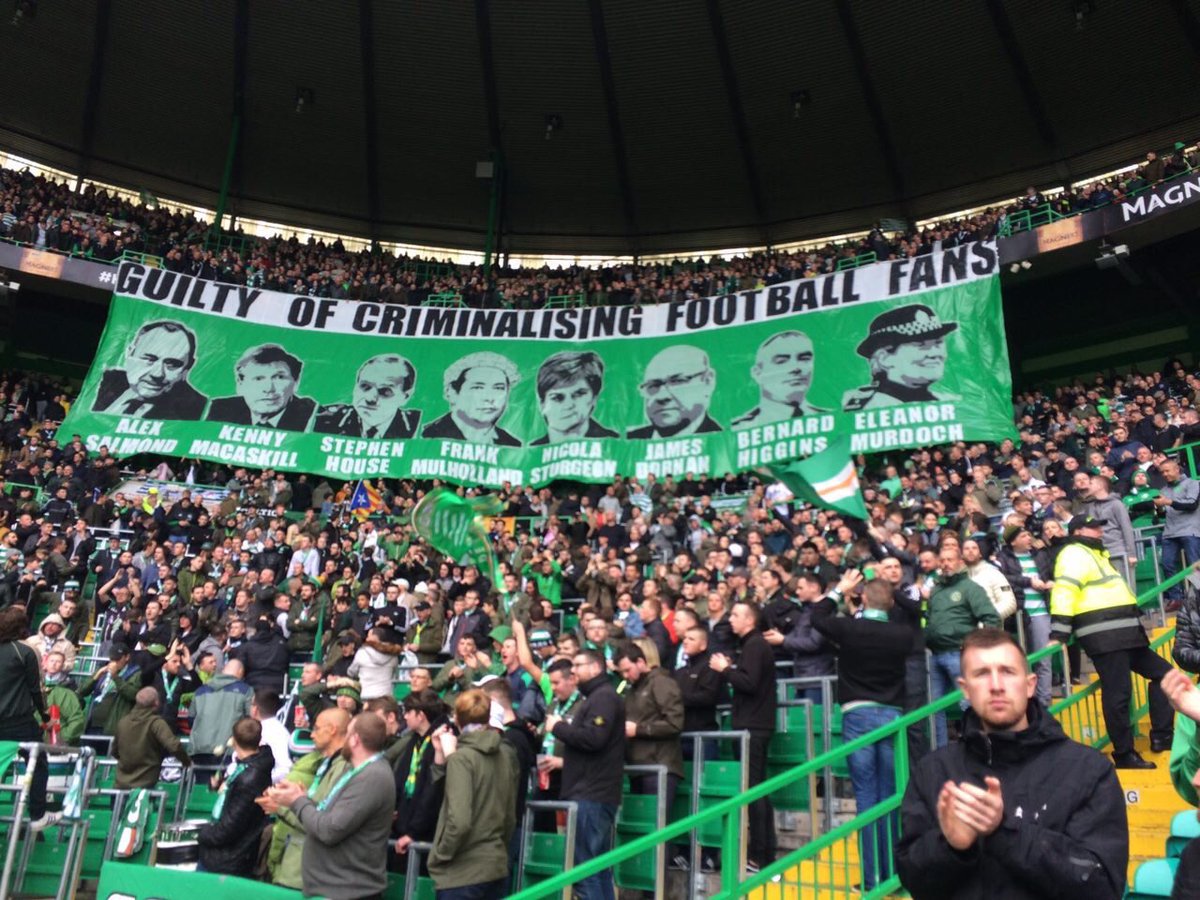 Which prompted this reply on twitter
I'm not debating the act per say but I don't like the idea of these women's faces being plastered over a football ground. I feel protective! 
Per say ? Maybe she was taught to  spell phonetically.
She feels "protective" , and is apparently trying to say that women shouldn't have their faces on a banner at a football ground, perhaps because she feels they should be treated differently.
I've never taken much notice of that sort of thing, and still put wee pictures of Margaret Thatcher on here, which always cheer me up when I remember what she was like.
Here's my favourite..
The "verified account " means she is the real Rosa Zambonini, instead of, er, someone pretending to be Rosa Zambonini, and on account of not having the faintest idea who Rosa Zambonini is, I'd though I'd better have a look.
Oh…she likes a bit of publicity.
Well, I'm happy to help.
Earlier this year, Zambonini was rushed to hospital after a suspected stroke..
Rosa quit as a councillor for her home town of Wishaw after complaining of her treatment by several "sexist" councillors. She also said the media scrutiny she had faced since her election had left her with depression.
Caroline said Rosa's illness may have been caused by "an acute neurological stress reaction", adding: "The stress that my sister has been under these past months beggars belief.
"Yes, she's a left-wing socialist. Yes, she's pretty and loves a selfie. Yes, she speaks loud and clear about the things that matter to her but does she deserve what's been dished out in recent times? Absolutely no!
"It's frankly abhorrent. Lies and bullying. Grown men old enough to be her father ridiculing and insinuating half truths and lies. 
One of the harsh truths about life in the public eye is that if you stick your head out someone will inevitably try to hit it with a bat.
Zambonini will undoubtedly mature as a person and a politician and become a little more careful about the things she says, perhaps even thinking them through a little and considering the possible responses.
Whether a person is a man , a woman, a transgender , whether they be black, white brown or yellow doesn't matter to most of us.
But to use that as a defence against any criticism is ridiculous.
Tomorrow I've an early flight to catch from Birmingham, and airlines don't let you on the internet during the flight, in case you are using it as a detonator or something, so its unlikely there'll be a diary, unless I do something later in the day.
I'm quite looking forward to the Munich trip, and it promises to be a cracking game in a tremendous stadium.
I'll put some pictures on twitter for anyone who wants to see them.
Yesterday we showed you this picture..
Different slant today, I'd like to ask you if you can come up with a headline for this story..