Celtic advanced to the play off stage of the Champions League qualifiers after winning an intriguing tactical battle with Norwegian champions Rosenborg.
Full credit has to go to the manager who came of age on the European stage in Trondheim with what wasnt the most enjoyable game you'll ever see, but was certainly one of the most watchable.
Rosenborg picked up where they left off in Glasgow, sprinting back to the eighteen yard line as soon as Celtic kicked off, and they more or less stayed there until half time.
Like they did in Glasgow.
Where it nearly worked for them. Rodgers expected this, and instructed his players to keep spreading the ball from side to side, holding possession and gradually wearing them down.
Despite the setback of an injury to Erik Sviatchenko, who had bravely held out for nearly ten minutes, and the introduction of Nir Biton at centre half, which didn;t alter the teams performance or style, although language in front of tv screens had altered significantly, Celtic could have been ahead at half time, but weren't panicking.
One goal, of course, would almost certainly have been enough, and whether or not Rosenberg scored first made lttle difference to that fact.
With the start of the second half giving rise to thoughts that Leigh Griffiths probably was injured, Celtic fans became a little nervous as Rosenborg went on the offensive, sonething they hadn;t done in numbers until that point, and there were a few pairs of underpants changed both on and off the pitch.
That was when Rodgers pulled his master stroke.
A fit Leigh Griffiths, fresh and raring to go was unleashed on the Rosenborg defence, allowing the tireless James forrest and hard grafting Scott Sinclair to take up their normal duties.
Had Griffiths started, Rosenborg may have been able to get to grips with him, and his late introduction meant that as they adjusted, he could start to influence matters.
And he did.
James Forrest, much maligned by some who really ought to know better by now, cracked in a powerful shot from an difficult angle to give Celtic the lead, and with the clock running down, Rosenborg had to score twice to progress.
Thats progress with double s at the end. We don't do cheap jibes at Etims.
Although it was still a bit nervy for the support, the players breathed a collective sigh of relief, upped their concentration, and saw the game out with a mature and professional display not seen by a Celtic side at this level for a long, long time.
Certainly not against this level of opposition, who many of us had underestimated, and who can count themselves unfortunate not to be in amongst the big boys, as they say.
There are now a few domestic games before Celtic attempt the final hurdle, which should help iron out a few wrinkles among the players. One or two looked a little rusty, and the fluency of last season isn't quite there yet, but the attitude and heart is, which means the rest won't be far behind.
Praise has to go to all involved last night, but I'd add extra for Craig Gordon, whose concentration was superb, Keiran Tierney , Jozo Simunovic , Nir Biton and Calum MacGregor for the quality of their play, and to Scott Sinclair , Scott Brown and James Forrest for their tremndous work ethic, as even when things didn't go right for them, they simply rolled up their sleeves and worked even harder.
And a big thank you to the undercover guy in Norway who helped Brendan-or at least thats what he'll say, even if he may have blown his cover last night…
Onwards and upwards then, and there was further good news when Ajax , Salburg and Legia Warsaw exited the competition. Not just because of any petty rivalry, but because it now means that with a wee biut of luck Celtic could make pot 3 in the group seedings, should the club overcome whoever is drawn against them tomorrow.
The teams in the draw are…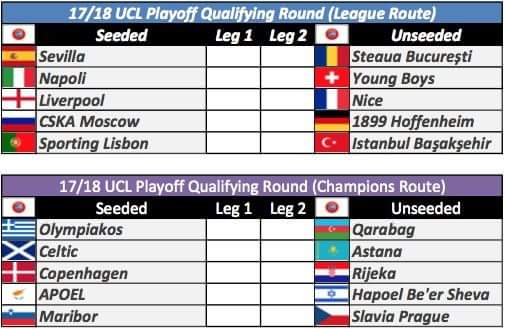 Should Seville, Napoli, Liverpool or Olympiakos be knocked out, Celtic move into pot 3.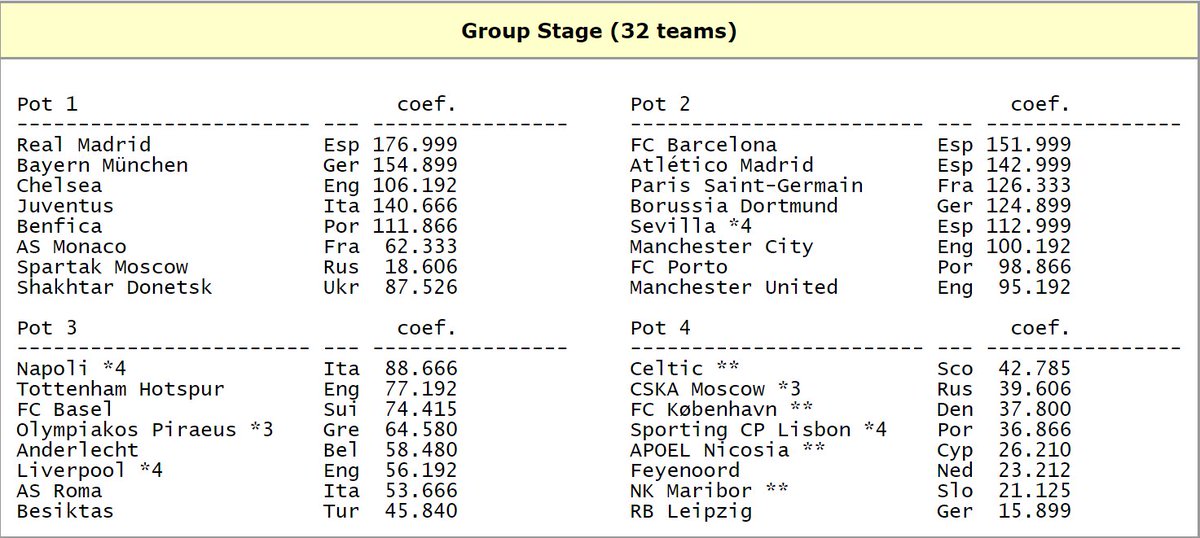 Fingers and everything else crossed, but of course Celtic have their own job to do first.
Personally, Rijeka would be the choice for the champions. Or Slavia Prague, as at least they are in Europe…
The Judicial Review into years of systematic malpractice by the football authorities in Scotland is underway..
From Rangers Tax Case..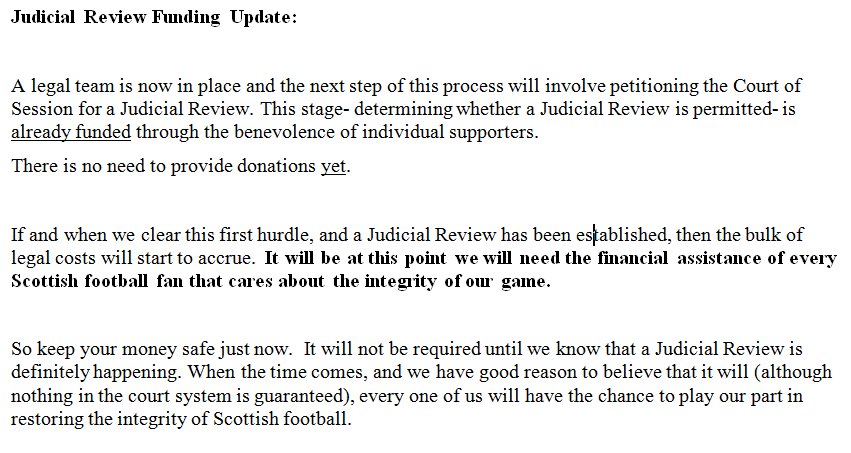 Fingers and everything else crossed again.
Lets see how the club responds…
Is it me, or are there dark forces at work to stop Celtic winning ten in a row ?
The media are digging up every possible bad news soundbite they can, and even turning stories around in such a way as to paint Celtic in a bad light.
Leigh Griffiths, whilst signing a few autographs at the airport on the way to Norway, was clearly called a paedophile, in the abbreviated form, and he respnded by reminding the offender that his club was deid and asking him to "beat it "
"Your clubs deid mate, beat it "
Should now be the standard response to any comment that mentions any of the nonsense that they usually come out with.
And will almost certainly be the best selling t shirt of next season.
Yet the media didn't report it how it was, they mentioned alleged abuse, even though on the video its pefectly clear what was said.
As with the attack on Scott Brown at Ibrox, the racist abuse of Scott Sinclair and the missiles thrown at players at Ibrox, there has been little condemnation and even less action.
However, one wonders of the offender had waved a paedo banner at the airport, would the police have kicked his back doors in at dawn ?
Banners are bad, as the arrest of twelve Celtic fans has shown this week, who are supposedly connected to the banner flown at the Linfield game.
Political banners have no place at the football, the press trumpet from the high moral ground above their offices, and yet…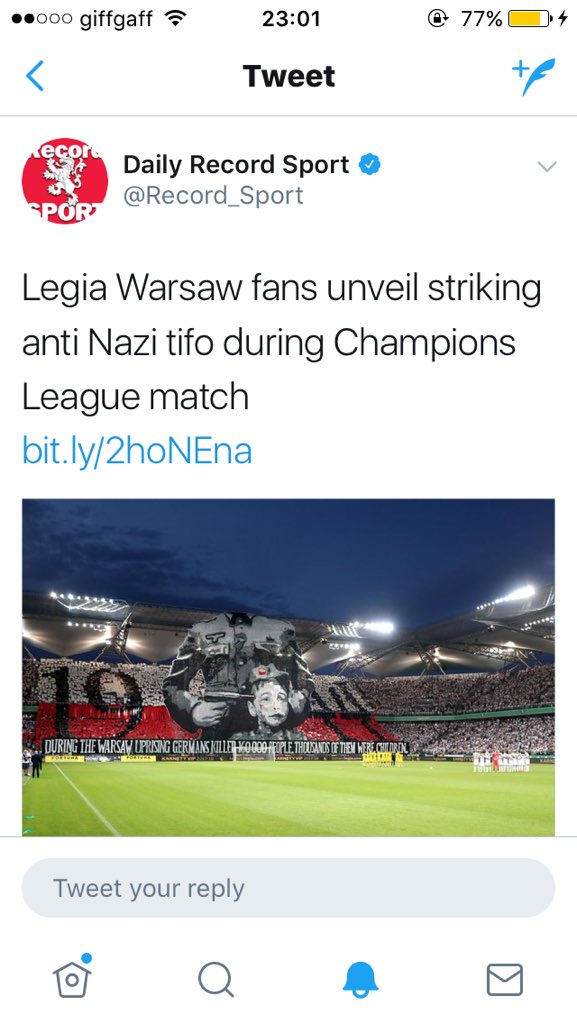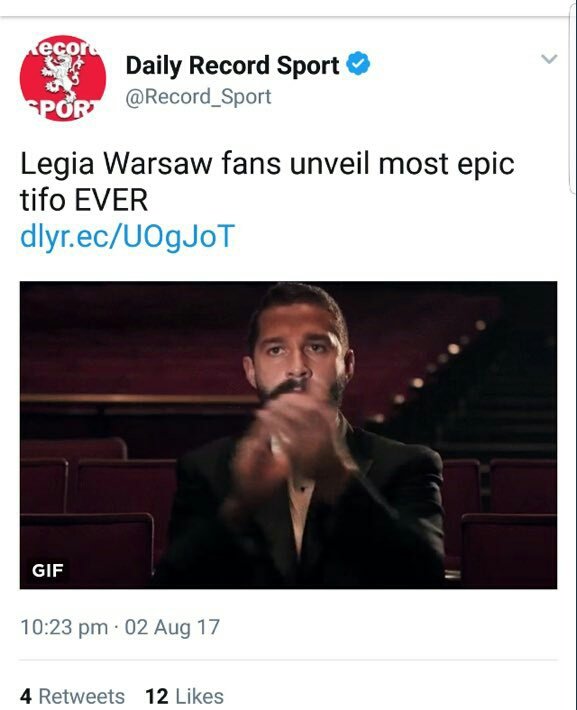 No one is denying that the tifo  is outstanding, and it rightly reminds people of an atrocity committed that is amongst the worst the world has seen.
But either a banner is political, and wrong, or it isn't.
The Record, no doubt , would condemn a famine memorial banner , which was also one of the worlds worst atrocities, if it were flown at Celtic Park.
It'll be interesting to see if UEFA turn a blind eye to it.
Older readers may remember that when Celtic were heading towards the original and untainted nine in a row, all manner of little tricks were pulled by the authorities to stop them, culminating in a complete revamp of the old first division into the "more competitive " Premier Division, which did work for a time until someone showed David Murray a unique interpretation of tax law.
I think that the establishment is starting earlier this time, as it becomes apparent that Celtic can only throw away the chance to hit ten in a row.
Are the dark forces gathering again ?
Seems so, and we must be ready for it, on and off the field.
Don't buy their papers, and don't listen to their shows.
The club finally said cheerio to Emilio Izaguirre, which was nice, citing paperwork problems as an excuse for the delay.
THE departure of Emilio Izaguirre from Celtic has, of course, been the news which supporters have been talking about this past week or so, with fans passing on their thanks and best wishes to a player who has given everything to the cause since joining the club back in August 2010.
Those sentiments are echoed by everyone at Celtic, although the club has had to wait for all the paperwork to be fully completed before being in a position to make any formal announcement.
Emilio leaves Celtic with our very best wishes and our thanks for everything he has done in the green and white Hoops which he clearly loves. That love is reciprocated by the Celtic Family.
He signed for the club back in 2010 from Honduran side, Motagua, and while he may have joined as a player, he has left as a supporter.
His qualities as a footballer were evident from the moment he made his competitive debut in a 1-0 victory over Motherwell at Fir Park on August 29, and in that first season his form saw him named Scotland's Player of the Year, while he also picked up a Scottish Cup winner's medal at the end of that campaign.
But even before the end of that season, he had already become a firm favourite with the Celtic supporters, who recognised that his passion and commitment to the Hoops was absolute.
The following season, he suffered an injury set-back when he broke his ankle in the second game of the campaign, against Aberdeen at Pittodrie, that ruled him out until the turn of the year, but he returned for the second half of the campaign as Neil Lennon's side secured the first of what has been, to date, six league titles in a row.
In total, Emilio made 252 appearances for Celtic, scoring five goals, and during these past seven years he has won 10 major honours – six league titles, two Scottish Cups and two League Cups. Throughout that time he has also continued to represent Honduras at international level.
He has been a great servant of the club, and a hugely popular player amongst his team-mates, the coaching staff at Celtic and, of course, the Celtic fans.
Emilio is now set for a new football challenge in Saudi Arabia. We wish him every success in that venture, and he will always be guaranteed the warmest of welcomes home whenever he visits Paradise. 
We can only echo those thoughts.
And we thought the club were ignoring him.
Things are not always what they seem.
Not a particularly bright Facebook user, one hastens to add.
Someone else doesn't seem too bright..
Did you see the news from North Korea ?
They've got a missile than can reach New York !
Scared the shit out of me.
If it can make it there, it can make it anywhere.
I'm here all week. Much to the disgust of readers.
We've a few lyrical men amongst the readers, how about a wee rhyme or song to mock our cousins over on the other side of the river ?
Or aimed at the SFA/SPFL ?
Humour is a fantastic weapon, and who knows, the ditty may make to to the game…
Thats as well as a caption competition, not instead of.
I couldn't log in yesterday due to technical difficulties, so there was no diary, and we have to go back to tuesday for this picture..
Today…