A Celtic shareholder and supporter has sent this to Mr Traverso, the head of club licencing at UEFA.
He's right to do so.
After all, all we all want is a game with a level playing field, where cheating is punished and everyone has a chance to win something, to make great memories, and above all, to have a good time.
We're paying for it, so we should have some say in how its governed.
With the SPFL last week sweeping the last few years under an already mountainous carpet, its time for us to draw a line so we can move on.
FAO: Mr Traverso
On 8th June 2016, you responded to a letter from lawyers employed by Celtic shareholders, of which I am one, on the matter of processing a UEFA licence application from Rangers FC in 2011. I thank you for the reply but I am not writing about that matter but to make a general point arising from it about the lack of sporting integrity in the governance of Scottish football as a whole.
I love my football, it is that first, my club second. I played at amateur level myself for a number of years and managed two amateur clubs starting from scratch. When my family arrived and from age 10 the boys and girls followed in my football boots playing and winning trophies, managing, coaching and probably best of all making many, many friends on their travels and I am certain football played a huge part in their development as civil balanced human beings of whom I am very proud.
Those are my football loving credentials and it from that basis that I write to you.
At a Commission conducted in 2012/13 established by the then Scottish Premier League, the SFA registration officer came out with an interpretation on player eligibility after a series of improper registrations over ten years which staggered me as an ex amateur team manager. At amateur level team lines are important, they deter teams from using ineligible players, they are a deterrent in that respect.
That deterrent is significantly weakened by the decision of the Commission led by Lord Nimmo Smith based largely on the advice of the SFA Registration Officer. There are other aspects about that commission that are questionable too, but on my general theme and why I am writing to you…
It is my view that Article 12 of UEFA FFP has been ignored by Scottish football authority, to me Article 12 is fundamentally about protecting the integrity of UEFA competitions. It seems to me that since 2011/12 the last thing on the minds of our football authority is sporting integrity. I also believe that as a result they have been blind to their duties to football at all levels as cited earlier.
I appreciate national associations have some autonomy and UEFA have limits to their involvement, but surely if a national association does not have an equivalent of Article 12 in its regulations and the mechanism to see that it is observed as UEFA intend, UEFA cannot remain silent?
This is no longer a matter as raised by Celtic shareholders solicitors about the processing of the Rangers FC application for a UEFA licence, there is no need to pursue that as what took place is apparent (and if you want to see what did happen check this update to Celtic shareholders at
http://www.celticquicknews.co.uk/official-update-to-res12-july-2017/ [with apologies this is not an electronic document you can click on). The matter now lies with Celtic FC.
This has now become an issue about restoring the integrity of Scottish football lost because of commercial considerations taking precedence over sporting integrity starting in 2011 in violation of UEFA Value One.
The game of football in Scotland needs help and it has to come from the outside. I am unsure of UEFA's jurisdiction in such an important issue, but it must surely be in your particular interest to be satisfied that your rules that depend on integrity are not undermined by its lack, but more importantly to uphold values One, Four, Five and Eight (see below). Values that appear to have escaped the attention of those responsible for good governance in Scottish football.
If UEFA really care about football as the footnote on your letters say then his crie de couer to save Scottish football from itself will not fall on deaf ears. 
The UEFA Values Violated by Scottish Football Authorities.
Value One
Football first
In everything that we do, football must always be the first and most important element that we take into consideration. Football is a game before being a product, a sport before being a market, a show before being a business.
Value Four
Good governance and autonomy
UEFA and its member associations are committed to good governance. Good governance means openness, democracy, transparency and responsibility. In this spirit, UEFA defends the autonomy of sports structures, so that football bodies – with national associations in the lead – are the ultimate decision-makers in matters concerning football, with no undue interference from governments.
Value Five
Grassroots football and solidarity
Football is based on the grass roots, played everywhere by men and women, boys and girls. The top professional level is just the tip of the iceberg. UEFA will continue with, and even strengthen solidarity, both to protect the future of football and to deliver the wider benefits that our sport brings to society as a whole. And it is also because the strength of football lies in its grass roots that we have to preserve the local, regional and national identities of our game, always in accordance with the law.
Value 8
Financial fair play and regularity of competitions
UEFA supports fair play both on and off the pitch. Financial fair play means that clubs operate transparently and responsibly, to protect both sporting competition and the clubs themselves. Financial fair play means clubs not getting into a spiral of debt to compete with their rivals but rather competing with their own means, ie the resources they generate. 
At the time of writing, there has been no response, and perhaps there's a good reason for it.
Maybe you could prompt him..
Mr A Traverso
Head of Club Licensing
UEFA
Route de La Geneve 46
CH 1260
Nyon2
Switzerland. 
Whilst UEFA are probably aware that there is a little problem with Scottish football, it wouldn't do any harm at all for as many of us as possible to let him know we are also aware of it.
We're at a crossroads now.
Either we can move on and let them get away with it, or we can find a place to make a stand.
This is merely one action in what will need to be a massive concerted effort to rid the game of the stench that has pervaded throughout ever since someone at Ibrox said he wanted to streamline the way wages were paid…
Of course, it all goes a little deeper than just Ibrox, and perhaps thats why certain establishments want to drae a line and move on.
Thats maybe why certain people in certain positions would rather we all stopped moaning and were good citizens and accepted that although some wrong was done, there's no chance of it ever happening again.
although by admitting there was something done wrong, their refusal to do anything about it means that they weren;t fit for office then, and therefore sure as hell aren't now.
I've stayed away from football and computers over the weekend while i had a wee think about what I'm going to do next.
As you probably know, I'll be in Glasgow this later this week to ask a few questions which will give me a fair idea of how things are going to go forward.
If, indeed, forward is the correct word in this context.
Until then, keep the pressure on UEFA by writing to Traverso, if you will, and we'll see where we go from there.
As for the football, Celtic beat Sunderland in a friendly which may now see the end of Celtic playing down south, either permanently or every now and again.
The police down here have long been a major opponent of having the big Glasgow club-used to be clubs but one died-as a regular event , and the trouble in the north east on Saturday would have added to that.
A small group of young Celtic fans naively fell for the taunting of suspected British agent Tommy whateverhis nameis , who put on a "rangers " top and goaded, via you tube-the relatively few Celtic fans who could give a flying fuck about who he is and what he stands for.
Predictably, and sadly, a few youngsters took him up on it, and somehow forgot to think things through. his pals were waiting, were well organised, and at least one young fan suffered a horrific head wound when he was clubbed with a bat.
The problem with going anywhere mob handed is that when the action actually starts, and things get a little serious, most people follow the herd mentality, and if someone panics, all will panic.
The predators will gain confidence from seeing this, and in the old days it was known as "running " the enemy.
Usually some tough guy will get a sleekit shot or two in, and someone gets hurt.
Thats what happened.
There was a video of the incident available for those who want to watch that sort of thing, and there will probably be arrests.
But for some kid who went looking for trouble he found out that there is always someone out there who will hit you back.
This played into the hand sof the EDL, who were waiting, allowing them to claim women, kids, dogs and al sorts of vulnerable people were under attack, so there is little public sympathy for the lad, althoug that is usually the case with football related violence.
There is a feeling that he got what he deserved, and its hard to argue with that.
Its not hard to argue that it was a set up, but really, its best not to fall for the goading, and unsurprisingly, it ended in tears.
However, the Record had a different slant on it…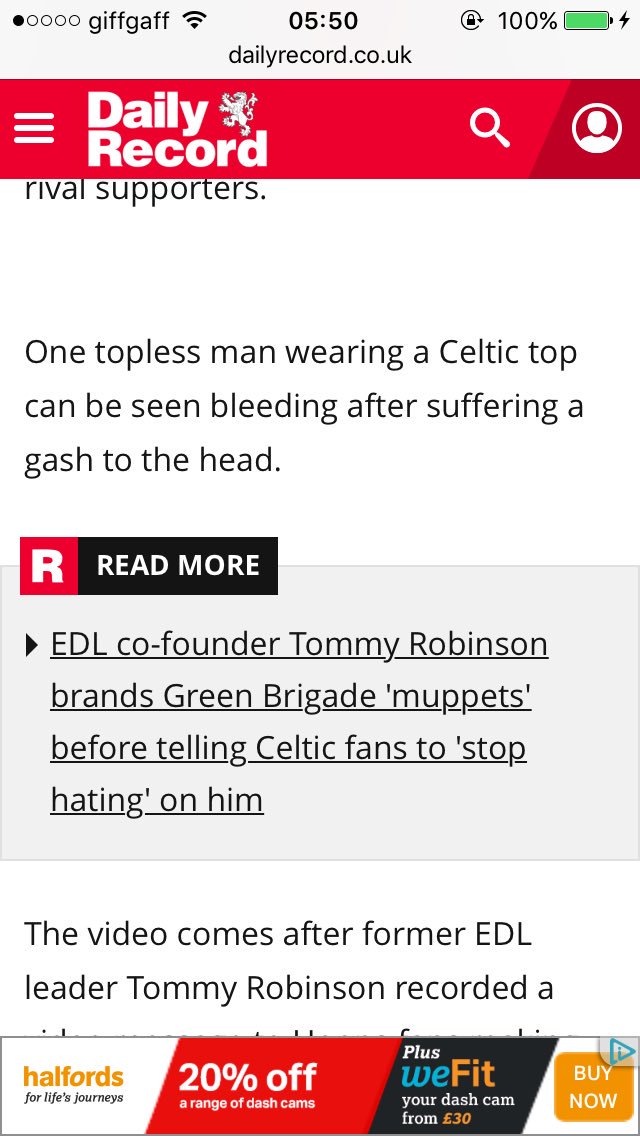 On the pitch, and in the stadium, the support reminded us why their reputation is largely intact, and Calum MacGregor reminded everyone he can play a bit, and score goals. Though there were concerns at one point that the police were a little overenthisiastic
@CelticFCSLO near disaster at turnstile jp. Police treatment shocking. Guys getting lifted for being crushed. Women, kids, old guys in tears
Celtic beat Sunderland 5-0, and whilst it was largely a second string Celtic side, it has to be remembered that sunderland were without their main striker, who apparently would score goals for fun in Scotland…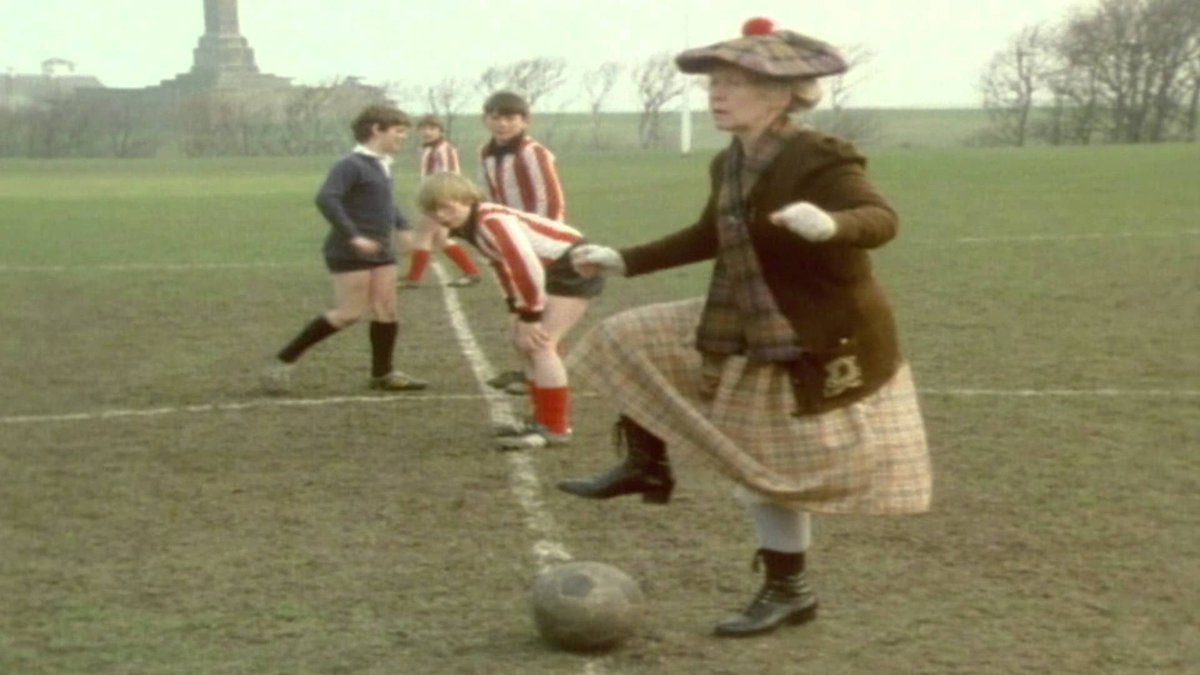 Whilst we have a picture of a woman dressed in ridiculous tartan attire, it would be unfair if we didnlt show a man dressed in a similar garb.
We are assured , however, that Scott Brown was merely auditioning for a part in a new Hollywood blockbuster, as he intends to carve out a movie career when he hangs up his boots.
Celtic will face Kilmarnock in the first knockout stage of the League cup. Its at Celtic Park.
Billy Bowie is a major shareholder in the financially stricken Ayrshire club…
Urging SPFL clubs and supporters to focus on the future, however, Killie director Bowie said: 'My thing is to look to the future and stop dwelling on the past.
'If we keep dwelling on the past it will drag us down — all of the clubs. The SPFL have outlined their stance and it's past history now. 
'Rangers need to move on — and Scottish football has to draw a line in the sand and move on as well.
'There are a lot of challenges facing the game currently and we need to see a way through them.'
There's the first game to boycott.
In fact, why not hire Cappielow or the Shyberry for this game ?
Kilamrnock will be expecting a wee bonus from the gate receipts.
Don't give it to them, and let the world know why.
As with the letter above, we need to make a stand, otherwise we can forget it, and find something else to do at weekends.
And just to give you a reminder of why we have to make a stand, Paul Larkins "Anyone but Celtic " is out tomorrow, the third of his books on why Scottish football is rotten to the core.
Its well worth picking up and  a full review will be on the site later today.
As I was away in contemplation mode this weekend, we must go back to Thursday  for the caption picture..
Today…