Celtic Diary Thursday August 18: Same Old Feeling Every Time I See You…
And every avenue I walk, I'm behind you. 
You might recognise the words from an old song on an old album. Well done if you do.
But that was a walk down memory lane last night, and we'd have probably been better looking out for surprises from the alleyways…especially as we've been caught out before.
And it did bring back some feelings that haven't been there for a while, and it explained why I keep walking down that road.
Celtic probably did enough last night in a 5-2 win over Hapoel Be'er Sheva to gain a place in the prestigious group stages of the UEFA champions League.
Three up at half time, an uncharacteristic-of late, anyway- defensive lapse allowed the Israeli's back into the game with two quick goals, before a couple of adjustments allowed the hoops to re-assert themselves with a couple more goals.
See, I reckon it was uncharacteristic, so ignore all those commentators and experts who say its a return to last years frailties and so on, it was a one off. A couple of players simply eased off, and it will be pointed out to them not to do it again.
Which means they'll be on their toes over in Israel next Tuesday, ans don't be surprised if Celtic come away with another victory.
Tom rogic opened the scoring, slotting away  after a clever pass from Leigh Griffibrahimovic found Scott sinclair, who collided with the keeper, and the loose ball was swept beyond a couple of despairing defenders. Nine minutes on the clock, and that allowed everyone to settle.
A lively combination of James Forrest, Scott Sinclair and Tom Rogic was causing havoc amongst the Hapoel back line, as all three ran in whatever direction they felt like to drag the defence all over the place, and this tactic culminated in the second gal as Sinclair and forrest combined on the right, meaning the defence forgot to keep an eye on Griffiths, who raced in from the left to head downwards and beyond the keeper.
Two nil, and and if it was looking like a rout at this point, when Griffiths curled in a free kick on the stroke of half time, it was as though we could score at will.
After the game, the striker talked us through the first dead ball goal since Virgil van Dijk managed one all those years ago.
" I looked at the clock, which said 44 minutes, and I said to Tom I'll have a pop. If it goes over it'll waste a few minutes"
Thats paraphrasing, I can't find the quote anywhere, but it shows the players are thinking about what they're doing, and are being allowed to think about it.
Probably the most significant change from last year, where if things go wrong, no-one would think about anything except probably hiding. Griffiths, in this instance, was thinking about what would happen if it did go wrong.
The second half started okay, but a couple of players weren't quick enough in tracking back, and that allowed the Israelis to pull one back after breaking through on the left. Less than two minutes later, a simlar lapse on the same side, and a lack of cover at the edge of the box allowed the Israelis to all but undo the good work of the first half, and a few of us older fans suddenly remembered this guy, and this game…
Rodgers made his customary tactical changes, perhaps a minute or too to late, although thats only with hindsight, as there was no sign Hapoel were even going to get a shot on goal, never mind score twice, and things settled, and Celtic found their feet again.
Or rather, Leigh Griffiths's feet found Moussa Demebeles head from a corner, and Celts got alittle bit of breathing space.
Then, Scott Brown, now being Scott Brown again, drove into the box and after cleverly playing the ball off a defender to allow for the correct height on the bounce, rounded off his record breaking 28th-or 29th, pundits weren't sure- European game-not Champions League qualifier- with a powerful half volley to make things a lot easier next week.
They say at this level you need eight players to excel, and Celtic pretty much had that last night.
Above and beyond the call of duty were Griffiths, stung by criticism he can't do it at this level there was never any doubt he wouldn't. Next summer, I'm going to tell him he'll never cure cancer and has little chance of securing world peace.
Scott Brown, brought in by Brendan Rodgers to replace Scott Brown, was immense. He was Scott Brown, in fact, and Rodgers, who spotted the player soon after arriving in Glasgow, said;
'I thought Scott was brilliant,'
'Over the course of pre-season, he has become lean. I have seen him from the outside before, but I thought he looked powerful, just like the whole team did.
'I look at Scott now and, having worked in England, this is a guy who play in the English Premier League, absolutely no question.

Yeah, well he doesn't want to, so fuck off. 
Rodgers has taken this guy,
and turned him into this guy…
which one day he may say is his greatest achievement in football.
Round about next May, in Cardiff, without getting too carried away.
Scott Sinclair, who really shouldn't watch a rerun of the BT coverage, otherwise he'll be reporting Chris Sutton as a stalker, may not have scored, in fact he may also have missed a sitter or two, but he was instrumental in causing uncertainty in the Israeli defence, and would , in fact, have a strong claim for man of the match for his off the ball work.
As would Calum MacGregor, who is an unsung hero of that team, keeping the ball moving quickly and usually managing to block off possible outballs from opposition players.
Tom Rogic, operating behind Leigh Griffiths had his moments as well, and could have scored more.
James Forrest, another Brendan Rodgers discovery, was perhaps  the most industrious and creative of the four forwards, and now that he has a new deal and his confidence sorted, could turn out to be a key member of the team, especially if he gets that bloody hair cut.
They were your eight or nine out of ten performances, and in fairness , no one dipped below a seven, which is what you need at this level.
And when you combine it with the mental strength shown last night, and the balls of a manager who will change what isn't working anymore, then you might just be onto something…
Off the field, you bought your not The View, right ?
We'll talk about that some other time, because it might be a good idea to find the UEFA match delegate, and buy him a couple of beers, before pinching his notebook and editing it a little.
As expected, Celtic supporters stood up and made their voices heard, and to hell with the consequences. We might pay for that later, but we'll worry about that later.
It went down rather better than expected amongst those who you would actually respect the opinion of… and makes you glad it happened, if only because its got people talking, and damn it, if UEFA do take action, then they might just face a public opinion backlash…
So, well done to all concerned.
Even those who held the flag the wrong way round. Its the thought that counts.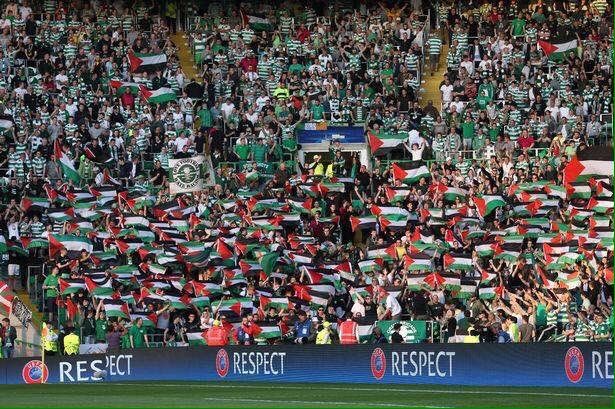 Celtic fans were warned not to raise Palestine flag when Celtic play Israeli team. So they raised a thousand flags.
Mohammad Bagja Retweeted Palestine Info Centr
Palestine Palestine Palestine Palestine. Everywhere support Palestine. Thanks a lot @celticfc supporter. YNWA 
A fantastic show of support from the Celtic supporters for the people of Palestine @ #HapoelBeerSheva game 
@georgegalloway I have to say, I'll tip my hat to Celtic. No other big-fat popular team would dare to do this. I'm a celtic fan, now 
Ana. درة فلسطين Retweeted Susi H
Celtic de Glasgow….. Grandes. No han cedido a la presión de las amenazas. 
People will say Celtic just trolling Hapoel tonight (or something similar) but in this age of acute Islamophobia they deserve credit.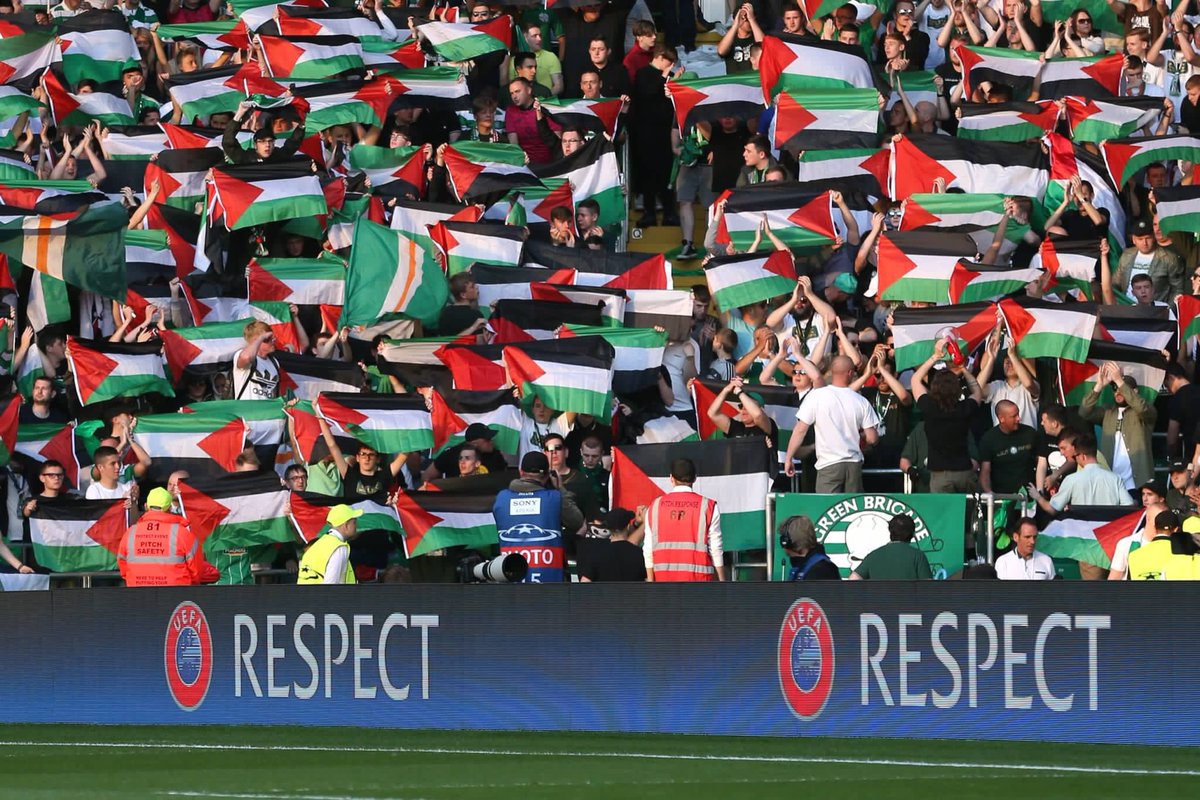 All around the world, and a fairly unanimous response.
My guess is the UEFA response will be that the match delegate didn't report it, and therefore no action will be taken.
If they've got any sense, that is.
Any action may well result in more protests, and more awareness, and maybe even a demand for a solution.
Fuck it, in retrospect, I'm proud to be a Celtic fan, and have realised that there is no such thing as the wrong time and the wrong place to fight injustice.
I was wrong.
Its always the right time and the right place.
Of course, the press, notably the Ibrox Evening Times couldn't wait to pounce on the "offence", and they did it quite offensively, to be fair, ensuring that their next editorial decision should be to make the paper its printed on much more absorbent and perhaps available attached to little cardboard rolls.
As The Clumpany pointed out…
The Clumpany Retweeted Herald Scotland
Second time in an hour the senior title in the Shark-Jump pool has tweeted this
The Clumpany added,
Thats how the papers in this country will view an action that will be seen as a commendable and respected stance against oppression.
Its how I may have, but I got it wrong.
Won't do them any harm to admit they did as well.
An example of the standard of journalism, and perhaps the institutional bias which we failed to eradicate four years ago surfaced in a post match interview with manager Brendan Ridgers, which i didn;t see, but was a transcript was recorded by Celtic Research, and posted on twitter…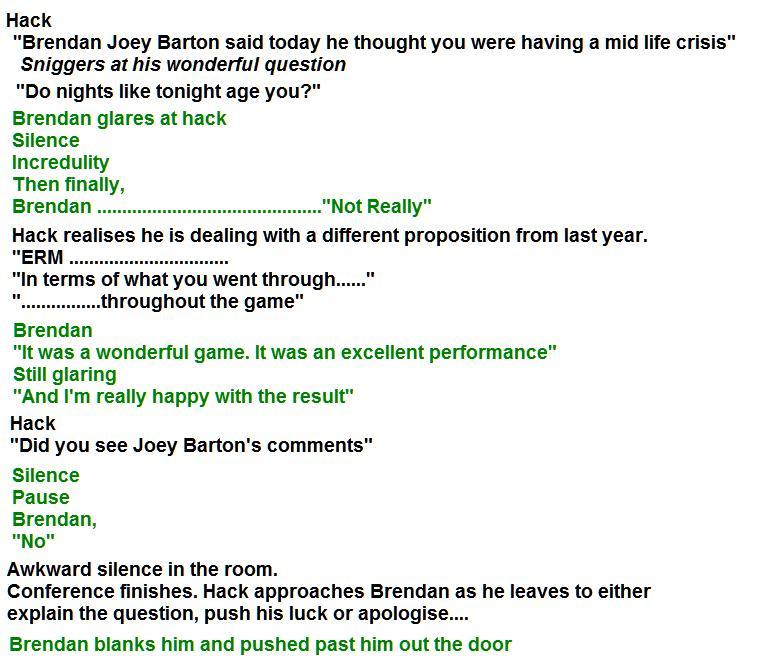 For those of you who are unaware who this Joey Barton fellow is, the Mirror, the English sister paper to the Record, had him on the back page, along with a helpful number should he ever need car insurance..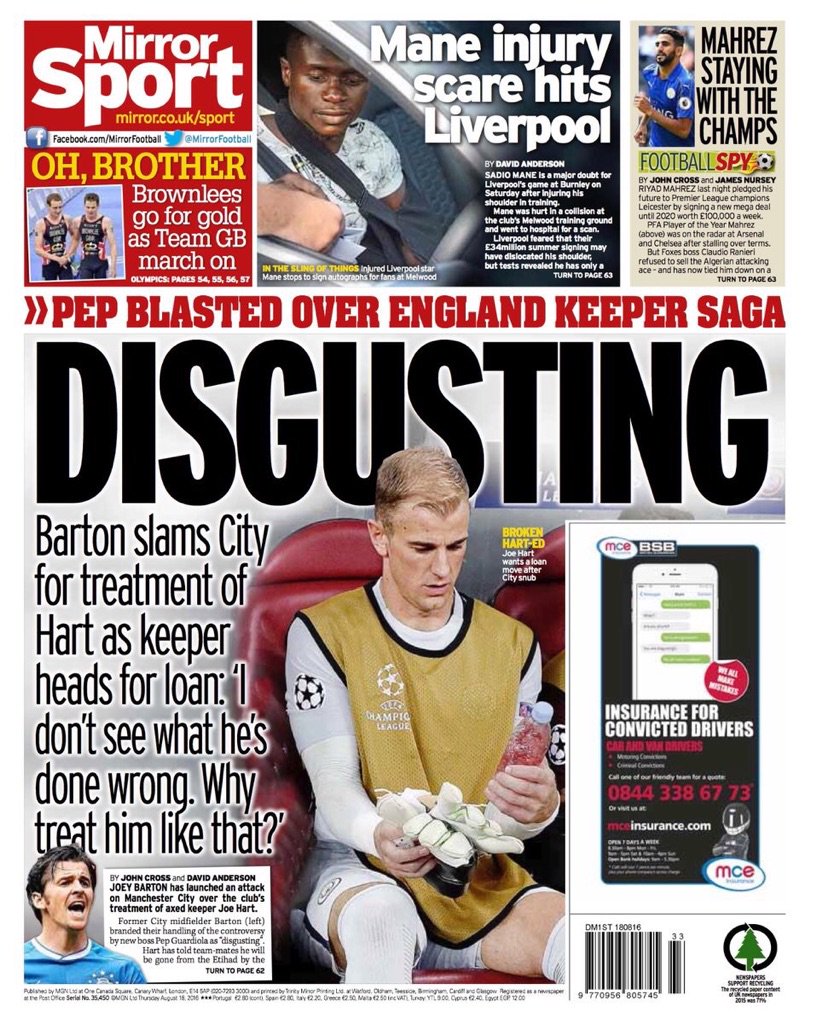 Yeah.
Back in Joeys day anyone not pulling their weight didn't get sent on loan, they got a cigar stubbed out in their face.
If Barton has any sense, he'll drop a toaster on his toe or something, and retire quietly from the game…
but, damnit, its a good day today, and whilst i didn;t want to mention that fellow, it had to be done to bring everything inot context where our media is concerned.
But know what, they'd have to go some to take the spring out of my step today….
Yesterdays picture,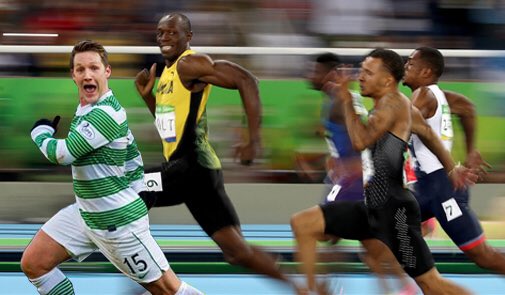 defines the new spirit at Celtic Park, (really -Ed ? )
Today, I know the real answer, but I wonder if you can tell me whats going on here…