Celtic Diary Monday November 24: Celts Need To Stop The 70th Minute Shutdown
Celtic maintained their position at the top of the league with a 2-1 win over a Dundee side who probably deserved something out of the game for their efforts. Sure, Celtic had their traditional seventy minute shutdown, but a two goal lead should have been enough to see the game out comfortably. Instead, in order to keep London road free from traffic for a bit longer, the hoops sat back, and it nearly cost them.
Anthony Stokes opened the scoring when he headed a near post corner home, the first goal direct from a corner for some time, which co-incided with him not taking them anymore, as Kris Commons had been restored to the team. John Guidetti finished off a sweeping move to put the hoops two up, but a bit of panic in defence, where no-one seemed to knopw what anyone else was supposed to be doing, saw David Clarkson grab a consolation for Dundee.
This relatively new idea that teams visiting Celtic Park have of actually trying to win the game is welcome, refreshing, and not in the least bit irritating. Dundee played well, fought hard and Celtics defence should have treated Clarkson, who has now scored in seven consecutive games, with a little more respect.
Beram Kayal had the ball in the net after that, but the linesman flagged him offside, tv pictures later showed he was level, and therefore onsode, but the word is the linesman flagged because Kayal had scored, and he thought something somewhere was wrong, so he put the flag up anyway.
You know, as the Israeli rounded the keeper and was faced with an open goal, you still expected him to blast over the bar. So did he, as he just let it trickle over the line.
It wasn't the greatest performance, but its three points. Celtic will have to step up a gear if they are to avoid visiting Zagreb next month still needing a point to qualify for the latter stages of the Europa. a win over Red Bull on Thursday will render that game meaningless.
Adam Matthews agrees that the hoops need to play better;
"It's going to be a tough game and we know from the away match the threats that they pose.
"We know we've got to be on our game and play better than we did against Dundee or else they will turn us over.
"Hopefully, we will get a good crowd here and hopefully can win the match.
"We don't want it to go down to the last match. We'd like to get the job done as soon as possible.
"We were a little unhappy we didn't qualify in the last match but Thursday is another chance to show Europe what we can do.
"Hopefully ,we'll get a good result and a good performance."
The league is a lot closer, and a lot tougher than in recent years. Looking at the table, Celtic cannot afford to slip up, and if they do, there are three or four teams waiting to pounce;
#
Team
Pl
W
D
L
F
A
GD
Pts
Last 6
1
Celtic
13
9
2
2
27
9
18
29
2
Inverness
14
9
2
3
22
12
10
29
3
Dundee U
14
9
1
4
25
15
10
28
4
Hamilton
14
8
3
3
27
14
13
27
5
Aberdeen
14
8
1
5
20
17
3
25
6
Dundee
14
5
5
4
19
17
2
20
7
Kilmarnck
14
6
2
6
16
19
-3
20
8
St J'stone
14
5
2
7
12
17
-5
17
9
Partick
13
4
3
6
17
17
0
15
10
Motherwell
14
3
1
10
9
24
-15
10
11
St Mirren
14
2
2
10
10
25
-15
8
12
Ross Co
14
2
2
10
13
31
-18
8
Last updated: November 23, 2014 7:52pm

Key

Uefa Champions League: 1st
Europa League: 2nd, 3rd
Play Off: 1st, 2nd, 3rd, 4th, 5th, 6th
Relegation: 12th
Compare that with the First Division, which was predicted to be the tightest of the two.
#
Team
Pl
W
D
L
F
A
GD
Pts
Last 6
1
Hearts
14
12
2
0
37
7
30
38
2
Rangers
14
9
2
3
35
13
22
29
3
Q of South
14
7
4
3
26
16
10
25
4
Hibernian
14
6
4
4
24
16
8
22
5
Raith
14
5
3
6
16
26
-10
18
6
Falkirk
14
4
5
5
18
22
-4
17
7
Dumbarton
14
3
4
7
13
31
-18
13
8
Alloa
14
3
3
8
15
23
-8
12
9
Cowdenb'th
14
3
2
9
15
34
-19
11
10
Livingston
14
2
3
9
11
22
-11
9
Last updated: November 22, 2014 7:23pm

Key

Promotion: 1st
Play Off: 2nd, 3rd, 4th
Relegation: 10th
Hearts beat Second Rangers 2-0 in Saturdays lunchtime game, although the Glasgow side seemed a bit rattled by the importance of the match, and the occasion got to them as they punched, kicked and shoved their way to a red card and several yellow cards. Such was the frequency and ferocity of some of the tackling one can only assume that referee Craig Thomson had misplaced his red card at half time, but was too embarrassed to admit it, and just caried on with the yellow.
So, with the second biggest budget and the second largest support in Scotland, are the knives in the press out for rookie boss Ally McCoist yet ?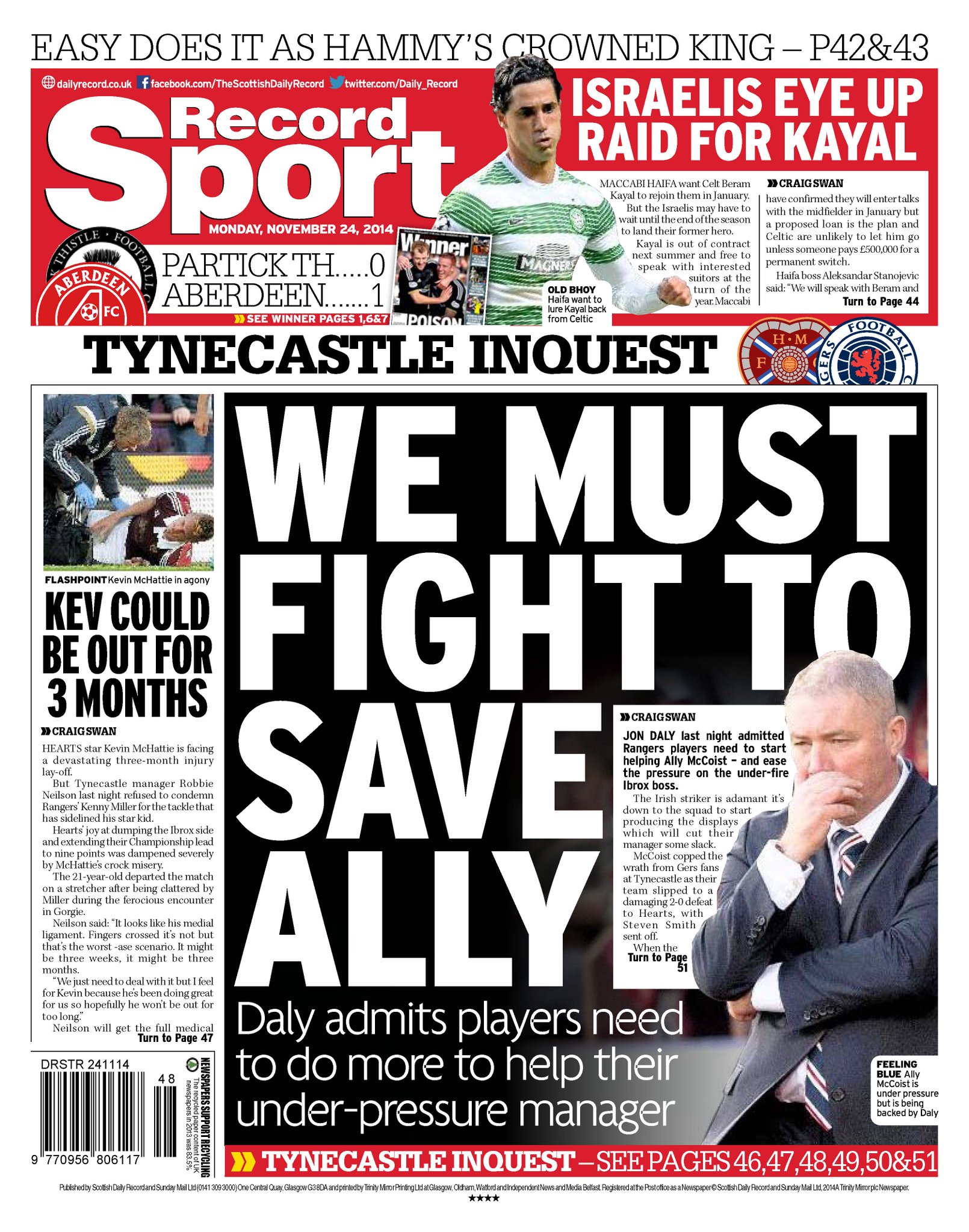 Doesn't seem like it, which is no surprise. Note the bottom line -Tynecastle inquest-as opposed to praising the Edinburgh side for how far they have come since exiting administration after getting their house in order.
News broke over the weekend that Celtic have already agreed a £3m fee should they take up the option to buy John Guidetti in January. It was always in the public domain that Celts had this option, and its being touted as news simply because someone has announced the figure involved.
Again, its down to whether the player wants to stay, and if the right deal is offered to him.
It needs to be done. We don't want to be stuck with someones elses striker who has signed a deal to play for someone else again when it comes down to playing for trophies.
Celtic were in Portugal again at the weekend, watching Benfica in a cup game. I don't know who they are looking at, but since we are starting to look a little lightweight in midfield, I'm guessing its in that area.
Going back to Saturdays game, and the Celtic line up, you may also have noticed that Stefan Sepovic , though on the bench, never got on to the park, hinting that Ronny Deila isn't going to use him on Thursday. Leigh Griffiths wasn't even on the bench, despite performing well when asked.
With Guidetti unavailable for the tie, does that mean he's going with Stokes alone up front ? Supported by Commons, Forrest and probably MacGregor ?
Wow, thats , er, brave. With Denaayer injured, and a doubt for the game, that means, with the exception of Craig Gordon in goal, it could be all last years players who take the field for the most important game of the season to date.
Which, in my book, mean the entire scouting staff should be in the office this morning and asked exactly what they do to earn their money.
Take away the two Mamchester City loannees, and yet again, the new boys have been a failure. an abject failure.
I'm going to float a crazy theory here, maybe theres something in it, maybe not.
We have seen how those involved in Scottish football off the field have belittled the game publicly, claiming its a one horse race to the title, and so on.
Well, maybe some of the players who have arrived at Celtic expecte it to be a whole lot easier than it is. Maybe they thought that they could potter along at half power and still get by.
If that is the case, then its more than the scouting staff that need to be carpeted. Are we telling these players they are guaranteed honours, and champions league football, whilst forgeting that you still have to go out and earn them ?
Just a thought.
If thats the case, a knock on effect will be to annoy those already in the squad, who will feel they are not pulling their weight, but also that they have to give them time, so that we can be sure they are not pulling their weight.
The absence of all bar the three  mentioned from the line ups recently suggests that the penny has dropped somewhere. The question is how to avoid it recurring. Neil Lennon had to put up with whoever was forced on him, it isn't fair to do that to Ronny Deila as well.
Beram Kayal, who has been out of the picture at Celtic for a while, despite the odd cameo appearance, looks set to leave in January. He is wanted back in Israel;
"We will speak with Beram and ask him if he wants to come back," Maccabi Haifa boss Aleksandar Stanojevic said to the Daily Record. "The player's agent is already in Israel and we are talking with him.
"We have been told he has not ruled out a return here." -by Beram Kayal, most probably.
 Leigh Griffiths day off on Saturday has led to stories he will be punted back to Hibernian on loan resurfacing, maybe even taking Liam Henderson with him to help toughen up the youngster and to get him some game time. his career has stalled a bit since bursting onto the scene last year, and it would do him good to get back playing.
 But its all just conjecture. Perhaps Griffiths was being rested ahead of the Salzburg game, to allow him to be fresh for the lone striker role on Thursday.
 I honestly don't know which statement has the least credibility there. Henderson to Hibs , or Griffiths to start.
But this statement, from Keith Jackson , beats them both in the incredulous stakes, as he talks about First and Second Rangers attitude to spending;
It might just be the only business in the history of insolvency events to have allowed this spend-at-all-costs mentality to survive the catastrophe of liquidation. 
It's drilled down so deep into the club's DNA that it has become the answer to almost every problem it encounters. Whenever Rangers are in trouble the default position is to spend more and buy their way out of it with another fistful of Aye Readies.
 Right, you do know if something is liquidated, then its finished, don't you Keith. ? For instance, the new clubs badge doesn't include "Aye Ready " anymore, and that particular crest has been quietly erased from around Ibrox.
What you really mean is that lessons were not learned after the original club spent its way into oblivion by those who formed a new club to carry on the spirit and traditions of the old one.
 Nothing escapes from liquidation.
 And laughter continues to be the theme from Ibrox. Take this, from boss McCoist, from the BBC website
"It's going to be difficult," said McCoist of his team's chances of overtaking Hearts.
"We are not halfway into the season, there's a long long way to go. I am still as firmly focused, determined and full of belief as I ever have been."
Asked about any added pressure on him following Rangers' third league defeat of the season, McCoist replied: "I don't think about that myself and that's the truth.
"My only concern is the team and the club getting back to where we want to be.
"Today is another reminder that it's going to be difficult, very difficult.
"Hearts are playing very well but I think we showed enough, particularly in the first half, that we are more than capable of closing that gap.
He's here all week. You should try the veal.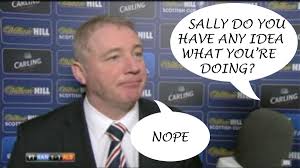 Fridays Diary had a picture of Roy Aitken, once the heartbeat of Celtic, and its his birthday today. We wish him all the best, and leave you with a picture of how he should be remembered;
 Heres one for the future, with a link to the past . Who  is he, and whats the link ?
Finally, can you tell us which of these pairs are a couple of callous, money grabbing gangsters, ( whoever never stole from their own),  based in London,and which one is the Krays ?