Celtic duly got their season underway on Sunday…yeah, I know, I slept in yesterday…with a convincing 5-1 over Hamilton, which cheered a lot of people up and resigned eleven football clubs to the fact that they will be just going through the motions until May.
On that showing, ten in a row will be assured on the pitch long before then, however, which means that someone , somewhere , will have to come up with a plan to halt the league without a vote if they want to stop history being made.
Even now, from an island just off the northern coast, the SFA have gathered and are working on a machine that will interfere with the weather, move tectonic plates around a bit and try to find a credit line from a bank for "rangers ", their own particular favourites.
We hear they are making progress with the first two, but the latter is proving more of a task.
The lack of atmosphere at Celtic Park on Sunday didn't seem to affect the players, who kept their concentration at high levels and the pace of the game even higher. One pre season worry for some was that the lack of noise from the crowd would lower the tempo and have players disorientated by their surroundings, but one has to give credit to them for the way they adapted to the surreal surroundings.
Then again, it was probably a relief for some of them not to be called fat, lazy, useless or a fenian bastard. Or all four to be fair, as from personal experience that combination can be quite distressing, but I suppose most women have a pet name for their partners
The talk of the steamie post match was Oddsone Edoaurd, who scored three goals to send a message to those in the media-Mad Frankie Mac in particular-that he wasn't disinterested and looking for a move away, as the former Celtic striker had claimed in an article that had appeared in the media.
"When I watched Edouard the other day he looked a wee bit disinterested. Like he did not want to be there.
"Maybe he is just a big game player and he is just getting the minutes in. Maybe he needs crowds.
"I would watch this space with Edouard. Everybody has a price. If somebody offers above their valuation you have got to take it.
"I have not seen enough from Edouard in pre-season.
"I know it is just pre-season but I have not seen anything that suggests that he is up for this. This is a massive season."
The talismanic Frenchman went so far as to comment on this on Twitter, making thousands of Celtic fans swoon with sheer devotion….
Edouard doesn't seem interested …
.
Followed by an emoji to represent hot air and three footballs to symobolise his second hat trick, his first also in a 5-1 win, over Motherwell in December 2017.
 His goals on sunday will no doubt herald a fresh wave of specualtion about his future, with Leicester, Leeds, Aston Villa and others reporting an interest, with figures of around £40m being mentioned, and although some offers may be too difficult to resist for both player and club, let's just leave that kind of talk where it is until we have to worry about it.
 To the surprise of some, Greg Taylor was awarded man of the match, after he took his record to seven assists in fifteen games, a fact that also might surprise some. He has an enormous task to win over Celtic fans while they await the return from loan of Keiran Teirney, currently living out tv drama "The English Game " in London as he attempts to bring some passion and excitement into a league that lost it's way when it took the Sky silver, which became more important than any silver that could be won on the pitch.
 Taylor isn't Keiran Tierney, and fans should remember that.
 Incidentally, you might think I'm kidding about Tierney and him being on loan, but there are only a few of us that know this, and there may have been a leak that if interpretated in a certain way, lends considerable weight to this "theory "
Just want to say that everyone giving KT abuse should take a good look at themselves. The Bhoy lives n breathes Celtic. Nobody know what happened to caused him to go. He's more honesty & decorum than any one of you haters. Wind yer necks in, sound like other mob full of bile 
 She's right…because what if I'm right, and he changes his mind ?
Next up for Celtic are Kilmarnock next Sunday, and another resounding win will further dampen the dark hearts across the city, who haven;t had their troubles to seek already this season, with several players moving on and the real prospect that their manager might have decided he isn't a winner in the dugout, and so a club that doesn't expect to win anything might be a better fit for him.
Bournemouth are reported to be interested, but if a manager like Eddie Howe can;t keep them in the EPL, then they'd better start planning for the Conference league if they get Gerrard.
The much anticipated Castore kits began to arrive in various bears dens this week, and they're not overly impressed.
Shoddy workmanship , low quality material and a distinctly unclean appearance may be fitting for the players, but the fans have higher standards…..and the complaints flew towards the sweatsheds of Merseyside….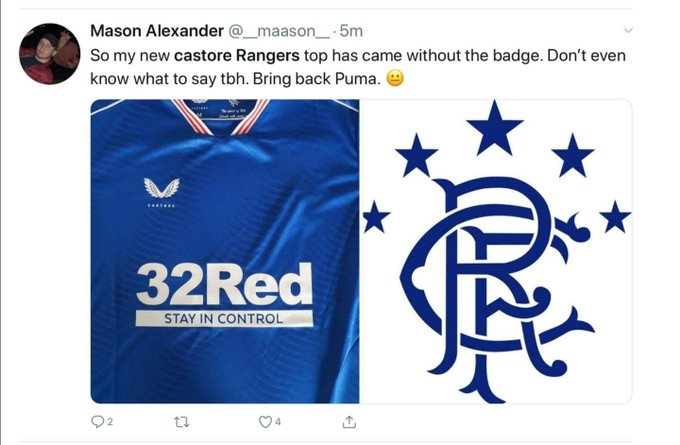 Though there was reassurance for them from one quarter….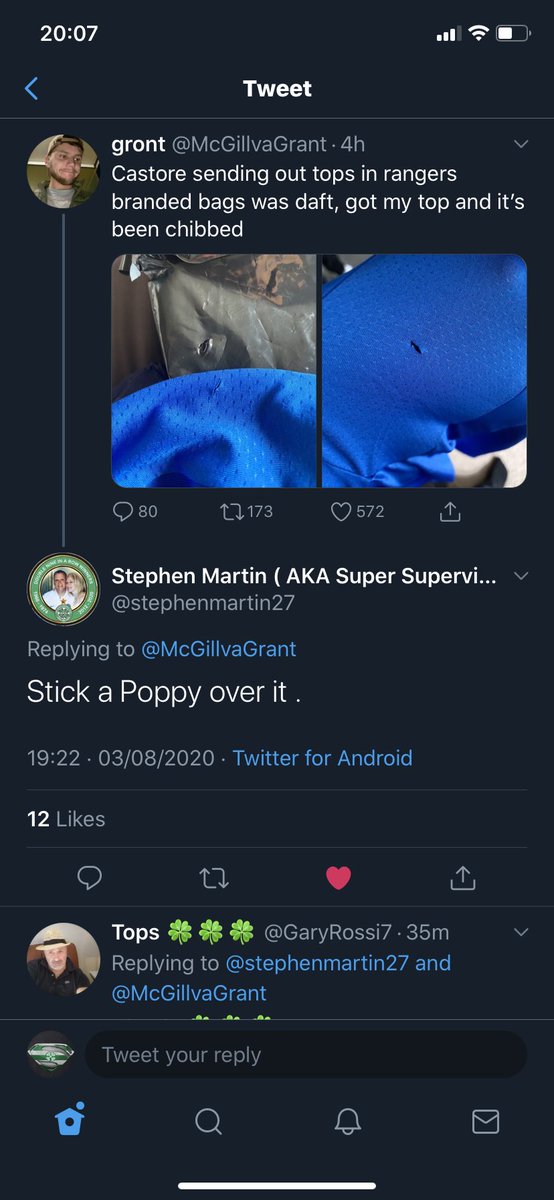 Or  this equally invaluable advice….
Second rate merchandise, largely because no one else was daft enough to enter into a deal with them , kind of sums them up, and although the press won't get behind them with the campaign it deserves….no matter what, it's shoddy work and that kind of treatment of customers annoys me immensey no matter wh0-or what-they are….because their narrative is to avoid all negative "rangers " stories and this one would lead to criticism of the club/company and questions asked about why they didn't get one of the major sportswear manufacturers on board, which of course would ultimately mean they'd have to tell the hordes that Mike Ashley has them over a table with their bottoms in the air.
Whilst we know all of that, they'd rather that no one shone any light over on the dark side that might reveal just how strapped for cash they really are.
They did have one piece of good news though, as their club/comapny announced that they will have a "high calibre " line up for their Rangers TV broadcasts this season, which includes the intellectual giant that is Alex Rae….
Full time teaser on Radio Clyde just now… Name the eight Scottish players to have played in the Bundesliga ?
He'll join Neil "I know I sound stupid " McCann in the studio, as the producers adapt to the level of their target audience.
On Saturday, we offered this for your contemplation….
Caption……….
Following various attempts at throwing his players under a bus, Slippy changes tact but finds the tank is no match for the ample arsed Morelos.
Today…