It appears so.
Dundee finally sneaked their vote into the SPFL, and the three lower leagues were concluded.
Originally a no vote, using company law they withdrew that and registered a yes instead which means that the way is now clear for the authorities, of whom it must be said have done everything by the book, to declare Celtic champions for the ninth succesive season.
For the record, there is no suggestion of underhand tactics of any kind that have made Dundee act in the best interests of over eighty per cent of senior Scottish clubs, and we look forward to their new borrow a player or two when we need it arrangment with Celtic.
There's also some good news for the town as post Coronavirus work is going to be in short supply, and there's news of considerable investment heading to the city of discovery….
BREAKING: Mystery Irish billionaire set to back development plans for Dens park with massive cash input.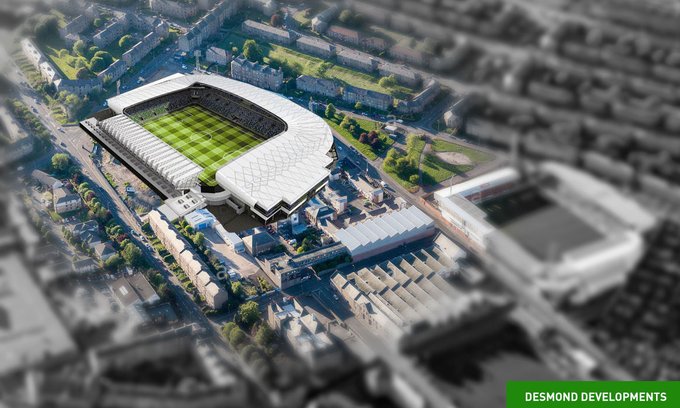 Finally, after much debate, largely from the dark side of town, clubs can put a lid on season 19-20 and beging to work towards making sure that season 20-21 is the start of a brave new world, with a chance to restructure the game for the good of all, and maybe bring in fresh investment and fresh ideas to sell a game that was perfected in Glasgow over a hundred years ago, and sent out to the wide world for their enjoyment.
 There's a lot of work to be done, but it would surely be beneficial if all clubs worked together for the good of the game, and giving us a product we can be proud of.
 Hamilton Academicals chairman Alan Maitland wants to see the Premiership season over as soon as possible as well, so that they can start to work towards next season, which will horrify shareholders such as Douglas Park, who is also the chairman at "rangers " …..
"Regardless of what the final outcome is of the vote the thing we need most is clarity," 
"The season as it stands has got to be finished; it's done. I can't see any way that they can get back by the June 10 deadline and our vote reflected that.
"People are out of contract and won't even have trained before June 10, so I don't see a possible way this season will resume on the pitch.
"There are bigger things to worry about at the moment, and the SPFL board have a tough task.
"Clubs are voted for what suits their position, which they are entitled to do. For us the most important thing is being able to plan. 
"We want to allow Brian [Rice] to plan for next season, to re-sign players and look at other players. That's not possible if we don't know what the budget will be for next season. 
Can't argue with that, some rascal told us that when Maitland told Rice to just gamble on what might happen, the Accies boss accused him of "taking the fucking piss ".
"We try to sign up our players so that we only have around a third of the squad leaving at the end of a season. That is the case this time, with around a third of our team leaving in June.
"That's why we need a certain degree of certainty."
 Common sense rising to the surface there, perhaps on a tide of relief as Hamilton would have had to fight for their place against Hearts in the top league, and with Hearts in a cup semi final, they may well have used that as a boost to their admittedly piss poor form this season.
 But he's right, get it all done so the game can move forward, despite a few howls of derision from Partick, who no one takes seriously anyway, and "rangers ", who have suddenly gone all altruistic on behalf of Partick, Stranraer and Brechin, all of whom now face relegation.
 Hearts face relegation as well, but Ann budge, the jovial Hearts chief, has been handed the job of chairing the restructure committee for next season, so it's unlikely they will end up in the second tier, and even less likely that they'll moan about anything.
 Ally McCoist, speaking on Talkshite Radio where no one will hear him, claimed that some clubs would be angered by this decision.
 Then he contradicted himself by claiming there would be no relegation.
Jamie Bryson, who describes himself on twitter as;
added his tuppence worth….
The more I read about the SPFL the more it becomes clear they are little more than a Celtic mafia. Shocking corruption with what certainly appears to be a sectarian undercurrent.
 With his fully qualified legal mind, he swept into action…
The SPFL company Articles appear to be clear. Art 75 outlines each member shall have 'one vote'. Art 84 outlines that a vote given shall be valid. Art 182 outlines that documents sent electrically are deemed served. There's no legal basis for Dundee to change their vote  
If you don't count basic company law, that is.
Anyone considering counting on his considerable legal experience to help them when they are facing a judge might want to reconsider. They say a man who defends himself in court has a fool for a client, so one can only wonder what sort of client engages the services of Bryson.
 There is considerable hurt amongst the support of "rangers ", who claim to be grieving on behalf of sporting integrity , which , if true, shows a remarkable evolution of thinking as just a few short years ago, such integrity was low on their list of priorities , and they must be commended for thinking along those lines.
Radio clyde, which serves the west of Scotland, has a phone in every evening which gives supporters a voice to condemn or praise the Scottish game, and the love for Partick and the other clubs who didn't want the season to end, despite no one being allowed within two metres of anyone else due to the plague being in town, was quite touching.
 Some fans were threatening to boycott cup finals, others concerts at Hampden and some declared they would never again go to an away game and support other clubs who had destroyed the integrity of Scottish football.
 Without the blue pound, the game would crumble, they said, in a remarkable rerun of phone ins during the last great cataclysm to hit Scottish football, the liquidation of Rangers.
 The blue pound, of course, if going anywhere, will need to go to Ibrox, as without doubt it is they who need help.
Douglas Park , the Ibrox interim chairman until they can flog that particular dead horse of a club/company,was outraged when he was reminded of an article in Private Eye magazine, which he was told-he couldn't possibly have read it as it says no such thing-that Murdoch MacLennan hated Rangers.
 What it implies is that someone who worked for the Daily Record thinks he hated Rangers, the club that predated the one Park is currently trying to save from going the same way as Rangers….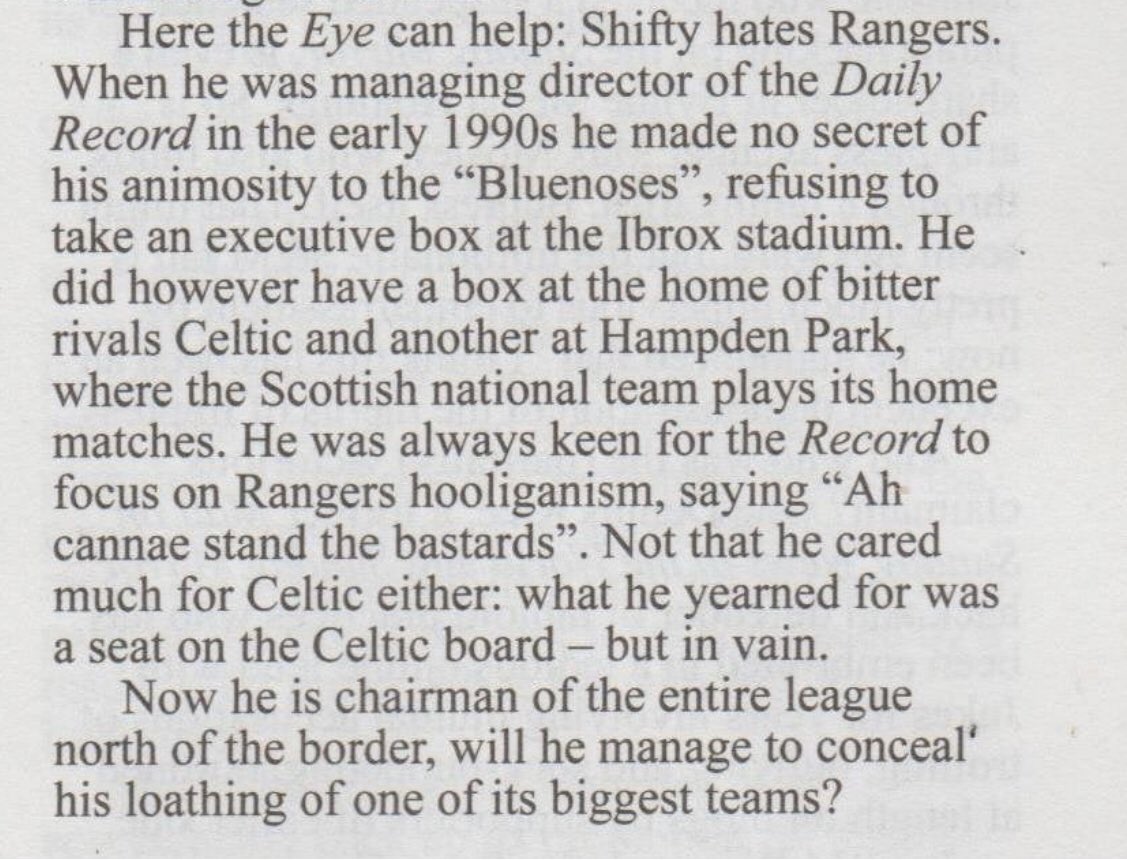 which makes this from the Record a little bizarre….
Ibrox chairman Douglas Park has demanded Murdoch MacLennan refutes allegations of an anti-Rangers bias.The motor tycoon has no faith in the SPFL chairman overseeing an internal investigation into the resolution controversy that has plunged the game into a bitter civil war.
Hampden sources have revealed Park, who replaced Dave King as Ibrox chairman last month, has written to MacLennan insisting he clarify his stance on an article in Private Eye.
The satirical magazine claimed MacLennan "hates" Rangers and has a "loathing" for the club and quoted him as saying: "Ah cannae stand the b******s".
MacLennan, 71, has never publicly addressed the article, which appeared shortly after he took up his post on Hampden's sixth floor in July 2017.
It's understood Park wrote to MacLennan earlier this week, in response to a letter from the SPFL's figurehead on Saturday night that demanded Rangers produce their evidence to justify calls to suspend Neil Doncaster and Rod McKenzie.  
The Record clearly didn't think of asking  around their own office if anyone could shed any light on the issue, and it was left to the SPFL to slap the Ibrox man down.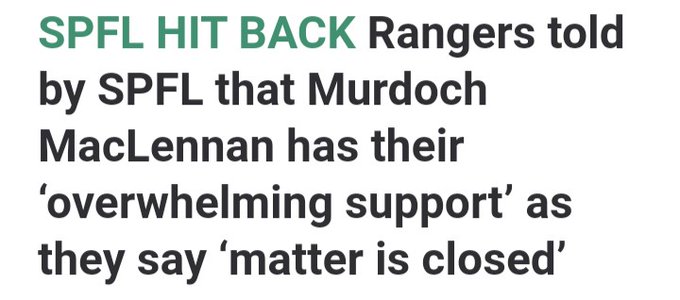 Park, again, has tried to drive the SPFL bad narrative to get the hirdes onside, and it seems to have worked, which means the internet was full of all sorts of oddbods ,er, defending sporting integrity…
Including this, from Roddy Forsyth, who inaccurately claims on the BBC that Celtic didn't want to finish the season
Others had their own views…

I don't.
Heres why…
And this, from a Labour MP…
SPFL vote LIVE: MP Ian Murray slaughters SPFL over 'blazers and jobs for the boys' mentality 
Blazers ?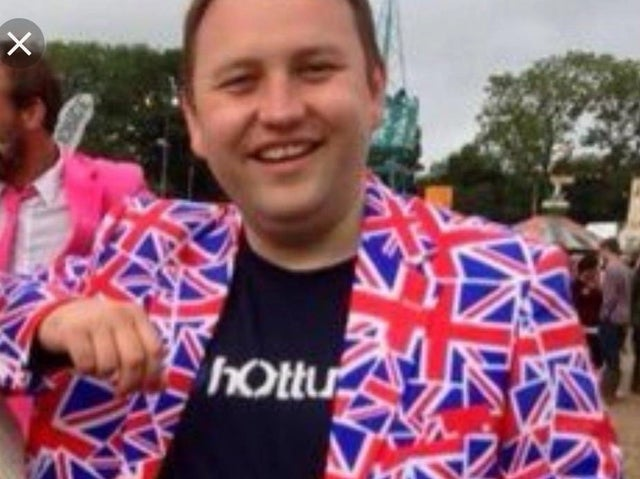 Common sense is winning, and no doubt the threat of losing the blue pound will diminish as whilst the narrative will be that this vote is going to be blamed for the next insolvency event over the river, everyone else will just get on with making sure they survive this particular crisis, both as clubs and as individuals.
Every club will have its own concerns, and can now get on with looking forward instead of worrying about the uncertainty of this season.
Celtic are no exception, with a new kit deal signed and ready to go with German sportswear firm Adidas, it might be worth noting what no doubt is a hot topic in the Parkhead boardroom at the moment…
From Bloomberg…
Adidas AG was approved for 3 billion euros ($3.3 billion) in aid from the German government and banks, and the company will cease dividend payments as it grapples with the fallout from the coronavirus crisis.
The financing package comes in the form of a syndicated revolving loan facility, with 2.4 billion euros in loan commitments coming from German state-owned bank KfW and an additional 600 million euros from a consortium of Adidas's partner banks, it said in a statement late Tuesday.
As part of the aid, the German sportswear maker said it's required to stop payouts for the duration of the facility. The company already decided to stop share buybacks while managers forgo some compensation. The banks include UniCredit Spa, Bank of America Corp., Citigroup Inc., Deutsche Bank AG, HSBC Holdings Plc, Mizuho Bank Ltd. and Standard Chartered Plc. Adidas said it will repay any money used, including interest and fees, as fast as possible.
Adidas moved up the release of first-quarter results to April 27, saying it's still too early to provide a financial outlook for 2020. After only taking the hit from China into consideration, the company said on March 11 that the coronavirus would cut first-quarter profit by about $500 million. The shares are down 22% for the year.
KfW launched a loan program on March 23 to help companies facing a liquidity shortage. About 2,500 businesses had applied for loans totaling 10.6 billion euros as of April 3.  
Not only that, as Desi mond pointed out on our ost recent podcast-on the site now- what if Adidas cannot manufacture any replica kits ?
After all, they are hardly essential goods…
Thats a lot of money that won't be coming in to Celtic Park.
At least now clubs can begin to plan ahead,each one within its own financial constraints. We have an opportunity to rebuild the game for the good of everyone involved, and it needs to be grasped with both hands.
Alright, it hasnt come about the way we would have wanted it to, but there's a lot of other things right now that are more important, and that certainly wasn't something we wanted to happen, so we must adapt and try to make the best of it.
Brave New World ?
Well, with a bit of common sense….
Yesterday, we had this…
caption two minutes efter auld jesse wis telt care homes ur safe  
today…