The latest tale of tata's to Tims doing the rounds is that of the ever popular Dedryck Boyata, who assumed the role of fans boo bhoy pretty much because Jozo Simunovic kicked Kenny miller up in the air, Mikael Lustig put on a policemans hat, and because Keiran Tierney would need to score a hat trick of own goals against "rangers", before whipping of his Celtic top to reveal a red hand of Ulster t shirt.
Lazio are linked with a move for him, which according to the Scottish press is all but done and dusted as long as the Italian club pays between five and seven million notes.
Boyata is not a bad defender. Boyata is a good defender who , like all defenders, makes mistakes.
He's currently over in Russia at the World Cup where he was impressive for Belguim in their win over Panama.
FIFA.com's Simon Massart reported on how he's doing..
Dedryck Boyata had the chance on Monday to show what he could do on the biggest stage of all. He did this in front of his mentor, Vincent Kompany, the man he deputised for as Belgium began their 2018 FIFA World Cup Russia™ campaign with a 3-0 win over Panama.
In a journey that has been more than ten years in the making, the fates have conspired to take the two Brussels-born players from Belgium to Russia via England with Les Diables Rouges. And it was in Sochi that one of Belgian football's prodigal sons pulled out all the stops under the appreciative gaze of a player he has always looked up to. "I'd rather keep to myself what Vincent had to say to me after my performance, but he really touched my heart," said Boyata with a modesty reminiscent of 'Vinnie' himself. 
Privileged to have the support of a role model who has become a friend thanks to the time they spent together at Manchester City and in the national team, Boyata is now hoping to carve out his own little niche. And like any good mentor, Kompany wants nothing more than to see his protégé flourish.
"I learned to grow with him, but it's important for me to make my own way and I've achieved my goal. He's become just another team-mate," explained Boyata, who at the age of 27 is intent on distinguishing himself from the player he most resembles.
An intended understudy in the centre of defence, the Celtic player has found himself in the starting line-up on account of injuries to Kompany and Thomas Vermaelen. And the surprise guest did everything he could against Panama in an effort to hold on to the position. "I'm pleased with my performance and with that of the Belgium team as a whole," said Boyata. "It was my first World Cup match and I had to keep my emotions in check. It was a real performance."
As much of a competitor as Kompany, he displayed the same calm and intensity in dispatching his duties between Jan Vertonghen and Toby Alderweireld on Monday. Similar in stature to the Manchester City captain (at 6'2″ (1.88m) he stands only slightly shorter), Boyata will always find the comparisons hard to shake off, even if he is making a valiant effort to chart his own course. 
For Boyata, his move to Celtic has worked, he's in the national team at a World Cup. He's had to work at it, but he's got there.
He's had untold levels of grief from his own supporters, but he's got there.
Why would we want to sell him now, when he's at the top of his game ?
As Brendan himself said;
"Everyone goes on about a new centre-half, but I don't think they'd be happy with Billy McNeill playing centre-half!" 
Well, he is seventy -odd….
Rodgers prefers to look at somewhat younger players..
"We have young players developing very well and they will continue to, but we have to be in the market to bring the best possible players to Celtic but there are two conditions: availability and affordability.
"We are always on the lookout. The key was to get the likes of Tom and Odsonne in.
"Like always, there are a few areas that we want to be better in and improve.
"It's never easy because the team we have is developing very well and I like to develop our own players." 
Like he has done with Boyata….
And then there's Nir Biton…or is there ?
Not according to John Reid there isn't… ( Who ?-Ed ) (I don't know-Ralph )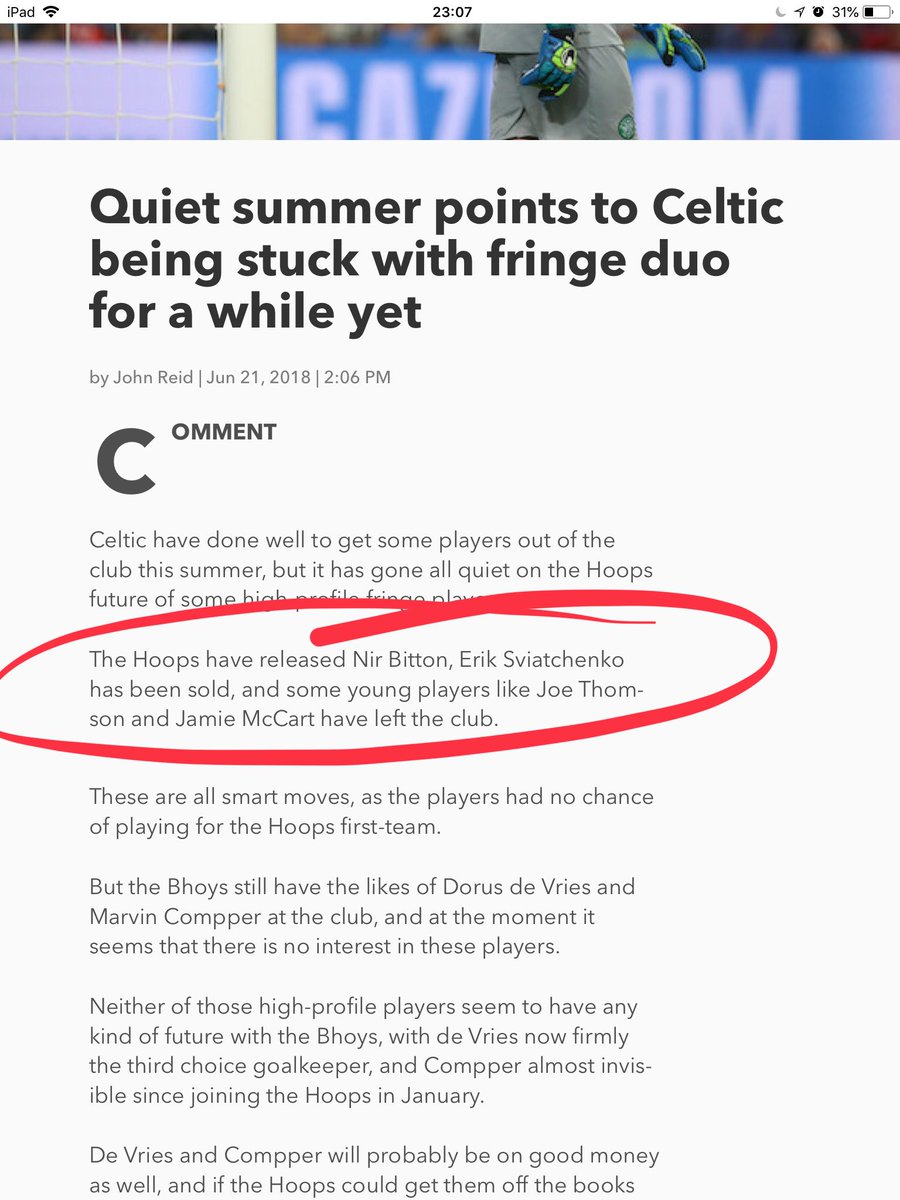 Biton is under contract until May 2020, and would, in any event, be unlikely to be released.
He probably means Naidr Ciftci.
But he should have checked. I always check my facts, although since I make most of them up, its probably easier for me.
This "quiet summer ", incidentally has already seen Celtic break their transfer record, secure a couple of top players for years to come and we're still waiting for McGinn, who the last we heard was being kept in a cellar underneath Rod Petries house until he's garnered enough support to get the top job at the SFA.
Ah, the SFA…it's summer, so it must be time for Neil Lennon's ban… lets ask the BBC..
Hibernian manager Neil Lennon has been given a three-match ban for his conduct at the end of his side's 5-5 draw with Rangers in May.
He was found guilty of misconduct for his celebrations as Hibs scored a late equaliser.
That landed him a one-match suspension but also triggered a suspended two-game ban from earlier last season.
It means he will be in the stand for Hibernian's first three domestic matches next season.
The Edinburgh side begin their season with a Europa League first qualifying round tie against NSI Runavik on 12 and 19 July.
Lennon will also be banned from the dugout for that since he incurred a four-match European suspension for remonstrating with the referee in his first match in charge at Easter Road two years ago. 
The Hibernian "rangers " game was the sort of game that would actually be a decent advert for Scottish football. Lennon's side equalised late on, and he celebrated.
And got banned
That is almost everything thats wrong with Scottish football's governing body in just one story.
Oddly enough, the sectarian and racist abuse Lennon receives at Ibrox wasn't deemed fit to investigate, and as far as we know, there are no plans to punish the Ibrox club, as this is Scotland, and they are the people.
They must be, for despite failing to comply with UEFA FFP rules, they have been granted a place in the Europa League, something which Shupki will no doubt be aware of.
Though they do seem to be a little unsure of who they are actually playing..
Returning to European competitions after 14 years has brought FC Skopje in front of the FC team, after the draw in Nyon of Switzerland for the first qualifying match of the European League.
It is a giant squad in Scotland, which was founded in 1872. Glasgow Rangers is a champion of Scottish football. Plenty 54 times have won the championship title, while 33 titles have been received in the Cup of Scotland, while 17 times have lost the final challenge.
Glasgow Rangers is the winner of the European Cup Cup in 1971-72, while losing the finals in two seasons: 1960-61 and 1966-67. In the UEFA Cup, in 2007/08, he stopped in second place after being beaten by Zenit at 2: 0.
In 1972, Glasgow Rangers lost the UEFA Super Cup, from Ajax with a score of 6: 3, as the Dutch scored two consecutive victories (3: 1 and 3: 2).
Of course you all have in mind Liverpool's pastel name, Steven Gerrard. Now this great name of world football, his debut as coach will have exactly to FC Shkup.
First Rangers vs. Skopje match will be played on July 12 in Scotland, while the return will be on July 19 in Skopje. 
Though to be fair, it does read like a level 5 press release, before the editor has had a chance to tidy it up.
Their website is here.
Please don't bombard them with information that they probably already have on "rangers " ineligibility
Meanwhile, there could be a real challenge to Celtic next year, after a couple of this years diddies dictated their debut diatribe to the Dailies…
Connor Goldson sets sights on Rangers beating staggering Celtic title odds to end seven-year trophy wait
I'll happily offer any odds he wants on "rangers " winning the league. As long as he pays up front. I've seen what happens to those who are owed money by anyone from that club.
Jon Flanagan warns Brendan Rodgers that he's joined Rangers to steal Premiership crown from his old boss.
Still serving a  sentence for a horrendous assault on his former girlfriend, Flanagan has now turned his attention to larceny.
By the way, "rangers didn't "raid " Liverpool to get him. He was a free agent who Liverpool didn't want anywhere near the club after his , er, incident.

Still, with money at a premium over the river, anyone will do…
Incredibly, despite being wrong about every "rangers " manager and signing since the clubs formation in 2012, the press still peddle the same tired old line..the same moonbeam of hope aimed at a support who really should have sussed things out by now.
These are professional wordsmiths, who have attained a position of influence without responsibility within society, and in under normal circumstances they would be fired, and in some cases, even charged with complicity to criminal activity.
And yet, this is Scotland, and they are the people.
Perhaps the most ridiculous piece about "rangers ", and specifically their new gaffer came from Beverley Lyons, in the Evening times, a daily fanzine produced by Level 5 PR..
Steven Gerrard pops into secret plush cinema in Glasgow
Steven Gerrard had his big week in Glasgow for the first day at Rangers – but no-one knows (until now) that he visited the cinema in the City Centre the very same day. 
The new Ibrox team manager popped into the Blythswood Hotel just a few hours after his first day on the job to watch a film with seven other official-looking pals in the hotel's private cinema room. 
It has Harris Tweed chairs and is a cosy place which fits 40 at a cost of just under £1,000. 
The room was booked under Box To Box which is Steven's nickname but I'm still not sure if he watched the latest Disney movie, Power Rangers or a Rangers induction video, now that he's a new member of the club. 
It was a Disney movie…about his time at ibrox..Disney Have a Clue, A Chance or A Pot To Piss In
Fancy paying all that money to see a movie, and finding an Evening times journalist with their head so far up your arse you can't sit comfortably, even in a Harris Tweed chair.
In order to change things, one needs to get within the system and break it down from there.
As you know, i'm applying for the compliance Officer job at the SFA, and I think my new tattoo could be the clincher..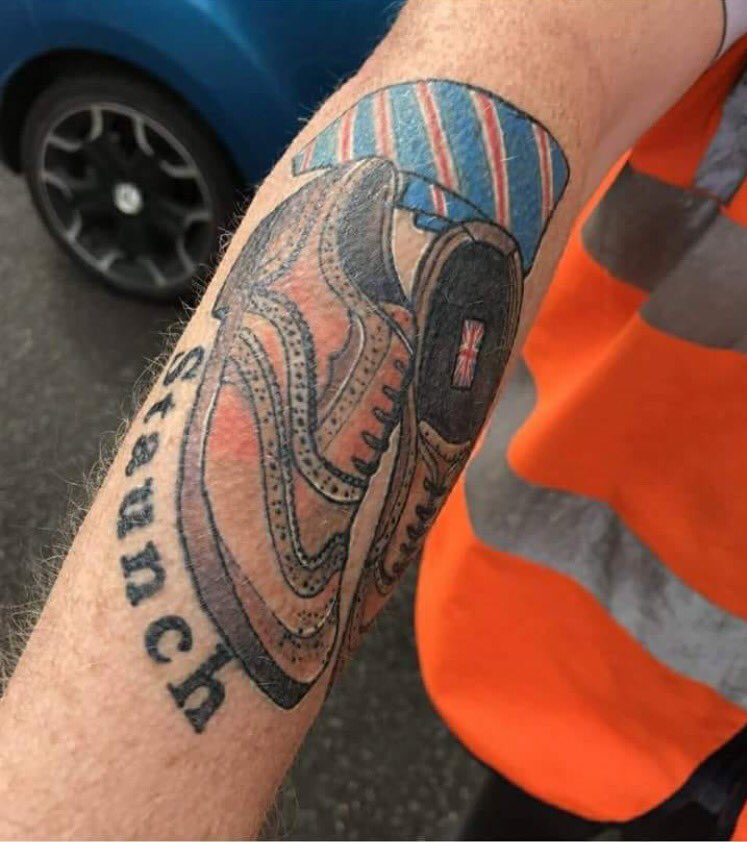 Influence without responsibility is also a factor in this weeks Etims
Knob of the Week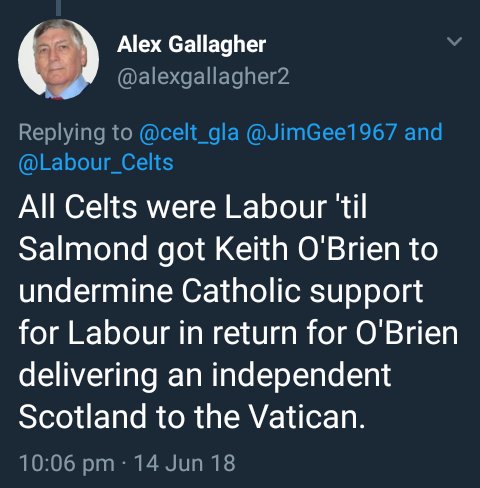 Labour Councillor for the North Coast Ward, including Largs, Fairlie, Cumbrae, Skelmorlie. Views all my own. 
Direct from the seventeenth century, it would seem.
He's a bit doo lally, as previous tweets have indicated.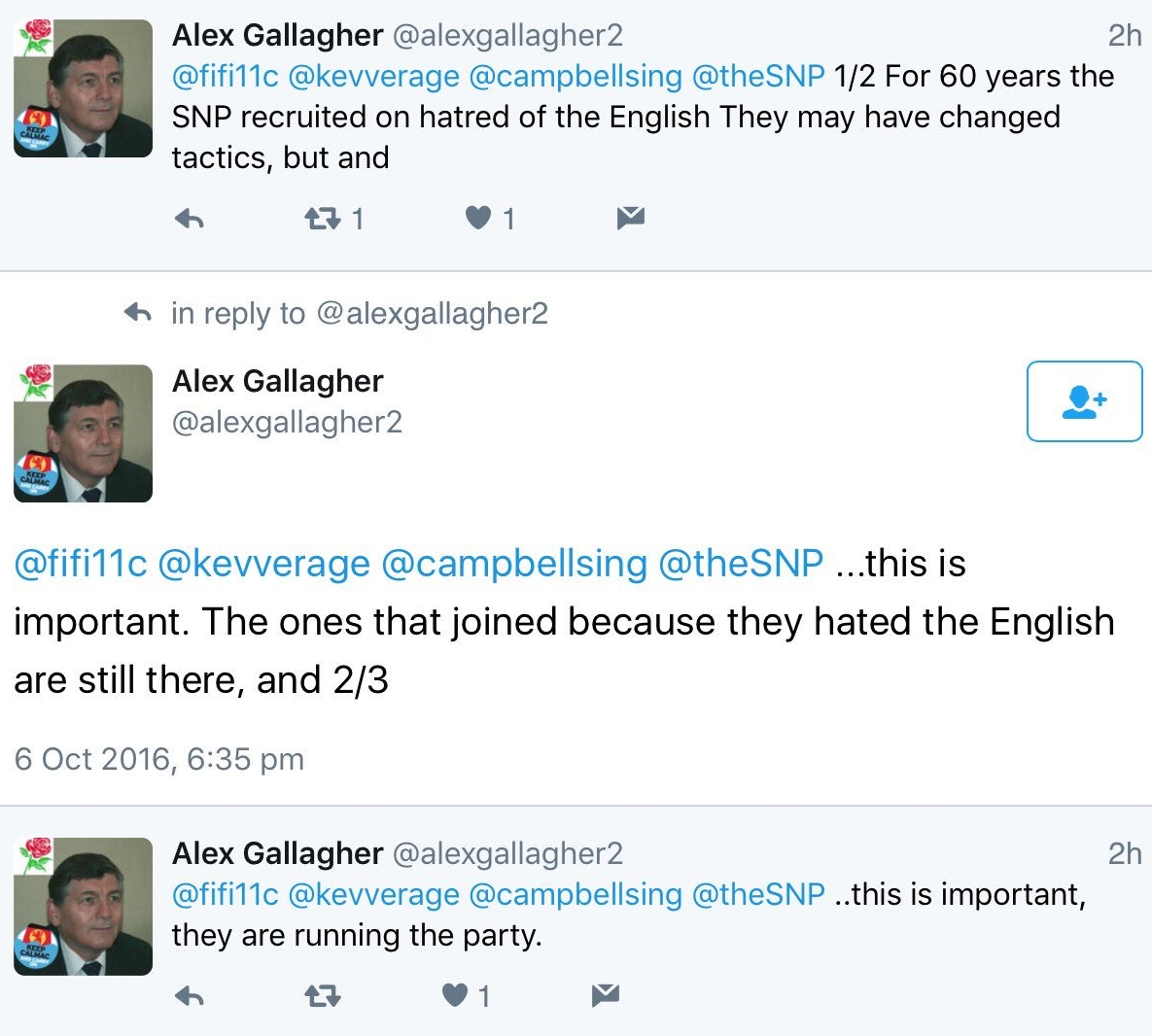 Those of us who support the SNP from England, where they live with their English wife, raise their English kids and work in an English environment, me, for instance, would tend to think he's being a little over the top here.
But thats influence without responsibility.
He's in the news again today.. ( The National )
A LABOUR councillor has been criticised for attacking a journalist as not a "real Scot" after he wrote a sympathetic article about the SNP .
Alex Gallagher apologised for the comment he made about former Herald columnist Chris Deerin who penned a positive analysis piece in a London-based magazine.
Deerin, who is also director of the think tank Reform Scotland in Edinburgh, described the SNP pro-immigration and pro-Europe, and contrasted that favourably with the Tories and its Brexiteers such as Boris Johnson and Jacob Rees-Mogg. Deerin was also critical of Labour leader Jeremy Corbyn's Euro-scepticism.
"You don't have to want Scottish independence to appreciate today's SNP as an emblem of decency, progressiveness and social conscience," he concluded in his article in the New Statesman. "Scottish nationalism has grown up and it has grown up well."
But North Ayrshire councillor Gallagher took umbrage at Deerin's take on the political parties. He posted on Twitter. "As a 50 year reader and subscriber to the NS, this is total and utter bollocks."
"They must get a real Scot, preferably left or centre left, Deerin speaks for Charlotte Square, not Scotland," he tweeted, referring to the upmarket Edinburgh square.
Gallagher then said: "Apologies That was crass. I should have said someone vaguely left who reflects real opinion in Scotland.
"I can only plead blinded by anger at the stupidity of your article and the fact it is published in my favourite supposedly "left" magazine. I would hope they wld know better." After Gallagher's remark was attacked as "appalling" by other social media users, Deerin responded: "I used to get this c*** from Yessers. It's nearly always from embittered Labour people these days. Interesting."
Gallagher tweeted: "I was wrong to use such language. I have apologised Chris. You could acknowledge that."
A Labour spokesman said: "This was a crass comment that Alex Gallagher rightly apologised for." 
Wonder when he's going to apologise for trying to whip up sectarianism in a country which has a poor record on protecting catholics from abuse and discrimination ?
Yesterday, we'd show this picture, and asked for your comments…