You can fill in that bit yourself. By the time you read it , you'll probably know.
It'll be one of these, on the bottom row.
Champions route
Seeded
Viktoria Plzen, Salzburg, Celtic, APOEL, Legia Warsaw
Unseeded
Dinamo Zagreb, Ludogorets, FC Copenhagen, Hapoel Beer-Shiva, Dudalk  
Look out for us in the draw..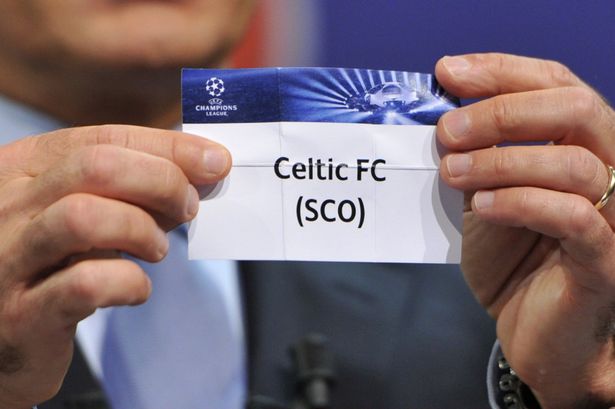 If i'm honest, I'm not that bothered who it is, as long as its not Dundalk. I like the idea of a team called Beer, though, and wonder what the connection is…
Never one to miss a trick, the club warned fans that they could miss the game…
The only way to guarantee a ticket for next part of the Hoops' European adventure is with a 2016/17 Season Ticket.
A Season Ticket guarantees your right to buy for all European home games at Celtic Park and will ensure your seat for the UEFA Champions League play-off later this month.
The play-off matches will take place on August 16/17 and August 23/24 and regardless of the opposition, a full-house in Paradise will make a huge difference.
It's not too late to pick up your Season Ticket for 2016/17 with some fantastic seats still available and there are a number of easy ways to buy:
This desperate lunge towards our wallets, where I keep a picture of my wife and children to remind me why its empty, means we must be about to sign someone, and with Gary Mackay Steven, oh the stories i could tell, about to embark on the road back to Dundee united or up to Ross County on loan, maybe Scott Sinclair, horrified at the thought of playing alongside Ross McCormack next season, could finally be on his way to Glasgow.
We do need a bit of cover on the flanks, so to speak, as Patrick Roberts looks set to miss the next three weeks or so with his hamstring injury picked up against Astana, if only to quell talk of a return for aiden McGeady, who has lost his way of late, which is a shame. He would have been the creative midfielder we need had he still been any good, especially as he is now available on a free.
But, there's a clue as to what he's worth these days in that price tag.
Yet i'd take him, and get him in intensive training, ready for the second half of the season. Form and foitness are temporary. class is permanent.
As the dust settle after the european game, Eoghan O'connell has spoken about the influence of Kolo Toure..
"Kolo has been amazing with me already," said O'Connell. "As soon as the teams were known to us on Wednesday morning he came over to me and told me to keep it simple.
"He told me not to be overwhelmed by the occasion, or to let the noise of the crowd or anything get to me – just to relax and do the simple thing every time.
Sounds like he's merely stating the obvious, but its the way he tells them, to coin a phrase, and with Toure, who cannot be blamed for the goal the other night, merely the timing of the change, looks like he's taken on the task of making us a couple of central defenders, so don't expect to see any new ones signed.
If there's influence from one Celtic defender, there's inspiration from another, as O'Connell knows..
"Look at Kieran [Tierney]. He got his chance last season and he took it to the extent that he is seen as one of the key players. It is about taking the chance when you get it and hopefully I have done something to show that I am a player the manager can trust." 
There has been a little bit of niggle-can i say that word ?- between Scott Brown and Kenny Miller this week. The former team mates disagreed on who will provide the biggest challenge to Celtic. Brown reckons it will be aberdeen, and Miller, the voice of alzheimers, seems to think it won't be.
Hey, Mr. Tangerine man, play a song for us… with old jingle jangle backing you up in print.
Older readers may remember that dirge from the sixties or seventies.
Can't remember the name of the band, but their other tune was a winner;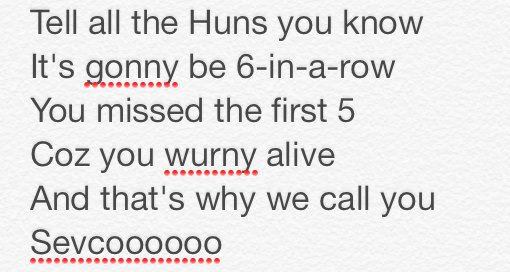 Miller seems to think that his side will leap straight into the role of title challengers, but one wonders of all the bluster coming from and around Ibrox is merely to deflect attention away from the issues they are having over their kit. You see, ashley is going to sell them in his stores anyway, safe in the knowledge the club has to buy back any that are unsold as per the terms of the deal signed with Charles Green, who knows a thing or two about contracts. Except those held by employees, obviously.
Remarkably, the daft bastards  on the south side of the river are threatening to ditch the kit deal with Puma, and sign upo with someone else. Presumably they'll be queueing up to do business with the offshoot of a club that stiffs nearly everyone they do business with.
And then there's John Brown out whipping up the troops…
"If Rangers win the title this year it'll be one of the best in our history" says John Brown
One of the best ? It'll be the only one.
With Celtic now into the play off stage of the UCL, once again the only Scottish side left in Europe, the drive to ignore that fact from the media is stunning.
It's a kind of Brexit policy which shows exactly why the same thing happens every year. The parochialism of the SFA/SPFL/media is frightening. Though fair play to Keith Jackson of the Record, he's asked Celtic if they will rescind his press box ban so he can cover the group games should there be any.
Peter Lawwell, often criticised for having no sense of humour, showed he likes a chuckle now and again with his reply…
for those of you in the Stafffordshire/cheshire north west England area, the Lennon CSC has its annula general meeting in Newcastle under Lyme tomorrow. This is where we plan the season, adopt a forward thinking charter and then get hopelessly drunk and forget what we decided.
anyone in the area who fancies it let me know in the replies, and I'll email you, as the offer of free beer may mean a bit of overcrowding.
Our financial whizz Voodude has promised to buy everyone a pint, and its entirely possible he'll send out for a chinese takeaway as well.
He's like that. Lovable wee fellow.
Right, its Friday, and through a plethora of worthy candidates, we've managed to find the outstanding entrant-he even picked up external nominations-for this weeks Etims
Knob Of The Week 
It was tough this week, with quality efforts from Gordon smith, as far back as last Sunday, from Kenny miller, from John Brown, as outlined above, but , and its always good to recognise and promote new talent, there was an outstanding affort from a previously unheard of knob.
McLaren writes for the Aberdeen Evening Express, so this kind of exposure will be a thrill for him, and hopefully help him towards that job in the national sports media that he is clearly auditioning for here, with a statement that is part bitterness and part , well, just wrong.
So, well done, Andy..this weeks Etims
Knob Of The Week  
and you know what, looking at that photo, I can give him a wee bit more encouragement and advice, as if he lays off the ketamine, he's in with a shout at one of the nationals…
Yeserday, we posted a picture of a lass in a "rangers " top, or so we thought…
In fact, the whole thing was explained for us in the winning entrant..