Carlton Cole!
Always believed he's too old!
Thats why he couldn't be sold !
He's indestructible ?
No, he's missing. Off the radar missing. No-one can find him, although he might turn up on day, along with Shergar .Lord Lucan and Dave Kings warchest.
The club said he's returned to England for personal reasons, which may be true. apart from the club saying it, there's no real reason to doubt this version of events.
The old drunk who keeps us up to date with this sort of thing, for just a swig of buckifast and a can of superlager, informs us that may not quite be the case. It's just that no-one can ask Cole his version of events, , because no-one knows where he is.
Then he got all confused, and after telling us that Tom Rogic has just been told off for being a loudmouth-in the press, presumably, he changed his story entirely about Cole, saying that in fact everyone was fed up of him bragging about his earnings and he was a disruptive influence and since he was clearly not up to the task of being a professional footballer, he "left " .
Not the first player to come north expecting an easy ride in a sunday League standard league, and no doubt not the last.
What is the truth ?
No idea, and I couldn't care less. He's bloody awful, and the man who signed him, or suggested him, in fact anyone who didn't actually come out and say "Are you completely off it ? " when his name was suggested should not only be fired, but forced to parade around Celtic Park at the next home game wearing a placard that says "I haven't got a fucking clue "
Who knows ? Maybe he will turn out to be the bad apple that led to the insipid performances of late. After all, the kids at Celtic Park just now cannot fail to have their heads turned by tales of wealth unimaginable in the south, especially in "that London ".
Rogic, meanwhile, may have been told off over some stateside contact, hinted at on the MLS site;
Rogic Puzzle
A Scottish report has several MLS clubs ready to make bids if Celtic cannot tie down young Australia midfielder Tom Rogic by summer.
Ahm wait. It's a Scottish report. Forget I mentioned it.
The papers continue to report negative stories, not just ahead of the upcoming Scottish cup game, but also because the team are on a bit of a wobble just now, having allowed aberdeen a glimmer of hope in the championship race.
There's a couple more stories out there which , if not placed to undrmine the players and management, are certainly there to see if they can make the players lose focus.
Leigh Griffiths, for instance, is the headline here;
Leigh Griffiths' 3-year-old daughter keeps her gangster's moll mum out of jail 
This story, of an attempted murder in gangland Edinburgh, revolves around evidence given to the court by Emma Cameron, Griffith's former partner and mother of his daughter. The judge, summarising, said if it were not for the fact Cameron is the sole carer of the toddler, , he would have handed her 12 months in prison for contempt.
Fair enough, its a serious issue, but is there any need to bring Griffiths into it ? Especially in the headline ?
I know it sells papers, but there is an underlying implication that Griffiths is mixed up in all of this somehow, and although the paper goes to great lengths to state this isn't the case, it makes you wonder why they bothered to mention it at all.
It isn't relevant to the story.
Then Anthony Stokes, in an undisguised attempt to get into Hibernian's League Cup final side on Sunday, and engineer a move away from Celtic , stated;
Anthony Stokes: Alan Stubbs could handle Celtic job no problem
"From the managers I have seen there he would have no issue in coping with the Celtic job.
"That is not me trying to put anything out there. You look at him and he is obviously not in the manager's job that long but he is like a manager that has been around for 10 or 15 years in how he handles the boys.
"He has played the game himself and he understands how players react and how they handle themselves and adapt to situations." 
Hibernian have collapsed, as they usually do around this time of year, and Stubbs may have been affected by his own publicity. He's not ready for the Celtic job yet. in fact, he isn't ready for the Hibs job either, by the looks of it.
In the time honoured tradition of the Diary, however, opinions may change should he lift the League Cup for the Edinburgh side.
With supporters starting to circle the wagons and put all the bad thoughts to one side for the moment, we can only hope the the players realise that its game on now, and we are at the business end of the season. Craig Gordon is talking the talk, but it remains to be seen if they've decided to do the walk as well. He told the Celtic View
"This is the business end of the season and we need to go and put a run together," 
"We talked about that before the game, making sure we had a good start in the game, getting everybody together and pushing on towards the end of the season. This is the time to turn it on, to start a string of results, and it started on Sunday.
"We drew a line under a poor performance mid-week – which everyone was aware of – and said this is it, it's time to go on, it's time to put a run of games together.
"We have to forget about the Dundee game and put on decent shows. We know if we do that we will get the fans behind us and we will go and have a big push for the rest of the season.
"We talked about it during the week and we reminded ourselves about it before the match to make sure we were up for it and ready to push on. We are now in a semi-final and top of the league, so let's go on and finish strongly and see what we can get at the end of the season."
Theres more talk about Scott allan leaving, this time it's Leed united who are looking at him.
And Mark Warburton is also casting his net far and wide…
Rangers eye Hamilton duo
They'll fit right in over there.
And it will take some of the attention away from Warburton, who doesn't seem to handle any sort of negative attention very well at all.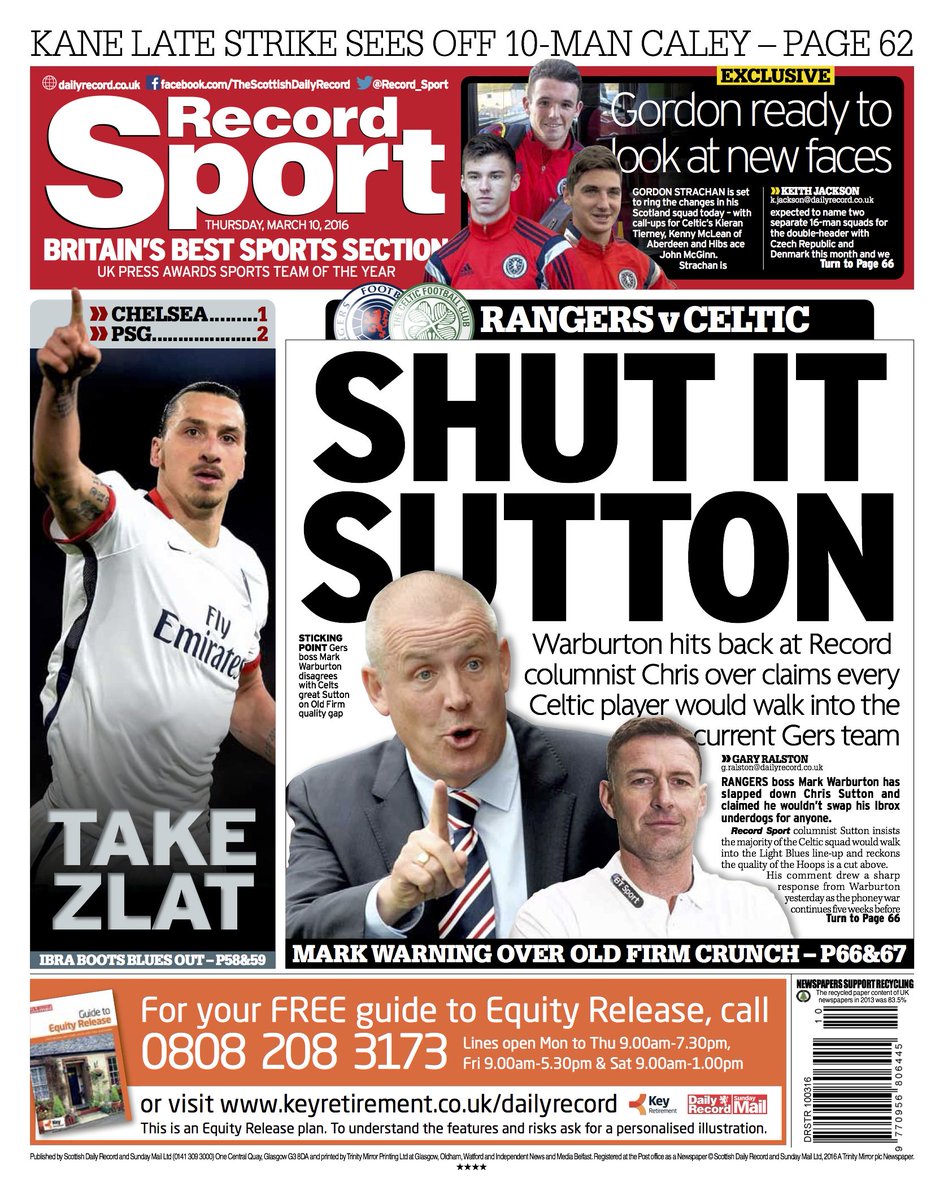 Warburton said, no doubt in a quiet and dignified tone;
Would every Wimbledon player have walked into the Liverpool team when they won the FA Cup in 1988? I don't think so.
"How many Leicester players right now would get into the Manchester City or Chelsea squad?
"You wouldn't think there would be many. But Leicester are five points clear at the top of the Premier League.
"So everyone is entitled to their opinion, but I disagree with it.
"I have no idea [how many Rangers players would get in the Celtic team]. 
I can help him here….
"I'm never going to talk about Celtic, Aberdeen, Hibs or whoever. It's about us.
"The boys have done great so far. So to turn around and say they couldn't get into another team is all supposition.
"It's an opinion, which football is all about, and they are entitled to it. But I would clearly disagree with that.
"I've never met Chris. He is a pundit, so he is paid to give an opinion. When you make such statements, you hope you are right. 
He , of course, makes all sorts of statements without the slightest thought as to whether or not he is right;
"
"But if we go out and beat Celtic 6-0, having lost our league games in between times, we will have had a shocking season. It's as simple as that.
So there is no point in thinking about a game that is six weeks away. Our only focus is on Morton, then Falkirk, then Raith and going on from there -whatever order the games come in. 
"Our focus is on playing whoever it is whenever it is, to put it another way."
and he is not going to talk about Celtic;
"I don't think we are a surprise and let's have a sense of reality for a moment, they  have a high quality squad.
"We will go into that game, touch wood, in good form with lots of self-belief and we will play them very well – there is no doubt about that.
"But they are top of the Premier League and have had five years plus in European competition and have the budget and the players.
Its getting to him.
And the Scottish sports media are watching….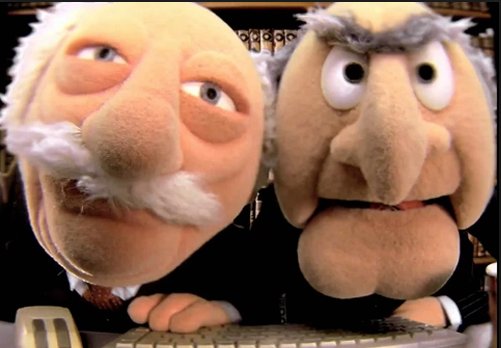 How will they deal with him if his team collapses at Hampden, or before it ?
Whilst we on here can amuse ourselves with his squawking, the players and management at Celtic must put the game to one side.
Partick are our focus now. A game we have to win.
Scott Brown, captain of the side, backed up Craig Gordon's words,
"The players have got to take a lot of responsibility.
It's us who are out on the park. We're still top of the league and that's what people have got to remember.
We know what it's about, we've been there and done it before and we are looking to do it again this year.
The last ten league games are absolutely huge for us. They are the biggest of the season, but we can cope with that.
Winning leagues is always hard, but it is all about how you cope with challenges.
There are always challenges in a season and it's about how you bounce back. We've got the mentality in that dressing room and the belief that we can do it."
"This is the time of the season when it comes to rolling up the sleeves and getting on with it.
"What is said outside the club doesn't matter to us. It is all about what we say to each other and how we get the best out of each other.
We all know what is at stake and what has to be done.
We are confident. We will just keep on going and look to do any talking on the park."
If you don't count this statement, obviously.
We mentioned it yesterday, and due to technological advances at Etims-that is, someone else cleverer than me , doing it, ( Desi Mond ) we can now refer you to those lovely people at the Celtic Charity Foundation, who  have got a little something special to share..a quality read that reminds us all what the club is about:
Juct click on this link to their site  or read in viewer below- we recommend double clicking and reading full screen to appreciate the quality of the excellent doc and its excellent content
And now for a caption competition, all of the winners, by the way, will now feature in a full length article at the wekend, or whenever I can master this bloody thing.
Might be a review of the year at this rate on December 31.
Anyway, Carl jungleBhoys same subway comment induced a chuckle yesterday, and if i can do it, or Charlie saiz can do it, you'll see it soon.
(Edit-here it is)
Today, however, we look at modern sports science….