BBC whatever it says on his contract Tom English has taken up the sword in the quest for an independent inquiry into the going on at the SPFL.
Despite the majority of clubs voting to end the season, there have been claims of foul play before, during and after the voting.
Some say that the SPFL , and by association, the SFA , are not fit for purpose, and one must welcome the news that our mainstream media have all been on the road to Damascus.
Not only that, the SPFL have actually taken the bait and began to fight back.
Les Gray, the Hamilton chairman , said:
"The silent majority have carried the day," 
"It's the clubs that voted 'no' that are the noisiest. And I'm looking at what their motives might be." 
"If you've met Neil Doncaster, the idea that he bullied anyone is absolutely hysterical. I feel sorry for him and [SPFL lawyer] Rod [McKenzie] and [SPFL chair] Murdoch [MacLennan] for the way they've been treated.
"They've remained silent in the face of huge provocation. And I think we really need to take a look at these accusations being thrown around." 
We are aware that Doncaster acts purely at the behest of the clubs. Mackenzie, one could surmise, checks the rules and legalities to see if he can, and MacLennan hates the huns. the same article, if you recall, said he also doesn;t care that much for Celtic either, something that Celtic have decided isn't worth pursuing because it's probably bollocks, and they have decided to go with the flow, having given up perhaps more than anyone else in the league, the chance for an unprecedented fourth consecutive treble, and all the glory, money and place in hostory that goes with it.
The support have also resigned themselves to that, as it is something we have to live with, and it's nobody's fault.
But, oh, the kerfuffle.
Having ignored the evidence of wrongdoing at the SFA back when Rangers were at it, in an attempt to secure their survival after David Murray raped and pillaged his way through money that wasn't his, English tweeted…
Why do so many Celtic fans on here oppose an independent review of the SPFL behaviour? Why would they not want it? Null and voiding of the league was never, ever gonna happen so what's the fear here? 
By on here. he refers to Twitter.
By Celtic fans opposing an independent review of the SPFL , frankly I have no idea what he's on about.
I'd certainly welcome an independent review of the authorities, and I'd go all the way back to George Young and his campaign to keep the Irish tricolour off the roof at Celtic Park.
And I'd include the Farry debacle, the refereeing recruitment and criteria, the Rangers collapse and , of course , Resolution 12 in there as well.
English is among a number of journalists who have all the evidence regarding the corruption or collusion that allowed Rangers to receive a european licence they were not eligible for back in 2011.
What has jolted his cage so much that all of a sudden he is demanding an investigation based entirely on allegations from a club/company that is in serious financial difficulty and , whilst claiming to have evidence of impropriety when in a previous instance the evidence was there but he ignored it ?
Are we about to see another campaign to keep another Ibrox entity in the league, thus negating any hard work done by any number of clubs to remain solvent when all they had to do was follow the examples from Ibrox and just ignore any rules about financial fair play ?
English then goes on to laughably claim that it is
Utterly grim that so many on here reduce this entire issue to Celtic v Rangers , 
just hours after asking why so many Celtic fans want to oppose an independent review….
It's a mystery.
I actually thought that a lot of this narrative stemmed from James Traynor, the former PR consultant to Ibrox, but in fact it turns out that the media don't need any help whatsoever in constructing their lines of attack.
The BBC, forever dismayed that they are banned from Ibrox seem to be doing their best not only to be re-admitted, but to get a nice comfy chair in hospitality with drinks and food thrown in.
It's not only the state broadcaster, others too numerous to mention have picked up the torch in advance of a march on Hampden, but the crucial question, which of course, they will not ask themselves, is why the sudden impulse to investigate the authorities now, when they could have torn them apart all those years ago.
That's easy.
By doing away with the difficult bit of an investigation, the motive, they can , if it goes ahead, blame some poor sod for a menial misdemeanour and announce it's all better now, without looking behind the calls for change, they can deflect further from the real reasons behind the Ibrox boards meltdown.
No one is asking exactly why they are in such a bad mood about the decision to end the season, and surely no one believes the nonsense about them sticking up for smaller clubs, who incidentally mostly voted for the motion.
You'll note that with the media calling for an inquiry, there is little need for any club/company to request one formally, citing the reasons and producing the evidence.
Scottish football is indeed becoming a laughing stock, but what is not generally admitted, is that it is the same entity thats causing this one as caused the last one.
As one of their support put it, rather eloquently, I thought…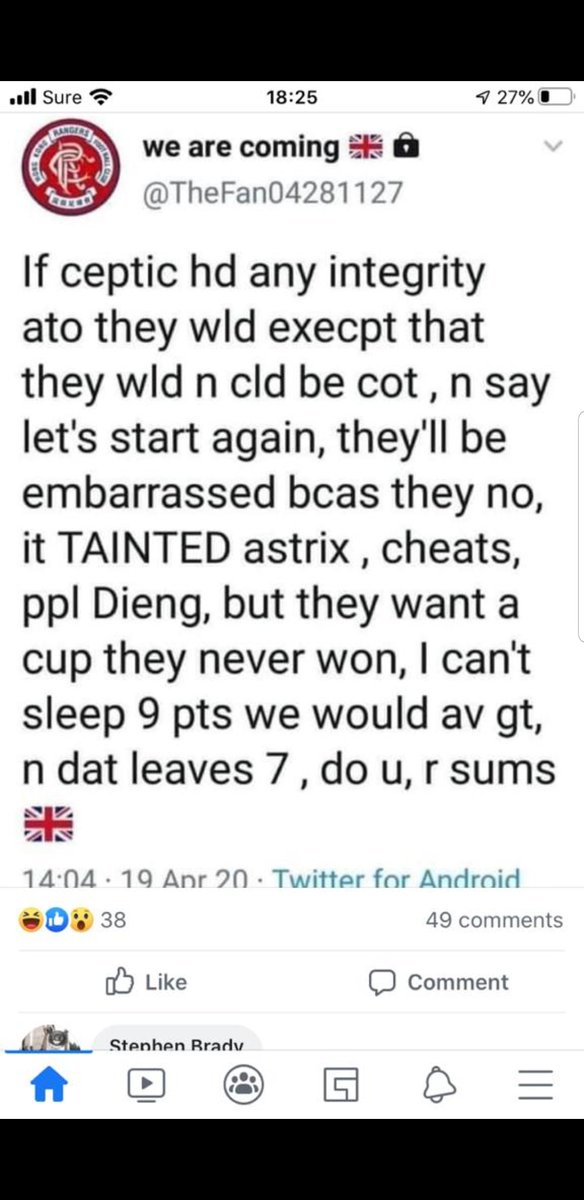 It's hard to argue with that, but i will as soon as i figure out what he's actually on about. Ceptic clearly is a reference to Celtic, but after that I'm out of ideas.
Alan MacGregor, the aging "rangers " goalkeeper perhaps put something out there he didn't intend to, and it was largely ignored by the mainstream, who normally pick up on things like that…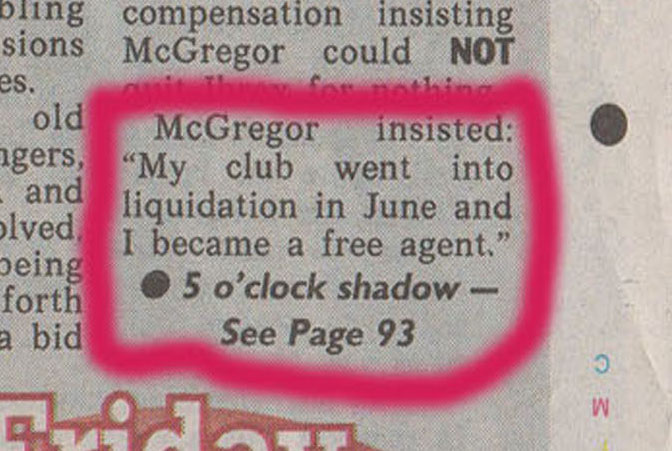 One can only wonder if things are that bad down Ibrox way, they are worried about a repeat of losing their most valued assets for nothing.
Hacks won't ask those sort of questions, but the enthusiasm for an independent inquiry can only mean that they think that there is something to be gained from it, and one can only surmise about what that could be.
They have to find someone to blame for the impending disaster at Ibrox, and it looks like it will be a combination of the authorities and the Covid 19 pandemic.
Celtic have maintained silence over the whole debacle, which means, publicly at least, they want nothing to do with it.
If they were to join in the clamour, given their reluctance to pursue Resolution 12, they'd never sell another season book or shirt again.
It's all a bit murky, but what is intriguing is the way the media have leapt in to try to clear the water, yet all they have done is made it even murkier.
There is little chance anyone will come out of this with credibility intact, and still no one is trying to uncover the real reason for the Ibrox crusade.
What we do know is they are on the brink of collapse, and having been allowed to get away with it once, they will be certain of doing so again.
Shamefully, the media are helping them by deflecting attention away from a few questions that should be asked.
The main one concerns the Ibrox interim accounts that should be at the SFA now, as they were due at the end of March.
What was in them, are the club/company in as much trouble as some seem to think, or is it all tickety boo over there, and they do qualify for a European licence next season?
When do first team kit colours have to be registered for next season ? Have they got a supplier yet ?
All the time this nonsense is given headlines, it becomes more and more difficult to find a sponsor for next seasons leagues. Granted, that should have been done well befire now, but will it be used as further ammo to hit the SPFL with, adding to the suspicion that the timing of this particular assault has more to do with Ibrox problems than thise in the wider Scottish football sense.
then again, what does sense have to do with Scottish football ?
An investigation is needed, but not for the reasons English is touting.
The enforced pause in the game should be used to clean out the incompetents, the colluders and the corrupted, and it should be independent, but it should deal with the last twenty years, and not the bits that suit one particular entity.
Yesterday, we had this…
Caption, "yes officer, we all live together"  
Today….