Well, technically it's not the final mile, its the final mile before what is increasingly looking like a much needed break and perhaps a freshening up of the playing staff.
Celtic overcame Hibernian at the weekend, but it was pretty uninspiring stuff, but in fairness, it's already been a long season in terms of games played and some of the core players will be feeling it.
Add to that the doggedness of plucky rivals "rangers ", who keep on winning there is a different type of pressure on the team.
Sooner or later they will implode, quite possibly before Christmas, but until they do, with maybe a few injuries or suspensions, they look like they will cling on.
What Celtic need to do is to continue to be consistent, and win the games left this month. That will create a bit of breathing space and allow the manager to tinker with the staff. So to speak, that is.
It looks like the revolving door will be turning again with one or two leaving, and one or two coming in.
Nir Biton is staying, he's signed an extension that keeps him in Glasgow until 2023, and this may turn out to be the most significant signing of the winter. Quality cover is difficult to get, international footballers will not join a club to sit on the bench and only fill in where needed, least of all to a club like Celtic, who will not pay the salaries needed to compensate for not playing every week.
If Biton is happy to cover for the midfield or central defence, we should be delighted, because we will not get a better or happier player than him to do that.
As he says…
"It's been an amazing six years but I just want to keep it going and make it an amazing 10 years, and hopefully I'll do that.
"I don't take it for granted, especially after what I've been through. It was a tough time for myself and my family with the injury, but I'm happy to put it behind me now.
"It's a big statement for the club to give me a new contract and to show the trust they have in me, so I just want to show them on the pitch that I deserve a new contract and keep it going – keep winning trophies and keep winning games for Celtic, and make everyone happy." 
Though his squad number does perhaps suggest the playing staff is a little bloated…
The January window is not one to worry about where stars leave, except when they fall out with the club, and there doesn't seem to be an issue here with anyone, apart from Scott Sinclair, who will almost certainly be on his way back down south.
Lawwell has wanted him off the payroll for months, which has annoyed the manager, as has the CEO's reluctance to pay the going rate for Victor Wanyama, especially given the work Lennon has put into making this happen.
It might still happen, but the wage bill is being trimmed and the buy low sell high model is still firmly in place.
One name mentioned is Fabricio Bruno, based largely on a report from Brazil, which was promptly given a negative slant by Mark MacDougall of the Record..
Fabricio Bruno 'bid made' by Celtic but Cruzeiro boss warns of high transfer fee
The 23-year-old centre back could make a loan move to Glasgow with an option to buy in future. 
If he was any good, and he's Brazilian, so he must be, then you'd expect a high transfer fee, but MacDougall clearly has spent too much time over at Ibrox where transfer fees are a bit of an issue with the board still wondering who thought it was a good idea to sanction £7m for Ryan Kent, a man who had never played a competitive game for Liverpool.
From the Record…
Speaking to the Daily Mail, Rodrigues (Cruzeiro boss ) said: "This proposal came, yes, but it is not consistent with what we want. There was a little enquiry and they made a proposal, but it didn't come close to what we want."
Lazy journalism at best, but perhaps even over in Brazil they know enough not to talk to the Record.
But what about the player ?
They don't seem to win many games, do they ?
The murky world of South American football involves several entities owning players, and perhaps as much time needs to be spent on looking into the legalities of this particular deal as is spent on watching the player.
And then there's the Brexit issue….what of he can't get a work permit ?
Or even be granted residency ?
Until all of that nonsense settle down, and those behind it arrested, tried and executed, a little care may be required in recrutiment.
Sam Cosgrove and Lawrence Shankland may not be world beaters, but one does wonder how they would perform given the service a Celtic forward receives.
And we may well find out soon enough.
There's little doubt a centre half is needed, and Aberdeen again may be the port of call. Scott MacKenna appears to have suffered a crisis of confidence since his transfer request failed to get him a move.
For all his perceived faults, he could compete for a place at Celtic, with both Julien and Ajer prone to more than the odd mistake. It's worth noting as well that thise two have had to play a considerable number of games already this season, and mental fatigue leads to physical error.
Thats if Filip Benkovic cannot ne persuaded to leave Leicester…the defender is out of favour under Rodgers, somewhat surprisingly, and with Rodgers still a little bewildered at how he is going to be remembered-if at all- in glasgow, there may be a possibility of him coming back to Glasgow.
The fringe players, who were the more bizarre signings made by Brendan Rodgers, such as Kouassi, Kenyu and one or two others will be moved on, but they will not be easy to shift.
Craig Gordon clearly fancies a move, and no one will stand in his way. In the same way that he's stopped standing in the way of opposition attempts on goal, one could argue.
Scott Bain ? Well, there's work to be done, mostly on his confidence, and in Stevie woods, the goalkeeping coach, we have one of the best in the business, so don't write him off just yet.
That leaves us with the perennial issue surrounding the forwards.
Too many wingers, not enough strikers.
Edoaurd is the main man, and other clubs will be watching him. But selling him in January ?
Nah, ans anyway, he's already said he doesn't want to go yet, especially if all thats out there is Crystal Palace and others of that level.
Leigh Griffiths ?
He's getting better but needs to be playing, and that story about him going to Hibernian on loan seems to make more sense as the weeks go by.
As for the wingers, they all seem happy enough, and the pace Celtic try to play at needs as many of them as we can get, but they would all probably be open to a move, especially the ones who know they're down the pecking order, which is everyone except James Forrest.
And probably Mikey Johnston.
Tom Rogic ?
He's one who flatters to deceive, and I've saved him until last because he'll be the one leaving. He looks bored, he looks tired and a new club would give Celtic some money in the bank and a luxury player whose style doesn't fit in with the new work ethic may well be the best for all concerned…
Celtic are going for a quadruple this season.
The traditional-well, three years is a tradition as far as I'm concerned- domestic clean sweep and a tilt at the Europa League.
Lennon is quite savvy in Europe, and there are now a number of season campaigners in the squad.
The draw for the last 32 was quite kind to Celtic, if not to the travelling support, when Copenhagen came out of the hat.
One supporter, posting on twitter, expressed his dismay at the flexibility of airline pricing strategy..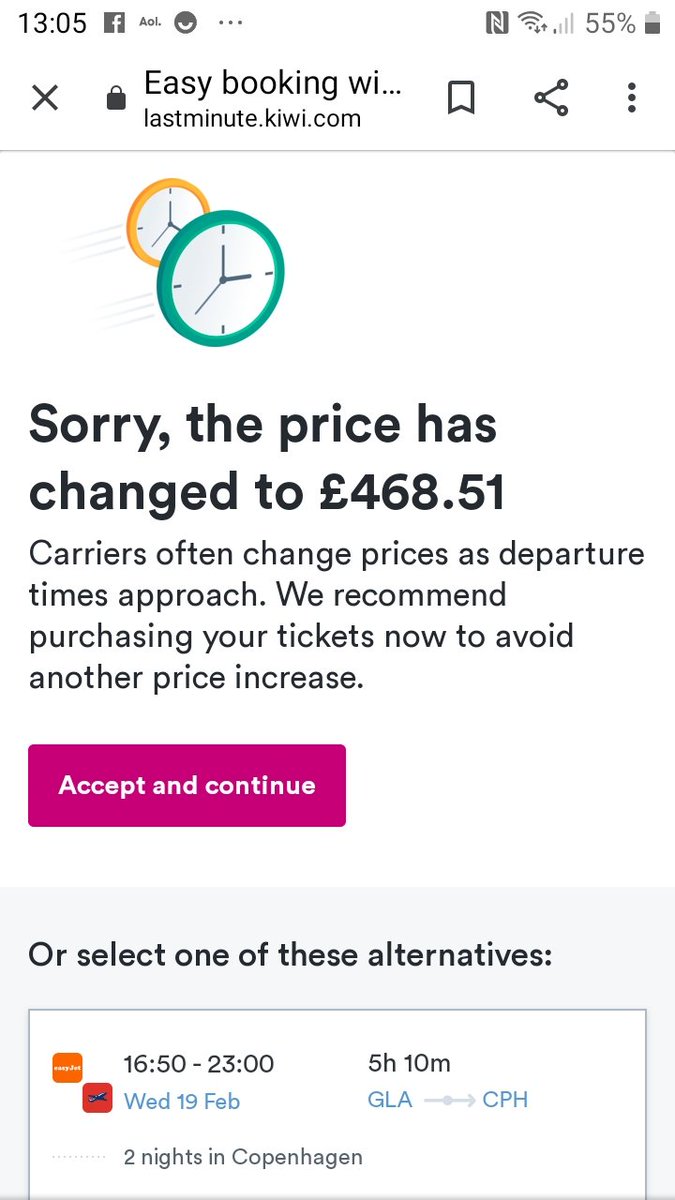 Copenhagen are behind Erik Sviatchenko's Midtyjlland, who were beaten comfortably by ~"rangers " earlier this season, who in turn beat Copenhagen in the league.
On paper, that should mean Celtic are more than capable of getting through, which then throws up and interesting possibility….
In the last 16, Celtic could face "rangers ", as teams from the same associations can play each other. The first leg would be on the 12th of March, with the second a week later.
In between those games, Celtic face…"rangers ".
This, of course , depends on "rangers " beating Braga, who are a lot better than anyone they have faced so far, although the SMSM hacks haven;t heard of them, and have already decided they are beatable.
One outlet, however, offered bad news for the bears..
The Athletic, a subscription based website, offering, and I quote, quality articles,
So,
asked me to build the best football writing team in the UK. In-depth pieces from amazing people. Here you are. I'm so proud to be part of this. And a bit emotional. I hope you enjoy it. 
From their latest in depth quality article…which, not surprisingly, was picked up by our quality media.. such as The Sun
STEVEN GERRARD swapping Rangers for Liverpool has been 'discussed informally by all parties', according to a report in England.
The Athletic claims the Gers gaffer is in regular contact with Reds boss Jurgen Klopp and the Anfield side's powerbrokers.
It comes after both Klopp and Gerrard signed long-term club deals last week.
Writing in his column, former BBC man David Ornstein said: "On the same day as Klopp's deal was announced, Liverpool legend Steven Gerrard signed a new contract to keep him in charge of Rangers until 2024 and the parallels did not go unnoticed.
"It is no secret that Gerrard and many at the club would like him to manage Liverpool one day and, while it may never happen, the subject is understood to have been discussed informally by all parties.
"Gerrard is thought to be in regular contact with Klopp and Liverpool's leadership." 
So, a man who has never won a senior trophy as a manager, nor managed in the champions League, who paid them £7m for a reserve player has been discussed informally as a replacement for a man who won them the champions League ?
I have an extract from that informal discussion…
"Gerrard ? Steven Gerrard, who used to play here ? "
"Ja "
"Fuck that, he's a diddy. and he fell over the last time we had a chance to win the league " 
You can pay to read more quality stuff on the Athletic, but i suspect you won't.
Lennon wants Celtic to make a name for themselves in europe again, bearing in mind he was a aprt of the last Celtic side that was if not feared, certainly respected on the continent, and if there is a long term plan, it seems to be working, as moravcik 67, the go to guy on european co-efficients explains..
Better late than never. Copenhagen it is. A tie that could be important in different ways in terms of coefficient. At a club level, Celtic are currently ranked 46th in Europe, on 33pts, as attached. A win and a draw in the tie gets us up to 40th, two wins up to 39th 

These rankings determine seeding in qualifiers, and what pot you're drawn from in the group stage. So even getting a few extra places up the table could make the difference in being seeded in all qualifying rounds next year, or being in a higher pot for a group stage draw. 
At a national level, Scotland is currently 16th in the rankings – as attached – just 0.875pts behind Denmark in 13th. To get above them, Celtic and Rangers need to combine for the equivalent of 2 wins more than Copenhagen. Doing so would also jump us above the Czech's. 

Of course, you have to consider what the APOEL, Basel and Olympiakos do in their remaining matches. But what the tie does is allow Celtic to pretty much settle it on our own. It's a tough ask, but winning home and away would go a long way to confirming Scotland in 13th place.
13th place would likely see the Scottish champion start in the playoff round of qualifying, and guarantee group stage football of some sort. It would give a 2nd CL team, put a team into the new look EL, and give us a 4th and 5th team in the new 3rd competition. 
As for Copenhagen themselves, their performances have usually been around Celtic's level – but we've gained more pts in 4 of the last 5 seasons. Their last 3 seasons
16/17 – EL Last 16
17/18 – EL Last 32 
18/19 – EL Groups (4th) 
This season they lost to Red Star Belgrade on penalties in CL QR3, and have draws home and away to Dynamo Kyiv, and a couple of wins over Lugano. They lost to Malmo at home in the final game, resulting in them losing top spot in their group. 
They're currently 2nd in the Danish league, 7pts behind Midtjylland with a game in hand – which they're losing as I type this. It's definitely one of the better draws we could have got. They're no mugs, but it's a tie we have a more than decent chance of winning. 
Finally, we can add 3 new players to the squad before 11pm on 3rd February – on a 1 in, 1 out basis. The rules about locally trained players still need to be met as well. I'd expect Frimpong to be one of the 3, along with a new forward – should we sign one.  
Moravcik 67 is a little more realistic about the Copenhagen tie than those in the media, they are indeed no mugs, but we are in the latter stages of the torunament, which means we shouldn't expect them to be.
As we approach the break, there's a lot to think about for Lennon and his backroom boys, with three more trophies up for grabs, he'll want to give it his best shot.
But let's get to the end of the year still clear at the top of the league first, and then we can think about all of that.
On a different note, there was a little bit of controversy around one of the birthday messages on the big screen at the game…
I'm not quite sure it's illegal to wish someone a happy birthday yet, but we do live in strange times.
Some people do remain optimistic, however…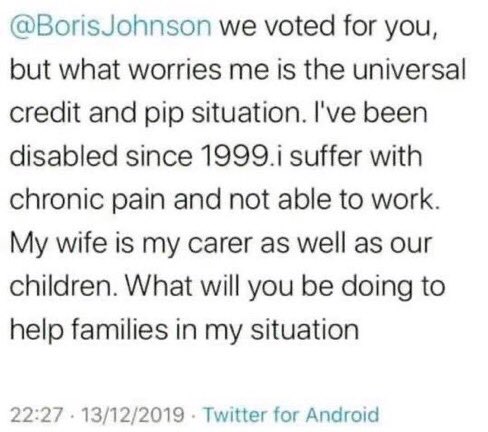 I could answer that one for him, but not until he's had his right to vote taken off him as he clearly doesn't understand how to use it.
Yes, politics again, and it's only fair to mention the current controversy caused by Rod Stewart, the cockney with a sore throat and a back catalogue of jaunty pop nuggets.
He congratulated Boris Johnson on his win, which prompted a resonse from the Green Brigade with a short sharp banner that may well have severed any ties Stewart may feel he has with the club…
You can guess what the missing word is, it rhymes with cluck, which is what some are now doing in defence of the singer,
Of course he's entitled to his own political views, however warped, and Celtic is a club open to all, but these are strange times, and this government is causing a lot of unneccesary heartache and misery for thousands of people, and the Celtic support is a politically aware entity.
Remember , we showed the red card to Margaret Thatcher, and we were all proud of that.
Though I still think big Roy Aitken should have lamped her with the cup when she gave it to him that time.
This incident has widened the debate on the Conservative influence within the board that has infected our clubs way of thinking, the self preservation and continuation of the Old firm myth being the biggest sell out of all.
For those who think we;re not politically minded as a support, and even as a club, a glance back at our origins should help…provided by the Shamrock magazine…
Full article here, and its well worth a read…
Which brings me to this story, which is what life should be all about, and how people should behave towards each other..
Tommy Burns would have celebrated his birthday this week, had he still been with us, and this wee story about him illustrates the kind of guy he was, and perhaps should inspire others, both in football and in life…
We go back to Saturday for the last caption competition, as Sunday we were concerned with our board and its lurch towards making money for the shareholders…well, some of them, at least…at the expense of honesty and integrity, where he had this picture…
KT after a move to arsenal is thought to be spending to much time in his room alone.
Today… as the works christmas parties begin to take place…