It certainly was a strange week.
Peter Lawwell , facing pressure at the upcoming AGM to do his job with a touch of integrity and actually look after his customers interests instead of helping to turn Scottish football into televised wrestling, would have been delighted to see attention focused on the other side of Glasgow for a while.
Especially as it gives the fans something to laugh about.
The London Times (Scottish division ) made themselves look rather silly with an article that hinted-stepping just short of actually saying so and thus offering any evidence -that the taxman was at fault for the demise of Rangers back in the early part of this decade.
The problem for its author, Magnus Llewellin, was that in an unprecedented move, the accused shot him down rather publicly shortly after publication..
As widely reported today and to clarify: HMRC won against Rangers' tax avoidance in the Supreme Court, and did not miscalculate anything 
Not only that, but in a PR disaster for the world respected title, the tax chief even wrote to the paper..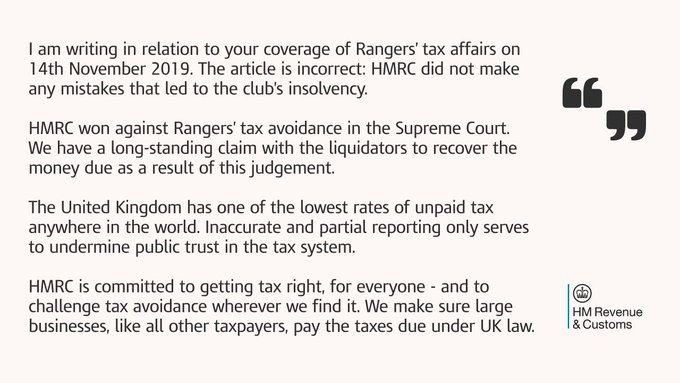 Speaking of Llewellin…big thanks to Phil MacGhiollabhan for reminding me where I'd heard that name before…here's a piece from Roy Greenslade in the Guardian in 2016…
The row over the firing of a columnist at Glasgow's Sunday Herald shows no signs of dying down.
Members of Scottish PEN, wrote a letter to the paper's editor-in-chief, Magnus Llewellin, to register their concern about Angela Haggerty being dismissed.
The letter, published on the website of the group that campaigns for freedom of expression, said its members are "deeply troubled" by the newspaper's decision to sack Haggerty "for showing her support for fellow journalist Graham Spiers."
Spiers decided he couldn't write for the Herald after disagreeing about the timing of its publication of an apology for one of his columns about the problems of bigotry "around" Rangers football club. Haggerty then expressed her support for him on Twitter.
The National Union of Journalists accused the Herald of "pandering to the mob". It removed its statement for a while but later reinstated it.*
Like Scottish PEN's admission that it was unaware of "details" about pressure exerted on the Herald by Rangers, the NUJ's decision reflected a lack of knowledge about the incident.
My understanding is that a single sentence in Spiers's column, an allegation about a Rangers board director, was regarded as defamatory.
Although contentious articles are usually read for possible libels prior to publication by the paper's lawyers, Levy & McRae, an editorial staff error meant that Spiers's column, which was published on the Herald's website, slipped through the net.
Once Rangers objected, Llewellin found himself in a bind familiar to all journalists in such situations. He received legal advice saying the allegation was indefensible, and that if he tried to defend it – which he spent a fortnight initially trying to do – the paper would have faced major costs.
Crucially, I understand that the costs would most likely have been borne by the editorial budget and, in Llewellin's view, could therefore have resulted in job cuts. (I'll deal with this in a moment).
So Llewellin felt he had to publish the apology. It stated: "We acknowledge every member of the Rangers board is fully committed to fighting bigotry and offensive chanting, wherever it occurs in Scottish football, and that the club is actively tackling the issue."
Its publication upset Spiers who responded with an online statement saying he wanted more time to clarify his position. He realised that his opposition to the apology would effectively cut his ties with the Herald.
He acknowledged that he could afford to be bold because he has other income, writing for the Times and through broadcasting for the BBC.
But Haggerty, a relatively new columnist with the Sunday Herald, was sympathetic to Spiers's plight and, as someone who has previously suffered abuse from from Rangers fans after editing a book about the club, she wrote a tweet in which she complained about Rangers' bigotry.
As I wrote previously, she maintains that she was referring to fans, but the Herald saw it differently and considered it to be a reference to Rangers' directors. The paper therefore viewed it as a failure "to act within the spirit of its apology."
Lewellin told me he regards Haggerty as "a brave and talented journalist" but her reference to "glaring bigotry at Ibrox" only hours "after we'd published a very carefully worded apology to avoid legal action, she (unwittingly) undermined it."
In a Bella Caledonia piece about the circumstances of her sacking, Haggerty said Llewellin had informed her that "representatives of Rangers Football Club" had brought her tweets to the attention of the Herald, "and that, to cut a long story short, the paper was under so much legal pressure that he felt he had no option but to let me go."
She wrote: "He also informed me that Neil MacKay, editor of the Sunday Herald, had fought strongly to stop it happening, but in the end he was overruled." Mackay underlined that fact in a tweet saying it was not his decision to remove Haggerty.
I emailed Llewellin to ask if he would consider reinstating Haggerty but he replied that "as things stand at present, and to show the good faith and collective responsibility… bringing her back would be difficult – for the time being at least."
At least that final phrase offers Haggerty a possible lifeline for the future, if she wishes to grab it.
Now let me go back to that matter of legal costs being borne by the editorial department. I am not doubting Llewellin's word, but I am amazed that a publisher – in this case, Newsquest/Gannett – might expect an editor to sacrifice jobs over a legal action.
That casts the whole business of Llewellin's decision-making in a new light.
*This sentence was amended after the NUJ reposted its statement 
The Times has decided to stand by the article, at least until Llewellin is summoned to London for that chat about the paper moving in a new direction, and he hasn't got a seat on the train….
The Times article did it's job though, prompting serious, thought provoking responses from the supporters of Rangers who now feel even more aggrieved at the way the 21st century has treated them, after being forced to live in it as society began to disreard their 17th century views…
Ibrox Noise , one of their more highbrow websites-the rest are purely monobrow, complained…
As everyone now knows (but not everyone (hint anyone) will admit), Rangers have been completely vindicated over any wrong-doing 7+ years ago.
The stunning Times revelations reveals that due to, as yet, unidentified means, reasons or origin, Rangers were overcharged by HMRC to the tune of around £60M when something under £20M was more accurate.
This invalid sum, chased up by the Inland Revenue, was simply too much for Rangers' coffers to pay, and despite it being effectively illegal, it caused Rangers' existing holding company to cease trading and nearly cost Rangers fans their club.
For 7 years this club has had every vindictive jibe under the sun thrown at it, from cheats, tax dodgers, sc*m of the earth, you name it.
Yesterday's report from a highly-respected newspaper, following an investigation, confirms Rangers did absolutely nothing wrong and were charged a sum they were unable to pay.
Ergo, the apology from the SPFL, SFA and Scottish football at large has been thoroughly welcomed.
Hint: irony alert.
Rather than accept the findings and apologise like men, we'll hear nothing.
The BBC have already effectively whitewashed the story, leaving it to the 'gossip' columns and no more, while the major of news north of the border has absolutely ignored this.
Only in Scotland could an institution like Rangers being scammed in this manner not be worthy of discussion, or indeed apology.
Rangers are considering legal action over what happened 7 years ago, and as well they might. But you won't hear a soul in this country admit they were wrong.
Indeed, following this story the site received an email abusing the club further, asking us why we had a problem with the BBC and Sportscene among others, and why did we feel superior to them.
If nothing else indicates what's wrong with this country, that's it. 
Incredibly, the line about legal action was picked up in the mainstream media…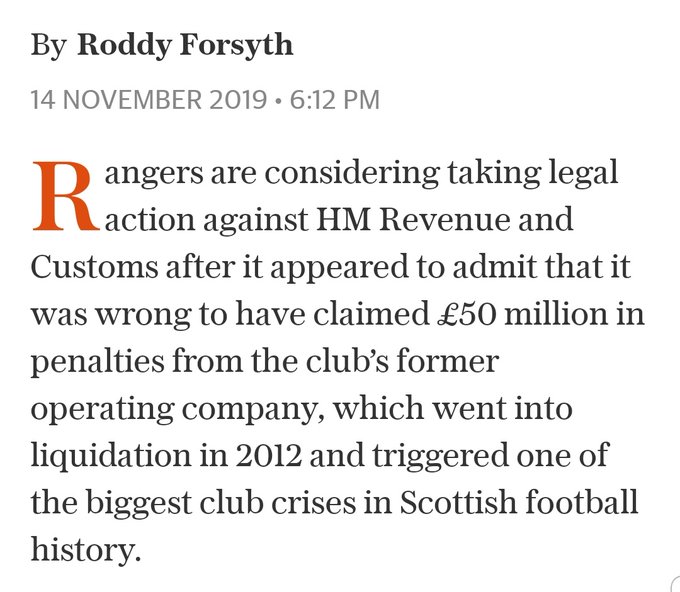 All of which meant that the moon had to put on some earmuffs for a couple of days…
You may wish to perhaps put on a girdle at this point as your sides are in danger of splitting, and perhaps place your right hand below your jaw to prevent it hitting the floor in amazement at just how dumb the dumbest fans on the planet can actually be… and this one actually worked for them…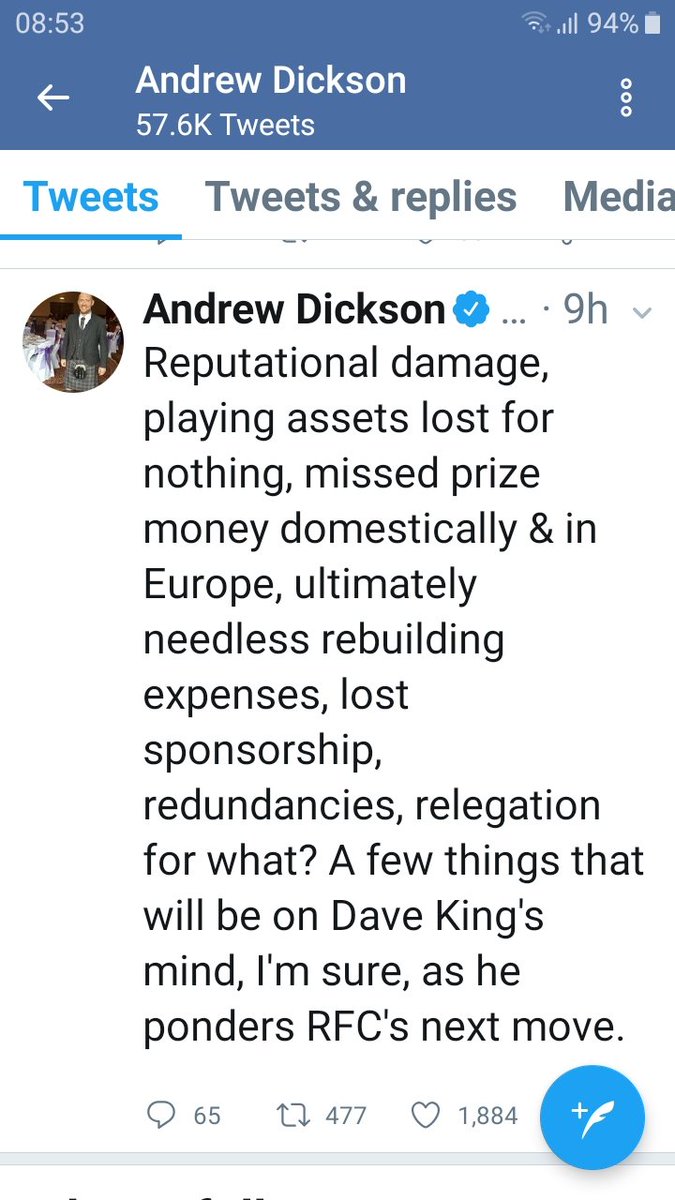 This one writes about them…
Holy moly! If true it would represent the biggest illegal dismantling of a football club by a state & governing body. Off field ramifications are astronomical, on the field – anything won by clubs would be regarded as important as trophies won in the war years.  
This one apparently is a financial guru…
HMRC overcharged Rangers in a major tax evoidance case and may have to repay the club £20m. The club was rightly pursued for blatant tax evoidance for its players and staff and quite right HMRC ended it. Penalties waived because it could not prove fraud
Then there's the core support…
·
The 4 years before we went into administration we averaged a turnover of £54.42m per year The 4 years after administration we averaged a turnover of £20.70m per year In the 4 years that it took us to get back to the premier league we lost £118.88m in turnover We want it back !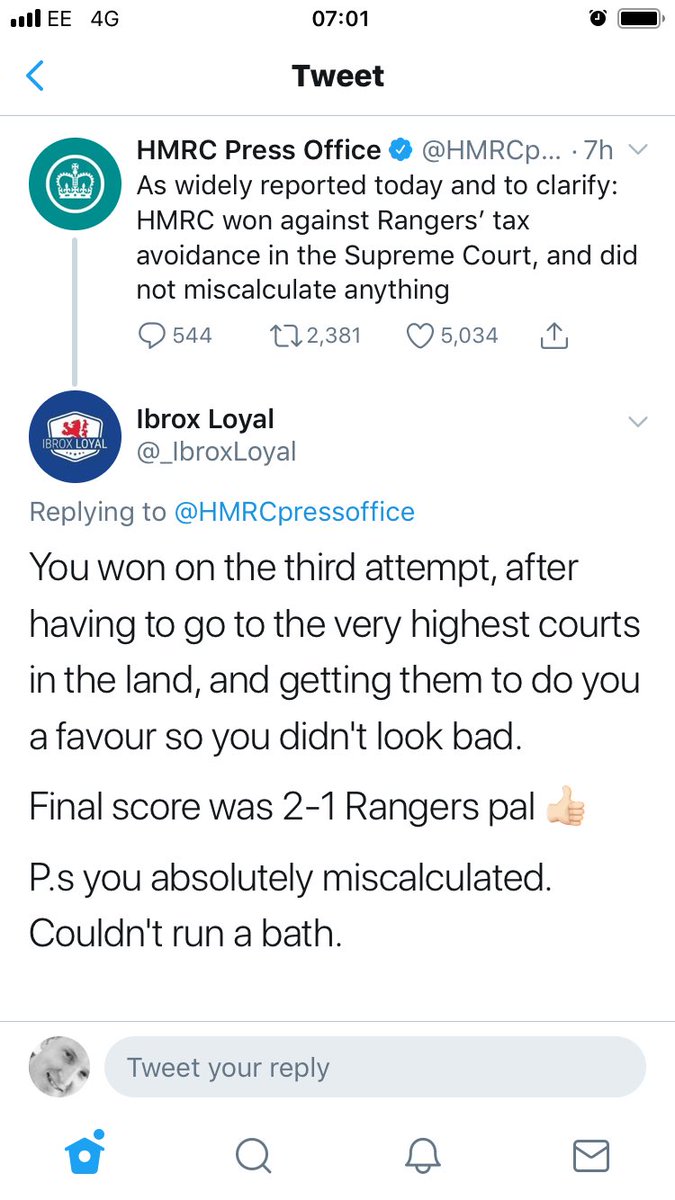 Some offered advice to boss bear Dave King…
All neatly tidied up by a poster on the monobrowic Follow follow website…
But the time comes when the laughter and the mirth has to stop.
Yeah, I know, they're making it difficult for us with such quality comedy and really one has to consider this period in comedic history as important as the contribution made by illuminaries such as Marx Brothers, Laurel and Hardy, the Goons, Monty Python and Miranda for it's sheer innovation, we need to get our eyes back on the real prize.
That prize is Scottish football.
All of this nonsense eminating from the media about Rangers is designed purely to aid the struggling entity currently trading out of Ibrox. In what way is open to speculation, but there is little doubt there's a train hurtling towards the buffers over there, and it's going to crash into the station fairly soon.
But despite the ray of sunshine that will bring to this current uncertain climate, we need to get our own act together.
On the 27th of this month, Celtic will hold their AGM and shareholders have been asked to accept the boards view that all of the shennanigans that lead up to this weeks mirth are not worth investigating, not worth being compensated for and most certainly not worth finding out who is to blame.
I remember a fans forum where Peter Lawwell said that the SKY TV contract demanded four Old Firm games a season, and when Rangers died, their exit meant that the contract was null and void.
Why did he sign the contract under those conditions ?
That , he said , was the reality we were in.
Sporting integrity gone, shortly to be followed by investors, sponsors and any chance of the misgovernance of the last couple of decades being made accountable.
In short, if Celtic get their way in ten days time and the support accepts that they are right, there is nothing to see within the Res 12 accusations, and more importantly, nothing that they are going to do about it, then the game in Scotland just put itself on a level with the televised wrestling that used to be on World Of Sport just before the football results back in the seventies.
A cabal ran for the benefit of it's major competitors, which ultimately disappeared when the glitzy US version hit our screens, as it couldn't compete with this newer,  wealthier, yet no less corrupt new kid on the block.
A bit like the English league is to the Scottish league now.
The desperation to cling on to the "Old Firm " brand has been central to the activities of the SFA and the club chairmen, and I'd like to ask you this..
In order to keep the brand alive, it needs two clubs of roughly equal size and wealth to perpetuate competion…so with one club already trading insolvently, how will they try to even things up ?
They can't inject cash to bring them up to our level, so therefore they would have to bring us down to theirs.
One way would be to deny entry into the Champions League cashpot, but that would take unprecedented levels of refereeing and other assistance…
Maybe they will lose a form or two during the application process, or perhaos fail to register someone on time.
It's not about Celtic being stopped anymore purely because it suits the mindset of those who run Scottish football, it's about the brand, which is suffering , to their minds at least, because there is no strong Rangers to challenge the Celtic behemoth.
Whilst it's clear the toxicity at Ibrox is scaring off investment and sponsors, those who have influence in the game cannot see that.
They seem to think that , largely down to their own insular attitude, that Scottish football is centered around the Old Firm brand and that is whats killing the game up there just now.
We need fresh ideas,  a fresh outlook and more importantly we need to realise that we should stop glancing south in envy.
A nation ten times more populous than it's neighbour will always generate more wealth for its game.
We need to market whats good in our game, we could try turning it into a sport , for instance, with everyone on a level playing field, at least on the field.
All that needs to start somewhere, however, and the place to start is on our own doorstep.
At the Celtic AGM make sure you let the board know that we don't want to be a part of this carve up.
We want our club back.