For a variety of reasons, it appears that the business of bringing players in to Celtic during this window is now done.
The Keiran Tierney money , the clamour of the support and the media claiming a crisis has led to inflated prices being asked for players who would not immediately make the first team, which has kind of closed the local avenue.
As for foreign players, they are not guaranteed first team football in a less than glamourous league, and so again, the price would have to be inflated beyond what is considered suitable.
We'll just have to get on with what we've got, which realistically should be enough domestically, and possibly even enough to get us through the Europa group stages, where as second seeds, the draw should be kind.
However, the real pressure will be in January, as the club must build then to avoid a third consecutive Champions League failure.
Thats not to say things can't  change between now and Monday, but at this stage the word is that the best we can hope for are young players on loan, or players no one else wants, the more foreign sounding the better, who won't mind reserve football for a while.
Either that or someone will phone Dudu again…
As for players going, Scott Sinclair, the subject of a campaign to get him off the wage bill, has reportedly turned down a move to the United States. thats no surprise, why would he uproot his young family when he's more or less got until January off and a decent wedge going into his bank every week ?
All of this may be linked to the rumours surrounding Dermot Desmond, which concern his long term interest in the club. We hear that there has already been one offer from the United States, and it was rejected. More are expected.
One thing to keep an eye on is the Co-op loan. If that gets paid off, it's a pretty conclusive sign that he's out of here…
As for the current board, regardless of whether Desmond stays or not, expect a few changes. Their mentality is rather conservative, and things appear to be growing somewhat stale.
The Scotland squad for the games against Russia and Belguim was announced yesterday, and one notable absentee was Leigh Griffiths, as manager Steve Clark reckons he's not quite ready yet.
Thats a diplomatic way of saying Griffiths would rather cpncentrate on his club career at the moment…which suits me.
Especially with the season defining return game in Stockholm tomorrow.
This will be a test of the managers maturity and game management skills. Can he get his message across to the players effectively, and can they show a level of professionalism to keep the /swedes at bay in front of what will be a hostile crowd ?
They need to score three more goals than Celtic, so perhaps its a good time to practice sidieways football again..and just use the pace of the forwards to try to snatch a goal or two.
Speaking of hostile crowds…the other lot are in action, under the watchful eye of UEFA…
 We Are The Teddy Bears 1690 
To all my fellow bears. On Thursday night a section of out support is being closed for singing our songs to protest against the corrupt UEFA I propose the whole stadium sing The Billy Boys for all the UEFA c**ts to hear. They won't silence us. WATP 
Absolutely…go for it…who are they to tell you guys what to sing….?
Celtic's next domestic game is at Ibrox, and the SFA have allocated Bobby Madden the job of marshalling the game..

Tom Boyd,the ref will be welcomed in his pub,, Media,, ahhhhhhhggggggg. Rangers supporter Madden to referee rangers v celtic game,, Media,, sounds legit.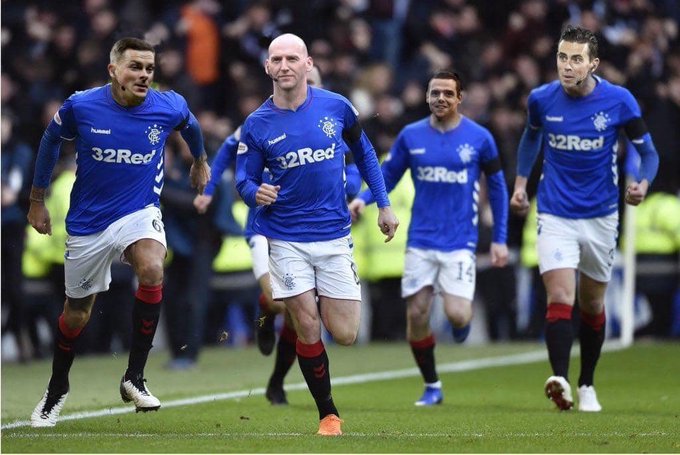 In fact, the whole team of matchday officials are kind of leaning towards Ibrox in their outlook, with fourth official Willie young specifically hired as he has a selective ear when it comes to matchday chanting..
Then again, so do the SFA, as this forgotten extract shows…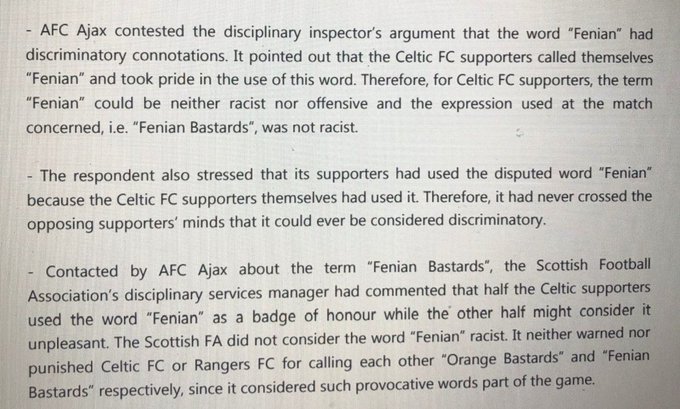 Well, that might explain why it's only UEFA who don't like their songbook.
Yesteray, Bury were kicked out of the English League. They have been acccused of financial mismanagement , though it's probably just a consequence of being linked to others of a similar ilk…
The English league didn't mess about..they're gone.
They should be offered a place in Scotland. Up here no one cares if you're solvent or not, and it's entirely possible to "bounce back " from liquidation…
Roaring Meg
Thoughs and prayers with the Bury and Bolton fans and communities today
Keep believing, Rangers did
Thats right, no matter what the facts are , just keep believing, and everything will turn out nice again.
Interestingly, not one news outlet mentions the Rangers liquidation when discussing the problems at Bury…despite the Ibrox club apparently surviving their particular episode..you'd think that someone would help the English club out with some advice.
Yesterday, we had this…