For all the hullaballoo surrounding incomings and outgoings this summer, it's perhaps worth remembering that the media don't usually find out who is joining Celtic until he's paraded at the ground.
For all the hullaballoo surrounding the appointment of Neil Lennon , it's perhaps worth remembering that the guy has been over the course before, and knows what it will take to lift title number nine.
Can we all calm down now ?
The leaked document has scared a section of the support, as it appears to indicate that the new kids in town will not be the A list superstars that we had perhaps hoped for, but as Celtic haven;t signed an A lister since the days of Sutton and Hartson then perhaps we shouldn't be too disappointed.
Even Rodgers stayed away from bringing in players that were ready made for the first team.
We don't do it any more. It's really that simple.
So we need to be looking elsewhere.
For once, English championship players and SPL players don;t seem to be as much of a bad bet as they were previously.
Andrew Robertson has proved that young Scots can reach the highest level, Virgil van Dijk has proved that someone at Celtic knows a player when he sees him, and Marvin Comperr showed that even the big name managers can make an arse of it as well.
With the possibility of a no deal Brexit looming large, which would lead to the execution of all foreigners followed by deportation, it's perhaps wise to hedge our bets and continue with a largely Scottish core, hence interest in players from Motherwell and Aberdeen.
In England , though, there is conseoderable scope to bring in players who have largely seen their careers stall as big money foreigners come over there and take their jobs.
They might see us as a stepping stone, but frankly as long as they commit for a couple of years and give it their best shot, I couldn't care less.
The core of the team to take the ninth title is already there. It does need a wee bit of freshening up though, and there's a reason for this that maybe didn't occur to us.
Watching the team "stumble " across the line this year showed us that there was more a sense of relief in winning the title than actual joy. That was only visible after the Cup final, but when these players look back on this year, and perhaps the last couple of years, they will admit that the weight of expectation is getting heavuer every year.
Maybe even every month.
In short, all the fun has gone out of it.
So maybe a few new characters around the place is exactly what the doctor would order.
But they would need to be big characters. It's going to be a difficult season.
Fortunately, we have a big character at the helm.
Lennon knows what we need to do, and he is fairly fresh as he's been away for a while.
Scott Brown , too, has been over the course and come through everything that has been thrown at him.
Mikael Lustig is out of contract, and when he returns from international duty, perhaps the club should realise that his experience and ability is far more important than he's getting credit for.
Then there's James Forrest, he's been around a while, and he has a tremendous amount of experience that defies his boyish looks. He reminds me of me, in fact.
Others, such as Calum MacGregor and even Leigh Griffiths, should he come back as good as he was before he went away, have important roles to play.
Another who has a massive part in this story is Keiran Tierney, who again will be the subject of transfer speculation, but he's already been as close to a move as he will be for a while, and looks now to be settled at Celtic.
Kristoffer Ajer has the passion and power to draw comparisons with Roy aitken, and Scott Bain will improve with experience. Spare a thought for the keeper, who has done so well that conceding a goal or two every few games is now seen as a poor spell for him.
Ryan Christie is another who won't want to go anywhere else.
Thats before we consider the two "new " guys already here…Maryn Shved and Daniel Arzani.
Scott Sinclair has been heckled and harassed by the support, and may decide he's had enough, but when push comes to shove he never hides, and has been consistently among the top scorers and providers in his time here.
A few new faces certainly won't hurt.
It would raise the morale of both players and fans.
We just have to make sure we get the right mix of ability and personality.
As I've said before, piece of piss this management lark.
So. you'll excuse me if i ignore the tittle tattle in the papers, but as soon as any of us hear anything that has anything like credibility attached to it, we'll pass it on.
Or we'll make something up.
All of this nonsense serves to take away from what was a marvellous achievement last year, and so lets pause for reflection..
And above all, lets not allow a fear of failure this year to overcome a desire to win.
In yesterdays Diary, we showed a tweet from Hutchison Vale FC which indicated an attitude towards their players that appeared to be indicative of poor treatment of their charges.
But it seems there is a little more to the story.
The club has defended it's actions..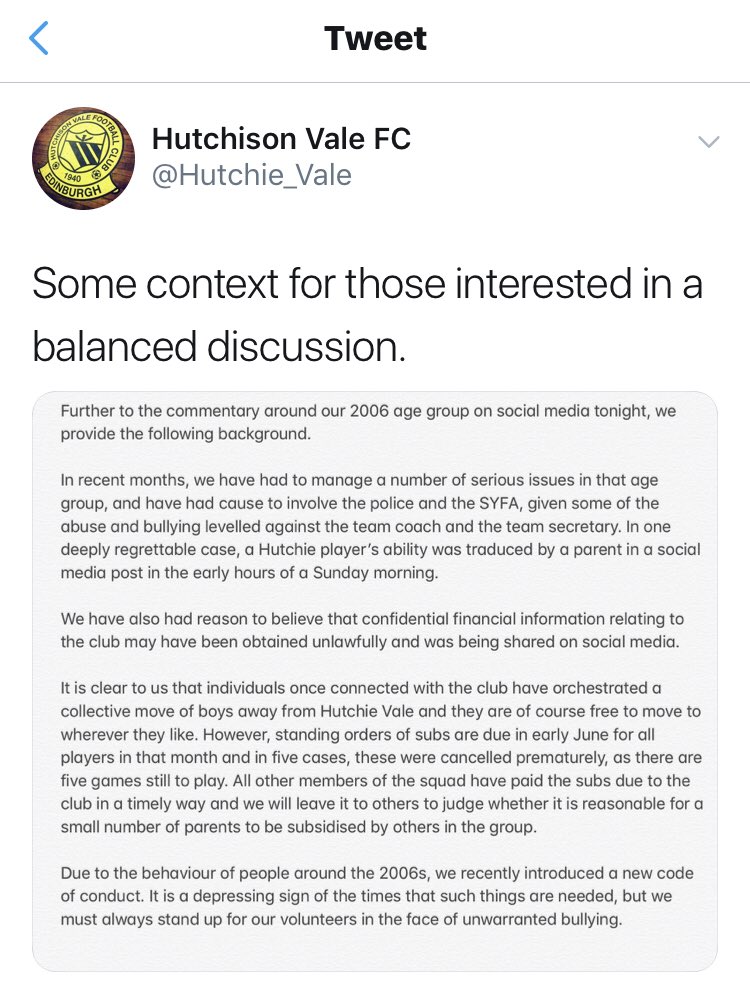 That's as may be, but again, there seems to be a lack of concern for the player or players themselves, and with their welfare in mind, surely any issues or disagreements must be kept out of the public eye ? (  said Ralph Malph, keeping it firmly in the public eye . )
I'm sure all those concerned will get round the table and sort it all out.
Something else from an earlier diary. Remember those vacancies at ibrox ?
No, not the one's between the ears of their supporters.
The stewards..
Detective Desi Mond was on the case…
The  Rangers caterer doing recruitment ….seems a strange outfit…the caterer mention of Rangers on their website….seems to be in using College staff for work experience!
(https://www.elior.co.uk/news/elior-uk-develops-young-talent-new-partnership)
Elior UK
The Courtyard, Catherine St, Macclesfield
Oh hold on…
Saturday 27th June is Armed Forces Day – a chance to show our support for the men and women who make up the Armed Forces community. Elior UK is committed to supporting this event and showing support for all Reservists, especially those who work within our business.
Remember Walter Smith LEGNED? 
But they do seem to help some…
Elior UK has given a 'life changing' opportunity to 10 previously long-term unemployed people – getting them back into work at one of its Tesco café sites in Scotland.
They got someone a job in Tesco. That kind of achievement cannot be overlooked.
And there's some heartening news for the success starved support over at Ibrox, as one of their own scooped a major award..
A kitchen porter with 22 years loyal service to Elior at Rangers F.C. has been named as Site Colleague of the Year at the 2013 Elior Awards for Excellence, winning a trip to Morocco – only his second ever trip abroad.
Taking home a trophy as well as the seven-day trip in June, Martin Duncan was praised by his team for being a "true ambassador for Elior, with an incredible work ethic and someone who is genuinely adored by his colleagues".
Arran McDowell, HR director, Elior UK, says: "Elior is proud to have the lowest staff turnover in the industry, and Martin is the perfect example of a happy, long-serving colleague who is working as part of a team to deliver an exceptional customer experience every day. He's a great guy who's given his all year after year to the company and he thoroughly deserves this recognition."
On receiving the award, Martin said: "I was so proud to be nominated for the award and I couldn't believe it when my name was read out as the winner. I really love my job and the people I work with at Rangers. It's such an honour to win this trophy and I'm really looking forward to the trip to Morocco – it will be only my second time abroad." 
Site Colleague Of The Year.
That's just one letter away from an award I won….
Mind you, the good times can only be just around the corner for the Ibrox club..
Dave King group set for controlling interest in Rangers
After all the fuss and all the efforts from the Takeover Panel King seems to have got his way.
And when it all goes tits again, the support will no doubt blame everyone else, yet here, in Martin Williams Evening times report, we see exactly what the plan was all along..
note, when I say good times for them, it's entirely subjective. They will think it's the good times, but it might be worth noting what else is going on today..
Outcome of Rangers' High Court fight with Mike Ashley's Sports Direct expected
That's from the same paper as the King piece.
Surprisingly light on detail, it ignores the fact that its not really a ruling, more a sort of confirmation that King will need to find a few quid sharpish, although a man with his considerable legal experience probably won't be too concerned.
Picture Ponder time again..yesterday we had this..
Wee Red 
By the way, on a serious note, am I the only one a little bit disturbed by the over use of flags in that picture ?