Scotland played yesterday, and they won.
The next games are in May. Or June. Or whenever.
Alex McLeish made half a dozen changes to the side that crashed in Khazakhstan, and it worked, becuase they beat San Marino. 2-0.
I didn't watch it.
From all accounts the players were only watching as well.
what I did notice was that there were a few players in the side that I had no knowledge of whatsoever, and having just read a book called Football Leaks, where all sorts of shennannigans involving brown envelopes and agents are cited, its a good job that in Scotland there is no chance of unknown players being capped purely to boost their value, that sort of thing couldn't happen here as the Scotland manager is well enough paid and wouldn't need any extra money for any thing.
Scottish football , thankfully, is staffed with honourable men.
Until you ask them something, that is, such as whether or not they intend to do anything about clubs-or companies-trading whilst insolvent..or breaking any other rules..
Like they do in England.
In Scotland, however, we have man of action Neil Doncaster.
Lets ask him about rules, and the implemantation of rules..
Hi Neil
You may remember from previous correspondence and conversations in that I questioned clubs seeing their way through half a season never mind a full one, isn't it time for a form of financial fair play and not backdated!
We currently have at least 2 teams playing outwith their earnings, the only way for fair play is that, do you want new rangers to fail?
The is a serious concern and one not just from a Celtic fan, many others have said this. You as CEO of SPFL should have addressed this sooner however that is then and this is now. FFP is simple, play with what you bring in, an investor comes in full disclosure!  A man with tax convictions well…..
As for SFA they are a  basket case
His reply ?
As you may be aware, the Board of the SPFL has no power to impose any such new rules on the clubs. Our role is to apply the rules that the clubs agree to be bound by.
However the last club insolvency amongst the 42 clubs of the SPFL happened in 2012. Following that, the SPFL clubs agreed to bring in stringent requirements that clubs make all payments of player wages and tax due to HMRC.
At present, I do not see any appetite amongst our clubs for any further rules in this area. 
Kind regards,
Neil
Hang on, did he say "club " ?
Surely it was the company ?
But thats the trouble when you tell lies, it gets more and more difficult as time goes on to remember what you said to who and when.
And of you're chewing that over, you may well be asking where it all leads to.
The man behind those emails has written a few thpoughts about that, which will be online tomorrow, or perhaps even tonight.
The thing is, whilst his piece is thought provoking, it may not be far from the truth.
Anyway, back at the ranch, and Don Hutchison has some advice for Ollie Burke..
"There's no need for Ollie Burke to move away from Celtic because at the present time, the form he has been in, not amazing form but better form from where he was a year ago.
"He probably wouldn't get in most Premier League sides at the moment, not starting anyway. 
"So this is no disrespect to Celtic but it's a great place for Ollie Burke to try and improve, play well, and have an atmosphere and a crowd that are going to drive him on and a manager in Neil Lennon, or whoever it may be in the summer, that will drive him on to the next level. 
Thats it, you practice at Celtic, and you might just get a chance at West Brom.
Money has distorted the game down there, but having said that, Burke is more than welcome to stay. As long as he remembers who helped him out when he needed help when he decides West Brom isn't for him.
There's a player in there, but the one who needs convincng is Burke himself. Not surprising really, when you consider the attitude of some in the south.
Celtics next game is against "rangers ", and the media will turn it into some kind of clash of the titans, when in fact, it isn't.
Already, the Record has tried to make it some sort of talking point..
Can Rangers shock Celtic to keep faint title hopes alive?
No.
Still, there was much high fiving in the office when someone managed to put the words "Rangers " and "alive " into the same headline.
Makes them feel better.
Anyway, four of their hacks offered their opinions-Keith Jackson, Craig Swan, Gavin Berry and Euan MacLean..
3. Rangers head to Parkhead on Sunday needing a win to keep their faint title hopes alive. Can they get it?
KJ: Having played Celtic off the park last time out at Ibrox they will cross the Clyde with plenty of reason to believe. But the chances are the champions will not allow themselves to be rag dolled like that again. Expect a relatively comfortable home win.
CS: Current form would suggest no. Rangers haven't won in four games and were pretty average in their last outing against Kilmarnock. It'll take a Celtic off-day for the visitors to win.
GB: They need to be more adventurous than their last trip but confidence is low. Having said that, their derby win at Ibrox was unexpected and Celtic aren't firing on all cylinders so don't rule out a shock away win. 
EM: Sure, they can win but it won't make a blind bit of difference to the outcome of the title. Their challenge fizzled out on the back of too many draws since their last big win in the previous Old Firm match. In a one-off game like that they can lay a glove on Celtic, but not in the long run. 
RM: (Me )Don't talk shite. Just make sure that the "rangers " dugout has a towel handy for Gerrard to throw onto the pitch at 5-0.
Speaking of "rangers", recently their club and manager both spoke out about the efforts they are putting in to remove bigotry and sectariansim from their club, and its supporters.
Presumably they'll work on their travelling fans at a later date..
At a fundraiser for former player Fernando Ricksen, a friendly against Blackpool, there were plenty of party tunes..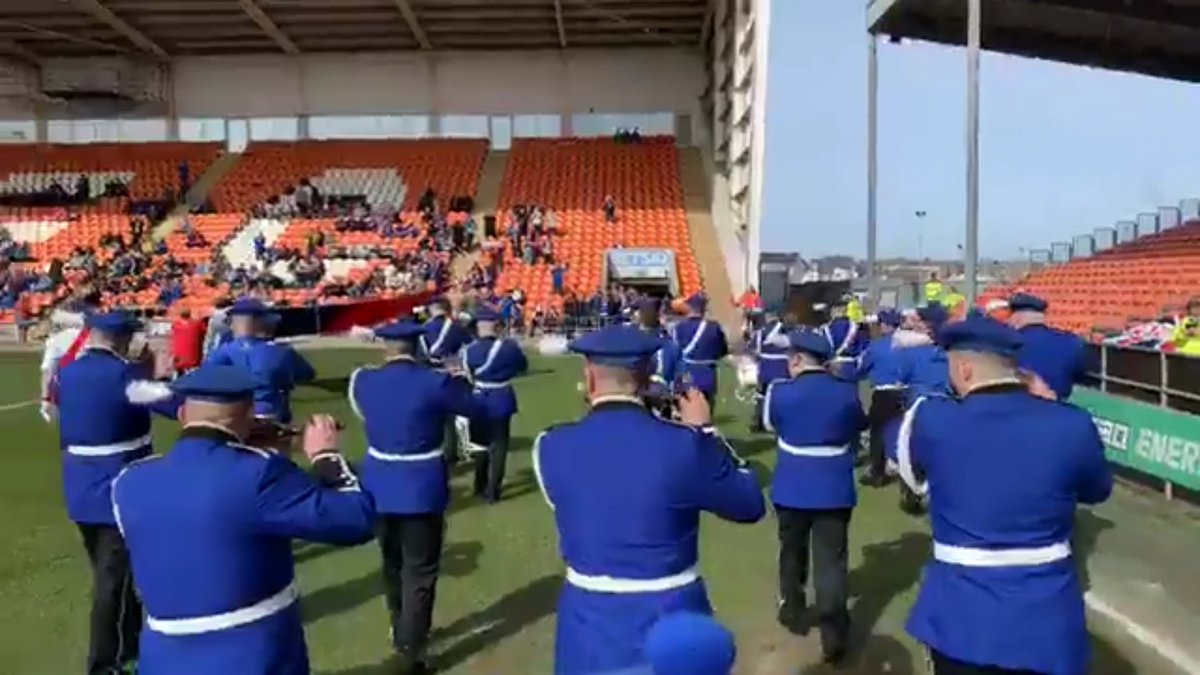 You may not see condemnation of this in the mainstream media.
At least, not unti