Over at the ranch it appears that the international break is turning everyone into gossips. Sweetie wives would be closer.
The talk is of who might be the man to get the Celtic job on a permanent basis, and one name is being mentioned much more than any other.
Rafael Benítez Maudes (Spanish pronunciation: [rafaˈel ˈrafa βeˈniteθ ˈmauðes];[a] born 16 April 1960) is a Spanish professional football coach who is the manager of Premier League club Newcastle United. He is the only manager in history to have won the UEFA Europa League, UEFA Super Cup, UEFA Champions League and the FIFA Club World Cup.[3]
Benítez joined Real Madrid's coaching staff at the age of 26, going on to work as the under-19 and reserve team coach, and assistant manager for the senior team. Benítez moved away from Real Madrid in 1995, but management spells at Real Valladolid and Osasuna were short-lived and unsuccessful. Benítez guided Segunda División side Extremadura back to the Primera División in his first season in 1997, but the team was relegated the following season. He left the club, and coached Tenerife in 2000, winning promotion in his only season.
Benítez was appointed coach of Valencia and won La Liga in the 2001–02 season. In 2004, another La Liga league title and a UEFA Cup victory were added building on the foundation laid by Héctor Cúper who had taken Valencia to two consecutive Champions League finals; in 2000 against Real Madrid, and in 2001 against Bayern Munich. After leaving Valencia, Benitez moved to English club Liverpool of the Premier League, guiding the club to victory in the UEFA Champions League in 2005. For the second consecutive season, he was named UEFA Manager of the Year. He also won the FA Cup in 2006 and reached the 2007 Champions League Final, but was unable to win the Premier League, with Liverpool's best league performance under Benítez a second-place finish in 2008–09.
After leaving Liverpool in June 2010, Benítez was appointed manager of treble winning side Inter Milan. His reign at the club was a short one and he was dismissed midway through the 2010–11 season despite guiding the team to the Supercoppa Italiana and FIFA Club World Cup titles. In November 2012, he was appointed interim manager of Chelsea for the remainder of the season and he won the 2013 Europa League. Benítez returned to Italy in 2013 to coach Napoli, where he won the Coppa Italia and Supercoppa Italiana. He then left Napoli and became coach of Real Madrid in June 2015 on an initial three-year contract. It was another short-lived appointment and on 4 January 2016, he was dismissed following a 2–2 draw against his old club, Valencia.
On 11 March 2016, Benítez was announced as the manager of Newcastle United in an attempt to save the club from relegation. Benítez was unable to avoid relegation, but earned promotion back to the Premier League the following year, winning the Championship. 
He's been around a bit, and is out of contract in the summer.
As usual, I've heard something, and I'm telling you. Technically, I read something and wrote it down for you, but thats not as catchy a phrase.
Whatever comes of this, it means that there is a bid to bring someone else in for next season. A surprisingly mature way of doing things for Celtic , which also means that they have plans for Lennon, possibly as some sort of ambassador.
Benitez has European pedigree, and isn't going to get European football with Newcastle any time soon. Maybe thats the carrot he's biting at.
Or maybe its just bollocks.
But one things for sure, something is in the air.
Someone else with too much time on their hands during the break is Chris Jack, the football write at the Evening Times.
During what has come to be known as the Succulent Lamb years, a reference to the control held by David Murray, former owner of the former Rangers, the mainstream Scottish media was fed enough good news stories from Ibrox to discourage them from asking the real questions, questions which might have saved the club from extinction.
Failing to do that has meant they have decided to pretend it didn't happen, and thus helping some rather unsavoury characters to fleece the confused Ibrox fan base of millions.
In order to perpetuate the myth we've seen some quite original and creative articles, but Jack surpassed all of them yesterday, as the need to save the second Ibrox club becomes urgent.
"rangers " have taken out another secured loan recently, and the expensive and pointless acquisitions of one or two players in January have emptied the coffers, and they only have one or two saleable assets.
Jack did his bit to help sell him yesterday…
How Alfredo Morelos has gone from Medellin to Rangers' multi-million pound man
What he appears to be saying is that he'd never heard of him, but if he's doing well in Europe, given that Jack will have told him he is, then he's obviously going to get an international call up, a big move and voted in as president when he retires home..
Then again, they're all at it.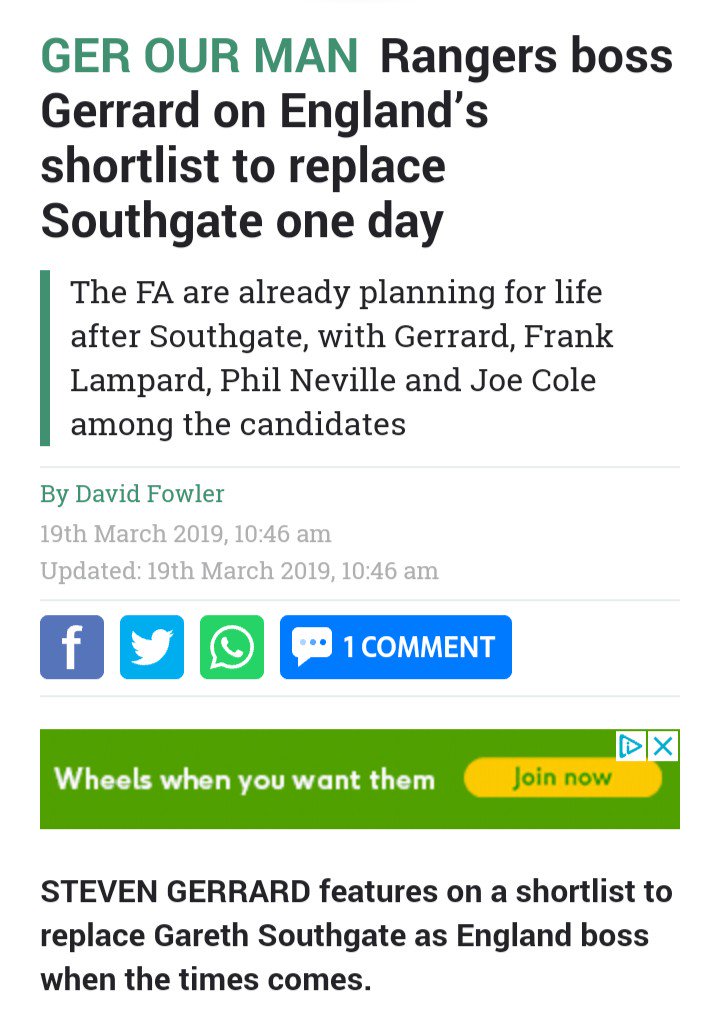 It never fails to surprise me what you can buy online, though worrying when you consider what whoever found this may have been looking for…