After this weekends round of matches, the excitement and interest refuses to die down.
Friday night saw Celtic win the first Glasgow derby of the season. An Olivier Ntcham / Scott Brown goal gave the hoops a 1-0 win at Firhill which kept the side at the top.
Ntcham saw his shot deflected by Brown, and has been credited with the goal, largely because hardly anyone had him down for first goalscorer.
Of course, bookmakers don't influence football that much, though they are happy to suggest kick off times that co-incide with peak betting times in the middle and far east. ( Falkirk through to Edinburgh ).
Seriously, sit down and ask yourself why there is football on television every night these days.
Anyhoo, back to the ranch, and although Celtic kept the invincible tag for another week, some people still weren;t happy.
Watch this incident..
Not only are some saying its a penalty, and claiming both Gordon and Biton need to be dropped for the upcoming Astana game, they genuinely think that two key members of a defence that has conceded just one goal in seven games-which hit the keepers leg and went in while Celtic were four goals to the good- shpould be replaced full stop.
The 1-0 win saw a lot of criticism of the side, and for the life of me I cannot work out why.
It was a difficult away game at an awkward hour.
Players had to adjust their training so that they could be at peak fitness around eight o'clock on a Friday night .
They then had to remain completely focused until nearly ten o'clock without once wondering whose round it is, whether or not the pub will shut before they run out of money, or if they'll run out of money before the pub shuts.
That , for me , took some doing.
All of that whilst playing to their limit , and not dropping their concentration, although there would not have been a single one of them who did not have the Astana game on their minds.
Celtic won the game, kept the hundred per cent record, and thats that.
Some people only see what they want to.
What I saw was Celtic not being awarded a penalty against them which would probably have cost two points.
Which was what I'll remember about the game.
For those of you looking for a scapegoat, or someone to moan about.
Give it a rest.
We done good,and we'll keep doing good.
However, if the players were toiling, and perhaps needed a bit of encouragement, the away support, always vocal and always passionate, were there to inspire them.
Graham Spiers, of the times, spotted it, and you could tell he was impressed.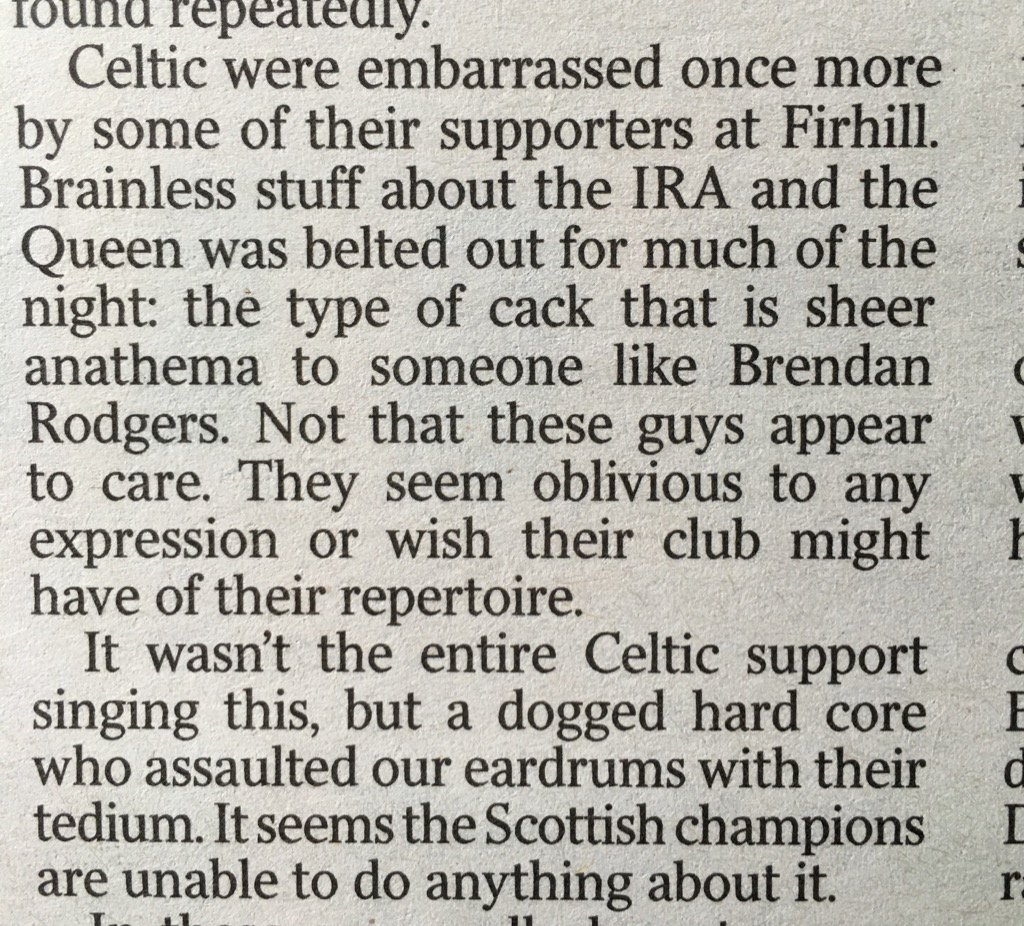 Maybe I'm wrong, but If i was playing, and maybe not quite on my game for whatever reason, I'm quite sure a Walk On, or a quick Hail Hail sung by a few thousand would get me to roll my sleeves up way ahead of something about a unicorn in my dads bedroom.
If the fans-or supporters- are there to inspire the players, then perhaps the songsheet should be adjusted accordingly.
Radical, I know, and yes, I know, they aren't illegal, nor are they songs of hatred, but a supporters job is to support a football team, its part of what Brendan Rodgers calls the holy trinity of management , players and supporters.
Lets face it, before a big game, he's hardly likely to conduct the players in a quick chorus of the Men Behind the Wire, he's probably figured out it won't get their danders up.
So why should the support think any different ?
Ah, but what about … ?
Fuck what about.
We're all about us, and getting that team to the next level.
Speaking of what about..
St. Johnstone leapt to the top of the table yesterday, with a convincing pasting of Motherwell.
Neil McCann, former Sky TV pundit, found out that managing a team at the top level is harder than talking about it and waving his rule bok about. His side were thrashed 3-0 by Hamilton, a side whose fans are refusing to buy season books because their chairman is on the SFA board and won't do the decent thing, yet their players managed to beat McCanns quite comfortably.
The dead cat bounce effect has now worn off, and those of you who enjoy seeing people fail to do well at what they criticise others for doing will get a lot of fun this season. You hypocrites.
Aberdeen won a tricky tie up at Ross County, and Hearts look like they might just find their feet under Paul Hartley.
Oh wait, he isn't there yet.
With an experienced manager at the helm, and a few players who've been around the block at the top level, much was expected of Hibernian at Ibrox yesterday.
They didn't disappoint, despite losing an early goal, which prompted a pitch invasion from the home fans who aren't used to winning regularly under their own new manager.
The Edinburgh side raced into a 3-1 lead once they remembered to play the team in front of them and not the occasion, and only a late consolation goal offered a bit of hope for "rangers " as they lost their promising run of two games undefeated.
That summary leaves out the red card given to Ryan Jack, the man who has made quite possibly the biggest booboo in the history of Scottish football by putting a promising career on hold with his move to Ibrox, and the frustration showed when he got himself sent off for a head butt, or an intended head butt, on Anthony Stokes.
Apparently it was captured by the cameras behind the goal, though i haven't seen it yet.
If you thought it was odd Partick not getting a penalty late on against Celtic at 1-0 down, then the sending off at ibrox of a "rangers " player by former season book holder John Beaton was downright surreal.
This sudden outbreak of good refereeing prompted a massive reaction amongst a support who didn't understand the events unfolding before them..
On change.org, 2000 of them have signed a petition…
Petitioning 
Hampden Park Scottish Football Association
End The Anti-Rangers Views Amongst Referees In Scotland!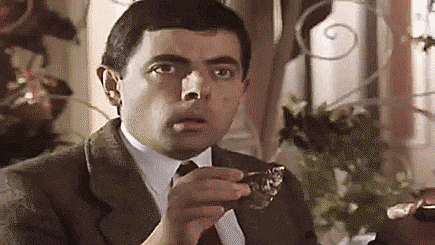 One commentator on Follow follow, a website for "rangers " fans, declared…
I seen this coming and its been my biggest fear all the way through the lower leagues. They will not allow us to reach the top of the game in this shitehole again.
How many times in his career has Jack been sent off?  Just his second game in the corrupt Scottish league with a Rangers shirt on his back and he gets Red carded for fuck all.
Referees know they will not be slaughtered either by their bosses at the corrupt SFA, or by the masses in the mhedia  across TV, radio or in the newspapers  for showing their hate for us. There will be no lengthy debate from the slime at the BBC about wrong decisions costing us points. They will be applauded and lauded for their "bravery" by every one of our enemies and from fans of every other club in this cesspit backwater that used to be Scotland.
If this is left and goes unchallenged, we are fucked, and so is Scottish fitbaw.
FUCK THEM ALL  
The scary thing is that he-and the rest of them-actually believe that.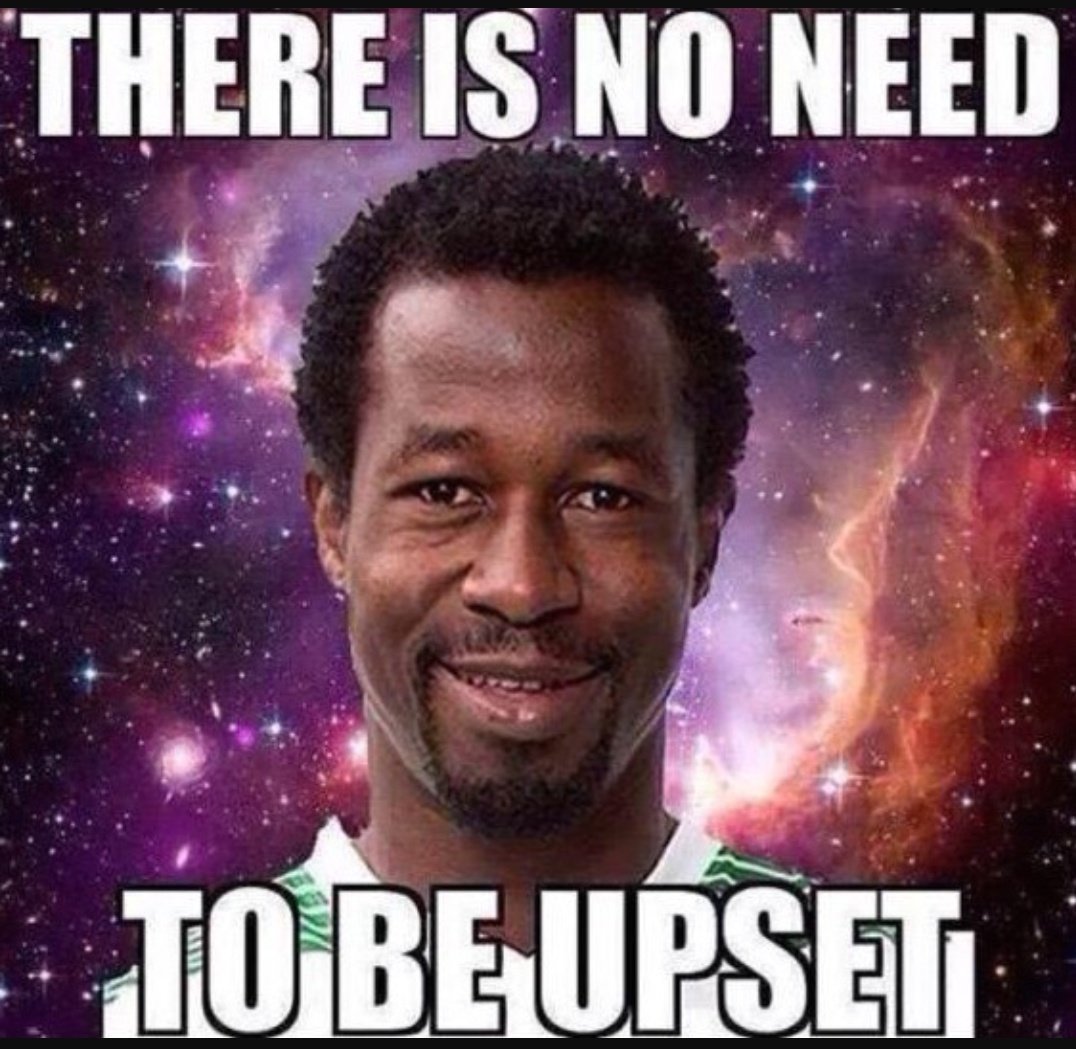 Sure the gap is widening, but if it helps I've isolated it…
Fact is, they've been taken for a ride and now its not going where they want it to, they want to blame anyone but themselves for not looking where they are going.
Yet over the last five or six years, its a compliant media that has hidden the truth from them, and allowed them to be shafted by the rather devious old  owners, who are more or less the same ones in charge now, with just a couple of conmen in between.
Not only that, but the press, anxious to deflect from yesterdays  result, lead today with this…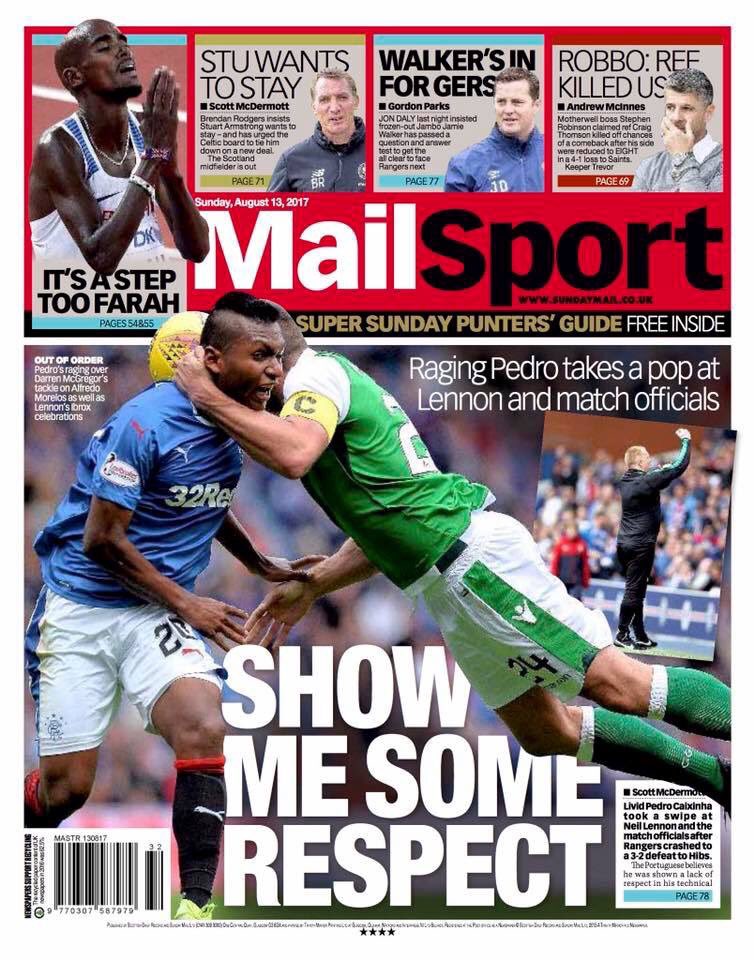 Show him respect ?
This is Pedro Caixinha, who in the post match interview declared..
"We are here, we are unite, we are the people "
Pedro, dear fellow, respect must be earned.
And believe me, my friend, as far as they define the people , you are most definitely not in that category…
Neil Lennon, the subject of bombs and bullets from the "rangers " support a few years ago, got his usual welcome from the hordes, and obviously enjoyed his sides win.
Who wouldn't ?
No doubt he received the usual warm welcome and reminders of their love for him, and yet when he celbrates a goal, they want him thrown into prison.
The realisation that their side isn't making any progres under Caixinha has hurt the support.
It has hurt the directors, who have placed all their eggs into his basket, and they cannot afford to replace him.
With all that in mind, its going to be an interesting season, if only we could find someone to sell it to the masses.
One man who has been at Ibrox for a while has seen the writing on the wall.. and probably asked someone to read it to him..
And it all looked so good, as recently as last week…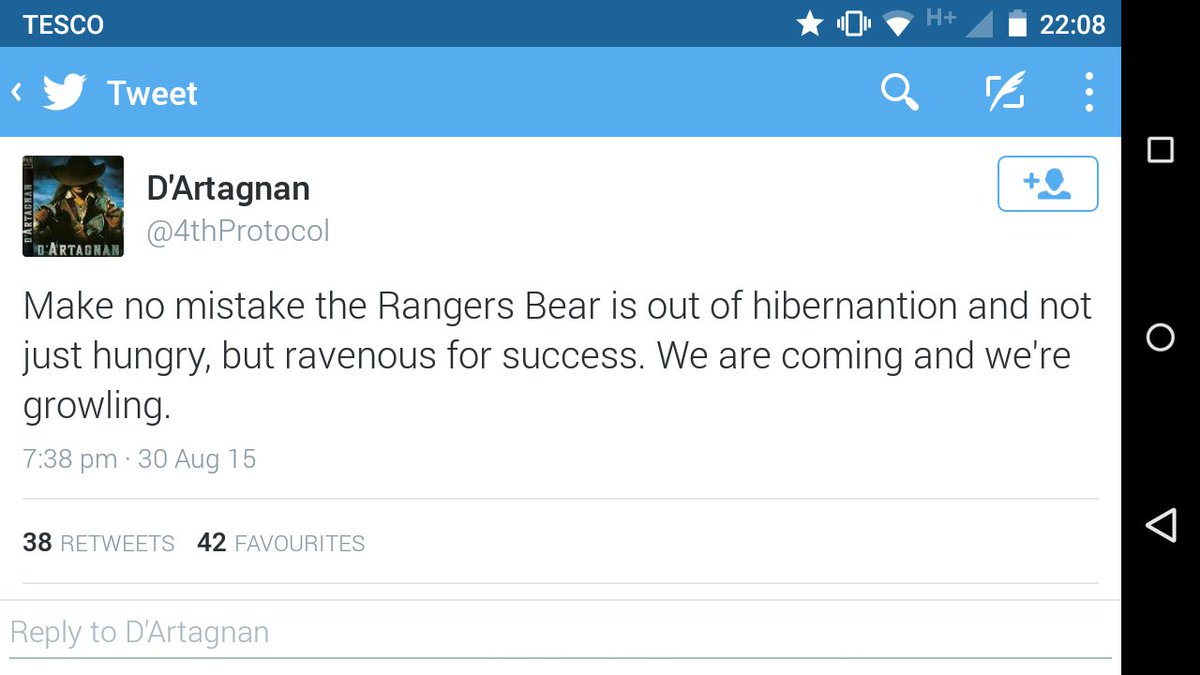 Meanwhile, though its always good to laugh at them, we've our own issues to deal with.
Danny ings on a six month loan has been spoken of, Stuart Armstrong has pretty much told he isnlt going to be allowed to wait until ?January and fuck off for nothing, and Patrick Roberts…
Now wouldn't that be a buzz if he signed early this week ?
Friday is normally the day reserved for Knob of the Week, but sometimes someone does enough to make the title seem a little less than he deserves.
Today we introduce a new award, which will be awarded randomly to someone who has gone beyond knobbery into the land of complete bastardry, and so the we'd like to recognise such a marvellous step up in dedication to ones vocation in life.
For this , we head to Stirling, and the Stirling Albion -Berwick game, where football really is football and miles away from the multi milllion pound industry we are served on television.
It's the game at its most honest, and most enjoyable, and yet there's always one who will spoil you day..
This steward apparently took a fruit shoot- a plastic bottle with a cordial type drink in it-  from a six year old, presumably in case the child flung it at a player , or had hidden several ounces of gunpowder in it.
So he gets the new award, and will keep it until someone else comes along and claims it with an act thats even worse than this.
Which is unlikely but you never know…
Well done sir.
you've reached heights that no one else ever has.
you are Etims first ever..
Complete Bastard 
Then there was the tweet and reply that made me -and thousands of others chuckle..
If you weren't a betting man you'd be in Burnley's squad traveling to Chelsea ya daft cunt




No diary yesterday, I had to go to work, so we go back to Friday for this picture