Last week, on the way to the game, we intrepid travellers of the Lennon CSc hit on the subject of the semi final on Sunday, and at that point none of us had any news on tickets. Largely because the chap who organised that sort of thing for us wasn't with us due to unforeseen circumstances.
Well, I say unforeseen, the rest of us knew he wouldn't go home on Friday night after just a couple.
No matter how many times he told us. Or, indeed texted us to ask if we could give him a quick ring in the morn to make sure he was up.
We all did. but as he was outside asleep in the gutter when we got there, he hadn't heard his phone. And there was no way we would have made it all the way to a seat in the motor.
Anyhow, I digress.
There is a bit of ticket news, which seems a little late with the game just a couple of days away, and it's my turn to ask, but is this really the first notice of tickets ahead of a Cup semi final ?
CELTIC head to Hampden this Sunday, and with tickets for Under-16s only £5, it's a great opportunity to bring some young fans along to cheer on the Bhoys as they face Ross County in the League Cup semi-final.
Tickets for the game on Sunday, January 31 (KO: 3pm) are on sale from the Ticket Office at Celtic Park only, priced £20 adults and £5 Under-16.
The Home Cup Ticket scheme does not apply for this match. All Season Ticket Holders must purchase a ticket for this match.
The Ticket Office is open Monday to Friday, 9.30am 'til 5pm and also this Saturday, January 30 from 9am until 12noon for supporters wanting to buy their tickets.
We advise all Season Ticket Holders to ensure that, when purchasing tickets for this match, all client references are given at the time of booking to ensure that records reflect attendance at this match.
That last line is interesting.
They're keeping an eye on us, aren't they ?
Fast forward to the next big push for season books, sales through the floor,  as supporters decide they would rather not give their details to Police Scotland via Celtic Football Club.
When were the club ever bothered about "reflecting " the attendance ?
Still, at least we can be assured the Kelly's have definitely gone. They would have had the attendance at about sixteen or something.
The transfer window is on;ly open now until the end of the weekend, and as clubs work their way down the list of who they want at the top to who they are getting at the bottom, we've decided that we'll leave all that nonsense to the Rumour mill, which will be published before the window closes. Or after it, well, we're not sure exactly when, but it should be done in time for christmas.
But here's a wee snippet that perhaps outlines how dificult it can be to bring in players, not just because of the clubs wage structure, but also because of a players demands.
Fabrice N'Sakala , Congo internationalist , now with Anderlecht, spoke of interest from Celtic last summer…
N'Sakala was on the verge of joining Celtic six months ago, and the player revealed he was in talks with regards to a move to Scotland, but a deal never materialised.
"Last summer I sat around the table with Celtic. Lille were also interested. A loan move was a possibility, but it's all come to nothing because of the financial offer, " said the full back on the interest from Celtic. 
From that, you can read almost anything, but to me it sounds like the player has a higher value of himself than Celtic have. Unsurprisingly, I suppose, but if money is their priority, then let them go somewhere else.
Maye we should have a wee bit more pride in who we are sometimes, and Jim Ward/Celtic Vereses on twitter, posted this to help us remember;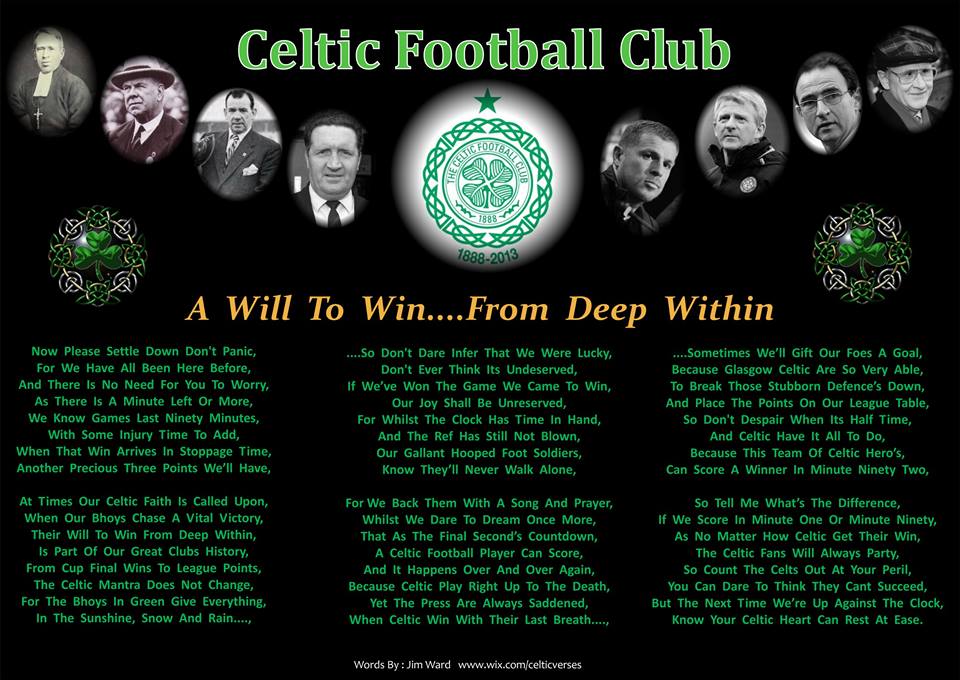 Makes me want to get the guitar out and put a few chords to it, but then i'd have to learn how to play , and more importantly, have some kind of musical talent.
Speaking of twitter, a chap called Kraljski held his own wee poll asking what people thought of the BBC show "Sportscene" , and after 890 people responded, the results suggest that a revamp of the show is in order.
Either that or setting fire to the studio and claiming on the insurance.
He asked "Sportscene-good Viewing ? "
Ninety Four per cent said No.
Thats kind of convincing, and if I was the producer I'd be worried about those figures. After all, cat food companies launch campaigns on a nine out of ten approval rating for their products, and this is above that level, although it disapproves.
A little shorter today than usual. Good to see a big response to the caption competition yesterday, Andybhoys crack about the growlers has to be the winner.
Today, this -a wonderful picture-needs a caption;
My lad brought his mate round last night. He's.sadly, HIV positive.
I refused to shake hands with him, which caused a row, and all sorts of name calling.
Well, he shouldn;t have worn his Rangers top , should he ?