For a long time last night, the diary's credibility looked to be shattered as Celtic led Hamilton 7-0, but happily the hoops conceded and Calum MacGregor stepped up to add the eighth goal in what turned out to be a bit of a mauling for the Lanarkshire side.
It had been coming, the question now is can Deila's side keep doing it ?
Within ten minutes of the kick off, goals from Lustig , Biton and Rogic had fired the Celts ahead, and within another fifteen minutes Hamilton would have been as well getting back on the bus and heading home.
Leigh Griffiths bagged the first two of his hat trick before half time, and another fearsome start in the second half had Forrest netting and Griffiths on the score sheet again.
At this point, anyone who had the 7-0 forecast would have cashed out, as it looked like the referee would have to take his shoes off to enable him to keep count.
Hamilton managed a consolation goal, as Celtic bombarded the Accies defence, and if it wasn't for goalkeeper McGovern, it would have been embarrassing. Well, even more embarrassing, and in the end a late goal from Calum MacGregor finished off what was a good nights work for Celtic, when more or less everything seemed to go right.
St. Johnstone have already phoned in sick ahead of Saturdays game.
After the game, manager Ronny Deila seemed to be in a better mood than usual, as it finally looks like his plan is coming together.
 "It was a fantastic night and I'm very pleased with the performance from the boys. It's always hard to keep up the tempo and intensity when you are 3-0 up after 10 minutes, but we did that very well.
"We looked very sharp tonight. In training, in the last few weeks, we have looked better and better, and tonight you could see the tempo we can play when we are our best.
"We played so many games before Christmas and there were a lot of emotions, happy and bad days. We have also been going since June 20 and a break that wasn't long.
"After Christmas we have had some weeks training and we have been able to rest the players a little bit more and you can see more energy throughout the whole team.
"We deserved it tonight and could have had so much more as we had so many chances. You always want to get games like this and I'm very pleased. 
"We want to score as many as possible and we have to be happy with eight. (As a manager) I can't remember my team scoring more
"I sense freshness in the group. I see smiles and people are looking forward to games and that's very important."
"First of all, it's one game and three points, though. We need to know why we were good tonight and put on the same performance on Saturday as that will be a tough game as well. When we play at this level, it's this tough to meet us." 
Couple of things to pick up on there, especially the bit about playing so many games and being tired. This may explain the building of a somewhat larger squad, and also the reasoning behind the rigidity of the system. Injuries have played havoc with side this season, and its clear that the manager wants players who can step in and not disrupt the rhythym of the side.
Maybe he is thinking ahead, and does have a long term plan after all.
Also, it would have enetered a few supporters minds, early in the game, that despite being three up before you'd finished your bovril, there has been a tendency to sit back and allow the other side to claw their way back into the game.
This didn't happen, and ruthless Celtic never took their foot off the pedal until the gane was over.
There's two reasons why the team are moving forward, but it will be interesting to see if it continues, although there is no reason why it shouldn't.
Confidence will be high, and the players will be looking forward to the next game with relish. Not as much as me, but then again they won't be having a couple of beers before kick off.
Notably, Leigh Griffiths continued his rich scoring vein, and now has more league goals than Dundee United. ( 20 to 19 ) and it surely won't be long until he is rightfully mentioned in the same breath as Scottish football legends such as Larsson, Nicholas , Dalglish and Waghorn.
Tom Rogic and Jozo Simunovic were withdrawn at half time, but their injuries are not serious and they should be ready for Saturday.
So is there a spring in your step today ?
Alright, wins over Stranraer , Dundee united and now Hamilton aren't exactly major achievements, but there's no denying they were entertaining, which has been another criticism of the team of late. Maybe now we can enjoy the rest of the season,and look forward with a little more optimism to the /european camopaign than perhaps some of us had been doing,
And when it's all over, and three trophies are sitting in the cabinet, it won't be these games that marked the turning point, but the battle against Partick that saw the late goal, and importantly, the late encouragement from the fans.
All we had to do was work together.
There were a couple of interested spectators last night, who couldn't have failed to have been impressed by what they saw.
Erik Sviatchenko watched his new team mates, and he tweeted;
What a game


#HH
Although he did seem a little concerned about job security as he realised that on this form Celtic don't really need defenders…
Meanwhile, up  in the stands , was this guy, watching the game and studying the property section of the Evening Times…
Ljuban Crepjula, the holding midfielder who caught the eye when Celtic were looking at someone else.
Dangerous game that, my wife battered me in Sainsburys once when she caught my eye looking at someone else.
Crepjula looks set to join up today for around £300,000, taking the clubs spending to over £2m this window, and it's not over yet.
Mores the pity.
Another interesting contest took place yesterday, and its over to James doleman to fill us in on how it went…
James Doleman on Sports Direct v Rangers
For many this was a tie where both sides would hopefully lose, and after reading that, it appears they have.
Well, credibility at least has gone.
From all sides, including the judge, who surprisingly has been overlooked by the casting agency which hired the actors for the upcoming Laurel and Hardy biopic;
You may have noticed that the diary hasn't commented on the recent verbal altercation between Jeanette findlay of the FAC, and Kenny McAskill, who is a politician.
Thats because we've asked her, and she has accepted, to give us the full story on a podcast being recorded tomorrow, so keep an eye out for that.
However, this has to be worth mentioning, which is a statistic showing the number of charges under the Offensive Behaviour Act, and the corresponding clubs which those supporters profess to support…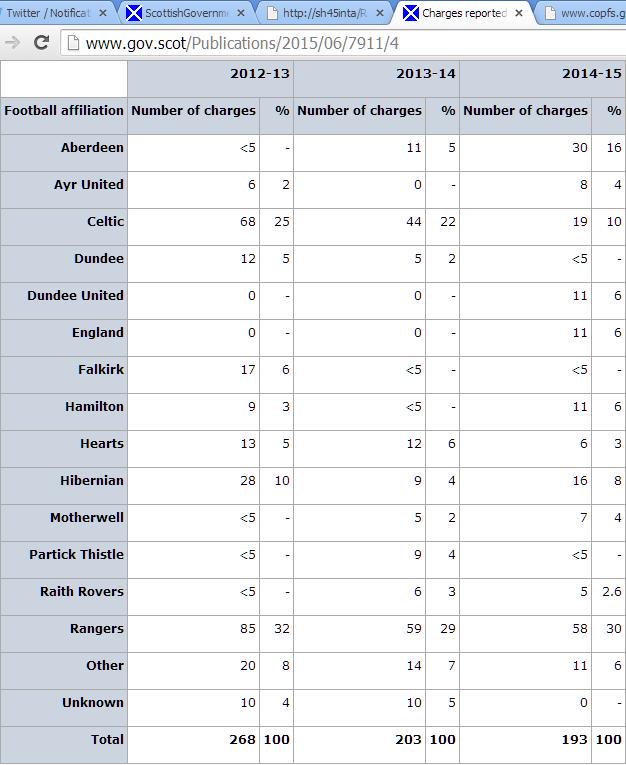 Broken down, for last year, this reads as..
Rangers 30%
Aberdeen 16%
Celtic 10%
Hibs 8%
Dundee United 6%
Hamilton 6%
England 6%   
There's a pattern emerging…..
Ach, lets lighten the mood with a new section to the Diary.
Football lookielikies
We've seen above that possible new holding midfielder Ljuban Crepjula bears more than a passing resemblance to Lionel essi, but its apparent that another Scottish footballer can lay claim to having , well, film star looks…
Which brings me to another great idea designed to improve the match day experience..
Facial Recognition technology.
Scottish football grounds could be the first places in the UK to install facial recognition technology as the game's authorities renew efforts to tackle hooliganism and sectarianism.
Officials from the Scottish Professional Football League have already met civil servants to discuss the installation of the latest surveillance cameras at all 42 stadiums in the country, at an estimated cost of £4 million. An alternative £2 million scheme would involve the technology being deployed in only the 22 clubs in the top two leagues. 
They really don't have a clue, do they ? With other avenues available to watch games these days, fans will simply opt to stay at home instead.
However, its worth remembering what happened when this system was trialed at a Liverpool game..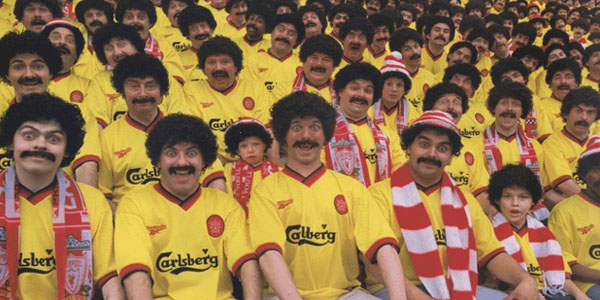 Still, it should raise a few quid if I can get my idea out there in the shops….inspired by a tweet from Lisbon Lion.
And finally, also thanks to Lisbon lion, a caption competition…