A couple of days, at least.
Celtic swept past Stranraer fairly comfortably, with goals from the new look twin pronged strike force of Leigh Griffiths and Carlton Cole. Ronny deila appearing to bend to the supporters will to try two up front-or of course , in a low risk game, he could simply have been trying out a new formation, to see how the players coped, but he still got stick for not starting Scott Allan, even though the pitch, which was not perfect, probably wasn't suited to the players on the deck passing and movement style.
Allan, of course, did okay when he came on, so really there's little to moan about on the park.
Anyone else get a little nervous when the ball was played back to the keeper onto his right foot….? I did, but thats because we're used to it going to the left of Craig Gordon.
Anyway, Celtic are still on course for a treble, and thats what counts.
And Ronny seemed pleased with the results of his experiment;
"He (Carlton) played well with Leigh and they scored three goals together so I can't be irritated about that. You can see Carlton is experienced and knows how to score and be a striker.
"I was happy for Carlton to score as means not everything is on Leigh's shoulders, and maybe it was good for him to have some days off as there have been a lot of games for him.
"Leigh is important for us. He scores goals and works really hard for the team as well so I'm happy to have him back.  He's my dream striker.
"It was a good performance," added the Hoops boss. "It's always tough to go away in the early stages of the cup as you have everything to lose – we have all been through it before.
"Today, we did it in a very good way. We had a poor five minutes but after that we controlled the game, creating chances and really put on a good performance.
"He (the goalkeeper) did well. He saved a lot of opportunities and it was good it wasn't everything." 
 "This is about player types as sometimes you need to win the midfield and you need more players in there to control the game," explained the manager.
"Today we were quite sure that we were going to win it with Stefan and Nir. We knew it was a narrow pitch and we wanted to have more pressure inside the 18-yard box and I felt it worked well. It's important we can change and have a plan A, B, C and D if we need to do." 
Maybe he feels the players are now ready to try something different…..
Which would explain the flurry of , if not actual signings, but certainly interest in attacking players this month.
Aberdeen and Hamilton are out, the Dons fans had a message for their manager which suggests they are displeased that their season is over before Santa has put his sleigh back in the garage
As, too,  are St. Johnstone, so a couple of tricky away ties are now not going to happen, but that does leave the inevitable trip to Tynecastle, or the one the tv companies, newspapers and probably the more optimistic Ibrox supporters want.
A trip across the city to continue the Celtic ethos of helping the poor.
Two hot balls, thirty cold ones….
Personally, I'd expect that tie to come up later, but the powers that be really can't risk Second Rangers facing a full time team and making an arse of it again, so its likely that by teat time tonight, we'll all be looking forward to an Old Firm game.
Well, thats what they'll be telling us.
Right, who's up for a game of Devils Advocate ?
Yesterday, a number of flares were set off, which , while not entirely unexpected, was certainly not welcome.
I'm not sure as to who did it, but it probably wasn't anyone over the age of thirty.
And so the press can have their little game of whataboutery… it gives them a chance to focus on something that doesn't involve singing racist or sectarian songs.
Of course, they asked Deila about it almost immediately.
We don't want thisIt's something that is making a bad reputation for the club. So this is absolutely something we need to get stopped.
"It is not positive for anybody and we, as a club, don't want to have anything to do with this.
"It's not my job – but I'm a part of this club. We've talked about it a lot and we have to get it away from this club.
 "I'm not from here so I don't know what kind of sanctions we could face. But what I can say is that it's important we follow the rules – and that people are safe when they come to football matches.
"That is why we have football as a cultural thing that everybody can be part of. Safety has to be the most important thing in every game we play. Of course it's everybody who has to be safe.
"Everybody realises it's something we have to get stopped – and we'll do everything we can to stop it."  
Thats his message.
Mine is much more simple to those obsessed with choking everyone around them with acrid smoke.
Fucking grow up and stop acting like arseholes.
Which brings me to the singing.
A chorus of Brits Out.
It might be a little churlish of me to point out that they have already gone, but here's a thought…
What if it was blacks out ?  Or Jews, Pakistani's or Syrians ?
Is it really any different to famines being over and being told to go home ?
Politics has no place at the football.
Most of the time.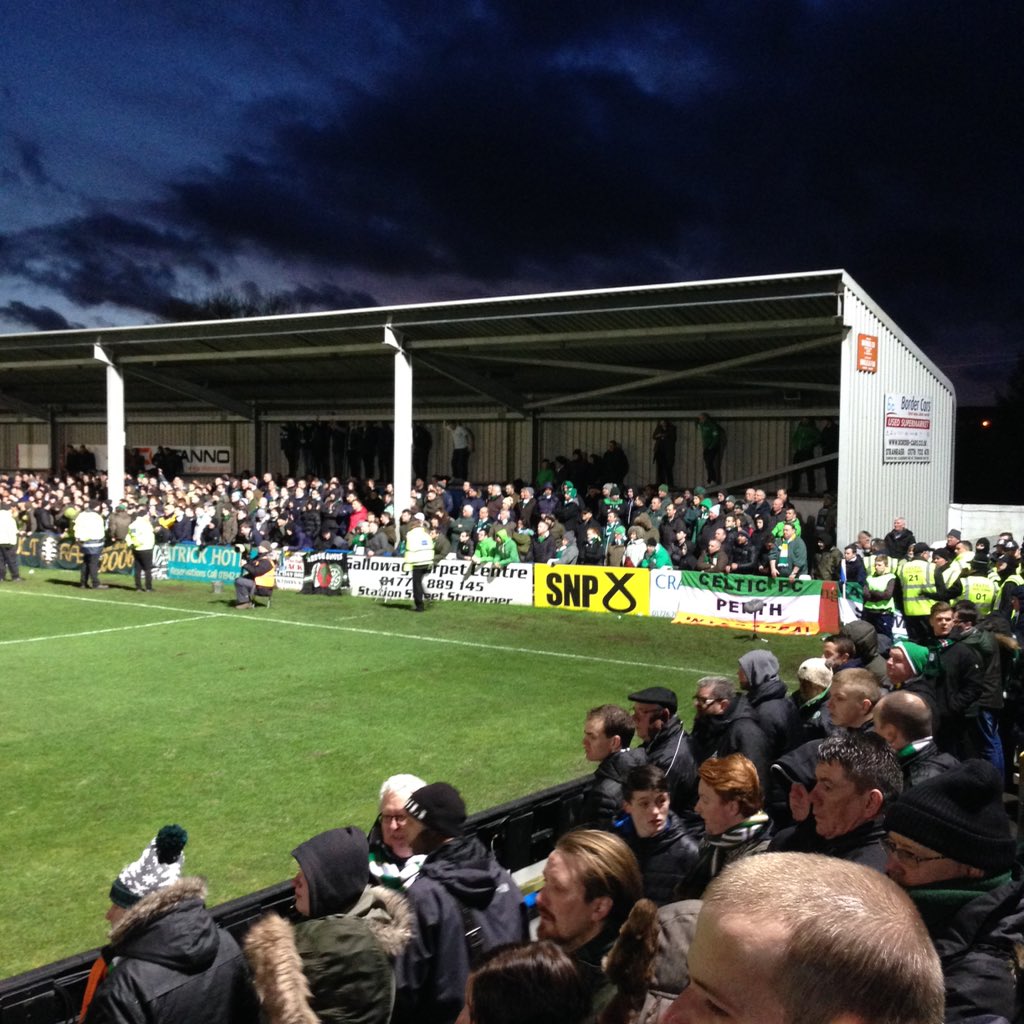 We know its a slightly skewered society up there. But anything we do as a club or as a support will be seized upon immediately.
At least by a vindictive press who will jump on anything they can to give the support, and the club, a bad name.
As we have seen on countless occasions, good Celtic stories, such as this one;
will not mahe the papers, but bad ones will.
Devils Advocate again, and you know how Celtic fans are quick to point out anything that adds fuel to the hidden agenda behind the mainstream media.
Well, how about this….?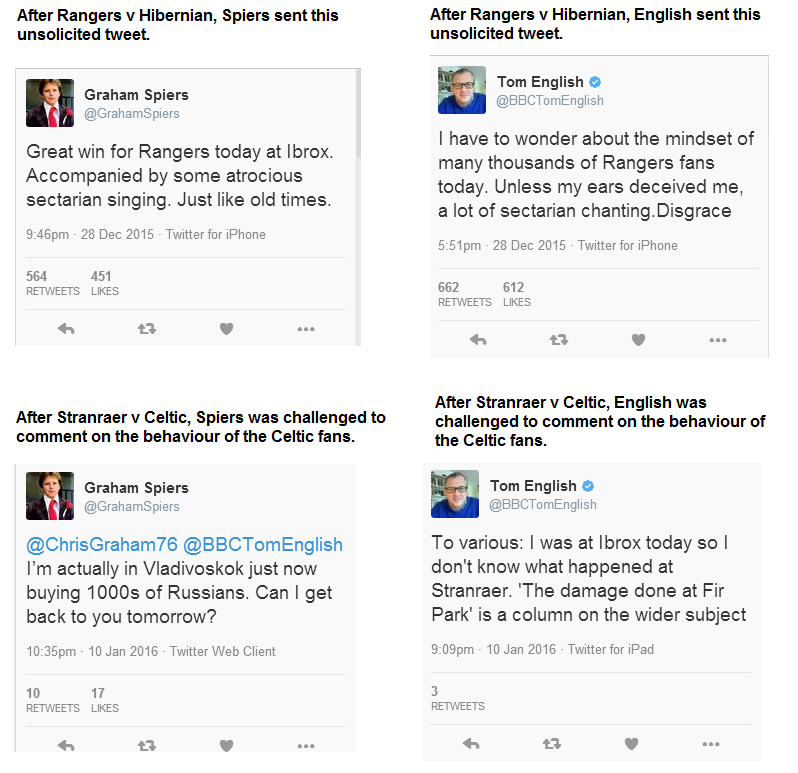 We know its nonsense, the reporters will no doubt know its nonsense, but on paper, they do have a point.
Mind you, if they read the papers, that point is immediately rendered invalid, but it does make you think.
The solution, of course, would be to encourage fair and balanced reporting. The two hacks above, overall, are among the few who usually do.
Trouble is, there are a couple who owe their living to encouraging one side to feel they need never face awkward questions about anything, whilst highlighting the relatively trivial on the other.
As the advocate of the dark lord, my conclusion is that its a mess, and as a support, Celtic fans, who are by and large a decent, intelligent bunch, need to rise above this and concentrate on our own behaviour, and take no notice of what is essentially an irrelevance on the other side of the city.
In order to do that, the club needs a strong PR man.
We might criticise Level 5 for their parochialism, but Celtic need a similar amount of control,over what gets made public, and how it is made public.
John Collins was at the centre of a storm again this weekend, and he doesn't deserve to be.
Its well known that the club want Rangers back in the top league, and although at a recent meeting up there  I pointed out the difficulties in the black art of resurrection, I got the feeling that the club haven't quite grasped the concept of liquidation.
In the end, we all agreed that a sizable club within the city limits would be no bad thing, but not that one.
Well, I did. I felt I was being humoured.
If the club want the new club in, and are not prepared to say so publicly, then at least stop hanging Collins out to dry by making him say it, or , to give them the benefit of the doubt, allowing him to say it.
Where they are concerned, players and management should be given an instruction to say they are only going to talk about Celtic, and no-one else.
Its not rocket science.
Concentrate on our club. our fans and our players.
Sod everybody else.
Mind you, I did have a chuckle at this.
SFA must sanction Celtic for their fan's behaviour. Sectarian singing & flares all match. 1 animal just shat in a Lidl bag & threw it at us.
One suspects this story might not be entirely true. and it may also have the most tenuous of links with Stranraer.
But it gave me an idea,
Half time is usually a bit dull , and if it hasn't been the best of games, then some fans are maybe tempted to drift of to the pub.
However, I've had an idea, to keep people interested after the paradise windfall draw…
Remember this, from nineties tv programme "Gladiators "
Well, instead of hitting each other with oversized cottin buds, how about a contest, similarly staged, where two lucky fans compete by trying to hit each other with carrier bags full of excrement ?
I think its a winner, but then, I'm a bit strange.
It could become a tradition. you know, like this one…
Thanks to chrisnbhoy, who's name appears on the picture, meaning i can't pretend its anything to do with me.
It is, of course, the Loving Cup ceremony, performed ahead of the first home game of a new year at Ibrox, now continued by the new club. Thats not a photoshop, by the way. They changed the cup, for contractual reasons, to the mug seen above, and theres apparently a seven year notice period of they want to change back.
However,  many feel it was a result of finding out that they were in fact, copying an old Celtic tradition… something discovered and shared by larkinabout, on twitter.
Loving Cup Ceremony
The use of the wine cup or Loving Cup at a wedding is an ancient tradition. By the 15th century it was common for the Celtic people to toast each other with a ceremonial Loving Cup. In Scotland this cup is known as a quaich, which comes from the Celtic word cuach, meaning cup. The Loving Cup ceremony also has its roots in Irish, French and Jewish cultures.
Today there are different versions of the Loving Cup. The traditional quaich is shaped like a 2 handled bowl and often has a inlaid Celtic design. Loving Cups come in many designs, shapes, sizes and colors. Some couples choose use a crystal wine glass and have their names and the date of their wedding etched in glass.
Does this make me obsessed ? What exactly is obsessed ?
Not as obsessed as these guys, paid presumably to protect, serve, and make sure theres no beer on your bus…
Even the uniform appears to be designed to make them feel like they are some sort of hollywood inspired elite task force.
Worried ? You should be.
From here its only a short step to annexing Czechoslovakia and invading Poland.
By the way, I've heard from Tom Campbell.
He's making good -if sluggish -progress from his triple by pass operation, and I'm sure you'll join me in wishing him all the best.
Heres a picture that you don't see every day.
Where is it, and whats the occasion ?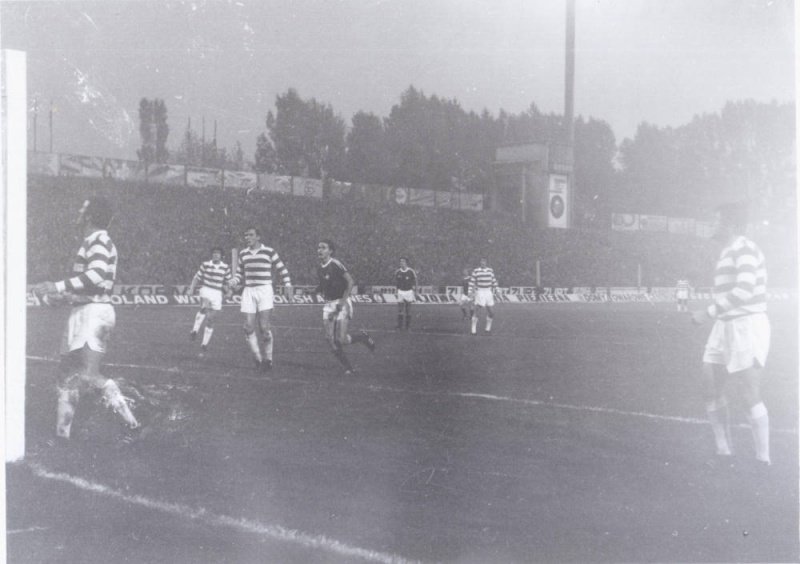 Today we have the sad news that the man who was probably the most influential artist in British music history has passed away after a long battle with cancer.
David Bowie was 69, and will be remembered for his music, his fashion , and his many alter egos, such as Ziggy Stardust, pictured below;