For those of you who doubt the veracity of the "news " in this diary, check the date on yesterdays….proof of progress? Well, it seems the Diary is going backwards. Thanks to Susan Murphy for pointing out what no-one else seemed to notice. Including me, living here in my sepia toned nostalgic paradise.
By the way, the comments were much improved yesterday, and hopefully we've now seen the last of the wee swipes at other supporters. I got in last night, read through them, and there was an overall return to common sense.
There are a lot of sensible remarks that could lead to articles in there own right, and if any of you feel like expanding on a particular theme, don't hesitate to do that. Just send it to us, and don't worry about whether or not you think its great prose.
You've seen the diary.
To tidy things up, last word on the "unacceptable " Pavekl Srinicek " remark. I'll accept it was in bad taste, which puts it on a par with nearly every other remark made over the last four years or so on this page. So, if I've offended anyone, then you can rest assured that wasn't the intention.
And you'll be pleased to know that I decided not to run with the line about Eastenders bosses maybe missing  a trick with this years christmas special.
Finally, and I mean finally finally, isn't it odd that one or two are outraged that offence may be caused by my remarks, whilst condemning others as sensitive souls who can;t take a bit of banter ?
It's Scottish Cup weekend, and the hoops are starting the third leg of the quest for a treble in Stranraer, a side Celtic have played twice in previous years, winning both times and therefore can approach the game with confidence.
The first game was in January 1988, and Celtic won 1-0 at Celtic Park, on the way to the famous centenary double, and in January 2001 Celtic won 4-1 on the coast on the way to a famous treble.
So, the omens are good.
There is always a chance of a shock result at this stage, as anyone who can cast their minds back ten years will remind you.
I think I'm in the stand behind these players, calling for the head of Gordon Strachan, Roy Keane , Peter Lawwell and Dermot Desmond.
My overriding memory of that day was the hunger and enthusiasm of the Clyde players, who immediately from kick off moved en masse towards the ball and in a way that was reminiscent of a fox hunt, chased it down in packs all through the game.
This after a bit of a circus around the appearance of Roy Keane, who had finally secured a move to a big club after years of playing in provincial England.
As I recall, the sun was in my eyes for the first half, and I expected, as Celtic were playing into it in the first half, for a comeback in the second. It didn't happen, as Clyde didn't let it.
So , you can't be too careful when you play the wee teams, and like last years cup game against Second Rangers, we need to remember that for these clubs, its the biggest game of their season, and they will be up for it.
Stand in captain Mikael Lustig had a note of caution for his team mates, and warned that Celtic need to be on the ball from the off.
'I respect every footballer and if your attitude is not right it is hard to win duels,' Lustig explained.
'At set-pieces, there is a not a lot of difference between teams so we need to be switched on and ready for them from the start.
'We have to treat it like a normal game. The coaches have had a look at them and we will have a look at them tomorrow morning.
'I have been in this situation before. It's January and the surface might be quite bad, as well, so we have to go there and get a good start in the game. We have to be focused.
'It's all about attitude. When you look at the papers, we are big favourites but we if we don't go in with a 100-per-cent attitude then it can be hard.'
The attitude of the players has been questioned once or twice this season, and as the second half begins, this will be more under scrutiny than any other aspect of the match.
On paper, Celtic should win comfortable, but Stranraer will have other ideas.
Chris Sutton is salivating at the prospect of a Stranraer win, as in his view, it will be the end for Deila.
It'll certainly make things a little uncomfortable, and will turn a few more fans into the Ronny Out camp, and the Diary might be a little , er, emotional on Monday, but isn't that something to deal with if it happens, instead of looking forward to it like a kid on christmas morning ?
Sutton said;
...if Celtic were to be one of the victims at Stranraer tomorrow there would be absolute carnage at Parkhead next week.
Crashing out of the Scottish Cup at Stair Park is unthinkable and if the worse was to happen Ronny Deila would be as well hopping on to the first ferry leaving port.
I can't see it happening but that is what is at stake when you are manager at Celtic.
You just don't get away with losing these kind of ties.
It's one thing going down to an Inverness, or even a Clyde, but to lose at Stranraer would leave Ronny with no way back.
Even a draw would see him under immense pressure.  
Oddly enough, Celtic have a bloody awful record against lower league sides in the Cup, and I've never yet seen a manager sacked on the back of it, ( Except Barnes, but he wasn't a real manager. and anyway, he reckons he was sacked because he was black, and not because he lost to Inverness. )  but I'll bow to Suttons superior knowledge because he's played the game, and has the advantage of knowing how the professional mind works, including that neccesary will to win mentality that sets apart great teams and managers from the ordinary.
In fact, he's hardly ever chucked it by getting himself sent off at Ibrox when the chips were down.
In recent years, Celtic have not done as well as could be expected against the wee teams, Morton, Clyde, Ross County, Inverness-when they weren't a Premier side to name but a few, so whoever Deila puts on the park tomorrow, lets have none of this side to side footering about, and a little bit more directness.
We'll preview the game in a little more detail tomorrow, because we might have a clearer picture of who is available, and who isn't.
Anthony Stokes won't be. John Collins has confirmed he'll go out on loan.
"There are a number of clubs interesting in taking him on loan so he will go out on loan, He wants to go out and play matches and we think that is a good idea as well. He will go out but we don't know where. 
"He won't be forced to go somewhere he doesn't want to go. That is not possible and it wouldn't do anybody any favours, but I am sure he will have his own opinion about where he wants to go and we won't stand in his way.
"There is always a way back, always, for every player. But he has competition for places here and there are other players fighting in the wider areas; Stuart Armstrong, Gary Mackay-Steven, Kris Commons, Callum McGregor, James Forrest. Everyone wants the first-team jersey but only two can get it.
"There are a lot of disappointed boys week in, week out and Stokesy has been one of them. You have to earn the right to get the jersey and when you get it, you need to cherish it."  
And he more or less added that if everyone is happy with it, Stokes will be re-united with John Hughes at Inverness, and probably score the winner against us in the Cup.
"He has got to go somewhere where he knows he is going to play because there is no point in going somewhere to sit on the bench. It has to be a club where he is more or less guaranteed a starting place to get up his match fitness.
"Stokesy has a lot of talent but he has to get game time. He hasn't had it with us and he needs it. It is up to him to go somewhere, get his game time, get his head down, get refocused on his football and thinking about football only.
"Yogi put him on the map at Falkirk and ignited his career and then when he was back at Hibs he reignited his career.
"It has proved in the past to be a good combination and they have been good for each other. It would be a good club for him. They play a very similar style of football to us and they would be good for him.
"Yogi is always nipping my ear. Let's just say there's been one or two phone calls. But I can understand why Yogi wants Stokesy." 
Collins and Hughes play golf together, and probably talk about this sort of thing to alleviate the boredom that comes with a game where you hit a ball as hard as you can and then trudge off after it. Wee tip. Don't hit it so hard.
Back to the Cup, and undoubtedly the tie of the round is Hearts against Aberdeen, which due to archaic SFA rules will not allow both teams to exit, but one of them out of the way is the next best thing.
You have to admire the Hearts advert to get their fans to go to the game;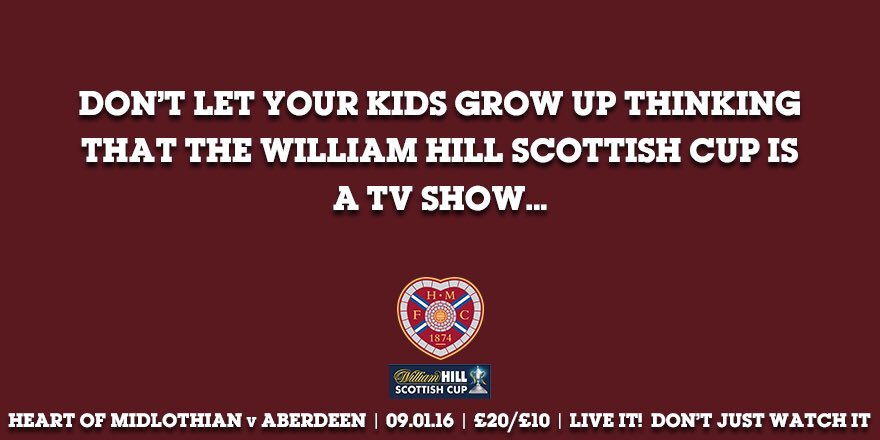 From Celtic Early Years on twitter comes a picture of the very first Celtic team to win the cup back in 1892;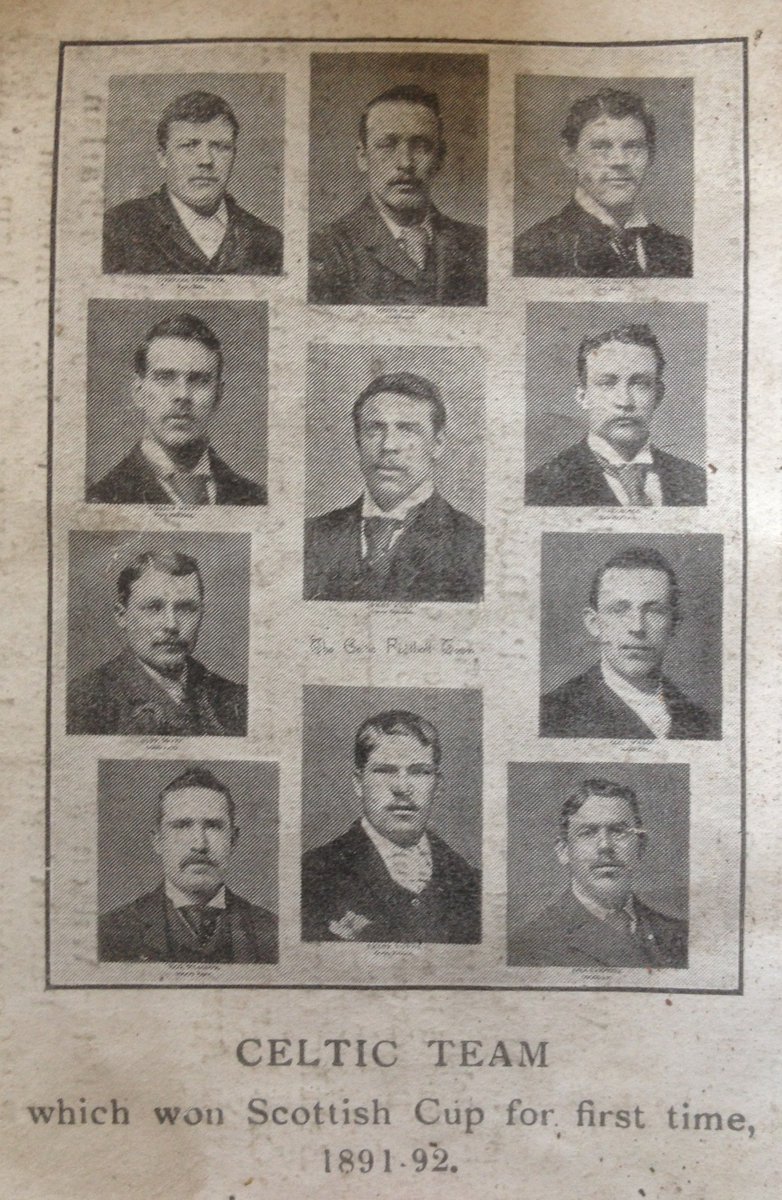 Maybe marketing could get on this, as there is certainly a demand for retro strips these days, and this one, complete with false moustache, could be a winner.
As for further transfer gossip, who better to ask than Celtic Gossip, who does a weekly round up of this sort of thing…
Anyway, I'm off. got a few things to do today, as the wife and I are going to a cops and robbers theme party tonight. Well, I'll be going. she's to sit in the car with the engine running.
We've a new neighbour , by the way. He's an aberdeen fan, and hthis morning, as he gets the place into shape, he's got his partner out sorting the back lawn. This afternoon he'll be dragging her round the front to eat the rest.
He works in a place where they test their products on animals, which is a bit iffy. Especially as they make hammers.
hope I haven't offended anyone…
Now, another caption competition, to follow yesterdays, where my favourite answer was the one about not walking away, but rowing away.
Oh, by the way….Steven Fletcher…pre contract ?