Or is he ?
This pathetically transparent Diary today attempts to make everyone forget the fact that I too, thought we should have cuffed Kilmarnock.Maybe their players read it pre match.
Or does it ?
Two minutes into last nights 2-2 draw with Kilmarnock Leigh Griffiths had put the Celts ahead, and the rest of the team began a game of shooty-in with the Kilmarnock defence.
Well, not so much shooty in as shooty at. As attempt after attempt went straight to the keeper, he grew in confidence, which in turn allowed the rest of the Killie side to get their danders up, and just before half time the inevitable happened and the Ayrshire side equalised when Virgil van Dijk and Emilio Izaguirre had a lapse of concentration , and Josh Magennis nipped in front of Efe ambrose to steer past Gordon.
As usual, Efe got the blame, but if you are ever in a crowd after a fracas, and the police arrived, if you look or point towards someone, they will get the blame. Thats how van Dijk manages to always seem to not be at fault.
You'll notice Magennis steered the ball away from Gordon.
Have a look at this picture;
You are the striker.
Mark with an x where you would aim the ball.
The area that Celtic players aim at is already marked with a young man in gloves and shorts. Until that gets sorted, the side will continue to waste chances. It's not about one up front, or two up front. It's about where the players shoot toward.
But there was an exception last night. Nir Biton had three long range efforts in the second half. The first was low to the keepers right, forcing a save, the second screamed into the top corner, and the third, well, at least there was no chance of the keeper reaching it.
The dead ball situations need a bit of work as well. Stefan Johansen will surely admit it's not his strong point. If he doesn't, show him the tapes…
Only Charlie Mulgrew and Kris Commons offer any threat from the wide free kicks or corners, whilst van Dijk can curl one in from the edge of the box. But thats about it, and for a support used to seeing the likes of Moravcik and Nakamura, it's not good enough. This is something that can be taught, and should be practiced.
What should also be taught is not to allow attacking players the chance to fall over and give a gleeful referee the chance to award a penalty. Izaguirres clumsy collision with the back of a forward meant that Crawford Allen had the excuse he wanted to deny the Celts a win. Watch it again. His arm was awarding the spot kick before the ball had even entered the box. Well, nearly, but certainly before the "tackle ".
In truth, the game should have been out of sight midway through the first half, but its not the first time a wasteful Celtic attack had been in evidence. This time, though,  the opposition kept going, and found an extra level.
Kallum Higginbotham, the badly spelt Kilmarnock penalty taker, said afterwards that it was all down to John Collins calling them shite ( paraphrase, but it's what he meant )
"You've seen what their coaching staff have come out with this week and when you read stuff like that it just gives you that extra 10 per cent you need to go and run against them.
"Every team will now be looking at those comments and putting in a real shift to show we're good enough to go against Celtic.
"They have the budget and resources and of course they're going to run away with the league year in year out.
"But as long as we keep fighting against them, comments like that will only spur teams on. Is it a message that Celtic aren't untouchable? Definitely." 
Collins, as we know, was spot on with his comments. Today, he's likely to add that the managers must be shite as well if it takes just a few words from him to bring their players  up to a higher level.
Perhaps the players are all very good, it's just their managers and coaches who are piss poor.
Or maybe, as is more likely, Celtics failure to kill the game off allowed Killie to think that they could get something. A dodgy penalty , for instance.
 Come May, we'll have forgotten all about this game. In fact, I already have.
Deila decided to rest a few players last night, and thise who stepped in didn't really disappoint, early on , anyway, but as their fitness levels are perhaps not as high as the regulars, they began to tire on the unforgiving artificial pitch, which also left it's mark on a couple of Celts, and although Ronny huffily said his changes were tactical after the game, the packing on Kris Common's leg and the grimacing of James Forrest suggested otherwise. Thankfully, the omission of Scott Brown and Mikael Lustig meant that they will be ready for the weekend and the Malmo game.
The freshening up of the side, which is a good idea, meant that Stefan Johansen, the formations second goal threat, was withdrawn into a holding role. Tom Rogic got on the end if the type of chance that normally befalls the Norwegian, and he wasn't quite sharp enough to deal with them.
Saidy Janko , at right back, got a bit of a shock when he realised he was playing at a higher level than he might have been led to believe, and it will be interesting to see if he can raise his game back to what it should be. Jason Denaayer last season had the same culture shock, but he adapted fairly quickly.
Another absentee was Stuart Armstrong, and while its difficult to see exactly what he adds to the team, its much easier to say that Celtic are not the same without him. We already know thats the case with Scott Brown, but Armstrong is a kind of support act. To defence, to midfield, and to the attack. For the other ten, he's a sort of angel on the shoulder, looking out for them and prompting them, usually by just being in the right place at the right time.
Malmo had their coach at the game, Age Hareid, and he won't have learned anything about the side last night. He'll have seen what he expected. With no Brown, Armstrong ,Boyata , Lustig or Ciftci he knows it will be a different Celtic next Wednesday.
Diplomatically, he said;
"Celtic rested a few players,I think they have more in hand. I have seen them a lot and I know they are a good side.
"We have the same problem in our league. We play teams lower down the league and they always lift themselves when they play against the big boys. When Celtic fire on all cylinders it will be more difficult for us.
"Celtic are better than Kilmarnock but Kilmarnock battled well and got back from 2-1 down. To play at Celtic Park you have to be brave and you have to find the right way of defending and the right way to attack. We need a very good away game at Celtic Park to have a chance to go through."
What he will have noticed is that when the centre halves are not properly protected, they are vulnerable to being split apart. And all you have to do is to run at them, as they will back off, knock it wide and you will get a couple of crosses in against defenders who have been turned.
And who often don't have a clue where the other defenders are, or what they are doing. This is a much more serious, and potentially damaging aspect of the way Celtic play, than , for instance, than whether or not van Dijk leaves, or if Izaguirre is on form.
Deila won't be too concerned at the result, he won't be too concerned with the ability of his fringe players, but he will be worried about the concentration levels in the side.
Hopefully, the better quality of Malmo will force the Celts to raise their game, to concentrate fully and take advantage of any goamouth opportunities that come our way.
Deila's Celtic are getting there, but let's hope its not one step forward and two steps back. We can be, and probably will be , our own worst enemy, and whilst it doesn't require any major action at this point, it does need to be recognised and dealt with before it does become an issue.
Yesterday we had the Cambuslang story from the Celtic View, as an under fire cash strapped and negligent board attempted to convince the restless support that all was well. In fact, it wasn't, and the board and it's peculiar vision of reality was swept aside as the fans decided to take back their club, albeit with the aid of a man who actually had some money, as opposed to a very similar story that unfolded just a few years later in Glasgow, with the exception of the availablitiy of investment.
And a bank account to keep it in.
Today, what is being said here , shortly before last nights game ?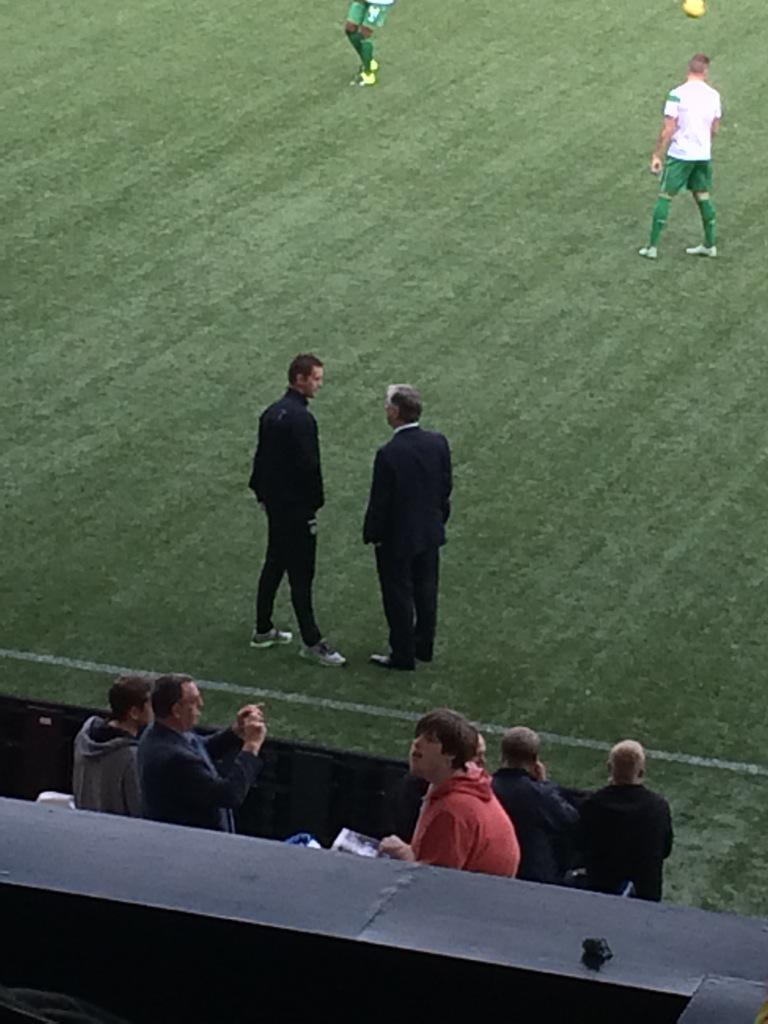 Could Peter be telling Ronny, re the specualtion that Scott Allan will join Celtic for £600,000 and Dylan McGeouch ? "look, I know he's shite, and he's a hun, but it won't half piss them off " ?
Or is it something else ?