The Glasgow times website has a piece by that most balanced of journalists, Matthew Lindsay, in which he quotes a football finance expert, Keiran Maguire, as saying that there are
 'grim' months ahead at Parkhead.
The article is behind a paywall, and as its by Lindsay its probably not worth the two quid for two months to subscribe, but as ever, you can find Maguires words elsewhere.
Like these ones….
"I don't think Celtic fans should be too concerned about the club's short-term or long-term future from a financial perspective. At times of crisis, cash is king, and the balance sheet shows the club still had £23m of cash in its bank account at the end of 2020."
There is concern that Celtic have lost around £6m since the last set of accounts, but that has been offset with the sale of Jeremie Frimpong, so the books are being balanced, in a sense, and it's probably not a surprise that the financial acumen of the board, perhaps their only saving grace, has been downplayed.
Other experts have jumped on the bandwagon, and so has Charlie Nicholas.
"Celtic's response to their latest financial results reads like the board are trying to pat themselves on the back by claiming they have done quite well through this pandemic.
Er, they have. Pains me to admit it, but they have.
"The club's six-monthly figures leaves them with major losses on and off the park and with very little credit amongst their fan base. 
Fair play to Charlie, he knows all about what its like to have no credit -I think he means credibility- amongst the fan base.
"They also failed to address any of the major issues at the club, such as the manager's situation or plans for the future.
"The fans will be furious that the club have failed to reveal anything from their so-called review.  
He seems to be wanting to speak for the support, but isn't sure what to say.
"They will soon be asked to come up with the money for season ticket renewals.
"They will dig deep, maybe not to the same levels as this season, but they will back their club. 
Three times I've read that. I know what he is saying, but not what he means.
But where is the hope? The board seem to be handling everything wrong and the whole situation has become a sad case.
Celtic have around £20m in the bank. There's money from Frimpong's sale to add to that, and there are more than enough assets on the playing field to see us through should we need to sell, even at a reduced price.
Something tells me the attention on Celtic is purely because they don't want to talk about other clubs…. the game may well be on the brink of extinction, or at least major reform.
Maybe thats why Nicola Sturgeon gave the impression she can;t be arsed dealing with the latest breach of Covid rules over at Ibrox, who have self governed during the whole crisis, using their own testing companies and maybe using a high degree of selectivity in their reporting of any incidents.
In a sport rife with infection, they seem to have got off rather lightly , and it does beg the question as to why the company they deal woth weren't handed a government contract to keep us all safe.
Then we could have all been going to parties as well…..
Meanwhile, Sturgeon has said;
"It shouldn't take me standing here to say to highly paid footballers that you've got to obey the rules. It really shouldn't take that."
as she adopted a policy of splendid inertia….
Reminds me of the old Robin Williams line about unarmed British police…
"Stop-or I'll shout stop again "   
She's not interested in any breaches from Ibrox, and neither are the media, who still haven't named those who have been handed penalties by the police, who have adopted the refereeing standard of handing out penalties to "rangers " players, albeit in this instance with good reason.
In fact, as we shall see when the Ibrox club/company win this years league title, they won;t even congratulate them on their first major trophy.
They will call it the 55th.
And of course, it isn't.
In a lengthy and detailed article published yesterday, Phil MacGhiollabhan did what no Scottish hack dares to do, and exposes the lie for what it is.
It contains well researched evidence that destroys the same club myth, based on UEFA rules.
And also asks questions about Article 12, which could land the Scottish authorities in a bit of bother, as it seems they are in breach, but read it, and make your own mind up.
Article 12 is the one which covers "any change to the legal form of a club ", including "transfer of football activities to another entity "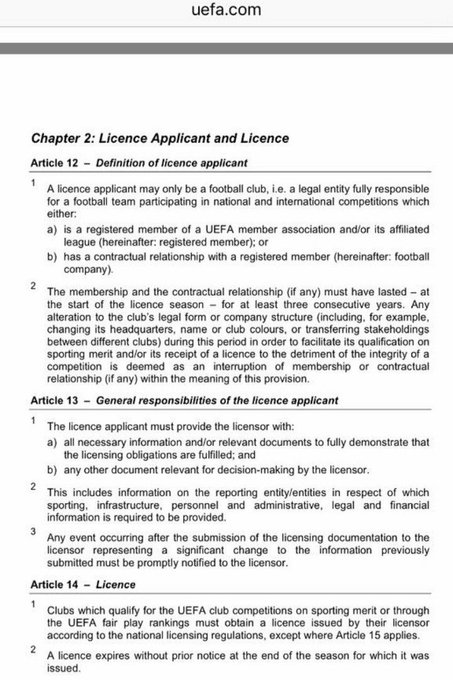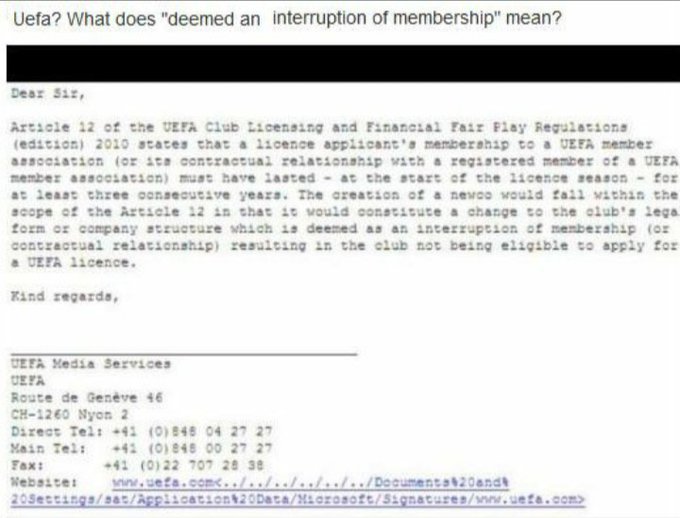 Which I'm sure the SFA have informed UEFA of, and that is why Rangers did not feature in European football the season after their liquidation, although if they were the same club, they would have, having qualified for a place.
Then again, the Traverso letter, never itself quoted in the media, explains that bit…
Thats the one that clearly says they are a new club.
So are they ?
Neil Doncaster is in charge at the league, well, at least in name.
In January 2015, he said;
"In terms of the question about old club, new club, that was settled very much by the Lord Nimmo Smith commission that was put together by the SPL to look at EBT payments at that time.
"The decision, very clearly from the commission, was that the club is the same, the club continues, albeit it is owned by a new company, but the club is the same.
"It's the same club, absolutely.
"Those clubs may be owned by a company, sometimes it's a Private Limited Company, sometimes it's a PLC, but ultimately, the company is a legal entity in its own right, which owns a member club that participates in the league.
"It was put to bed by the Lord Nimmo Smith commission some while ago – it's the same club."  
That is a lie.
If Doncaster is lying about this, what else is he lying about, and more importantly, why is he still in a job ?
And even more importnantly, Peter Lawwell said to me once upon a time that Doncaster only does the bidding of the clubs, including Celtic….
So, when he said this, did he have the full approval of the Celtic CEO ? 
 Someone should clarify this, before they ask for season book money…. 
We'e already mentioned one American stand up in Robin Williams, and when it comes to our board and the support, I'm in mind of another, the late great George Carlin…
THEY DON'T GIVE A FUCK ABOUT YOU! THEY DON'T CARE ABOUT YOU. AT ALL. AT ALL. AT ALL!
Yeah. You know.
And nobody seems to notice. Nobody seems to care.
That's what the owners count on. 
Well, maybe it's time to remind them exactly whose club it really is.
Caption time, and yesterday we had this….
 Today….