In a sense, you can understand it. There's no football, so there's nothing to write about.
In another sense, there is plenty to write about when you consider Resolution 12, the incompetence of the football authorities and the "rangers " financial problems.
Yet they are simply glossed over, and referred to, if at all, on the back of what others say about the issues.
For example, the all new deal with Sky sports, which means season book holders can watch streamed matches on the piss poor tv channel, instead of getting the seat at the ground  which they have paid for.
Anyone who isn't a season book holder can presumably pay on the day, though if its around £25-£30 quid it's unlikely to be a success, and season book holders may well be wondering why they're paying that much for it as well.
But no one is asking that question, instead they merely repeat the SPFL party line…
Keith Jackson attempted to explain it all…
Record Sport revealed yesterday morning that a deal to allow our clubs to stream matches into the living rooms of their own supporters was imminent.
By lunchtime the groundbreaking agreement to sanction the sale of virtual season tickets had been officially announced in a joint statement released by Doncaster and the broadcast giants.
It's been widely hailed already as an innovative piece of thinking that could provide Scotland's cash-strapped clubs with a lifeline to haul them through the other side of this global pandemic.
"Groundbreaking "…"innovative " …televising matches has been around for some time, even of Sky's amateur coverage of Scottish football would suggest otherwise, and when all is said and done, all this is is a rebirth of the SPL TV idea, except it looks considerably more expensive.
And here Record Spor t attempts to explain to fans all over the country how this futuristic emergency plan will enable them to keep on supporting their team even when they are locked out of their favourite ground.
" futuristic emergency plan " ?  
Give me strength
Aberdeen chairman Dave Comack revealed yesterday he envisages his own Pittodrie stadium might not be fully opened to fans until early in 2021.
It's little wonder then that he spoke with such enthusiasm about the new deal, which will unlock access to crucial matchday income even while his own turnstiles remain closed down.
"AFC welcomes the Sky deal brokered by the SPFL," said Cormack in a statement.
"Given the current circumstances we find ourselves in, it is an excellent deal and we really appreciate Sky's constructive, partnership approach.
"From the outset our commitment to supporters has been to deliver full value for our season-ticket holders.
"Under this deal, AFC will be able to offer virtual access to season-ticket holders for all closed-door home games and will continue to work with our colleagues at fellow Premiership clubs to explore potential arrangements to show away games."  
"From the outset our commitment to supporters has been to deliver full value for our season-ticket holders. 
Give me even more strength…
Again, no one has thought this through.
The pandemic is still with us, and looks increasingly like it's going to hit us with a second wave of death. People are ignoring the basic rules on masks , social distancing and going about their business as though someone has waved a magic wand and ended the crisis.
The business secretary taking ill yesterday highlighted this, and although it's been played down, this is a warning to adhere to your own common sense, and not the rules set by governments who are more worried about the economy than the nations health.
So, when football does return, and it's being pushed not ecause it's safe, but because it will cheer us all up and make us think it's safe, how many houses will see people congregating to watch the game, which bearing in mind the high level of communicability of the virus, will cost lives ?
Put bluntly, if the game is on, fans will want to see it.
One almost thinks that the financial health of clubs is more important to some than the actual health of those they are asking to pay for it.
But our weak and compliant media aren't asking those sort of questions.
But then again, they never did.
Celtic released a statement explaining their point of view…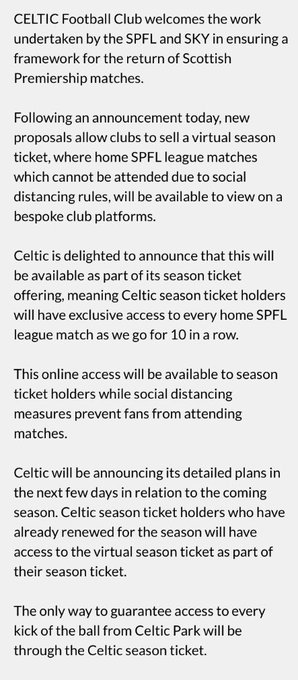 It will be an exciting season, as Bill Shankly once said, although he meant it in jest…
I don't suppose he meant to be taken literally…
Another club seems to be ignoring everything, and whilst the media should be asking how they are going to finance it, instead, they merely promote it… Stewart Fisher in the Sun….
RANGERS managing director Stewart Robertson has revealed ambitious plans to turn Edmiston House into a 1,300-capacity conference centre, concert venue and museum – using funds from selling off half the Albion Car Park.
The redevelopment – which will be at the centre of the club's 150th anniversary celebrations in 2022 – will also house a retail space and act as a fan zone on match days, generating revenue which can then be ploughed back into the first team.
The Ibrox MD does claim that the sale of half of the Albion St car park will finance it, but there are no actual figures mentioned, and no sign of any buyer….
But Fisher doesn't follow that line, instead he goes with a long diatribe from MD Robertson…
"There is potential development in the Albion Car Park.
"We are looking at selling half of the car park and the funds from that will go towards the building of New Edmiston House.
"What we are doing there is taking what is essentially a non-revenue generating asset, taking the capital from that and putting it into an asset that will generate revenues for the club going forward.
"The more revenues we can generate, the more profit we can generate, the more we can provide to Steven and strengthen the team and strengthen what we have got on the park." 
"Edmiston House is going to be a real centre piece of the 150th anniversary celebrations.  
Presumably to make up for the fact that they completely missed out on celebrating their only euroean trophy in their centenary season, although back then they thought they were formed in 1873.
"We are looking to create a really modern state-of-the-art facility that is hopefully going to lead us into the next 150 years of our history and will help facilitate the commercial growth of the club.
"It is going to be a multi-purpose offering. It is going to be the club-focused offering.
"We are looking at a retail facility over two stories. We will have a multi-purpose function, conferencing, event, concert space that will be used as a fan zone on match days.  
We've heard it all before, Murray and his floating pitch and so on, but the hacks don't want to ask awkward questions or point out niggling facts regarding affordability and such trivia.
No, the return of Scottish football, albeit in a watered down state is good news, and the future is bright, and we're all going to skip happily through the summer meadows, pausing only to take refreshment from the flowing stream of happiness.
Fucking idiots.
Fucking greedy, selfish idiots.
I may be sounding a little pessimistic here, but hear me out.
Shrewsbury, Telford, Stoke on Trent , Wrexham, Dudley…all towns I've been driving around over the last week or so, and all have featured one thing-or the lack of it.
Masks. Face masks won't protect you from the virus in themselves, but they do reduce the chances of infection. Look at China, Hong Kong and other countries that take it seriously.
By not wearing a mask you are showing that you are not taking this seriously, and you haven;t adjusted your overall behaviour to these dangerous times.
Combined with a lack of social distancing, thats a ticking timebomb.
Britain removed the lockdown and businesses and schools are about to open again.
Yesterday, there were more deaths than in the rest of the EU combined, a chilling statistic and one that has been largely ignored.
Bringing football back shows that the industry is just like any other, more interested in its own survival than that of its primary customer base.
I keep saying this, but please keep behaving as you did during the first outbreak, and take no notice of those who put their wage packets ahead of your health and survival.
On an entirely different note, some "reporters " are even lazier than others…
Celtic are still showing an interest in Aberdeen defender Scott McKenna, according to Athletic journalist Kieran Devlin.
Speaking on the Cynic Agenda podcast, Devlin claimed that the Hoops are still eyeing a potential move for the 23-year-old as they look for a replacement for Jozo Simunovic, who they chose not to keep at the club.
McKenna, who is a boyhood Hoops supporter, handed in a transfer request last summer after clubs in England showed an interest in him, so it's clear that he would be open to a move away from the Dons if the right offer came along. 
I wonder where he read that bollocks.
Have you noticed other little changes around the community as well ?
For example, the Madeleine McCann case took a twist yesterday when police announced they wanted to talk to a German..years ago they would have said a "Gerry "
And childrens attitudes and manners have changed as well…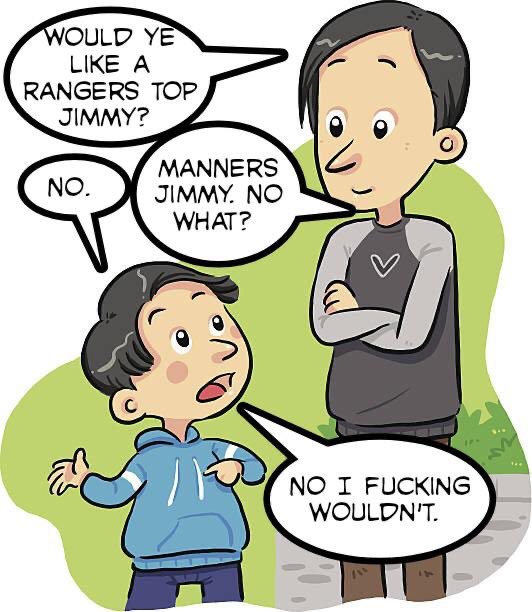 Yesterday, we had this…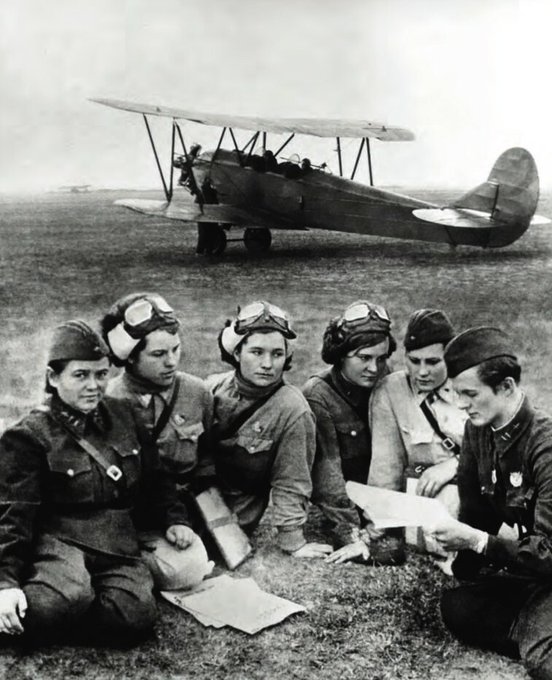 Yes, I expected a plethora of mysoginistic replies, and you didn't let me down.
Shame on you.
CAPTION
Air Force technician explains to new intake where the vanity mirror and indicators are.  
Today…