Celtic duly skipped past Clyde in the Scottish cup with the minimum of fuss to set up a quarter final tie with St Johnstone in Perth.
The 3-0 win passed largely without incident and hardly anyone found anything to moan about.
There was a debut for the badly spelt Patrick Klimali..
who showed enough to suggest there's a player in there, and although it was Vakoun Bayo who finally scored in the second half, some credit as to go to the Pole for tiring out the Clyde defence with his off the ball running.
Of course, that dinlt stop the keyboard coaches having a go, so much so,in fact,that John Kennedy had to say a few words of defence for the player after the game..
"Patryk is obviously still settling in but it was an opportunity to get him out playing."
"He's a good size and has good speed, it just takes time.
"He did fine. He had a good chance and probably on another day he would score.
"But he just needs to settle in and not put too much pressure on himself.
"Odsonne Edouard and Leigh Griffiths have been terrific of late.
"So Patryk and Bayo have been fighting it out for the third and fourth position. 
Henrik Larsson is one who would back that theory, as had the internet been around for his first couple of games, he'd have been back at Helsingborgs a lot sooner than he was.
Olivier Ntcham opened the scoring after a quarter of an hour or so,which meant anyone in the crowd could pop to the pub as from that moment there was no way back for the League one side.
Even Scott Brown scored, which emphasised the movement and support the team gets from midfield.
The now 33 game run of straight cup wins domestically is a formidable achievement,and there is no sign of it stopping. The squad seem to have got the hang of doing what it takes to win these one off games, and just that statistic will make other sides wary of trying to play in a way that might actually beat Celtic.
Next up for Celtic is a game for the development squad against middlesborough in the petro chemical capital tomorrrow, and maybe Klimali will get another run out.
After that, it's Hearts at Celtic Park on Wednesday as the fixtures continue to test wallets and work schedules, and maybe someone ,somewhere should look at the intensity of these games, which can only lead to more injuries as the weeks go by.
Then again, it's a chance to bring in some players who might not normally get a chance to show what they can do.
You have to be positive, I suppose, and the one major difference between Celtic and all the other clubs in Scotland is the depth and quality of the squad.
As other teams fall victim to injuries and suspensions for key players, Celtic have others who can step in, if not of the same quality, but very nearly so.
That is what may yet be the telling factor in two,or maybe even three, more trophies this season.
I know and understand that some of us may not quite feel this could be a historic season, but the facts speak for themselves…

Neil Lennon has been back at Celtic for 59 games, the exact number of games Brendan Rodgers had during the Invincible season…
#Lennon
P59 W48 D6 L5 GF144 GA39 +105 Won: 81.4% Draw: 10.2% Loss: 8.5%
#Rodgers
P59 W46 D8 L5 GF150 GA46 +104 Won: 77.9% Draw: 13.6% Loss: 8.5% 
He is doing very well, we maybe just need a better PR to tell us we are.
Elsewhere, and the Daily Record's Keith Jackson has gone into panic mode as the Craig Whyte book nears publication.
If you thought Jeremy Corbyn got arough ride from the media, wait until the Scottish sports guys turn their laptops on Whyte, who has gone public with everything that the hacks were sent when it was fresh news, but as we know., declined to run with in case the Fat Controller invited them for a game of squash, which would largely have involved him asking them to sit on the stories or he would sit on them.
A frightening prospect and a terible threat.
Whilst some hacks will be delighted to now run with the story as they can attribute the claims to Whyte,instead of doing what they're supposed to and taking the credit/blame themselves, most will be making their excuses for not running with it the first time around, including Jackson…
I'm not going to bother with Jackson's article, which reads like a parody, as the headlines tell you all you need to know about the content, and the frantic defence we'll see from all corners of the media this week as they desperately try to justify their non acknowledgement of the events at Ibrox all those years ago, to themselves, their readers, and most importantly, their bosses in London, who will be asking why they missed such an explosive story…
Craig Whyte's Rangers power myth dispelled and the real facts behind his claims – Keith Jackson
Real facts and Keith Jackson in the same sentence…we truly have crossed into the last days of the Empire.
Then, just underneath that line, we have all we need to know about the motive behind the story…
The hated former owner has a book out soon and Keith has explained why a lot of what Whyte says can't be trusted. 
There's no explanation as to why he is "hated ", or who by, but I think we can guess….
This week will be interesting, as the details in the book have been out there on the interweb for years, and now the media can use them wothout fear of litigation.
One of them ,at least , will, which means they will all have to.
The only thing absent this week will be actual litigation, although you can bet it'll be threatened almost daily.
One more thing, take note of who isn't commenting , as well as those who are….
James MacLean might not ever get to play for Celtic, but he's certainly trying his best to get noticed.
Currently at Stoke City, he has so far avoided coming to our CSC meetings or even watching the games with us, but then again, I'm not sure he would fit in with our new 21st century non singing non drinking and non laughing ethos.
Then again, none of us do.
Perhaps there was something in the Tyrese Campbell to "rangers " story after all…
Campbell himself did his future prospects at Celtic no harm either with his reply…
Yesterday,we had this touching picture of Alfredo morelos paying tribute to James Traynor…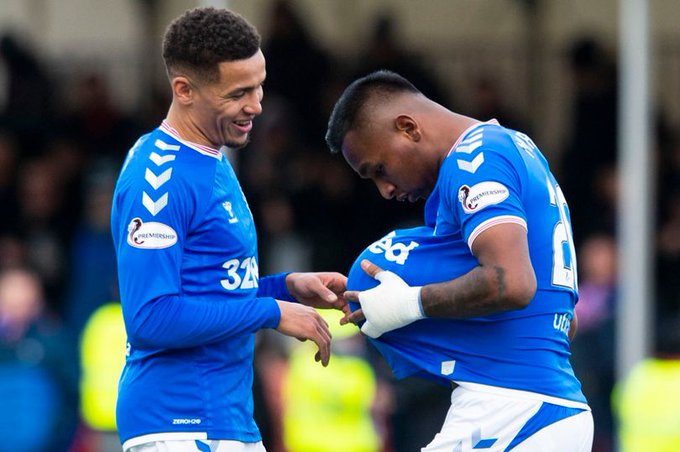 Caption : 'You DO know you're not REALLY pregnant, don't you Alfie. Alfie, look at me…'
Sky Translation: 'Alfredo Morelos keeps the ball after scoring a goal against Celtic'.
Today, this image, taken at Broadwood yesterday.
What is going on here ?