Free scoring Celtic stormed into the first domestic final of the season on Saturday with a resounding 5-2 win over Hibernian. Hibernian didn't actually play that badly, but the pace, power and precision passing of Neil Lennons version of total football was simply too much for them. The Hibernian keeper became the latest in a line of keepers to get a bad back from constantly picking the ball out of the net to set up a final against cash strapped "rangers " , who already have bad backs, midfielders and forwards.
It's probably fair to say that Celtic should have been expecting to win, but with domestic dominance at it's peak, and there being little chance of any other club-or company -challenging over 38 games for the league, the best chance for anyone else to borrow one of our trophies for a while is in the cups.
All it would take is for Celtic not to show up, as could happen to any team for any reason, or a dodgy refereeing decision or two, and the 30 game winning streak ends, and a trophy relinquished.
Bobby Madden, who has been performing well enough of late to excuse an honest mistake or two, tried his best while the scores were level…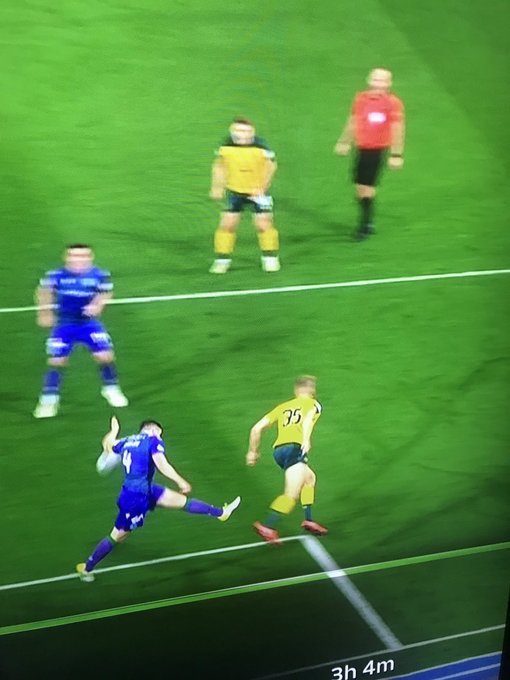 when he ignored a penalty claim for Celtic, which they'll do when the game is evenly balanced, but with Celtic taking the lead only a minute or two afterwards, this honest mistake was largely ignored.
Never mind, there's always the final for that.
And over on the other side of town, they're looking forward to it…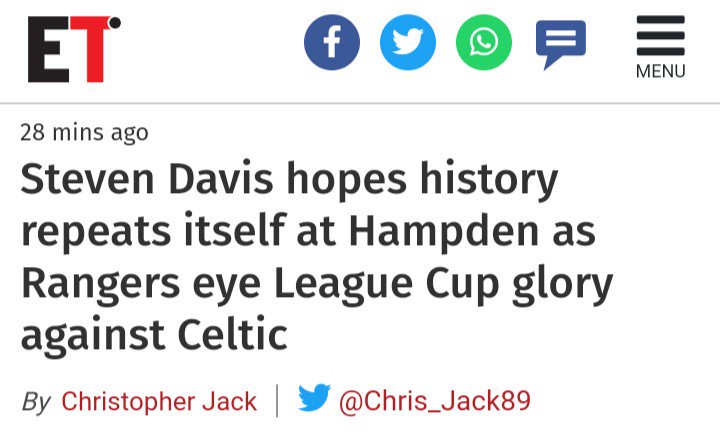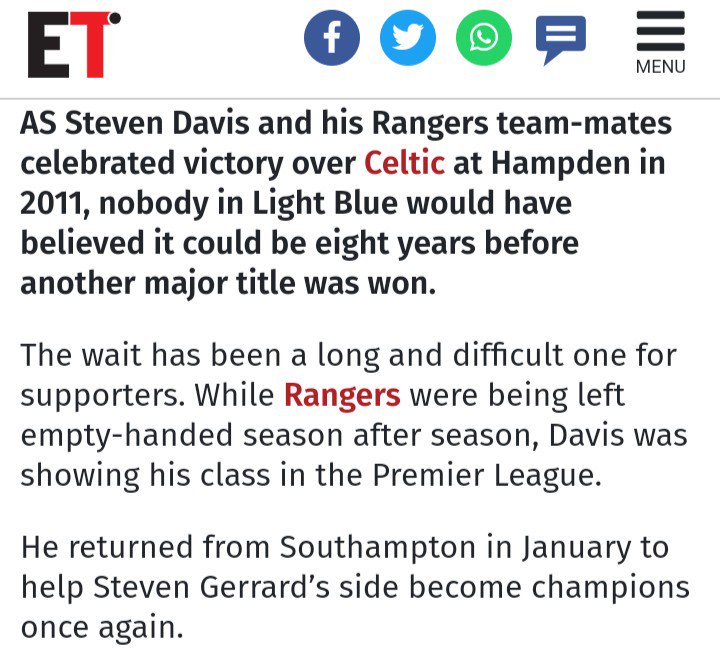 Chris Jack getting all excited there, and hoping history will repeat itself.
A remarkable ambition for a man who when writing helps to change the historical bits he doesn't like anyway.
It all seems like harmless fun and a bit of banter, but in fact all of this should be a matter of concern for those who run Celtic, but as we have seen, the board don't like to defend the brand when they come up against those who would wish to damage it.
What we have is a toxic brand challenging again for honours whilst running up enormous debt, and the authorities are turning a blind eye to it.
Like everyone did last time, when the original club died..
And as pretty much  everyone these days, perhaps even including the board themselves..
So, allow me a little indulgence while we consider this, an open letter to Peter Lawwell from this site in June 2017.
Afterwards, lets see if he has taken any notice of our concerns, like he said he would at the time…
Dear Peter,
I promised myself I would do everything I could to stop moaning and be a good Celtic supporter like you want us to be. Pay my  money,and enjoy the good times while I can.
We all did.
These are good times to be a Tim, and we'd like to thank you for all your hard work in getting us to where we are today.
No one can argue that the club is better off for the tremendous amount of work you have put in over the years/
No one can argue that you don't feel for the club as much as any supporter in the stand.
But I find that your silence on several issues was somewhat mystifying  in that  there were several incidents in Scottish Football which I believe merited comment from a person in your position.
I might be wrong here but I believe the SFA have an agenda against our club,and are desperate to get any form of Rangers back to topple us.
Was it ever any different ?
But that doesn't mean we should accept it.
Statements from the president recently indicate that the anti Celtic cabal within the SFA is alive and well…and they have caused concern amongst shareholders and supporters alike.
These were made during a recent return to public life at the conclusion of the trial of Craig Whyte, who was acquitted of fraud charges in the high court recently.
In fact, it was as though they were waiting for that trial to conclude before re entering public life.
Witness statements left a lot of questions unanswered about the role that the SFA played in the events leading up to the liquidation of Rangers.
For whatever reason you have kept your council on these statements, but I believe that genuine Celtic supporters would agree with me in thinking that it is part of your remit to make comment when the situation is important enough.
There were also incidents during games which the Celtic support perhaps feel that comment is necessary
Let me take through a couple of those incidents, not in any particular order.
First of all when our team Celtic played at Ibrox stadium on April 29th, our club captain Scott Brown was confronted on the field of play by a supporter of Rangers, I use the term supporter loosely. At the time of the incident the response from the Police/Security was at best lax, and at worst pathetic.
I would have thought such a serious incident would have merited comment, but all we got from you was silence.
At the same match there was another incident which if anything was even more serious. After Scott Sinclair scored for Celtic he was celebrating with his team mates when he was subjected to the most obscene Racist abuse, by more than one supporter of Rangers, and again I use the term supporter loosely.
Again the silence from you and that of the SFA was deafening. We expect it from the SFA, but we don't accept it.
During that match, and in fact at every match we have played against Rangers we have been subjected to almost non-stop sectarian singing, and while I would not contend that our support is perfect, they are certainly not sectarian.
Yet given every opportunity you turn over our bhoys to the corrupt and Masonic police Scotland to deal with.
Their crime,singing an Irish freedom song.
We understand that you may be obliged to, but there is a feeling that you are also obliged to report others who commit these "crimes " within the walls of Celtic Park.
Yet you, and the image of the club worldwide ,  has benefited greatly from the same fans, and the hard work they have put into making Celtic Park one of the most famous grounds in world football, with an atmosphere second to none.
The Tifo for the 125th anniversary,and the most recent 50th anniversary Lisbon lions sells in your shops.
Without the same fans we'd be just another club. With them, as we proclaim , we are more than than a club.
Another question which is being asked by us and which must be answered is in regards to the criteria which must be met to be awarded a European spot by the SFA for season 2017/18. Do all the clubs in Scotland which have been awarded a place meet the criteria? Are you bothered that another legacy of possible rule breaches is happening on your watch?
Where is the demand for clarification that all clubs have met the required financial fair play rules ?
I also noted with interest this week that  in the media, SFA President Alan McRae stated that it would be a "very boring and dreary" season in Scottish Football if our Invincible Treble Winners aren't challenged. McRae doesn't want just any team to challenge, he just wants it to be Rangers who are doing the challenging,how does this sit with you?
As the representative of Celtic supporters and shareholders, how does it really make you feel ?
Are you getting the same sense of deja vu that we are ?
There was also the appearance by the two men who run Scottish football in front of a committee which wanted to know why other clubs are paying below a guaranteed minimum wage to their youngsters.
Whilst the internal dealings of other clubs are beyond your remit, the shameful way in which the officials defended their illegal practice of exploitation demands a comment as to their capability of doing their jobs properly.
After all, Celtic have to abide by the rules, should you not be questioning why those who do not are given special treatment ?
Theres a whole lot of questions that emerge on that subject, not least about events back in 2011..
You see, Peter,I would like to ask you if you have changed your position by the group of Celtic Supporter Shareholders known as "Resolution 12". Although I never followed the Craig Whyte trial very closely, I read enough to suggest that contrary to what was claimed, the Tax Liability had crystallised and therefore a European Licence should not have been issued to Rangers.
That means without a shadow of a doubt one or more people were telling lies, the question is Peter ,when the fuck are you going to have the balls to back our great club up?
I don't expect you to answer that, and perhaps I could have put it in less vulgar terms, but it is an indication of a frustration that I am sure I share with thousands of other supporters.
There is also the case of the DOS/EBT with side letters schemes ran by Rangers, was the full truth put before Lord Nimmo Smith?
Again were one or more people telling lies?
That only leaves me to believe that Celtic must take the lead.
This issue is about proper governance. Some still believe its Celtic and Rangers.
It isn't, and its your job to make sure people know that.
Do all of this , and you will become a hero , spoken of in hushed and revered tones, sung about long after you have retired, and all you have to do is step up and ask the questions that the support cannot get answered.
Trust me, we are right behind you to a man.
Failure to do so will have far greater repercussions than merely seeing a few clubs get away with breaking the rules, assisted by the men who run the game.
Sponsors and fans will drift away, players of any note will not wish to ply their trade in Scotland, and interest from television companies will wane.
Its time to begin the clean up. To restore faith in our game, to restore its image.
You have a crucial part to play.
Play it.
We are right behind you.
Think about how you want the support to remember you when your tenure is over….
And take the appropriate action. 
So, two and a half years later, how have things changed ?
To paraphrase Lawwell, a lot of water has flown under the bridge in the intervening period, and there has been plenty of time for him, as CEO, to voice the concerns of the shareholders he represents…
One particular concern surrounds the allegations of collusion regarding the Resolution 12 issue, where Rangers were granted a European licence despite not having the correct requirements to even apply for one.
But they were skint, of course, and soon to be placed into liquidation.
A series of events which appear to be playing themselves out in front of our eyes again, incidentally, as the new club released their accounts which show that in seven years of existence they have lost around £65 million pounds, with £32m of that coming in the last three years, which places them over the threshold to apply for a European licence next year.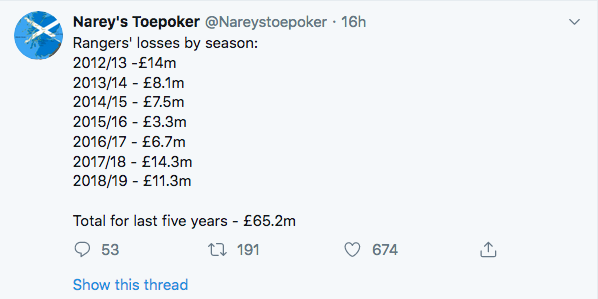 In short, anywhere else in the world alarm bells would be ringing, although to be fair when a convicted fraudster is deemed fit and proper to run a club, it's fair to say that the media should have been asking questions far earlier than this.
When a convicted fraudster was deemed fit and proper to run a club, for instance, may have been a good time to start.
Forbes.com have already noticed the similarities with the liquidation of another Scottish club, coincidentally with a similar name and similar address…, which will further deter any external investment in the game from anywhere.
On investment, have a look at the names of the trackside sponsors at the League Cup semi finals…
With the greatest respect, they were hardly world leaders in their fields, or even national brands…which again tells me that business wants nothing to do with Scottish football, which is still without a sponsor for its national league next year.
The game is beginning to die, and part of the reason for that is the stubborn refusal to consider that those running it are not doing their jobs as their overriding concern is to keep a team playing out of Ibrox.
The other part is down to Celtic, and the other clubs for not standing up to them.
The media in Scotland, who have already performed one about face which encourages the resurrection theory, are struggling to accept they'll have to come full circle, and admit they were right after all when they said Rangers had died, and so has this one,  so they've  decided to ignore it and hope it will all go away.
Except the staunchly loyal Chris Jack, who managed to put a positive spin on what others may call a disastrous set of accounts..
Rangers in £14million Europa League boost as turnover rises and losses of £11million posted
Note the twist that allows him to say the word "boost " in his headline.
Whereas really, a better headline, and certainly more accurate, would be…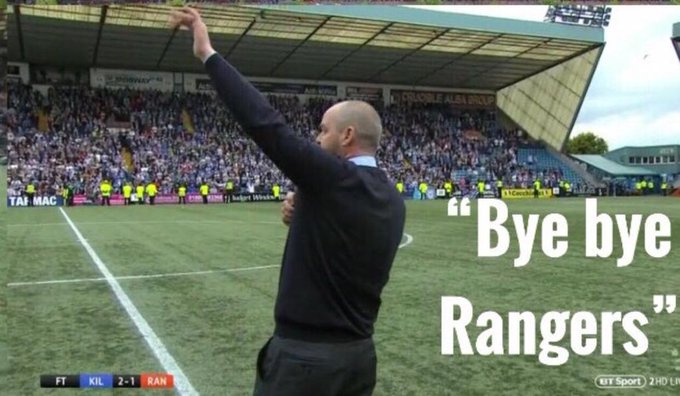 Whilst all of this is fun, and you can;t beat a good old fashimed pantomime in the run up to Christmas, this is serious.
The wagons are circling to save the Ibrox entity. They'll do this the same way as they did the last time, which didn't quite work but they may feel this time they know where they went wrong.
In short, the scandal surrounding the death of the original Rangers is about to have an equally enjoyable sequel.
This time, Peter Lawwell and the Celtic board, aided by the other clubs in Scotland and an elite investigsted crew of journalists will expose everything that has been going on over the last decade or so..
Won't they ?
Here's where we are at the moment, as it's important to get our own side united before we attempt to garner support elsewhere.
Celtic PLC have asked the fans of Celtic FC who are also financially enamoured to Celtic PLC by way of their shareholding to vote against a new Resolution put forward to the AGM later this month.
Auldheid explains…
Here is a clarification of where matters stand before taking into account what TRFC accounts tell us about our game and perhaps our Board. from CQN
A little bit of clarification on what Celtic actually oppose.
They oppose taking the investigation away from the SFA and asking UEFA or the police to investigate.
In doing so they are binding themselves to a judicial process that after 2 years has shown itself not fit for purpose and one in which Celtic resist questioning.
At the 2018 AGM questions relating to CAS involvement were asked and a commitment to providing a written answer was made at that AGM but to date there has been no answers.
No answers to them by AGM 2019, suggests Celtic are incompetent at best and complicit at worst the consequences of which are a possible fraud is being covered up with Celtic's knowledge.
Not a good place to be standing at AGM time.
So whilst going to UEFA or the police is eschewed by Celtic, not providing answers to the questions posed as result of the SFA "parking" the investigation that Res12 has caused, is simply untenable.
Opposing the current Res doesn't mean the matter is finished, it just means no more excuses can be accepted for Celtic's inaction since in effect May 2018 when they were given hard legit evidence of fraud but did not act upon it, requiring Res12 lawyers to do so at cost of £2k to add to earlier costs of around £7k..
So whilst Celtic might oppose going to UEFA they simply cannot stand aside and let the SFA stay silent.
A deadline for SFA to decide what to do must be set by Celtic by or at the AGM, along with a timetable for completion, whether that be by SFA or CAS covering ALL of the submissions made by RFC under granting and monitoring of the UEFA licence in 2011.
Otherwise Celtic are protecting the SFA and risk being seen as complicit in covering up a fraud in which they were victims.
In short their continuing policy of inaction , silence and non interference, particularly from May 2018 is untenable and has to change to restore faith in Celtic and give the SFA an opportunity to regain the judicial authority they surrendered under the 5 Way and restore the rule of football law that otherwise lies in tatters.  
It really is that serious.
Referring back to the letter to Lawwell, the money coming into Scottish football is drying up.
Take into consideration that Ashley and Sports Direct have an ongoing issue with the toxic brand at Ibrox, and are in the middle of a long and drawn out fight to get what they're owed, and then ask yourself if you'd go anywhere near Scottish football if you were an investor, or a potential sponsor.
As CEO of Celtic, Lawwell has a responsibility to shareholders, and he and his fellow board members have now asked Celtic shareholders to vote against the new resolution.
No explanation has been offered, so ahead of the AGM, perhaps we could email John Paul Taylor, the supporters liaison officer, and ask him to forward a question to Michael Nicholson, or indeed Peter Lawwell, as to the reasons for the reccomendation that the resolution be voted down.
That would allow us to make an informed decision, of course, which I'm sure he would think is in our best interests.
Meanwhile, here's something else to consider.
If Lawwell is happy enough to be part of the Old Firm brand, and to support it by himself colluding with the SFA and their unique interpretation of Financial Fair Play rules, is that not also detrimental to the Celtic brand, especially as one half of the Old Firm is cold shouldered by the City and the financial world ?
To take that thought a step further, what is it that Lawwell is afraid of when it comes to taking on the cirruption at the SFA ?
After all, when we gave him the smoking gun he asked for, we didn't expect him to take the rest of the bullets out…