I'm maybe jumping the gun a little here but given time, evidence is mounting that this squad will be the one we tell our grandchildren about, as we allow them to push us, wrapped in a tartan blanket, to the bit at the corner flag where the wheelchairs congregate.
Maybe some of us already do…
A couple of weeks one of the hands at the ranch sent me this, and I can now say I know what he means…
Imagine a world where a manager has actually embraced modern football techniques.
A world of scientific based backroom staff who tell the manager when players, especially newly brought in players, are not yet ready to throw into the 1st team.
Imagine a manager who goes against his instincts and takes onboard this advice to his personal cost where he is blamed for not playing them in an important UCL qualification game.
A manager who despite this is still willing to embrace this advice and shows patience to gradually introduce these new players using all the information at his disposal.
A manager who is determined to show the doubters that his new approach will bring a new era of dominant football where players can be swapped to maximise results without any noticeable drop in performance.
A manager who is thinking not only going unbeaten domestically but winning every game. 
I think he may be on about Neil Lennon.
Celtic stormed to a 5-0 win over Partick Thistle last night to move within two games of a tenth successive domestic trophy.
They did it with goals from Vakoun Bayo, who is standing in for Oddsone Edoaurd, Tom Rogic, who asks for a game every now and then when his new wife is at the bingo, Scott Sinclair, who presumably forgot to tell the gaffer he still wants to play football, and Olivier Ntcham, who would get a first team slot in any side in Scotland.
And the man of the match ? Jeremie Frimpong, making his debut at right back, a position now with more options than a phone call to the bank.
One of the goals, a Ntcham missile that flew through the sky, was worthy of the very highest level, and worried opposition will now be worrying even more.
Whats notable isn't that it was fringe players who performed so well, they did, but that they wanted to perform well.
Very often, a spell on the sidelines can lead to a player merely going through the motions, and as a result, he tends to remain on the sidelines, collecting his wage, turning up at training and occasionally pretending he gives a toss.
Not this lot.
Every single one of them played last night like it was a cup final, they cared, and if Neil Lennon has become less passionate, perhaps losing that fiery will to win -at least in public-then it can only because he's shared it out amongst the players, and by golly, they've taken it on board.
There's a new hero emerging from the ranks, and last night he showed a rebellious streak that will endear him to the support even more.
What has he done to his collar ?
And why haven't we all done it already ?
Partick manager Ian McCall was realistic in defeat..perhaps summing it all up in a way that other managers accept, but will be perhaps more reluctant to admit.
"It was a good first half but I knew Lenny would have a go at them at half-time and losing the goals so early in the second half killed us. The scoreline didn't flatter Celtic, you just need things to go for you and a couple of moments went against us instead of for us – Tam's goal being ruled out and then Ntcham hits one that could go anywhere. They were two great finishes to be fair."
"After their start to the second half it was just a case of getting through the game with no injuries ahead of Saturday and we managed that. It was great to be back in a Thistle dugout but Celtic just have so much quality, so there's no complaints." 
He shouldn't feel so bad, that was the 29th consecutive victory in domestic football for Celtic…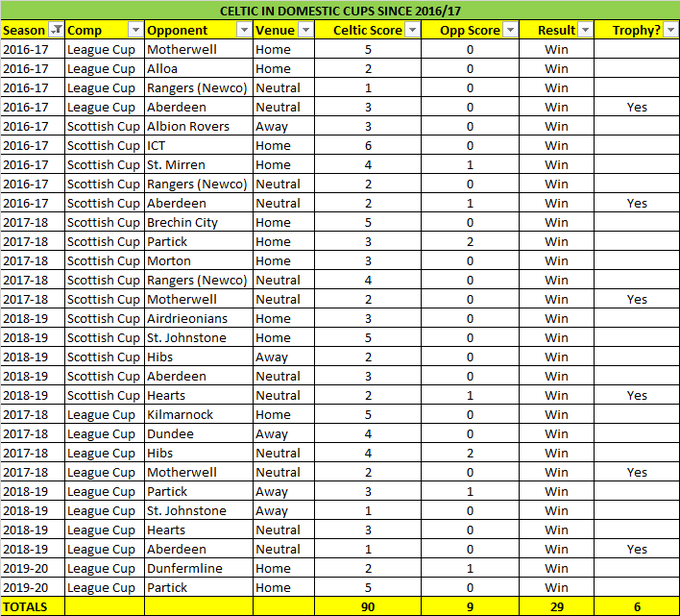 Next up are Hibernian, and they must already be trembling about just how much pain Neil Lennon wants to inflict on Leanne Dempster…
As for Lennon, he seemed pleased with how things went… he was hardly able to contain his joy at full time..
"I'm delighted, "  he exclaimed , as the whistle went
"I said to the players afterwards that I was so happy with the performance. We were able to rest a few and those who came in excelled.
"On paper, these games are easy but we know they're not. We asked them to find a little bit more in the second half and they certainly did that. There were some exceptionally good individual performances. It's an excellent win and the most important thing is we're into the semi-final.
"You could see what it meant to some of them to come in and play tonight. The likes of Tom Rogic got his first 90 minutes in a long time and you could see the work he's done behind the scenes. He got stronger as the game went on and he looked like he was really enjoying him.
"Olivier Ntcham looked good and is playing with a lot of confidence. It's a seamless transition for me to make changes and for the players to come in with the way John, Damien and the fitness staff train them during the week."
On Frimpong, his enthusiasm shone through..
"What you saw tonight is what we're seeing in training. He took the opportunity to play tonight off the back of Moritz being out. I thought he was excellent. He can be delighted with his night's work and it's a good start.
"Frimpong is battling for a first-team place. As soon as we brought him in, he's excelled. For a guy with a small stature he has lot of personality, energy and strength. We feel he could be a really good player here."
. We feel he could be a really good player here." 
Personality, energy and strength…to add to what the Ranch Hand said, imagine a manager building a squad in his own image…
There were no streams available for the match last night, Celtic deciding to block the usual sources as the feeling is that if there were no streams then people would come to the game, failing to realise just how many of us live too far away to make that practical, and completely underestimating how many of us would pay to watch one.
The usual excuse was trotted out…
For everyone asking about
#CelticTV
broadcasting live in the UK & Ireland. We are not the rights holders in the UK & Ireland for this competition. Our licence is for outside the UK & Ireland only. Thanks. 
Fair enough, but when the talks for those rights are back at the table, maybe the club should consider a bid, as there doesn't seem to be too many sponsors throwing money at the game right now, and they'll probably cost less than a couple of pies and a bovril at the ground.
Still, it's refreshing to see such an effort put in to lock any illegal streams, and we can look forward with confidence to the club fighting for justice along with shareholders as the Resolution 12 issue moves towards a conclusion at the next AGM.
Can't we ?
Though be careful, there was a drone over the ground last night, spotted by quite a few supporters, which is thought to be the Americans with a pre emptive strike in mind should Scotland and her oil decide to leave England to fester in its own pool of splendid isolation.
Or was Peter Lawwell using face recognition technology to try to isolate and ban those shareholders who will be looking for answers and action at the AGM ?
Was Bill Leckie using hi tech recording equipment to see if there was any evidence of sectarian coughing ?
Unless anyone does know what it was….I'm going for the latter.
The BBC might have felt the need to hire one last night as their elite sports reporters fell apart again…
Celtic are 4-0 up against Partick Thistle.
Elsewhere, Aberdeen and Hearts are also winning. 
Against each other ?
Meanwhile, Paul Sinha, who last week upset Radio 4 listening Celtic fans with his comment about Tommy Gemmell being a protestant was at it again last night on a quiz show called the Chase, where contestants win prizes for remembering their names and where they come from.
I didn't watch it, but am reliably informed he was at it again with his disparaging remarks, this time not sectarian based, but performance based.
Well, at least he's consistent…and he acknowledged this on twitter…
I'm an imperfect person with imperfect opinions  . 
Thats one way of outting it, and in the interests of clarification… to make my own thoughts cear…it's an early Etims
Knob of the Week 
award for this guy, who doesn't seem to think before he speaks.
Then again, that might be a good thing.
Yesterday, we had this…
Jimboh September 25, 2019 at 11:07 pm · Edit ·   →
Today…