The day started badly when the tarrier carrier was delayed while the emergency services attended to an accident before I got picked up, which meant that I got to experience first hand the Staffordshire monsoon season, which during the run north followed us all the way to Glasgow.
You have to give credit to the pilot who got us there purely from memory, as it was virtually impossible to see where he was going.
And if you want to experience life threatening terror, try aquaplaning. Though I doubt it will ever be an Olympic sport, even though we have a serious contender for the gold medal in the Lennon CSC.
As ever, there was much debate during the journey…
Macnamara s bar. Fuengirola. Subject of a debate. I reckon its a made up bar in a made up town. Tarrier carrier deiver reckons he was the first celtic fan to watch the first Celtic game there last month. 
Apparently, both the bar and the town do exist…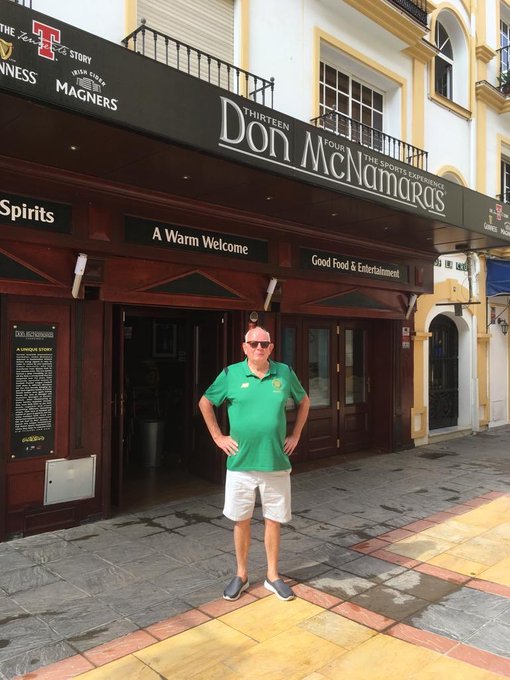 Although I nearly got battered for suggesting that was a photoshop taken outside the co-op near his house.
However, the game itself was just another routine win, despite the best intentions of an erratic set of officials who clearly should have been held back after refereeing class and asked to go over the rules again. Especially the linesman in front of the south stand, who , to be frank, didn;t have a clue, although he may have had his own ideas on how the game should be played.
Watch the highlights, he was abysmal.
Another thing to watch out for is the off the ball contribution of Oddsone Edoaurd, far and away the closest thing we've had to Henrik Larsson since, well, Henrik Larsson. Hopefully, he'll have the same feelings and loyalty to the club as the iconic Swede, and he'll be around for a while yet.
Unlike the English media, their French counterparts don't see playing in Scotland as a handicap, so the lad is being noticed back in his homeland, which at least removes one reason for him seeking pastures new,
As for the rest of the game, Rebus sums it up far better than I could…
A game of two halves. In the first half, the influence of Killie's Italian manager was clear…..a bolt defence set up to facilitate a fast break up the park by 3 attacking players. Rope a dope was the order of the day. Celtic had chances to kill the game early but a mixture of bad luck and a good keeper kept us out. Bolingoli played well in this match as opposed to his display in France midweek.He had a reasonable chance to open the scoring but, as usual, got excited and blasted the ball wide. How someone with his name has not scored defies logic and a sense of humour!!
The second half of itself consisted of two parts. The first part where we swept Killie aside. The rest of the team discovered that we were playing with a RB and gave the ball to him. His sliderule pass for Edouard's second was genius. At this point, KIllie could have been seriously dismantled but then we played horizontal ball in front of the massed defence at a snail's pace to allow Killie to rebuild confidence. Let's just say that we were tired because of our midweek exertions! Killie moved up a gear and worried our defence as our midfield took a coffe break. Bang, a penalty! Yes, it was a penalty. If that had gone in, the last minutes could have been very nervy, indeed.
Bauer and Julien were injured and had to be subbed, but the introduction of Rogic made no sense at all. Just another Cluj moment, I am afraid! Rogic..no pace, no tackling ability, no interest. We might as well have played with 10 men, which is effectively what we did.
Overall, a very good performance from a team that had burned a lot of energy in midweek.At the time of writing Rennes were 1 down at home!
Killie were well organised with a plan and it will be interesting to see how they get on through the season. Cattenaccio is back but will it succeed in the SPL
There's little doubt Kilmarnock are over their embarrasing European escapade, and they did set out to frustrate, but they have to be given credit for a well taken goal that shook Celtic and reminded them that complete concentration and supreme effort is required at all times.
Yesterdays game was evidence that under no circumstances should the foot be taken off the pedal in any game, and the relentless surge to another nine in a row will only succeed if the players are ruthless.
That's right, another nine in a row, despite what some papers, already expert in re-writing history, will tell you…
The Sun surpassed even it's own piss poor record on facts…
EASY TIGER 
Fergus McCann hailed by Celtic fans after believing Hoops had already won nine-in-a-row
FERGUS MCCANN got a little ahead of himself back at Parkhead.
Celtic's former majority shareholder – who saved the club in 1994 and oversaw a stunning transformation before selling up five years later – was given a hero's welcome by the support. 
And they loved it even more when the 78-year-old mistakenly believed nine-in-a-row had already been chalked up. 
Whatever gave him that idea ?
Celtic were also the first to win six, seven, and eight in a row, and the first to do it twice.
The Canada-based McCann – addressing the fans during a half-time appearance – said: "I just want to say what a thrill it is to be here with you back at Celtic Park.
"I watch from afar and I see the team growing and getting better every day, every week, every game, every season.
"And I'm with you as we look forward to nine MORE in a row."  
Quite how someone so ignorant of the basic facts of Scottish football gets paid to write about it is beyond me, but not entirely surprising.
Anyway, I left the ground early to find Fergus, and to try to persuade him to reprise his role as boss man at Celtic, for as everyone knows, the current incumbent has the backbone of a jellyfish when it comes to sticking up for the club, the support and the shareholders and as a consequence the SFA can take the piss whenever they feel like it.
Something they simply would not dare to do if this guy was in town…
Hopefully, he had a word with Lawwell and told him to get his finger out…
I missed Fergus talking to the crowd, as I fancied something to eat, and boy did I get a shock…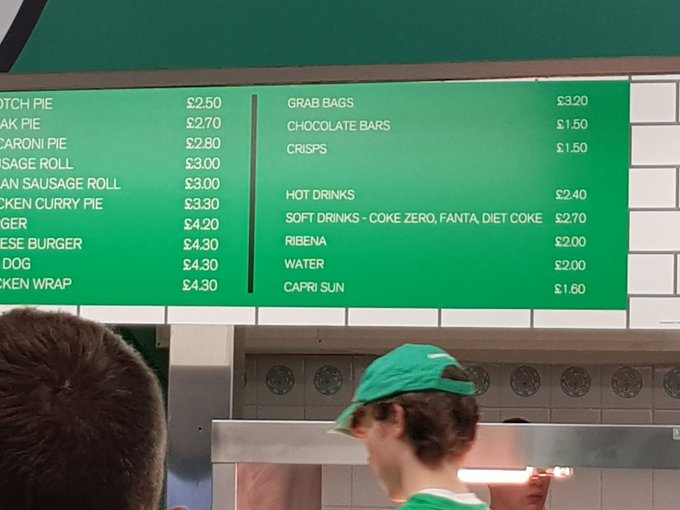 The staff didn't even wear a mask, but there was no need by the time I got to the front of the queue..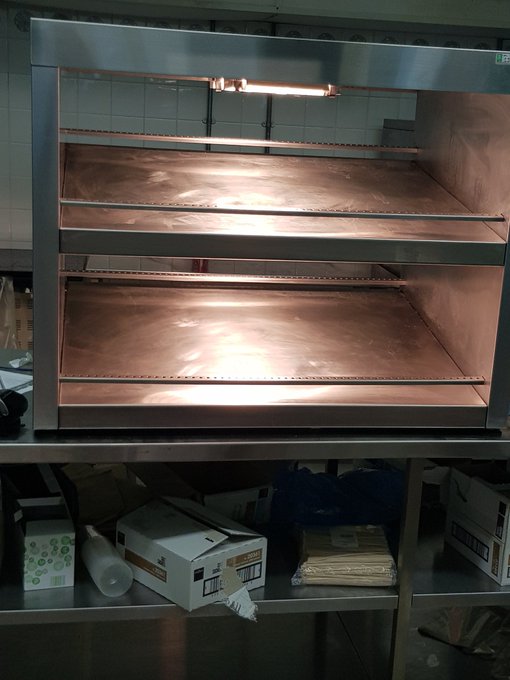 I was watching the game with Stephen O'Donnell, the author of Tangled Up In Blue, a book you should buy before the SFA buy them all and have it publicly burned, and as they had no hot food left I bought two packets of crisps and two bovrils.
A snip at just under eight quid.
I understand that there will be a massive hole in revenue for the club this season due to non participation in the Champaions League, but there really is no need to ask the fans to replace it via the food stands.
From now on, its a flask of tea and sandwiches for me.
The irony of having a collection for the NE Foodbanks outside, whilst mugging those inside over the price of a pie is quite possibly the single most piece of evidence that the club is now so far from its original roots that two planes and a fast train are required to get back there….
Elsewhere, and there are some right bastards on this earth…
STOLEN Signed Celtic strip for charity event and 6 tickets for hibs away. In MANCHESTER NCP CAR PRK DEANSGATE from back seat of white X5 Any help appreciated. RT 
Still, even if the top isn't returned, and i ask you to keep a look out for it, the perpetrators are probably stupid enough to use the tickets for Easter Road…
Speaking of stupid, who checks the kits for this club, new to the scene and probably not used to the ruls and regulations of senior football.. ?
Here's something you might have missed, and the media in Scotland will avoid…
Bristol City fans claim win over West Midlands Police after four-year court battle settled
A group of Robins supporters argued they were detained illegally 
It may have taken some time but a group of Bristol City fans are claiming victory in their own big match.
A four-year court case against West Midlands police that saw the group of supporters allegedly detained while on the way to see the Robins play against Birmingham City is now being settled out of court.
The long-running legal challenge could also pave the way for future action from other groups of fans.
A statement from the Bristol City Supporters Club & Trust has outlined the result: 
Almost four years to the day, through sheer persistence and the knowledge that they were right, 10 Bristol City fans have today been vindicated. Virtually on the eve of court action, West Midlands Police have climbed down and offered to settle the matter out of court.' 
10 Bristol City supporters who are not considered a risk and have never been involved in any football-related disorder were surrounded and threatened with force, including the use of police dogs, publicly accused of being hooligans by an inspector using a megaphone, detained for over 90 minutes and put back on a train home without being allowed to attend the game they had come to watch.
'They had all travelled to the game independently, didn't all know each other and had tickets for the match. Backed by the Bristol City Supporters Club & Trust, they claimed false imprisonment and a breach of Article 5 of the European Convention of Human Rights.' 
You may remember that West Midlands police assisted Police Scotland with a report on Scottish football….
Speaking of the police, watch this impartial servant of the public react when hearts score…
Policeman behind the goal forgets where he is. pic.twitter.com/VDpFOsEIWx

— Craig Anderson (@craig_killie) September 22, 2019
Yesterday, we had this image burned into our minds…