Before we talk about the football, here's an important message from the guys behind the movement that won;t go away.
Morrissey is looking for hauners to collect Res 12 Reinstatemnt signatures at next 2 home games.
He asks on Twitter
https://twitter.com/HughFClark/status/1172874105252712449?s=19
Would you like to join me collecting signatures in support of Resolution 12 Reinstatement at the Kilmarnock and/or Partick Thistle home games?
#EndSFACorruption #Res12
Looking forward to your support. Thanks! Please RT.
Either DM him on Twitter or e mail morrisseythe23rd@aol.com.  
Apparently, one particular CEO thinks that not enough of us care about the issue for him to do anything about it.
i think a wee reminder is in order.
He's had his chance to do something about it, he has let us down, and it's time for a battle similar to the one that ousted the Whites and Kellys.
It's our club, not theirs. They are just doing looking after it for a while.
And if they don't look after it, we'll find someone who will.
The time to stand up and be counted is now.
And we can wash away the stench of corruption…
Football, of a fashion, returned yesterday after the international break, and Celtic managed to overcome a stuffy and unimaginative Hamilton side with an first half James Forrest goal. He finished off a cross from debutant loannee Mo Elaynaoussi and for a while it looked like the floodgates would open.
However, the game kind of died a death and gave us little else to talk about. The pitch was poor, the setting was poorer and we should all just be happy that we only have to go there one more time this season.
Hamilton can't be arsed investing in a permanent stand, and that kind of shows their ambition. They should merge with Motherwell or someone and give up the pretence of wanting to have a team in their town.
They have the Park family involved, who give most of their spare change to Ibrox, so they should either get rid of them or at the very least ask him to maybe spend a few quid locally to upgrade what is the most embarassing football ground in Scotland.
As czd on twitter says…
An absolute fucking joke of a stadium. In a fucking wedding marquee.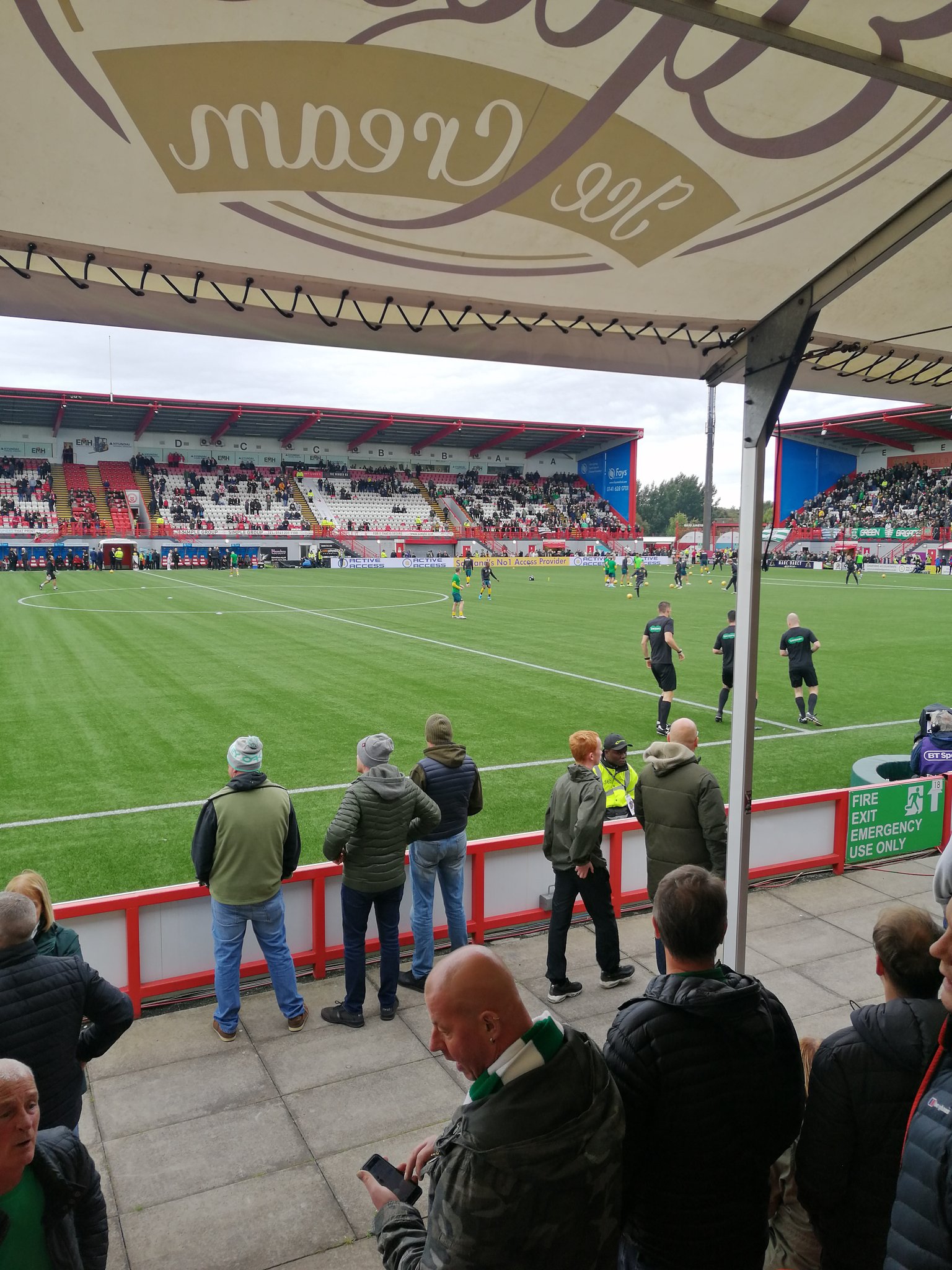 Their Supporters Liason Officer was quite vocal on twitter after the game, presumably to justify being a supporters Liason officer at a club with very few supporters.
He criticised a banner that was on display at the ground… which was protesting the price of tickets at the football
Says the dearest away ticket in the league 
We're allowed to charge more, as we have extra facilities, such as a roof.
And a proper pitch.
Then he attempted to justify the extra costs…
And there's a wonder why clubs need to increase prices with nonsense like this 
Fair enough, it's pointless vandalism, and whoever did it should be made to clean it up, but It's hardly the end of the world.
And surely the Safari Walk, which presumably features elephants, lions and tigers makes enough money money to prosecute these offenders, who would have been caught on camera ?
Interestingly, as the new Resolution 12 campaign gathers momentum, this banner was not allowed into the Hamilton ground…
One wonders if it, and several others like it, will be allowed into Celtic Park….
Anyway, it's another three points, taking the tally to fifteen from five games, which is the best start to a season in nearly ten years.
And another clean sheet away from home after a solid and professional performance.
Which has to bode well for Thursdays game in Rennes.
Incidentally, Rennes could be without their main man Mabye Niang for that game. As well as the already crocked
Metehan Guclu,  and central defender Gerzino Nyamsi .
Maybe Yokerbhoy can tell us if that matters…he's the man for previews, said Ralph, in an unashamed hint to the fellow…
Likeable new left back Bolingoli Boli has been impressed with his new team-mates, so much so that he's predicting a big season in Europe for the hoops..
"I believe, with Celtic , we can do something in the Europa League. We can go very far. 
He's not talking about the distances here, he means progress in the tournament, which is , er , different..
"When I look back at my experiences of the competition already, with Rapid and Brugge, Celtic can do better than that.
"It can be a great season for us because we have so much quality. 
"Celtic isn't a club that goes into the Europa League just to be there, to do nothing. 
Er, I've a few videos he might want to watch.
"We are a big club and we want to represent the name of Celtic in Europe.
"We want to go far and try to win something."
Steven Gerrard wants to include more players in Rangers' Europa League squad – but says UEFA's crazy rules are stopping him.
The Ibrox gaffer has been forced to leave out the likes of Jordan Jones, Greg Docherty and Jamie Murphy for the group stage.
UEFA only permits a first-team squad of 22 players, which must include four home-grown stars.
 Gerrard admits he'd like to have more options in his Group G squads against Feyenoord, Porto and Young Boys. But the Gers manager said: "If we could have a team suited to domestic games and another to European matches, we could possibly make changes and do it.