Sounds like a sixties pop combo, when you put it like that, but in reality, it's a testament to just how far Scottish football has lurched into cronyism.
It's so bad that even the bookies have ditched it, presumably after they noticed that an awful lot of people were betting on certain events during certain games featuring a certain club.
And a certain referee.
John Beaton is not noted for his ability in his second job-his first is as media relations manager with Scotrail Alliance. Media relations manager…you can see how the circle is drawn.
During Celtic TV coverage of the Dunfermline game, partisan commentator Tom Boyd remarked on the decision Beaton made not to award Celtic a blatant penalty. He concluded that Beaton was not fit for purpose, and added that the referee would be welcome down his local, a reference to the Crown Bar , in Bellshill, where Beaton has been known to celebrate after a tough but fruitful day at the office.
Not his media relations manager office, I hasten to add.
Beaton may be an awful referee, and there is plenty of evidence to suggest that he is, but he certainly knows how to court a relationship with the media.
The deflector shields were cranked up to the max last night when Tom English, the Irishman who works for Radio Scotland, offered his thoughts on Boyd's comments, and the pain that Beaton has gone through during his tenure as a referee.
Though actually, he didn't…he played the man…
Tom Boyd is one of these characters who is wheeled out to push the party line and pander to the crazies and their sense of victimhood."
Boyd, as we know, has a permanent gig with the clubs subscription only tv channel.
He isn't "wheeled out ", there is no "party line ", and i'm curious to know who he considers to be the "crazies " and would like him to explain their "sense of victim hood "
He can put it in the replies , or clarify his comments on twitter, I'm on @richiestoke.
As he is fully aware.
And in an attempt to justify his malevolence, Englsih said;
And as a follow-up, most Cetic fans I know cringe when Boyd comes out with this stuff… 
Which prompted the reply..
I can't think of any, and I'll wager a shiny sixpence i know more than you.
With English leading the charge, others were quick to leap on the ever-circling bandwagon…
Horrendous accusation given what Beaton and his family have been through this year. Boyd should be bigger than that in his position of responsibility.
An exchange which prompted several replies, one of which made me spit out my tea..
And so what the Americans call a circle jerk, and us Scots call the mainstream media , began to do its work.
The tweet from Downie, who covers north east football for Sky TV, refers to the abusive text messages that Beaton received after another of his inept performances.
Two men were convicted of sending them, which was quietly reported, as it appears that Beaton didn't receive the death threats his pals claimed he did, and there was no need for the police protection after all.
At the time, the Diary recorded those events as a way to understand how the media works, a news agency releases a vague statement, which is copied and pasted by the mass media, and from there grows wings.
Corrupted in a contest to get the news out there, regardless of veracity, as quickly as possible, Beaton achieved a form of martyrdom, and his complete inability to do his refereeing job in any capacity that could be regarded as fairly and adequately was ignored.
Like it has been in the last few days.
Someone at the SFA clearly has English on speed dial…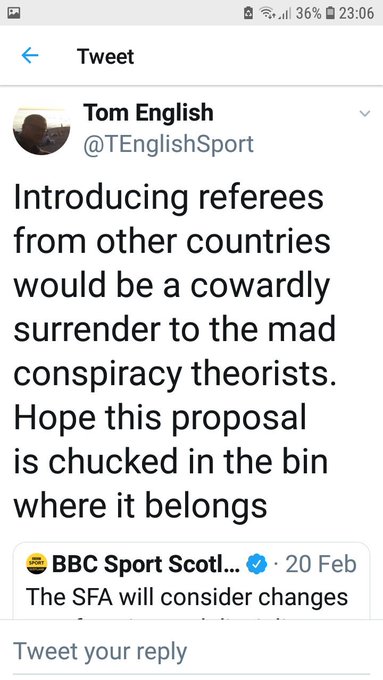 The Radio Scotland outburst prompted calls for Englsih to be removed from his role at the state broadcaster…
It is wholly unacceptable for a professional journalist on payroll of the National Broadcaster to rant like this on air. He should be reprimanded for this and his contact cancelled for gross misconduct. He is free to disagree but what he has said is worse than TB
Though perhaps a suspension, an investigation and then termination-of his contract, not him- would suffice.
The erratic behaviour of some sections of the media have been quite astonishing over this episode, and Celtic, when, in a rare outbreak of journalism, were approached by the sun newspaper for their thoughts, a spokesman told the rag..
"We have had absolutely no contact from the SFA in relation to this matter and, given the context and circumstances in which the comments were made, would be astonished if the matter were to be progressed. If it is, then we will respond robustly."
Of course there has been no contact.
This is just a media campaign to deflect , once again, away from the suitability of john Beaton for the post of referee.
It really is that simple.
However, in attacking one of our own, the media have managed to unite a fractured Celtic support, and the whole campaign looks set to backfire spectacularly.
With doubts surrounding Neil Lennon and Peter Lawwell shoved firmly onto a backburner, the management and players can get on with the task of preparing properly for the upcoming play off with AIK Stockholm.
They haven't gone away regarding Lennon, but he's got a bit of a respite to fix what he's broken.
As for Lawwell, there will be a resurgence of the Resolution 12 issue very soon, and this time he's not getting off so lightly. A huge response came from a  call for help, and for that there are thanks, and a promise not to let you down.
The usual stories aimed at rocking the Celtic boat ahead of these fixtures have been knocked off the front pages by the vicious attacks on Boyd, and they are out there.
Kris Commons, notably, has chucked in his tuppence worth, which at tuppence is surely overvalued.
There's an AIK player who claims Celtic aren't the team they used to be, and there'll be more like this over the next couple of days.
But for now, there is an anger amongst the support, which if harnessed,  hopefully will encourage the players to get over the little glitch of the last week or so, and get this show back on the road.
And, as the song says, we know there's going to be a show, and we are fairly certain who is going to be there.
Yesterday, we had this..
today..