There does seem to be plenty to smile about this morning, although I am a bit fed up with the sunshine and the heat.
On the telly, these bronzed supermodels glistening with sweat bear little reality to the panting puddle of perspiration its turned me into.
Thats the diary, it can always find something to moan about. But in truth, this morning, there's not a lot that can wipe the grin off my face. Until I go outside, that is.
Yesterdays Champions League draw threw up the possibility of a trip to Romania, Cluj, or Israel, Maccabi Tel Aviv. thus avoiding Red Star Belgrade and PAOK Salonika, which would not have been ideal.
The Greek side, incidentally, face Ajax, which is UEFA's way of punishing the Dutch side for upsetting their plans by reaching the semi finals last time round.
With the focus on tomorrows game with Nomme Kalju, there was some good news that wasn;t entirely unexpected, on account of the player telling one of our army of drunks that it didn't look like he was going to Arsenal… or anywhere else..
Kieran Tierney looks set to stay at Celtic after Napoli reportedly joined Arsenal in abandoning their pursuit of the left-back.
Record Sport told on Monday night how the Gunners were set to look elsewhere after having a third bid for the 22-year-old rejected.
Tierney was understood to be interested in a switch to the Emirates but is unwilling to force an exit from his boyhood club.
Carlo Ancelotti's side have also been linked with a move but The Daily Mail report they have decided against firming up their interest with a bid.
It's believed the Serie A giants want to off-load defender Mario Rui but the Portuguese has no desire to leave with three years remaining on his contract. 
As usual, there are no quotes, and no firm evidence to back up the story, and the Record is not noted for the quality of its information, but our elite sniffer squad is.
Well, sometimes.
The best news of all concerns the mental well being of forward Leigh Griffiths, who should be commended for coming clean about how he felt over the last few months, and recognising that he needed help, and taking steps to find it.
"It was a slow drip that was building up and building up, and (former manager) Brendan Rodgers saw that and stepped in," 
"I owe a thank you to him because if he never stepped in who knows where I'd be.
"But I am trying to look forward now and be positive and trying to get minutes on the park and look forward to the season ahead.
"I'm just trying to be a bit more open, not keep stuff in, and just speak to people. Regardless of who it is – team-mates, coaches, PR people at the club, whoever it is.
"Just try and open up and if you've got something on your mind just say it, because ultimately you could be back in the same place and I don't want to be there.
"What is happening in society nowadays, a lot of people are taking their own lives, and maybe if they open up and speak a little bit, it can save lives.
"Anybody who is suffering, open up and speak to someone. There is a lot of people out there that will help." 
He went on to say he had feared Celtic would cut him loose this summer, but Griffiths is nothing but determined, and as he once said "I'm no Brendan "
"It would have been easy for the club to cut ties altogether and say: 'Look, we'll give you time off, but in the summer it's best if we go our separate ways'.
"It was a worry for me. I'm not going to lie.
"But, fair play to them, they told me to take the time off and to come back and start again. That's what I'm trying to do.
"The manager came to me and said that it's a clean slate this season and to show everyone what I'm all about and to get back to my best.
"That shows what this club is all about. It's not just about looking out for itself. It's about looking out for the players.
"They don't want me to just play for Celtic.
"They want me to be okay after I finish my football career.
"That's speaking to Peter Lawwell, that's speaking to Neil Lennon, to a lot of people at the club.
"I could be here for ages talking about names. These guys want me at the club because they know what I can do.
"They know I can be a big success and, most importantly, that I can score goals.
"They've had players in the past who might have been a bit of a problem, but couldn't score goals or do their job.
"I can — it's just about getting my mindset right and getting focused on playing well, training well and, most importantly, feeling well off the park.
"This feels like a family.  Everywhere you go there's always someone coming up to you and saying: 'It's great to have you back' or 'It's great to see you looking so well'.
"It's been great — the number of people who came up to me in the street, in the supermarket or wherever I've been to say: 'I'm delighted you are back'.
"You still get some negative people who start vicious rumours about this and that and why I've been off.
"I try and look at the positive side. The more focused I am on the training pitch, the more focused I'll be on the football pitch."  
As far as I'm concerned, its all about what he does next, the past is gone.
Another piece of news yesterday, which perhaps slipped under the radar, was that Peter Lawwell has decided not to stay on the board of the SPFL. Well, that driveway won;t clean itself, and to be fair, he does have a lot on his plate in his new role as Director of Football at Celtic, head coach, sports scientist and matchday programme seller.
Then there's the ECA, UEFA and his involvement with MI5.
Well, maybe not the latter.
His resignation provides a space for Stewart Robinson of "rangers " and Les Gray of Hamilton to step up to the plate, men of a similar mind, to say the least, and although not majorly significant, it kind of rules out any chance Celtic had of the game being played on a level field this year.
Actually, Robinson will not only step up to the plate, the word is soon he'll be passing it round looking for donations…
Could Lawwell be aware that the challenge might not be as great as the media pertain it to be ?
There certainly seemed to be enough in the news yesterday, both in the mainstream and on social media, to suggest that one of the reasons Celtic have not been ruthless in this transfer window thus far is that it's dawned on Lawwell that there won;t be any need to, as our major rivals aren;t going to be our major rivals after all.
In fact, they might not even be around, and if they are, they will have a points deduction so great as to mean the best they can hope for is a top six finish.
Over at Ibrox yesterday they announced a new initiative, presumably becuase they don;t want any of their supporters to be their supporters any more, now that the season book money is in…
TODAY Rangers is proud to launch a ground-breaking campaign, 'Everyone Anyone' which aims to unite people from all backgrounds, cultures and communities.
This new initiative will promote Rangers as a modern football club through which fans can come together and support a common cause – equality for everyone.
In collaboration with the Rangers Charity Foundation, we will work across the club to champion diversity, encourage tolerance and understanding, and promote positive behaviour as part of this ambitious new strategy.
Rangers is for everyone and anyone and we will build on today's launch by rolling out a series of diversity and inclusion events at Ibrox Stadium, the Hummel Training Centre and within the wider community throughout the year and beyond.
Well, nearly everyone..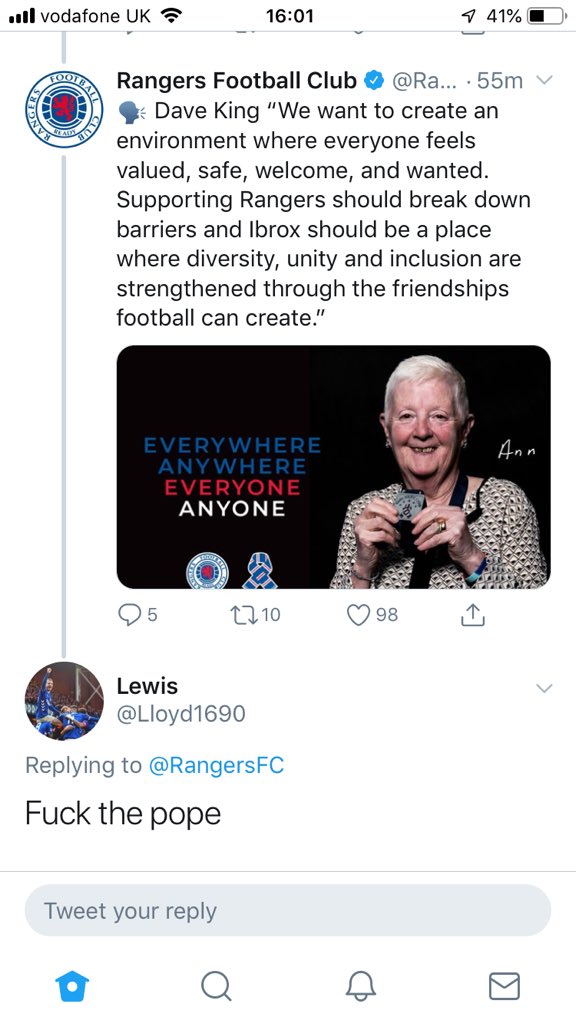 Some were even struggling with the entire concept..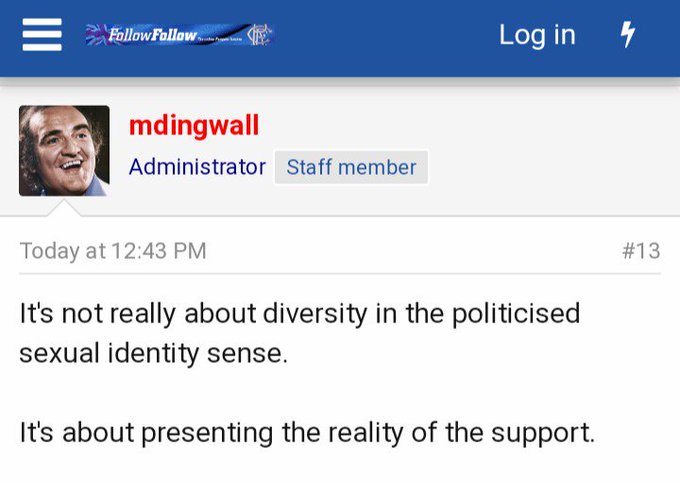 We tried to reach their spokesman for equality and diversity, but he was having trouble with his motor..
We can only praise the club for doing what they should have done years ago, and its good to see them at least making the effort.
Only a cynic would claim it was to deflect from the rather less heartening news they received from the courts…
Rangers court blow as Mike Ashley's Sports Direct due 'millions in damages'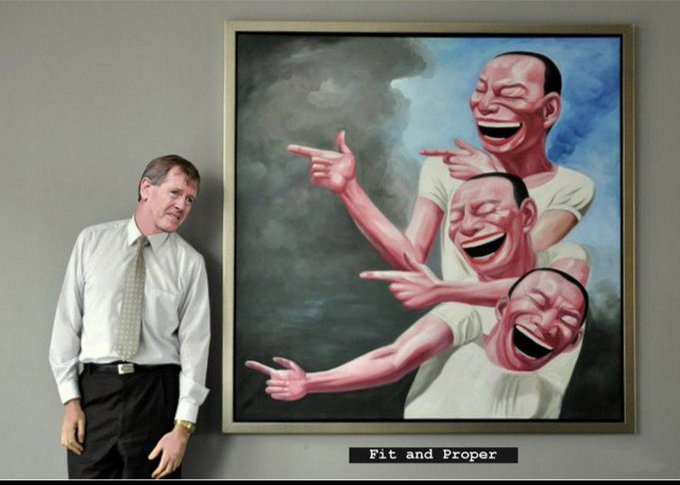 I added the pic, courtesy of Only2togo on twitter
The Ibrox club and the controversial Sports Direct tycoon have been in dispute over retail strip sales after Rangers did a kit deal with another company.
Rangers could be forced to pay Sports Direct (SDIR) millions of pounds in their long-running High Court fight over merchandise rights.
A detailed legal judgement found Mike Ashley's firm should have been allowed to match an offer made by current kit manufacturer Elite/Hummell for the lucrative deal on producing replica strips and other items.
Judge Lionel Persey QC concluded bosses at Rangers had made the new agreement without giving Sports Direct, which had a retail deal with the Ibrox club that was expiring, a chance to match the other firm's offer.
Sports Direct argued that the terms of the existing contract meant Rangers had to give SDIR the opportunity to compete with any new agreement.
The judge also took issue with Rangers' bid to limit any damages they may have to pay to £1million, which could have huge financial implications for the Ibrox club. 
Last year it was reported Rangers had penned a three-year deal with Hummell worth £10million – showing the retail value of the Glasgow giants.
Ashley's Sports Direct firm had a deal with a previous Rangers board that saw it take 93 pence for every £1 of club merchandising sold in Sports Direct stores.
The punitive contract resulted in Rangers fans boycotting Sports Direct stores. The two parties became locked in a series of disputes with a High Court judge last year urging them to "make peace".
But they ended up back in court and yesterday Judge Persey announced that he had ruled In favour of SDIR despite Rangers disputing the claim made against them.
The judge's full ruling was published yesterday and revealed the Ibrox club could be hit with a massive bill for SDIR's lost revenue.
He found that the "terms of the connected commercial arrangement offered to Elite/Hummell" should have been offered to Sports Direct.
The judge declared: "I am satisfied that SDIR would have matched those arrangements had it been given the opportunity to do so."
Rangers' bid to limit any potential damages to only a £1m payout if the ruling went against them was also dismissed by Judge Persey.
The gist of that, which must have been difficult for the Record to publish, is that they are currently bent over a table awaiting Ashleys er, punishment.
All a far cry from Keith Jacksons piece in June, 2017…
There was no mention of it in Dave King's victory speech on Tuesday afternoon.
But as the Rangers chairman announced the terms of the truce between himself and Mike Ashley – prompting a stampede on the club's megastore – there was an even more significant reason for the club's supporters to cherish.
It will all be ratified and made official in good time but Ashley, it appears, is not only loosening his iron-fisted grip on the club's retail wing. He is also prepared to wash his hands of Rangers once and for all by dumping his personal shareholding of almost nine per cent. 
And the moment that transaction is completed – when Ashley's holding is picked up by fans' groups and perhaps one other wealthy individual emotional investor – then King will have delivered on one of his key manifesto promises … to pull up the drains and cleanse this club from top to bottom.
King has had his critics on these pages over the last two years or so. He has not reacted well to being questioned or challenged even when his various statements and promises are clearly contradictory and, in some cases, absurdly disingenuous.
But, regardless, let's give credit where it is most certainly due where this long-running ruck with Ashley is concerned. King promised to fight this fight even if it took him until his last breath and on this crucial matter he has been as good as his word. 
He has always been as good as his word. It's just that his word isn't very good.
Add to their woes are  possible claims from Hummel and Elite, both of whom have lost out here as well, and things ain't looking so rosy for the second Ibrox entity.
Then there's the legal fees…
Then there's the Close Brothers…
Then there's the wider issue..

the huns behaviour here needs addressed by the sfa and spfl. They have shown bad faith in dealings with 3 companies putting money into the Scottish game. There could be an impact to future commercial deals
I don't think it would be amiss of us to perhaps stock up on jelly and ice cream this weekend…
Then there was this whatsapp doing the rounds, unverified in itself, but it does tie in with some other stuff i'm checking out..
Douglas Parks business has been in effective administration & has been run by the bank for the last 18 months. The bank have now instructed that Park sell the car sales part of his business immediately, all of this because he believed King, and King has rode him bareback. His loans to Sevco have been converted into worthless shares and he possibly has lost anything up to €12.5m propping up Kings ego/mouth. And King had the balls to ask him to put in another €2m last week so that they could pay the 1st instalment of the Swedish guy & their legal teams bills. Who by the way are working strictly on a cash basis only. Celtic are planning around them going bang again. Top it off, Dorrans, Murphy have been told to leave & if they don't think they will be training with the youths. Barasic has been told that he has no future and should be looking for a new club. The problem is that no one in Croatia will be or are paying anyone over €20k per week to any player there. They've left 5 people behind the scenes go just so they can make payroll for the players. Hummel have withheld the €1.4m start of the season bonus coz of the Commercial deal fiasco. Jimmy Bell has been busy buying kit without badges from the Hummel UK guy and then getting the badges etc put on. They're fucked 
At this point, its worth noting that Douglas Parks business is actually paying out good dividends, which makes it unlikely they are in any form of administration, so I'd maybe discount that bit.
However, there are strong suspicions that at the very least Park is no longer prepared to bankroll King, and there may well be a few leaked stories to that effect very shortly.
Or there might not be.
Who gives a toss, really ?
The fans, though, have moved away from petty protests at Sports direct. They're not going to show red cards to liquidation.
Having failed to save one club, they have learned from that, and are going all out to save this one…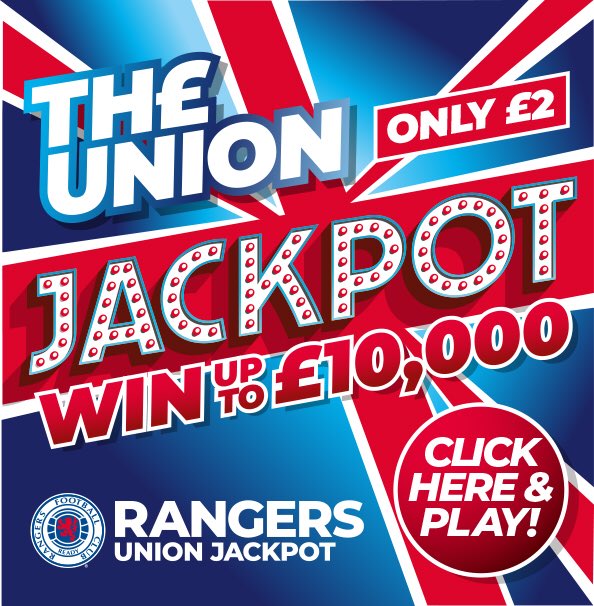 And look at the top prize…
Our half time draw is changing. We have rebranded the game to The Union Jackpot. The game will still be operated in the same way as before. You buy a ticket and the draw will be done on the pitch at half time. Our previous top prize was £5,000. This season we are increasing the potential first prize to £10,000. The first prize will now be 50% of takings up to a maximum of £10,000. So, the more tickets that are sold the higher the prize money will be, up to a £10,000 maximum. The second prize will remain at £250 and the third prize at £100. As before, the remaining 50% of our profits will go towards our valuable youth development programme. So please buy a £2 Union Jackpot ticket for every home match to help us provide as much money as possible to our future.
Don't forget, the more tickets you buy the bigger the prize pot will be for our lucky first prize winner.
1st prize – 50% of profits up to £10,000
2nd prize – £250
3rd prize – £100
They were doomed from day one, and it serves then right for hooking up with a convicted fraudster.
And finally, at least one of them gets it…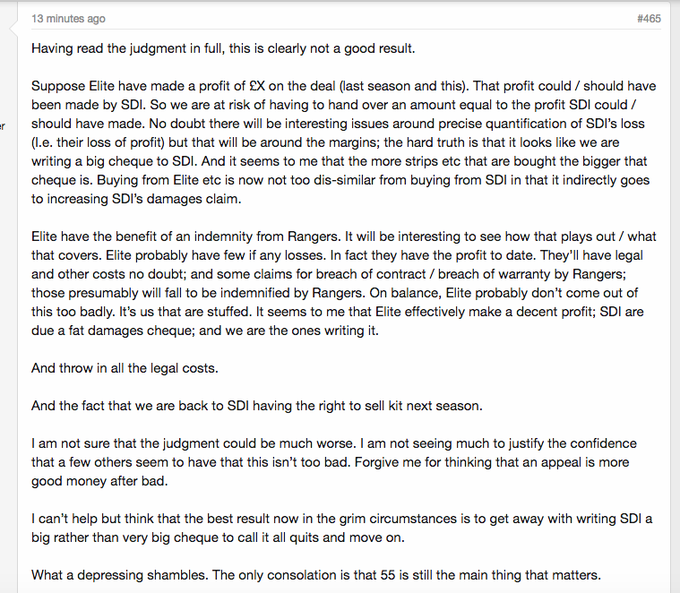 Yeah. When all else fails, just ignore the facts and move to lalaland.
Know what, it isn't even 55 they hanker to. It was a misinterpretation of a hat spotted at one of their supporters rallies… and yet another feeble attempt to explain it…
Yesterday, we had this..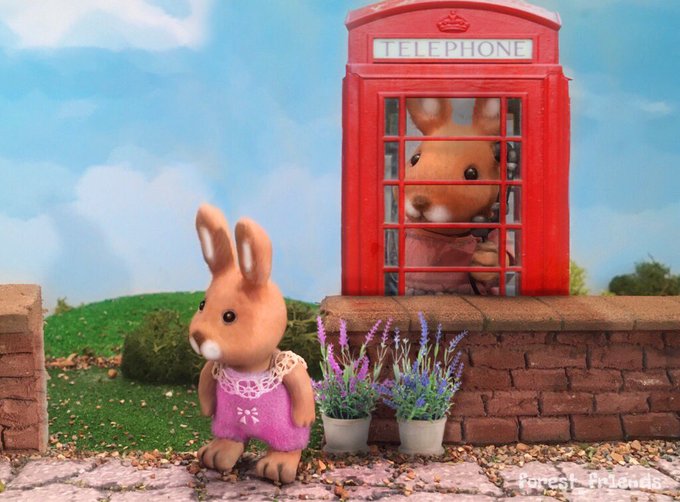 Today…