Celtic Diary Thursday April 4: Res 12, "rangers " and A Responsible Media
The diary has been away for a few days , largely due to hotel wifi not being as easy to connect with as they may tell you in the brochure.
Fortunately, hardly anything worth talking about has happened since Sunday so no one has missed anything.
Well, nothing we couldn't have anticipated, that is.
Last Sunday , Celtic beat "rangers " 2-1 which effectively means that the dark side have got nothing to show for 2019, and very little to attempt to sell season books on when it comes to trying to balance the books ready for the summer transfer window.
The win, secured by a late James Forrest goal , put Celtic within a dew games of a second eight in a row, and left Steven Gerrard showing signs that he hasn't quite got the temperament for the job he's doing.
The game itself saw bookmakers hurling themselves out of windows when Alfredo morelas got sent off for an elbow on Scott Brown.
Morelas elbowed Brown, and thats that.
Or did he ? He told Colombian radio…
"I always come into contact with the Celtic captain and I've always had strong contact with him and it's always been like that.
"I didn't touch his face and I think that he exaggerated a lot.
"Moreover, neither the referee nor his assistant saw what happened.
"Four players put pressure on the linesman which led to my expulsion. 
Like I said, I have to confront these things in the best way possible and that's what I'm doing.
"I apologised publicly and well, we have to keep moving forward, with my head held high." 
Er, he didn't do it, and no one saw him do it ?
If you don't count the millions watching on tv, he might have a point.
He could be forgiven for thinking violent conduct was acceptable in Scotland..
The media blamed Scott Brown.
Later in the game, Ryan Kent "shoved " Brown with his fist..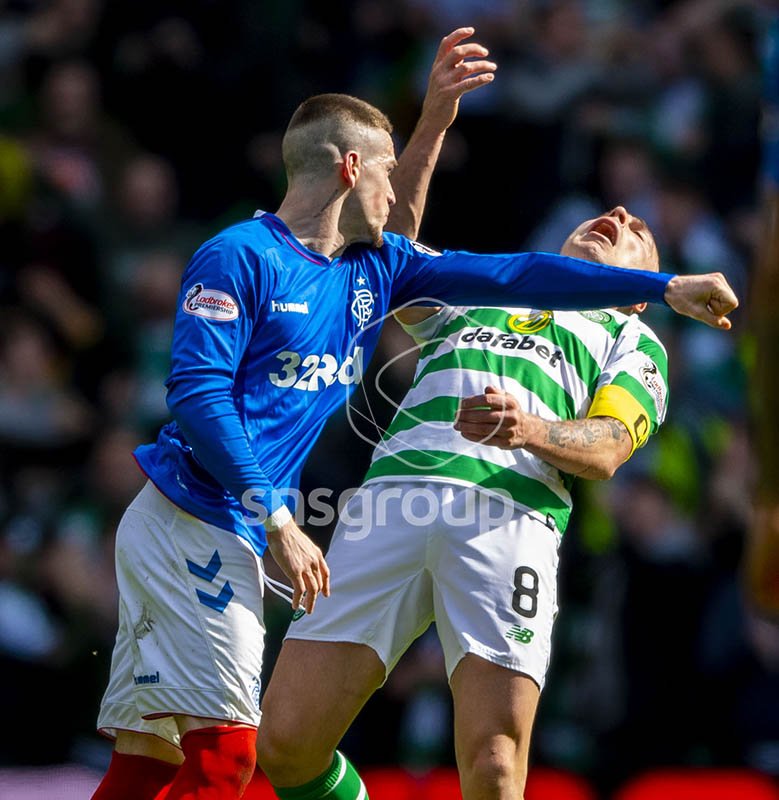 The winger was offered a two match ban, but appealed. His lawyer better be good..
He's their latest hero, although he won;t be joining them next season as liverpool are holding "rangers " to ransom and demanding they pay for him. Which, of course, they can't.
Though to be fair, the hordes aren't giving up without a fight. Having lost one club, they are determined to help the replacement..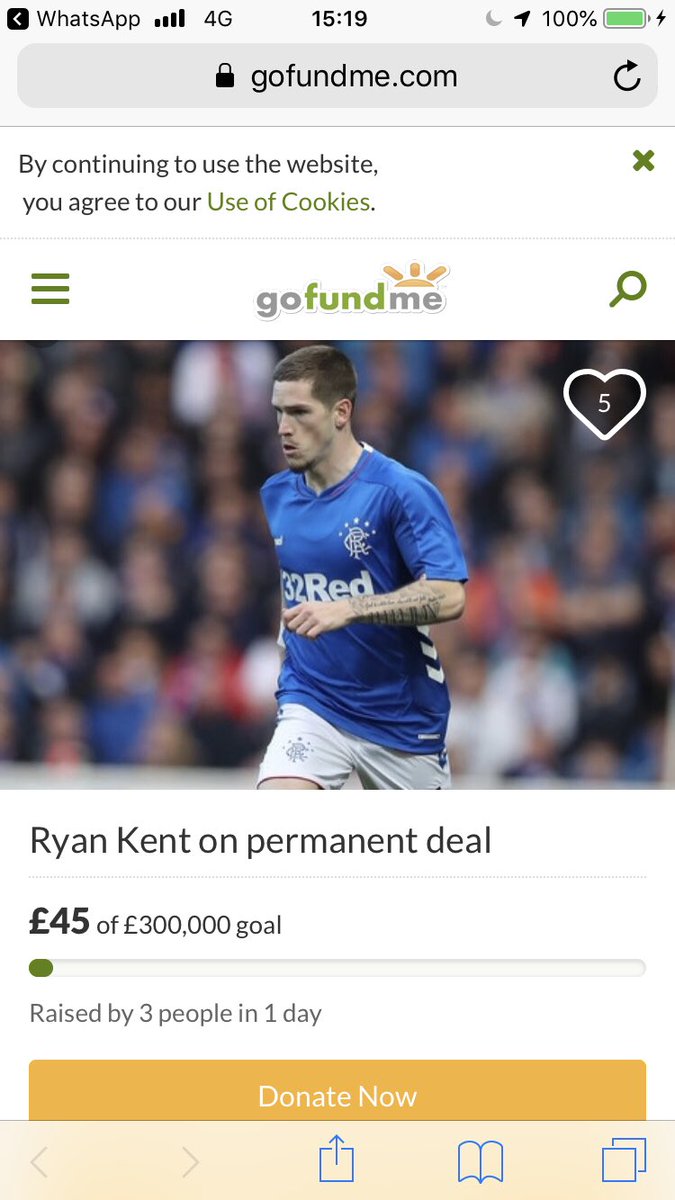 Maybe Kent  should consider hiring this guy for his appeal, who offered the benefit of his legal experience to Morelas..
I looked into other cases he'd been involved in, his identity kept a secret for obvious reasons..
Then again, perhaps one single handshake on Sunday explains all the nonsense that we've had to put up with since the game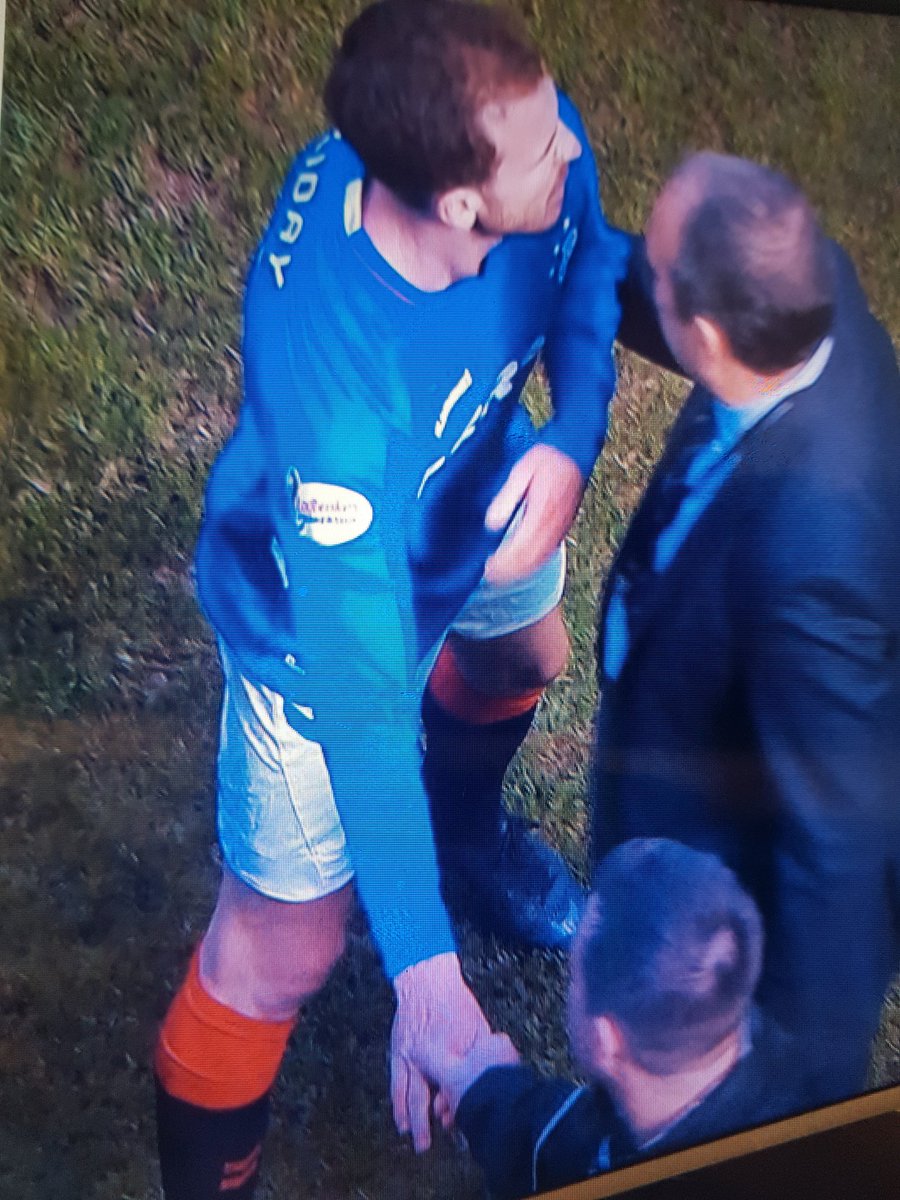 This is part of the bigger picture which has seen the mainstream media close ranks behind the cash cow that plays out of Ibrox in order to try to keep it alfloat.
The establishment club have failed to establish themselves.
They are relying on secured loans to keep the lights on.
And heaven forbid those poor supporters who might ask where all their money has gone over the last seven years..
After the game, the petulant arrogance shown by their manager in several press conferences this season, spread to their players.
The whistle went, and Scott Brown tempted fate by showing eight fingers to the crowd, similar to when Richard Gough held up ten a few years ago..references to how many titles each player expected to win at the end of the respective seasons.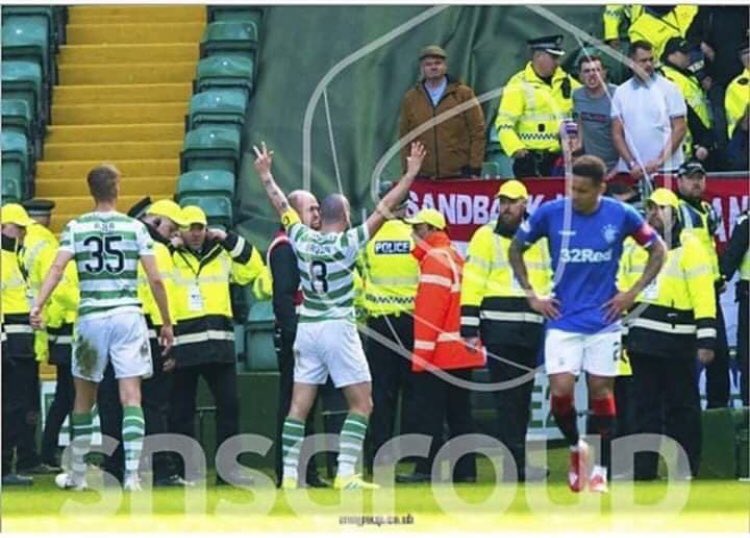 Having been elbowed, punch and not reacted, there was understandably a lot of relief and joy coursing through his veins, and he decided to express himself.
I guess anyone would after such an interesting game.
For instance, imagine of your club recorded its first league win over the champions after a few drubbings the season before..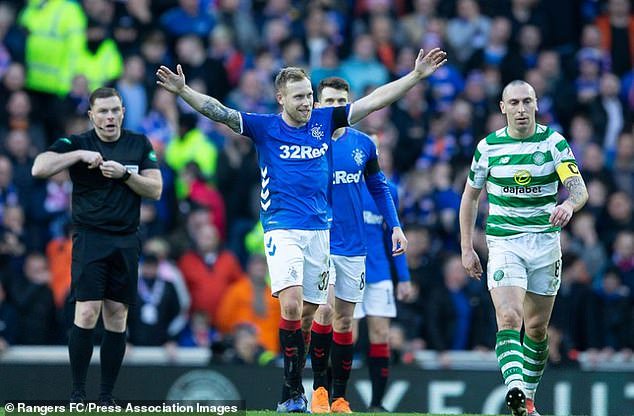 That picture actually appeared on the official "rangers " twitter.
Dignity indeed.
Brown kept his head when taunted, and the media condemned Scott Arfield for trying to goad him.
Intent ?
Andy Andy Halliday reacted to Browns celebrations, which led to a scuffle on the pitch.
Halliday, of course, is above all that..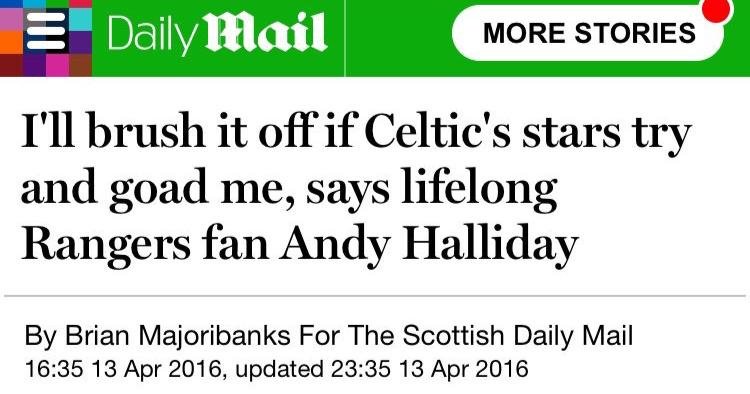 It's laughable, the whole media campaign to shift the blame for Gerrards failure-and it is a failure-on all levels has become a Scott Brown hatefest.
Encouraged by a compliant media who predicted that the former Liverpool man would take the new club to a new level, presumably a first major trophy, the deflector shields are overloading the engines.
Most of us predicted it would all end in tears, , based on the simple fact that he was an under 18 coach who was about to be offered an ambassadorial role at Liverpool to save face, except the media who were encouraged to play down the fact that a rookie coach was taking over at a skint club and he had to somehow succeed with a bunch of journeymen, some veteran diddies and a number of loannees.
Oh, and Morelas, an immature and volatile player who may score goals, but cannot be depended on to deliver when it matters.
Well, it would be laughable if these events didn't have such serious consequences.
The petulance of Gerrard after the game, where he claimed his side were the better team and Brown had got all his players in trouble by provoking them spread to the streets afterwards.
Three Celtic fans were stabbed, and thats just the ones that made the news.
Undoubtedly, there were many more incidents in many more towns as Gerrard continued to complain about how Brown was responsible for his players actions and the media amplified it.
And boy did they amplify it.
Graeme Spiers of the respected London Times referred to him as a "tit".
Chris Jack of the Evening Times showed his moral flexibility in his coverage of the game..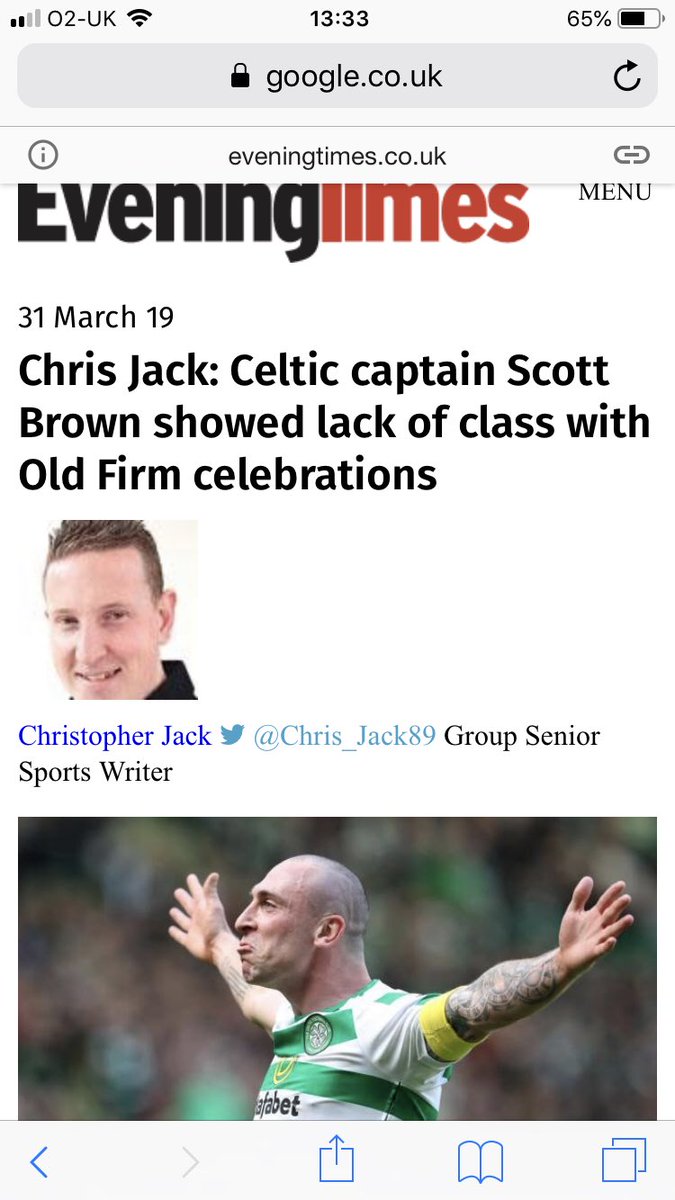 In the interest of balance, lets remind ourselves of how he covered the celebrations of Scott Arfiels in the December game..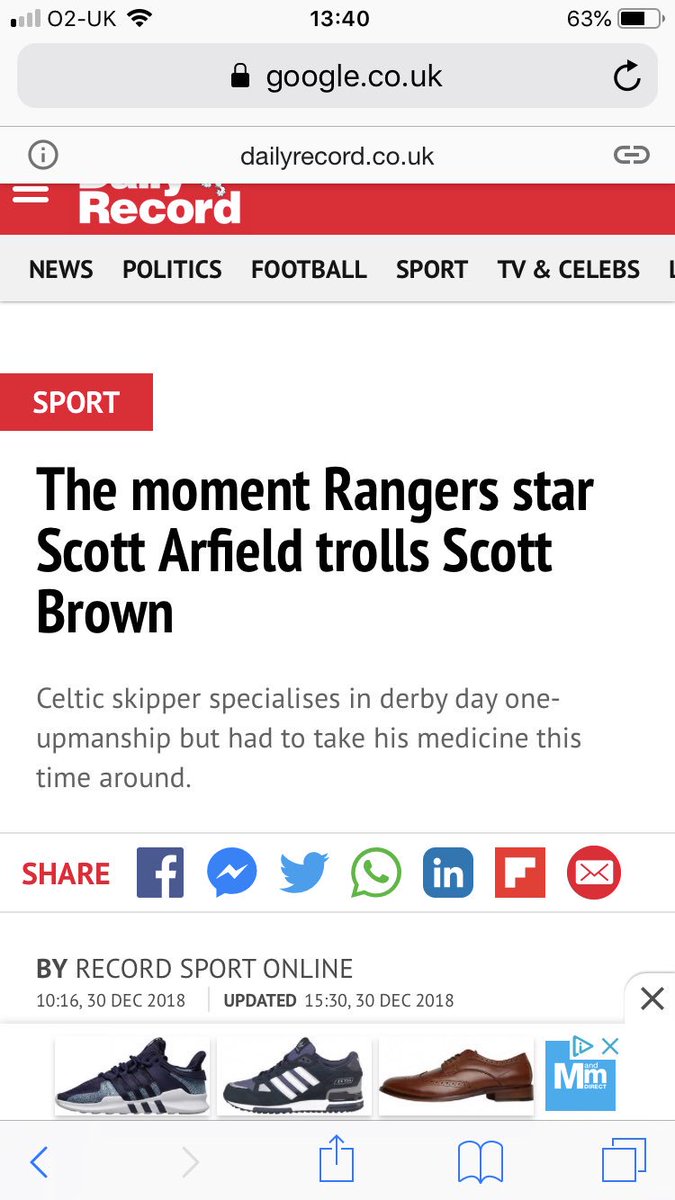 "Rangers " players, "rangers " management and their supporters, of course, are way beyond needing medicine.
Its time for surgery .
We warned it would be if we allowed this particularly aggressive form of cancer to return..
And the mainstream media ?
I'm looking forward to the articles that express outrage at the behaviour of one clubs players, the irresponsible actions of a manager clearly operating way above his capabilities and the enquiry into why the supporters of one club have been repeatedly involved in knife crime.
And not just at Celtic games.
However, any enquiry or investigation would no doubt conclude it was all Scott Browns fault…
Last night, Celtic continued their march towards that eighth title with a 2-0 win over St Mirren in Paisley.
Timothy Weah was handed a rare start and duly obliged with the opener, and Ryan Christie returned from injury to seal the points late on.
Weah and Burke both started, which may have encouraged Bayo-remeber him ?-to think he might get a game sometime soon.
He might, but the word on the street is that he isn't anywhere near as good as his videos suggest, but based on the book Football Leaks and the tales within, don't be shocked if he "resurrects " his carrer at Leicester..
As usual, it was a ponderous and dull affair, lightening up literally with a flare being thrown onto the pitch about thrty feet from the keeper, who appeared to be hit by shrapnel earning an early return to blighty and a cushy number in the country for the rest of the war.
Scott Brown immediately reported to a local police station and offered up his alibi, helpfully saving the police thousands of pounds and a night time visit to the players house.
No pyro no party.
And so it continues…idiot kids doing idiot kid things and giving the media something else to harp on about instead of looking where the real story is.
The battle for success in the Resolution 12 campaign kickstarts in earnest this week with the launching of a detailed but easy to folllow website.
Pater Lawwell and the rest of the board have decided to lie down and have their tummies tickled and will not be pursuing the issue any further.
Later today, I'll be offering up my thoughts on that in an article titled
"you lying fucking bastard "
Well, i might change the title..
"Just fuck off you lying bastard " has a ring to it as well.
Caption competition…we have to go back to Sunday..
Today..