We can all relax now.
Celtic overcame Hibernian yesterday to advance into the semi finals of the Scottish Cup, completing a week that may live long in the memory. Perhaps even as a pivotal week in the quest for ten in a row and a third consecutive treble.
The week the stars aligned ?
We'll see.
What we did see yesterday was a Celtic team change tactics to counter an enthusiastic hibernian challenge which led to a comfortable victory, with James Forrest relishing his role as a central number ten, and Scott Brown dragging his team mates through the game in the way that Roy Aitken used to do.
Forrest scored the first goal, which showed he can combine quick feet with a powerful finish, and Brown made the tie safe when he powered through the defence to unleash a shot that had people in the stand holding their hands in front of their faces in case it came through the net.
Along with Nir Biton, Brown provided the muscle behind the hustle of the forwards, and for what was a makeshift team with a makeshift manager , it was a truly mature and professional performance.
After the game, Lennon paid tribute to , well, everyone..
"I am absolutely delighted, I got everything I wanted," 
"I thought it was an outstanding performance from the team. We had total control, and I thought that was the best I've seen them play for a while.
"We had a brilliant mentality, it's been a very difficult week for them all – physically and emotionally – so for them to go out and play they way they did, particularly in the second-half, speaks volumes for this group of players." 
"I haven't seen Celtic play like that Against Hibs for a while, especially at Easter Road. The manner of the goals was brilliant too, and I couldn't have asked for more from the players.
"With Forrest and Brown scoring goals, it was like going back in time. They were with me when I was first here and nine years later, they're still outstanding footballers at this club. For me, they're two Celtic greats, and they're still writing chapters in the time they have here.
"Today, I've moved Jamesy into a more central position because we weren't affecting between the lines enough. We did that just about 10 minutes before half-time, and then John made a few tweaks tactically as well, just to give us better control of the game. The second-half was magnificent.
"I want the players to have a rest, mentally and physically, but it's a great way to finish what's been a difficult week for them. The players are all champing at the bit to play which is great for me." 
Away from the public eye, Lennon is back where he feels he belongs. He's had to make a few, er, adjustments tp his life outside the club, and won't be bringing Gary Parker back to help him do whatever it was Parker helped him to do.
But there still may be a familiar face or two in his staff once the problems of his first spell are confined entirely to that spell.
For Lennon, the job is his to lose, and if it is, it won;t be lost on the pitch.
It could be argued that the first time around it was too early for him, however, this time, it could yet turn out to be a confirmation that last week all the stars were indeed in the right place, including the one that hovered over Leicester.
Speaking of Barry Ringers, James Forrest, who has a one hundred per cent scoring record since the change of management, told the papers about the phone call he received from the previous manager, a mere four fucking days after he'd last seen him.
"He phoned me on Thursday night and for me he has been really good over the past couple of years," 
"I will always remember what he did for me. It was good that he contacted me, he has put so much into the club over that time. But he has a new job now and we need to get on with ours too." 
"It was pretty hectic. Everything happened within 24 hours," 
"Previously I'd known managers to leave at the end of the season so it was different. The boys did well to cope with it on Wednesday.
"Everybody was here on Monday. We had heard wee rumours on the Monday night and Tuesday morning and then it happened. But I think maybe because of how well we have done over the past couple of years it was bigger than it might otherwise have been. Celtic being a massive club too it's big news, his profile too.
"When I woke up on Tuesday it seemed as if everything had moved forward. On the way into training it was done. I had no inkling on the Monday. We had played on Sunday so the ones who played were in doing recovery.
"He must have been speaking to the boys out on the training pitch but all we heard were the wee rumours on the Monday. I have spoken to him since.
"I'm not sure if he has been phoning round all the guys. It's been a bit mental, we've had a game and so have Leicester. Sometimes in football things can happen so fast. I think everyone would like to have said bye but it can't always be like that." 
"Because it has been so good over the past couple of years and he [Rodgers] has done so well for me, the team and for Scottish football I was gutted. It was strange because we had two huge games in the league and the cup, two huge games in terms of our season.
"But I think the club handled it really well by getting the manager in so quick. We still have John Kennedy so we've kept everything the same and it's been a case of trying to settle everyone down." 
Maybe once it settles down everyone will think of how good it's been,"
"We didn't go into any of that too much. Things can change quickly in football.
"I think that's a hard one. Once it settles down people will think it's seven trophies out of seven.
"When he took over the club was kind of not in the best state and now it's looking really good and positive.
"Maybe in time… but the games are coming thick and fast and we just need to concentrate on them. "When he was here it was always game at a time. It was always about what came next., not looking too far in front. That message stays the same, we have a lot to prepare for."
There will be suspicions among the support that this, and other calls may be a form of tapping up, a sort of "ring you back in the summer " type thing, but this from Forrest shows that they were kept in the dark and the then manager clearly had only his own interests at heart.
They won't forget that if the phone rings and its a Leicester number.
More importantly, guys such as Tierney, Forrest and MacGregor want to be around for the next couple of years…for obvious reasons, and everything else can wait.
Mind you, judging by todays Irish Post, we may have to go trough all that trauma again if this guy is right..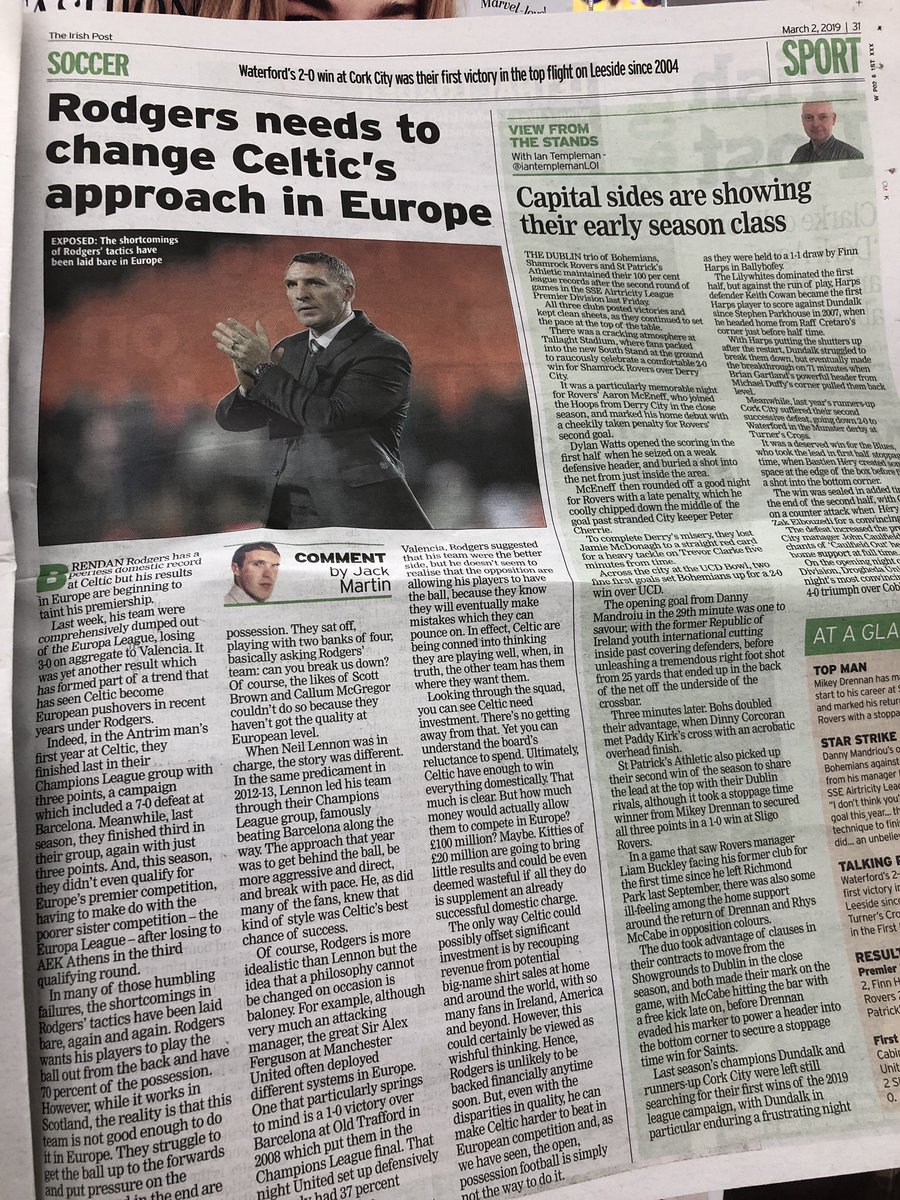 The biggest talking point of the game yesterday will be the bottle throwing incident. Scott Sinclair was the target, and the sun seemed to have identified the perpetrator..
COMPLETE IDIOTS' 
Rangers legend Ally McCoist blasts yob who hurled Buckfast bottle at Celtic's Scott Sinclair
Sinclair was taken ( sic-he means taking a , but it is the Sun ) a corner when a missile missed him by inches before being later targeted by coins
RANGERS legend Ally McCoist has launched a blistering attack on the yob who hurled a Buckfast bottle at Celtic star Scott Sinclair.
The missile was launched at Sinclair during the second half of tonight's Scottish Cup tie between the Hoops and Hibs at Easter Road.
From the picture used, there is even the implication the bottle was handed to the offender by a steward or police officer…
and then , when asked which of them passed him the bottle, they all looked the other way, like a puppy sitting next to a pile of ripped toilet paper..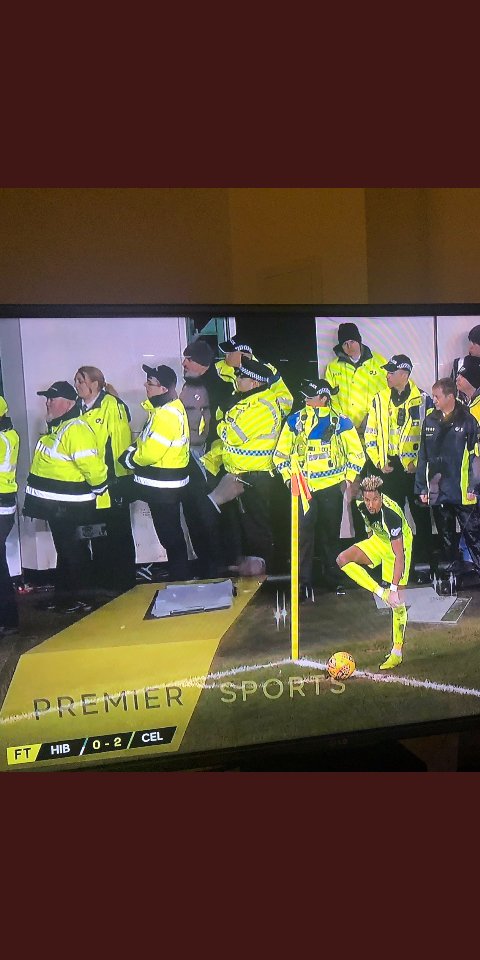 Not one of them moved to find the culprit…
In a way, with the arrival of Lennon and the apparent smoothness of the transition on the pitch, we can now concentrate on other matters, such as stewarding and the safety of players and fans at games.
Something that has slipped under the radar of late is the report into the Janefield underpass crush, which was expected in December.
However, at Easter Road yesterday, the police helped to refresh our memory as to just how useless they are at crowd control..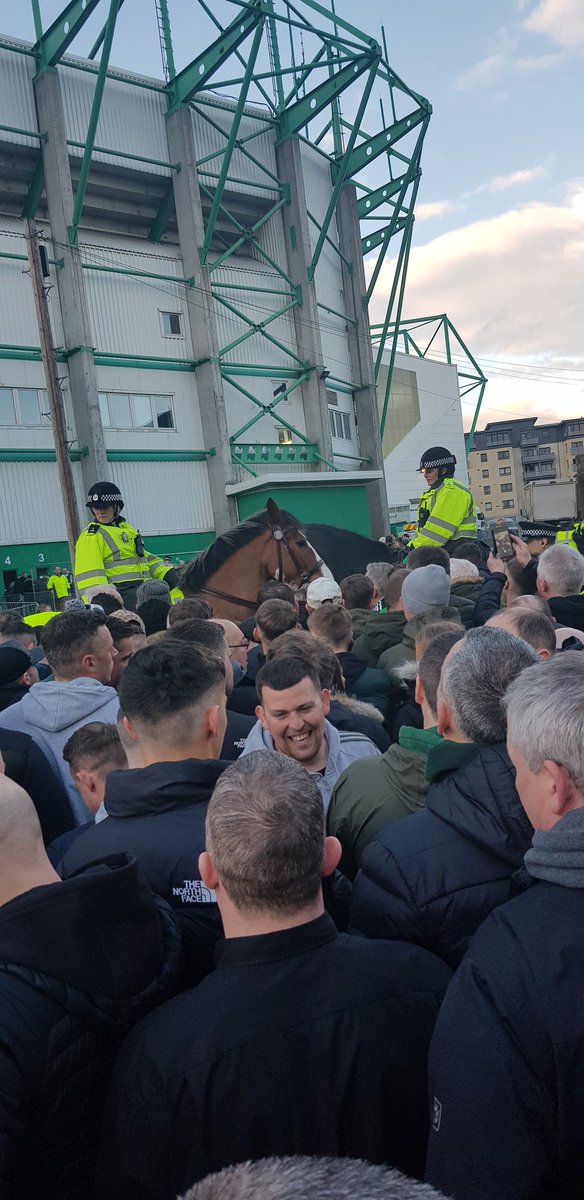 Note how small the queues for entry are behind them.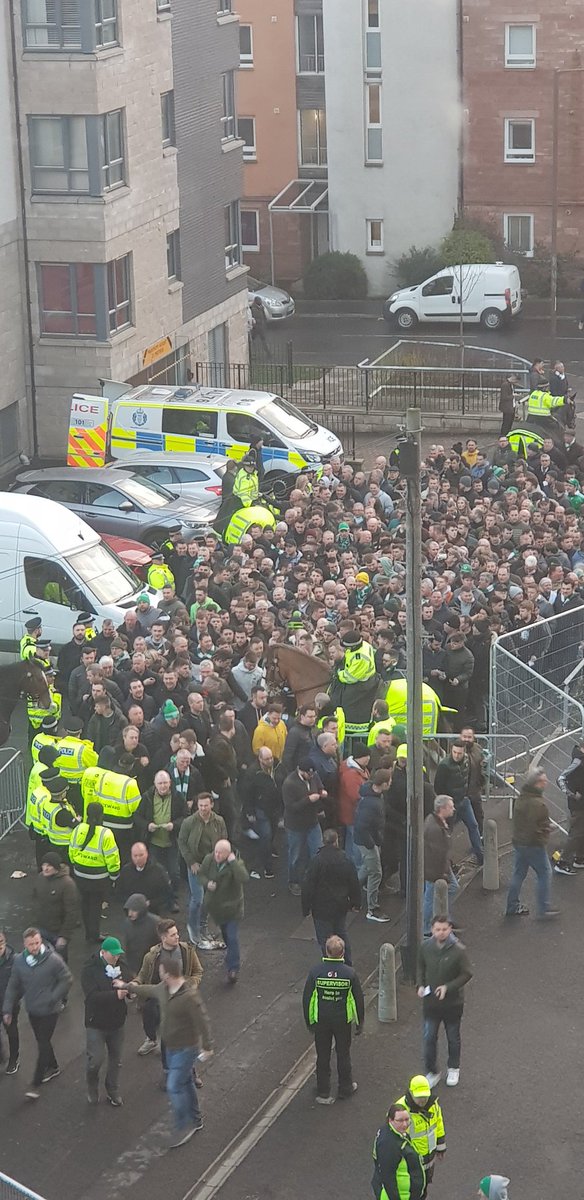 Note the crush ..again.
From another angle..thanks the The Mire CSC on twitter…
Safety ?
Make you walk into a road that still has traffic coming through it. 6 ticket checks. Joke 
Well, no one is laughing.
Anyone else with experience of the this particular instance of crowd control should contact John Paul Taylor, as he is looking into it..
Caption competition from yesterday..
I have to confess that I've no idea about Oasis, my musical tastes centre around bands who make it necessary to buy a full album and not just one song to play on repeat that miore or less would cover their entire songbook, known as the UB40 effect, so i'll take the word of others on this one.
One I did understand..
Today.. maybe he wasn't about to fling it at a Celtic player, maybe the truth is out there..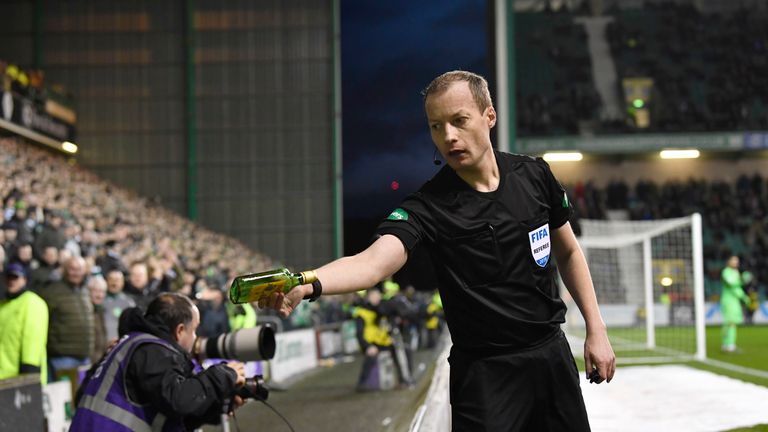 Later today, there's a wee short story from Brian 53 on the site, one of those where you have to will the suspension of disbelief…online from 1pm. Worth a read, its quite layered.