Celtic Diary Sunday February 10: New SFA In The Blink Of A Handshake!
It's Scottish Cup weekend, the drama , the thrills and all the other things that make knockout football the stuff of dreams are on display.
We've already Seen Hibernian, Partick and a reborn Dundee United surge into the last eight, whilst Kilmarnock and "rangers " both live to fight another day after a week of tension between the managers which hasn't improved Steven Gerrards siege mentality as he and his club sek to land their first major trophy.
Having said that, the Ibrox side haven't had their problems to seek after compliance officer Clare whyte banned Alfredo Morelas for three games and offered a two match ban to goalkeeper Alan MacGregor.
When Gerrard complained privately, Whyte was heard to shout "Do you want some as well ? "
Suddenly, someone at the SFA appears to have discovered a set of balls, metaphorically speaking, and the establishment doesn't like it.
Older readers will remember that Margaret Thatcher, who rose to prominence in the late seventies within the Conservative party by trampling all over everyone else, a practice she continued when she became prime minister, would later say that being a woman was too much for her colleagues to deal with.
They were too entrenched in their own misogyny to take her seriously.
One wonders if the blazers at the SFA are having the same issues…
Whatever the reason, she has surprised a few people, and upset many more. Of the people , that is.
I was quite happy to to see someone at Hampden doing their job properly, and from now on I'm a fan.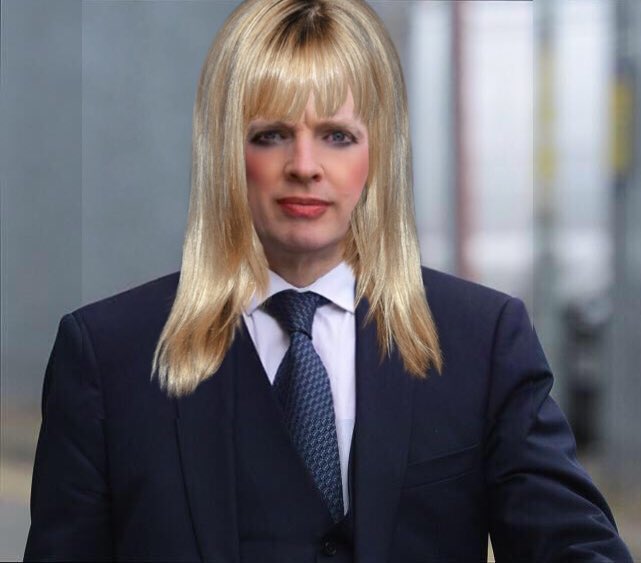 Following her decisions, there was the predictable call to battle from the outraged…
One man demanded a number, so he could give her the rough edge of his tongue..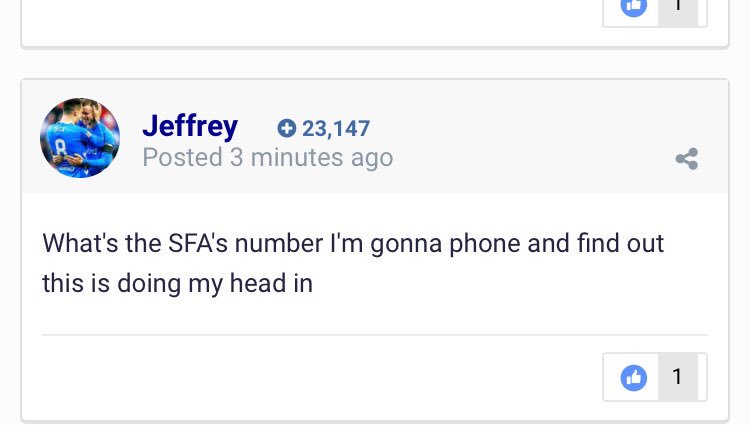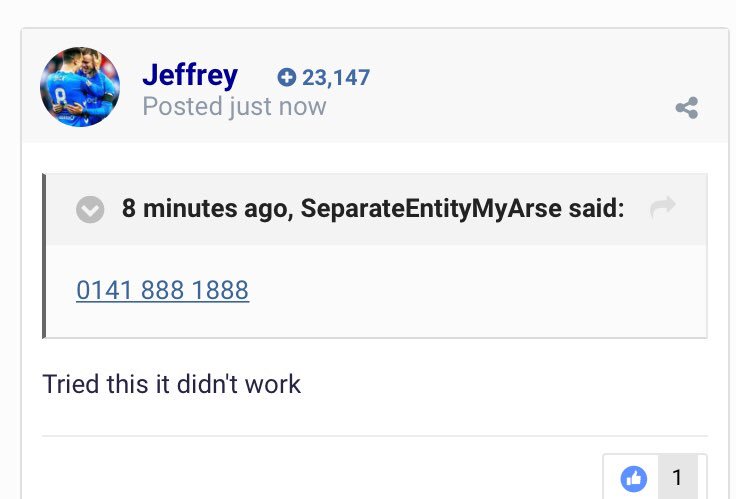 Others simply resorted to type..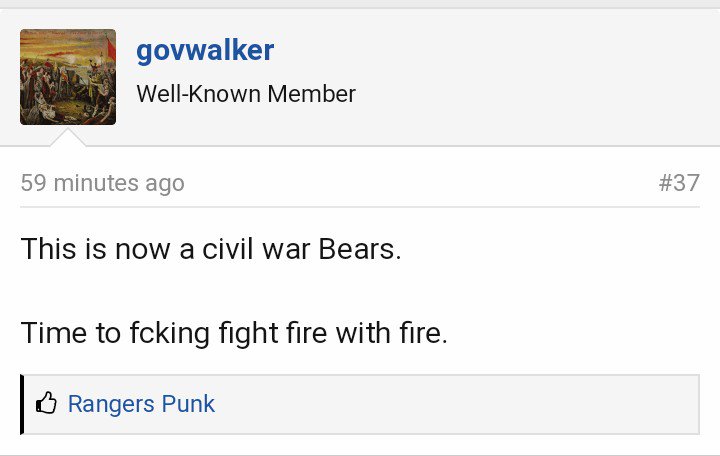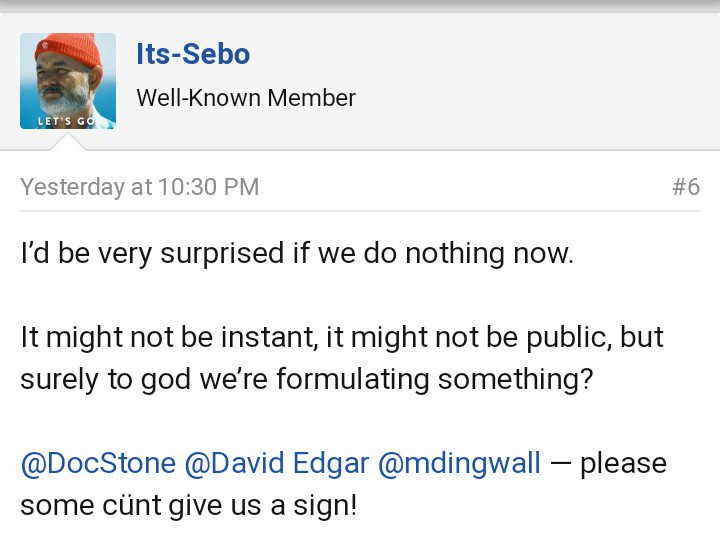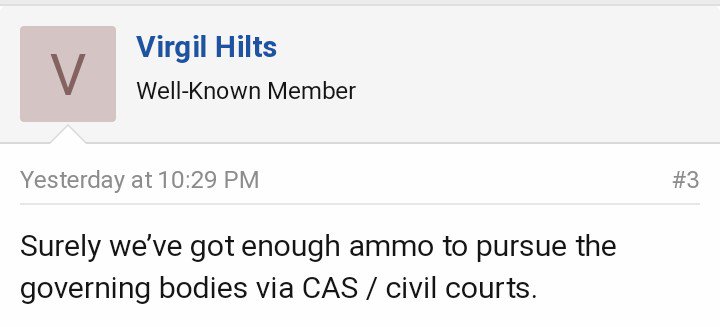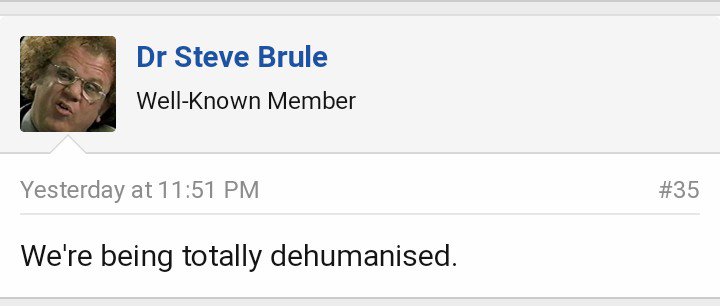 Dehumanised ? They call themselves Bears, for fucks sake.
Hang on, perhaps that logo "We Are The People " is an attempt to convince themselves that are human, as its clear they can be a confused lot.
Needed.
Now is the time for the gaffer and management team to create one, it's us against them all. The MSM, the refs, the SFA, the Compliance Officer, every player and manager of every other club.
Now is time to take the gloves off and show we are back. If you're not with us, not one of us, you're our enemy.
Go on the attack on field and batter the cunts by barreloads. Go on the attack off the park and use every means possible to highlight every injustice and lack of parity. Be it at pressers (do only what we're contractually obliged to), be it to CAS, or UEFA.
It's now or fucking never. And every bear needs to stand up and be counted and do our bit too. Whatever, however, don't let cunts take an inch when having a go at our club. Step up and play club 1872.
Today is a watershed moment.
Let the battles commence. No one likes us, we don't care, but by fuck they need to understand we're back and will take shit as a club and support from no cunt.
Some however, turned to God, because He's one of them..despite what they say about His representative on earth.
I know this has been a tough day, but fear not my fellow Bears! We will win the battle.
We will come out of this the better. As my old chum Isaiah says:
'You became weary on your many journeys, but you did not say, "It's hopeless!" You found a renewal of your strength; therefore you did not grow weak'.
WATP. Never forget that we have God on our side:
'For the Lord, your God, is the one who goes with you to fight for you against your enemies to give you victory'.
I want the players to know that we have been down before. Let them remember the words of Paul:
'We are hard pressed on every side, but not crushed; perplexed, but not in despair; persecuted, but not abandoned; struck down, but not destroyed'.
And to all, the words of Solomon:
'If you falter in a time of trouble, how small is your strength!'
Prepare for the blessings to come, lads. 55 is near:
'They will drink and roar as with wine; they will be full like a bowl used for sprinkling the corners of the altar'.
Join me in a recitation of Psalm 95, line 7.
'For he is our God, and we are the people'.
AMEN
Whatever else you say about Scottish football, you can't deny its entertaining.
I wasn't overly concerned or interested in the Cup. I'm not going to any of the games, but thats a decision that may well be overturned soon if the delightful and fragrant Clare continues to inject this sudden sense of fair play into the organisation.
But there is a long way to go yet.
Back to the Cup, and there's the Hearts and Auchinleck Talbot game to fire the imagination today, Aberdeen face Queen of the South and, of course, Celtic face St Johnstone.
Again.
Will familiarity breed contempt ?
It's one thing to suggest the Perth side will play the same way as in the previous two games last week, but it also presents a dilemma for manager Brendan Rodgers.
How should he approach the game ?
"We have played St Johnstone four times this season, it is only human that you can maybe be blase going into these games having won the games and played well in them.
"We have always tried to train the players with the attitude that every game is different, you have to respect every game.
"We work very hard on excellence in our work and that is not easy.
"Anyone who has been in my position will tell you with respect of how difficult it is, when you are playing well and winning games, how to sustain that.
"But the beauty of these players is that they are very focused, the culture we have is based around that.
"That is the mentality we take into this game and our objective is to get through." 
Several players are returning to fitness, but its unlikely that the manager will make any radical changes.
Scott Bain will continue in goal, presumably until someone scores against him, with Toljan, Boyata, Simunovic and Johnny Hayes making a rare start in place of Izaguirre should he have not recovered from Wednesdays injury.
Keiran Tierney is back in training, but you get the feeling that was just to give him something to do while he rests his hip in the hope it will mean he avoids surgery.
Scott Brown and Calum MacGregor will no doubt keep their places, but its the flexiforwards that hold the key to success.
Most of them will play, but only Rodgers knows in what particular order.
The most important thing today is a win.
The Scottish Cup is the SFA's own showcase, and they really don't like it when Celtic win it.
Especially if it seals a treble. Sorry, another treble..
We've all seen the look on their faces at presentation time in the last couple of years, and it is terrifying them that they may have to do it again.
Secret weapons Bobby Madden and Andrew Dallas have been exposed as not so secret, leaving Nick Walsh in charge today, and although he likes to wave a yellow card around, he's largely unblemished by the reputations and allegations surrounding his colleagues.
Still, there's time yet.
his relatively high card count, just under four a game, may actually be a good thing.
Too often this season, fouls against Celtic players have gone unpunished, and it cannot be denied that this is a contributory factor to the long injury list.
Walsh needs to stamp his authority on the game early, which in turn will stop players stamping on other players.
Back in February, he was the subject of a Daily Record headline..
Scottish football's worst referee revealed and it's not Willie Collum .
However, in keeping with the traditions of this paper, what it actually refereed to was a couple of complaints about him on the hotline, the sports pages  equivalent of the Agony Aunt column, and equally as fictional.
Only the horiscopes are given less attention to content than the Records phone in page, and its rather a distorted view of events as quite simply whoever "takes the calls " will only pick the ones he agrees with.
Try phoning up and saying that Rangers are dead, that Resolution 12 deserves an investigation or that Dave King is about to wash his hands of Ibrox and leave the poor sods who support them open to another round of "send us your money " and see if it gets printed..
Walsh will be ably supported by his assistant referees, Broome and Templeton, and we can only hope that they have do not wish to be tarred with the same brush as their somewhat compromised colleagues.
Scottish football will need good referees when it eventually gets rid of john Fleming, and some of them will be smart enough to realise that there will be a place for them in that brave, new world.
Prediction ?
Celtic should win, though again it depends largely on whether or not the game is put beyond Saints early. Flexiforwarding has meant that the manager has more options, but perhaps there might be a surprise and Celtic decide not to be patient, and go for it from the off.
If they do, it could be five, six or seven.
But Rodgers will stick to what is working, after all, we need the win to keep our treble dream alive, and i'd expect another 2-0.
I'm not great at predictions, but I would venture that I'm better than this guy..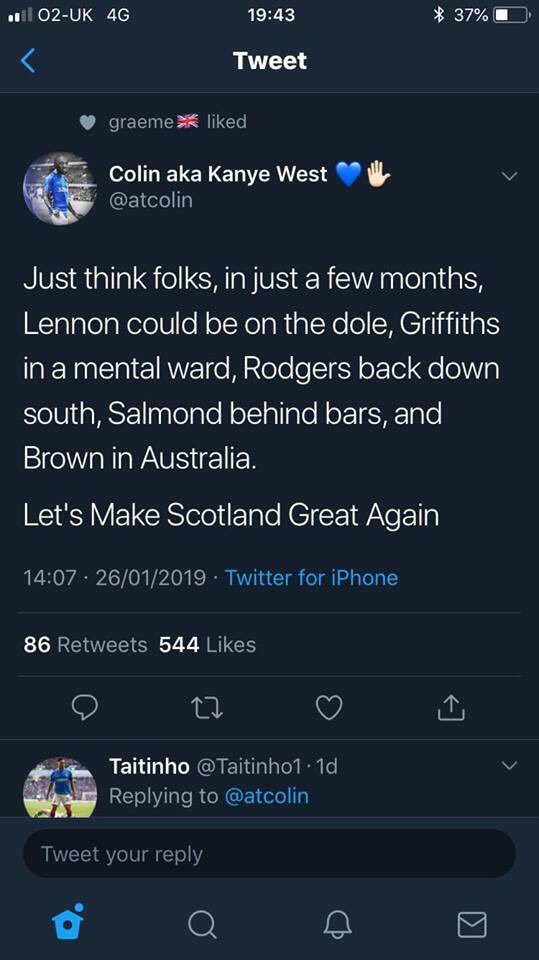 As you know, the diary often calls out the mainstream media when it goes more mainstream than media. Its job is to tell the truth, to report and inform on what goes on, and above all, hold those in a position of power or influence to account.
Gordon Waddell of the Sunday Mail deserves praise for his piece today, which criticises the SFA and its inconsistency in upholding the rules of the game…and he mentions the treatment of John Beaton, who is still in a living nightmare after horrendous text messages put him in fear for his life.
A process that tells us you can't re-referee games over incidents seen and dealt with by the match ref.
Example: John Beaton in the Old Firm game, still blowing in the wind the SFA hung him out to dry in.
Yet also a process which has done exactly what they say they won't do on at least three different occasions now. And it's hard to see which part of the incident Bobby Madden didn't see clearly from his completely unobstructed view. Again, that's not
to say the decision arrived at by the compliance officer and panel wasn't the right one. But it's the "make it up on the hoof" aspect to what gets dealt with and what doesn't that's earning the system the caning it's getting. 
With the police ignoring Beatons predicament, and still failing to find the evil perpetrator behind his ordeal, Waddell at least reminds us of the life that Beaton is forced to lead until this person, or people are found.
And the media need to keep reminding us, and put pressure on the police to apprehend the villain , so that John can return to his everyday life, so that he doesn;t have to look out of the window every morning and wonder if today wll be the day…
On Friday we had this picture..
"LRA Training Instructions. Can be opened on sunny evenings in a blink of a handshake." 
The blink of a handshake…now there's a title..
Today…