We're going to make an arse of this window as well, aren't we ?
But there is some good news. Something that makes a Celtic supporter remember that we truly are a club like no other.
World class, in fact, in everything we do.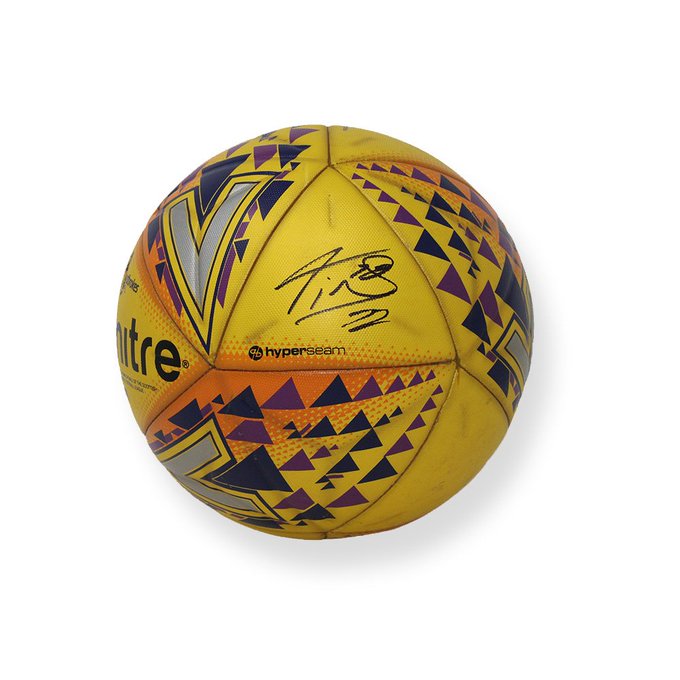 This is a signed matchball. signed by Timothy Weah, who, as talented as he is, has yet to complete a full ninety minutes for the club, and will almost certainly never complete a full season.
In fact, technically, he's not even our player.
But you can buy this ball, from the club shop, for just £150.
Its been a long time since I've trawled through the merchandising wing of the operation, and of course, its entirely down to the individual if they want to buy anything on there, but sometimes, someone should just have a wee look at what they are putting out there and consider the image of the club they are promoting.
The Celtic club store, incidentally, are considering a new uniform for their staff , to reflect more accurately their relationship with the consumer.
Anyway, back to the transfer window.
Among the hysteria surrounding the recent inactivity , Shved apart, its gone almost unnoticed that Filip Benkovic picked up more than just a sore one against Hamilton on Saturday.
He is now either going back to Leicester, out for several months or confined to a wheelchair for the rest of is life.
Depending on who you believe.
Dedryck Boyata is having problems with his abductor, who is refusing to allow him to sign a new contract at Celtic as he has months to make up his mind yet, and sooner or later someone will put in an offer to him.
Boyata, of course, routinely sulks during transfer windows, and this time is no exception.
So, thats two central defenders down, leaving us with Jozo Simunovic, who hasn't been injured for ages, so he's due one, and Kristoffer ajer, who keeps forgetting he's supposed to be a central defender, and has been told to get rid of his Roy Aitken dvds as thats " not fucking helping matters "
Nir Biton could step in, as could Jack Hendry, but you must forgive me if I can't quite accept that we seem to be in one of those temporal time loops where we're forced to live the same scenario every time there is a chance to improve the squad.
Yes, its difficult to persuade top players to come to Celtic for less money than they could get elsewhere.
And yes, there is little attraction in living in the cold and wet northern territories.
Players will up the price to move to Scotland, whether we like it or not thats what happens. We'd be paying average players over the odds to ply their trade in Glasgow.
Big names and big wages ?
That only used to happen on a regular basis when the non payment of tax was an option.
We're not the major attraction we sometimes think we are, and although we've got these nice new lights and a reputation as having the ground with perhaps the best atmosphere in Europe, that alone will not have most players plumping for a few years in the SPFL, where its common knowledge that the game is fucking rigged anyway.
But that doesn't mean we shouldn't try. The latest on our list, and he's some way down the list, is the lad from Borussia Dortmund. The right back.
Here's what he were told…
Great.
We're in for the German Tony Ralston.
We're making an arse of this window, aren't we ?
Scott Brown looks set to sign a new deal, which is something.
I suppose even our scouts couldn't fuck that one up.
Ewen Henderson has signed a new deal as well.
Letting another Henderson go without giving him a fair crack of the whip would show a level of incompetence that even I didn't think possible.
With what we learned from our tried and tested sources, and a few drunks we've bumped into, well, that have bumped into us, we think something has gone wrong again, or perhaps we are encountering obstacles that have been placed in our paths.
As with the John McGinn debacle, perhaps Scottish clubs don't 'want to sell us their best players any more, especially having seen what happened to Dundee united when Celtic plundered their front line of Amrstrong, Cifcti and Mackay Steven.
They're still in the league below.
With only a few exceptions, most players from Europe will be reluctant to move to these isles while there is still a chance they'll be told to return to where they came from, if not by the government then almost certainly by a few flag waving locals.
However, thats not to absolve the club and its recruitment department from any blame.
There is an entire department set up , and presumably quite well paid, to deal with these and any other problems.
If they cannot overcome these issues, then get someone in who can.
Yet again, its beginning to look like they've fucked it up.
They work on this, or at least , they are supposed to work on this, full time.
All the time, and yet window after window we see the same problems, and the same results from the same people.
And, of course, the same excuses….
Rodgers yesterday…
There is a squad here who have been highly successful but you always have to evolve and thet best time to do that is when you are succeeding," 
"It's a challenge but most Scottish teams will find that.
"To bring in a big player on a big salary is very difficult. There is a level you can't reach without putting your club at huge risk. That's just the reality of where it's at.
"It's still an incredible league to come to. There's a lot of negativity around the transfer window but you need to have that resourcefulness to maximise what you have. You always have to push to get the best players you possibly can.
"The climate and the financial side of the game elsewhere, in Europe and down south in both the Premier League and Championship, is making it really difficult.
"You get Championship clubs who will pay players £50,000 a week. That's impossible for us to compete with.
"You learn to try and have patience in the window when you can. At the same time, you want to push to progress.
"I've always tried to be philosophical about it without getting too dragged down by it. I go back to the players you can afford to bring in and trying to make them better." 
This £50,000 a week for championship players…it is far from the norm.
And its unsustainable at that level , so unlikely to be anything more than a result of a team dropping into that league, such as Stoke City..(from 888.com, )
According to reported figures, Stoke have nine players on their books who are earning £50,000 a week or higher. That figure is not sustainable in the Championship – it may be possible for a season or two but Stoke will begin to feel the bite financially if they fail to secure promotion back to the Premier League. 
What it fails to mention… as does Brendan, is that a relegation is usually included in a players contract and it usually includes a massive drop in wages.
Thats just common sense.
Just as it is common sense not to spend money just because its burning a hole in your pocket.
If the right players aren't available for the right outlay, then we'll just have to face up to that, and deal with it.
The long list of players who have been brought to Celtic and failed to make the grade is perhaps evidence that work is needed on the selection process. Fortunately, when the club gets it right, we get real quality that when sold on gives us the luxury of being able to afford to continue to gamble on lesser known players.
It does seem, however, that right now Peter and Brendan are sitting down with the Manchesyer City and Paris St Germain under 21 squad lists, and whilst there is quality in there, its not where we'll find the experience we need.
As supporters, we know that. All the stupid fans in Glasgow where blue.
Aye, looks like no one was surprised.
So perhaps we should offer Mikael Lustig that extra year.
He's our only experienced defender.
We are led to believe that Benkovic is not as badly hurt as is feared, or hyped, depending on which outlet provides you with information.
But he isn't our player, and if anyone at Leicester has a read through our list of injured players for say, the last few years, then he'll be pulled out of here quicker than a side letter at a tax assessment.
We've been harping on about the injuries for months now, there can be little doubt that something is wrong, and as my mate who supports the Glasgow Warriors said the other day (see previous diary ) its time to get an independent sports scientist or physio or even a fucking homeopathic consultant in to assess with a fresh pair of eyes exactly what is going wrong.
At the very least, it can't hurt to have someone just look at training methods, nutrition and even the standard of medical diagnostics and after care on offer.
Someone who doesn't already work there, that is.
Anyway, Celtic play their game in hand tonight when St Johnstone come to town.
Tommy Wright's team have improved since their 6-0 defeat at the hands of Celtic earlier this season, and can be tricky opponents as they like to break out of their own half every now and then, even when they are told not to.
Scott Bain looks set to continue in goal, Mikael Lustig is our only fit recognised first choice defender, so we'll probably see Simunovic, ajer and Izaguirre complete the back line.
Scott Brown and Calum MacGregor will continue as the two midfielders, while up front we should see Oliver Burke supported by Sinclair, Forrest and Christie.
To start with that is.
Then the Flexiforward policy will kick in after about an hour when any two from the bench will be sent in to capitalise on a tired defence.
Thats how to deal with the bus parkers , and one positive aspect of the transfer window, probably already forgotten, is the strength in depth up front that should make those frustrating draws of early season little more than an uncomfortable memory.
Prediction ?
Simunovic injured, Burke sent off  and new signing Matyan Shved, who used to live near Chernobyl in the Ukraine, to be revealed in a glow of soft green light which he's been emitting since childhood, when he could read in bed without the light on.
Caption competition time, and yesterday we had this…
Today..