It looks like we were right when we told you Brendan was in complete control for this months transfer window.
Two loannees, Burke and Weah, were joined yesterday by the latest European goalscoring phenomena
Bayo departs for @CelticFC! The 21-year-old attacker Vakoun Issouf Bayo has today left the DAC for an undisclosed fee. #GoodluckBayo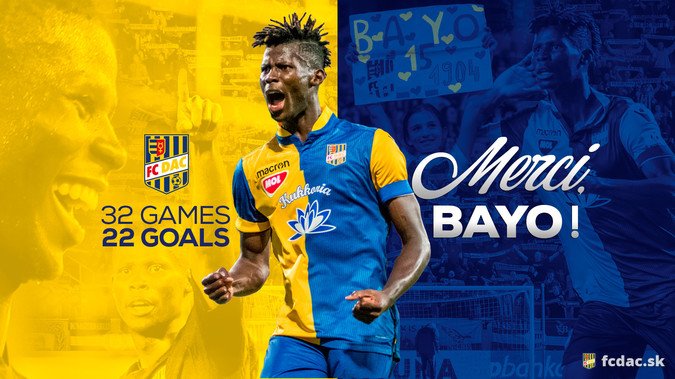 An undisclosed fee of around £2m, that is, and if you put his name into google and watch what looks like a man with the pace of Bobby Lennox, the heading ability of John Hartson and the instinct of Henrik Larsson show you why Lubomir Moravcik rates him.
He's not bad, you know.
With the attacking options strengthened, midfielders more or less in abundance, all eyes turn to the defence. Alright, take your hands off your eyes and turn them to the defence.
Well, there may be another midfielder…

Columbus Crew defensive midfielder Wil Trapp looks set to leave MLS! Scottish champions Celtic FC are reportedly interested in him. Trapp recently posted a photo on Instagram of his Greek passport. #Crew96 #Celtic #USMNT #MLS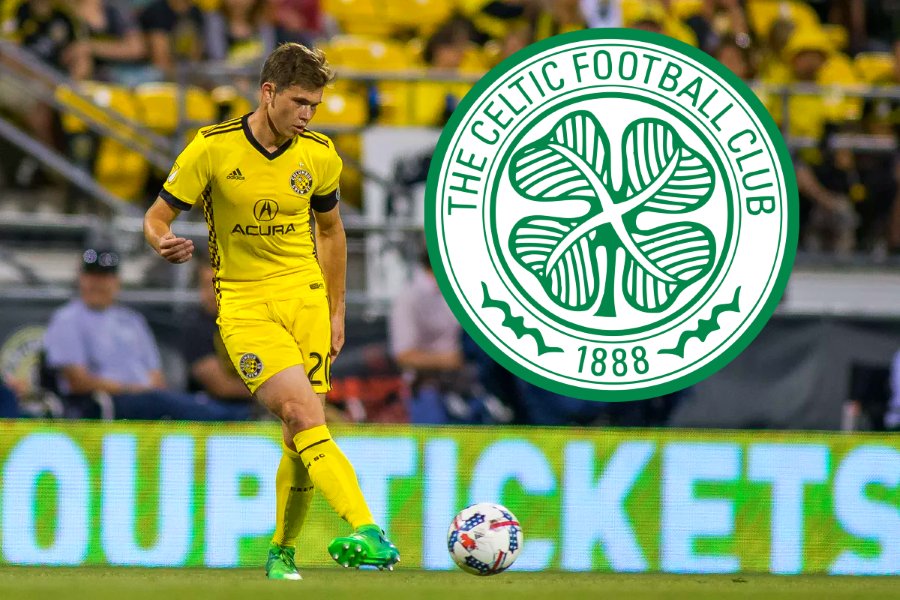 There is a need for improvement at the back, and there are two defenders on the radar. There is a third should Boyata be sold this month.
Add to that what we already have and we might just get the treble treble, which will please David Bowie as he'll be on a cut of the royalties from the celebratory hit single. Well, if he was alive it would.
And to think some people were moaning just over a week ago. some people wanting rid of the manager and slating our glorious leader, the CEO of CEOs Peter Lawwell.
Hang you heads in shame!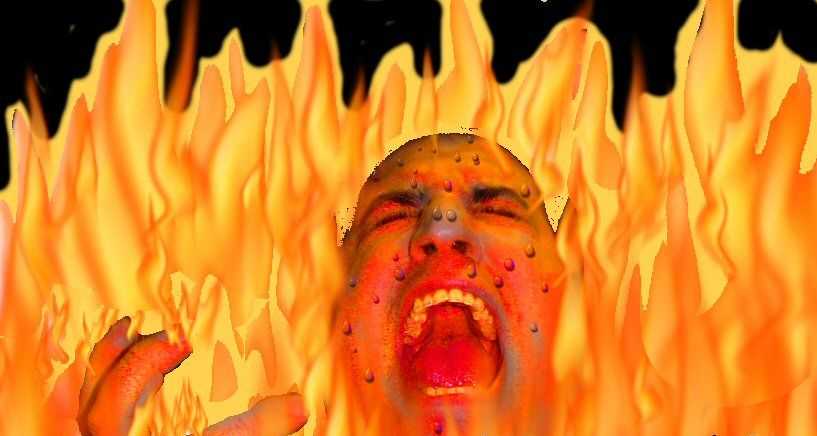 Some of you may recall the diarist expressing one or two doubts himself, but he now declares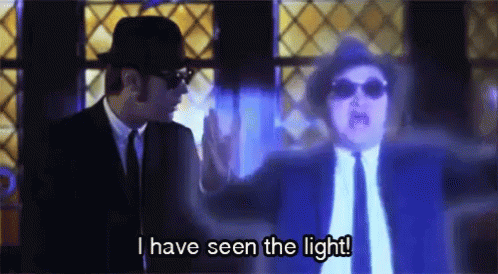 which is usually what happens when one pulls one's head out of one's arse.
So far, then , suffice to say its looking good Brendan…
Timothy Weah has spoken of his desire to get started..
"I am in love with Celtic so I am really happy," 
"It was a great feeling getting to know a new team and new coaching staff. I can't wait to get on the field and play in front of those wonderful fans.
 "It is a wonderful moment for me, and such a blessing with such a great coach like Brendan Rodgers to lead me in the right direction. He and rest of the coaching staff are going to build me and form me into a really good player, and my team-mates are going to help me mature." 
His Dad, now president of Liberia, was so proud he even dressed accordingly while on duty…
Some of you may remember tim the tim…

Bayo's club seem quite happy with his destination…
Bayo himself was spotted enjoying a quiet moment of reflection on his move to Glasgow…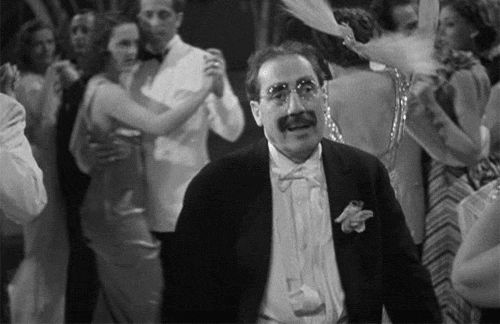 Of the players already at Celtic, Ryan Christie, who is more or less a new signing himself, spoke of the challenges ahead…
The break was nice, but it's only after so long that you want to get back in training, get back in with the boys and get back to full fitness," 
"The facilities we've got at the training camp are amazing, and it's been brilliant so far.
"After the disappointment on the 29th, we took a second to recap and realised – we're in the last 32 of a European competition, we've won a cup, we're top of the league and with a game in hand.
"We're still in a very good position, but there's obviously plenty of work to do coming up. We want to make this a really good season, and we need to keep working hard to achieve that." 
There's a bit more of everything at the winter training camp," 
Corner kick practice ?
"At Lennoxtown in December, it was a case of maintaining things. There wasn't always the time to have full training sessions when you factor in games and recovery time, whereas out here, we need to be back to top fitness. The gaffer also wants to enforce all the tactical elements he wants us to work on, and to get us up to speed tactically for the rest of the season.     
And to practice corner kicks ?
"Ollie did his first session with us yesterday. I'd never met him before, but I think a few of the boys had played at Scotland Under-21s with him. He was showing his quality already, he's got the ability to become a fantastic player, and I'm sure the move here will only improve him. You can see the way that he runs, he's positive on the ball and I've no doubt he'll settle in well with the squad." 
Can he take corners ?
So, with the strongest squad in Scotland strengthening for the eighth consecutive title that will break the spirit of our latest challengers, how have they reacted ?
Worryingly, they have left the seventeenth century and moved into the twenty first by hiring a couple of the new, hi tec drone footballers…
Only the heads are interchangeable….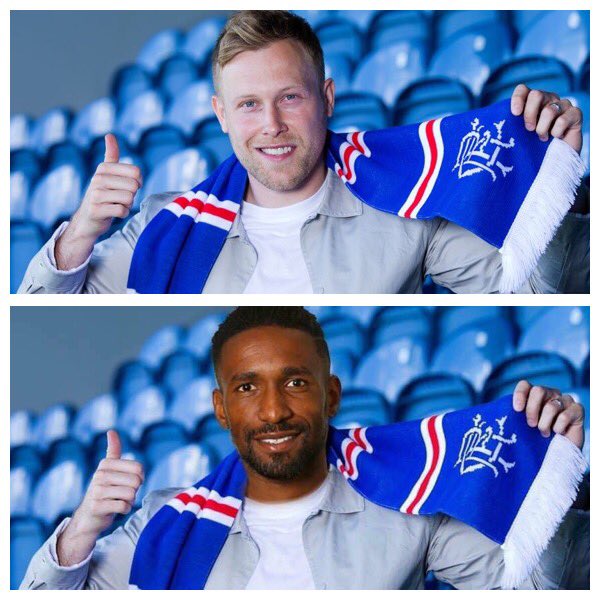 Though one of the drones may be sent back for a reboot as it appears one of the jokers in the factory had a bit of a laugh with some ink….
On a serious note, does Jermaine Defoe OBE ( Off Before Easter ) realise what he's getting into ?
For example, can he ever hope to reach such idolatory status as one former player still holds…
What the fuck does this mean ?
Does he fit the profile of player demanded by their support, many of whom remain entrenched in the distant past ?
Will he even fit in with his teammates ?
The recent furor over Crystal Palace goalkeeper Wayne Hennessey's Nazi salute… thats this one,
not this one…
is nothing compared what they do at Ibrox…a far more subtle nod to their like minded chums from the thirties..
You have to feel for that fellow Hennessey, he thought he was joining a club called Crystal Night..
Last word on it, will Defoe be able to  understand the strength of feeling behind this,  a staunch declaration of loyalty that makes absolutely no fucking sense whatsoever…
you know what is significant though, and perhaps the greatest indicator of how this season will end up ?
All the signings at Ibrox are coming in to win the league. Its all they speak of. As though its a done deal.
All of ours talk of being willing to work hard and learn. 
If its a question of attitude, then that of our new players wins hands down..
Elsewhere, a report in the Daily Record suggests that the referees won't be going on strike after all, ruining what promised to be the best January ever.
Referee rage as John Beaton and Willie Collum believe SFA have thrown them under a bus
And , unsurprisingly, neither of them spotted it.
Scotland's top referees believe they are being hung out to dry by their SFA bosses after a string of mysterious inconsistencies that have left them facing the fury of fans across the country. 
Thats a fair point. By not promoting them on merit, and making sure they knew all the rules, running background checks to prevent perceived bias, the SFA have left the incompetent cheating bastards open to criticism.
A special Record Sport investigation has established, despite claims they are on the brink of a second strike in eight years, there is in fact little or no appetite among the officials to call for industrial action and wreak havoc on one of the most competitive top-flight campaigns in years. 
Thats quite simply because they won't be missed.
But it is a fantastic opportunity, joking aside, for them to expose the SFA shortfalls in assuring that they are trained to the best of their abilities, and the few bad eggs in the refereeing system. such as chief John Fleming and his brotherhood of men , are thrown out.
Daft as it seems, the refereeing community could be a powerful ally in the fight to won our game back.
but, of course, the Record investigation won;t go that far, but if it did, and helped to put pressure on those who run our game for their own benefot, might yet be ousted…
But we have learned of serious unhappiness behind the scenes over the actions of recently appointed compliance officer Clare Whyte and in particular with her treatment of two of the most high-profile whistlers in the game – Willie Collum and John Beaton.
Collum came under furious fire earlier this season after sending off Rangers winger Daniel Candeias in the closing seconds of a dramatic late win at St Mirren. The Ibrox outfit then turned their guns on Collum by releasing a withering statement in which they referred to unexplained "underlying issues" which need to be addressed.
And Beaton and his family are currently under round-the-clock police protection after the fallout from last month's Old Firm derby. 
Well, he will be. It deflects attention away from his actions, no doubt encouraged by his overlords, during several matches this season.
By the wya, its been ten days…I'm guessing no one has been arrested yet, and when it is all shown to be a waste of thime, the SFA will foot the police bill….
The referees do need help, they cannot be seen to be impartial while there are clearly one or two who aren't. The others perhaps need a wee bit of help doing their jobs, and paerhaps a bit of patience from the supporters of all clubs.
And, indeed the clubs themselves.
So, how about the papers asking the real referees to step forward and state their cases ? Lets finmd out what really happens when someone wants to be a referee….
Although its already clearly documented by Paul Larkin in his Anyone But Celtic books….it would be nice to get it into the mainstream.
Yesterdays caption competition…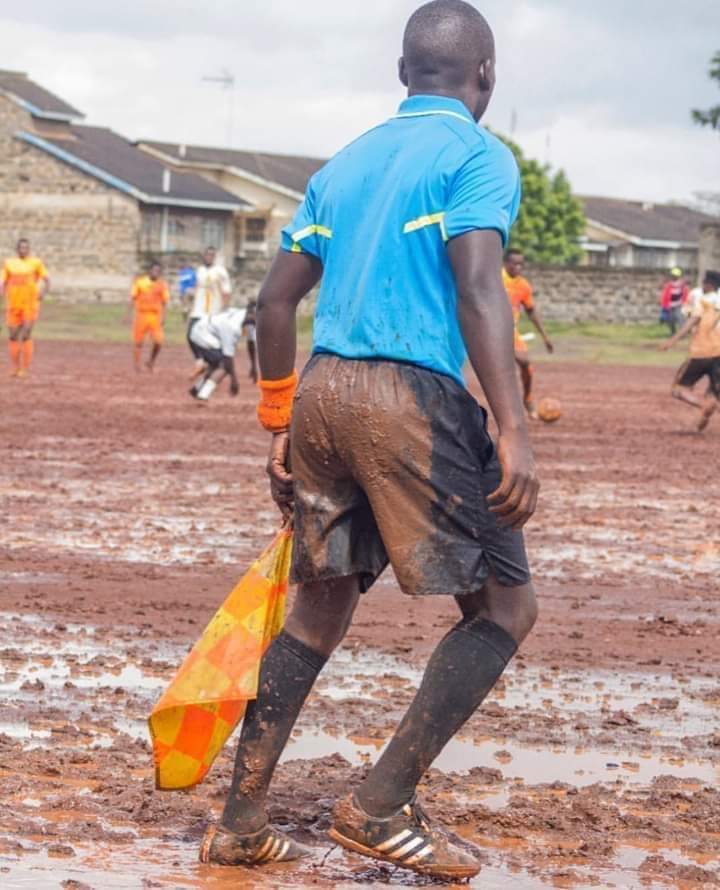 Today…