Its not a Champions League game, but that won't make any difference to the atmosphere at around eight o'clock tonight.
Lights, music and hopefully a bit of action as Celtic set out to earn the point that will ensure European football after Christmas.
But we're not going to go out to earn a point, are we ?
Brendan put our minds at rest…
"It is unworkable (to play for draw), as a coach, a manager…especially when your game is based around an offensive game and aggressive game. Our intent is always to go and win.
"Of course there are certain stages in the game, especially towards the end when you are in an advantageous position when you can manage the game.
"But I think it is always dangerous to go into a game thinking you only need a point, especially for us, a team that really play a pressure game. If we come off that pressure, then it is always difficult for us. "I think it going to be a very difficult position for us.
"Some people say you only need a point, but they have won five out of five games, one of the few teams in European competition to have done that.
"I am sure, for them, the motivation will be come to try to make it six out of six.
"They have been very impressive over the last couple of years, they got to the semi-finals last year and I am sure they come not wanting to blot their record. We know it's a tough game." 
Salzburg manager Marco rose insisted his team aren;t coming to glasgow to see the pretty lights and to hear the sing song…
"Obviously Celtic will have more supporters than the last game in Salzburg but that is what we are looking forward to, the atmosphere. 
"It is clear that Celtic need a point but we want to play a good game so Celtic have to earn that point because we will give everything.
"We have reached our most important goal already, we have advanced to the knockout stages. 
We are in first place but it is not all about winning six games, we want to be part of a great game tomorrow.
"I think everyone who comes here tomorrow have earned that right to experience a great game.
"It is a very cool stadium, you can feel the atmosphere even without the supporters. Even in the locker rooms you can breathe in the atmosphere.
"The supporters are notorious, amazing. We are happy to be here, but we also want to show that we are rightfully here." 
Ach, don@t worry about it. He should look at it as a sort of christmas night out for the lads, and maybe even a chance for them to do a wee bit of shopping while they're away from their wives and kids.
But they won't , and they are a very good side.
But then again, so are we when we want to be, and inspiration shouldn't be a problem for the Celtic players, as once again they are asked to produce on the big occasion.
Do we do predictions ?
Not really, not this time, though I'd hesitate to suggest we'l get that elusive 7-0.
A win is possible, but I'd say its more likely to be a draw, high scoring, or a single goal victory.
Whatever happens, it'll be as exciting and nerve wracking as any other night under the lights in recent years.
( 0-0 it is then )
Leigh Griffiths will be out of contention for a place in the side for a few motnhs after the manager revealed he has one or two personal issues to deal with.
Senior players stepped in after an undisclosed incident which the manager then dealt with. As he explained ;
"A couple of the senior players rang me when I got to know about an incident that happened," 
"I was then able to act from there.
"Yes, there was [an incident which brought things to a head], which points towards really needing help and support in order to make himself happy. He wants the help. When you have these incidents – and it's been ongoing over a considerable period of time – there comes a point when you recommend that this is what we do. But we will get an assessment of where he is at professionally then put a plan in place for him." 
"Sometimes you have to be harsh to be kind so he has had the full spectrum from me," 
"But he knows deep down what I think of him.
"He's great guy. He is what he is. I love that about him. He's a little rogue, he's cunning, if there's a different or short way to do it, he'll do it.
"But I like that in players at times. Lots of supporters will relate to him.
"He's a big talent, who has unfortunately suffered over a period of time. We're hoping we can help him here and get him back to doing what he does best, which is enjoying his life and being a father to his kids, and showing his talent on the football field.
"There will be players who don't have his nature and have issues.
"But I have a lot of time for him and he's a great boy and we have spoken in confidence many times about a number of aspects of his life."
A wee break may do him good, and often, although those around him may have known about his problems, the man battling the demons thinks he's alone, and now, thanks to this intervention, Griffiths can take time out to get back to where he was.
On the nine minute mark tonight, a wee sing song and a round of applause just to let him know he's not alone could well do the world of good.
We wish him all the best.
After a couple of weeks of uncertainty, the club have decided to take tickets for Ibrox after all, and made an announcement on the official website yesterday;
FOLLOWING the decision to reduce Celtic's ticket allocation at Ibrox Stadium for our match on December 29, 2018, we can confirm that the 750 tickets received by Celtic will be distributed through the usual allocation process. 
All relevant information for this match regarding ticket distribution will be available shortly on www.celticfc.net.  
We would ask that supporters who are attending are fully aware of all matchday, safety and travel information which will be issued prior to the match. 
It seems tickets will be picked up on the day of the match, and then supporters will be bussed to Ibrox, and taken back after the game.
Supporters are advised to wear protective clothing.. against the deluge of body fluids…
the darts, batteries, coins and golf balls…
and of course, something to help avoid the inevitable songs of racism, child abuse and hatred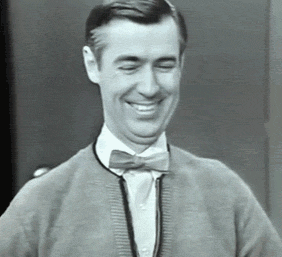 Of course, there is little doubt that Celtic fans will behave, as they always do on their travels. Its something we can rightly be proud of.
That lot, however, seem to take pride in their notoriety, without ever making the connection that its the main reason for, well, the way they are welcomed abroad.
Here's one..
Here are some more… who have been kicked off a flight to Munich..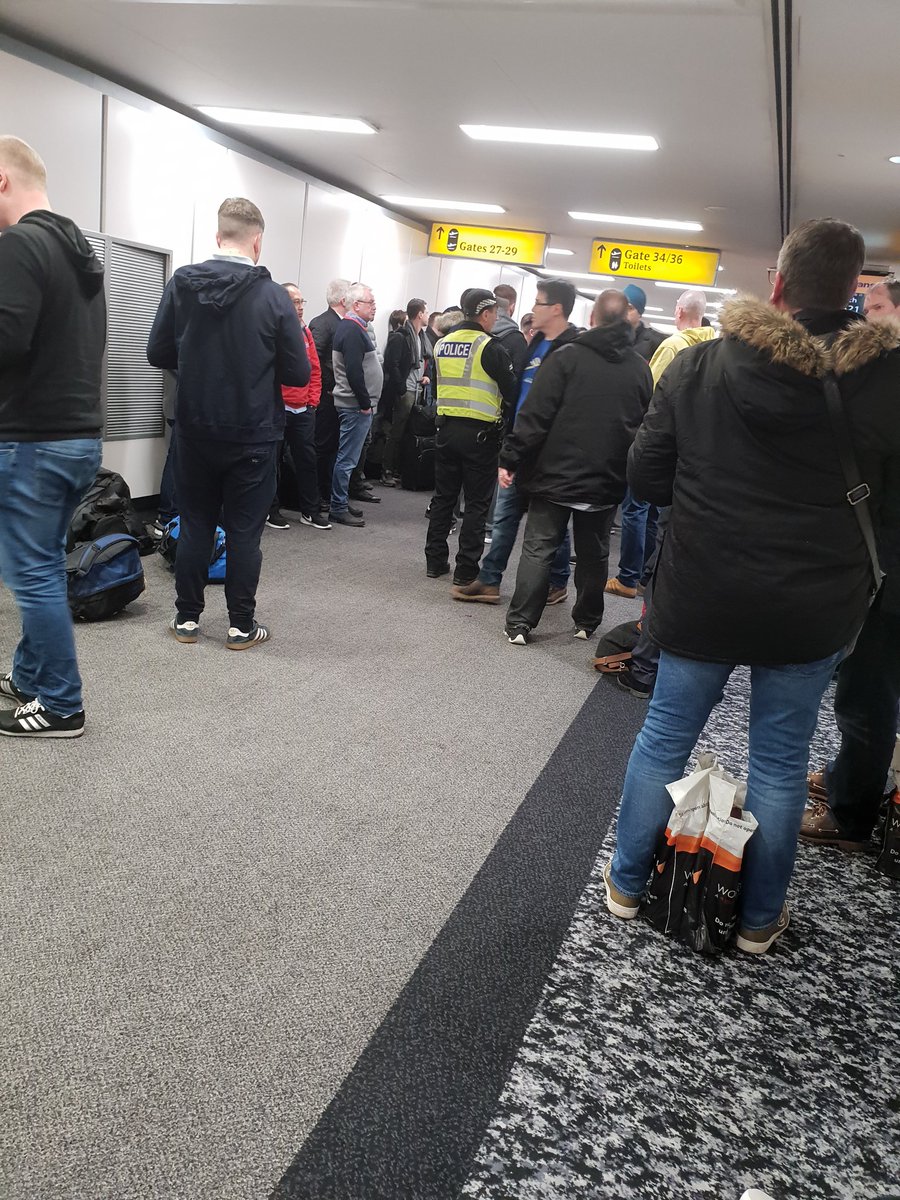 Here they are in Austria, singing about ten German bombers…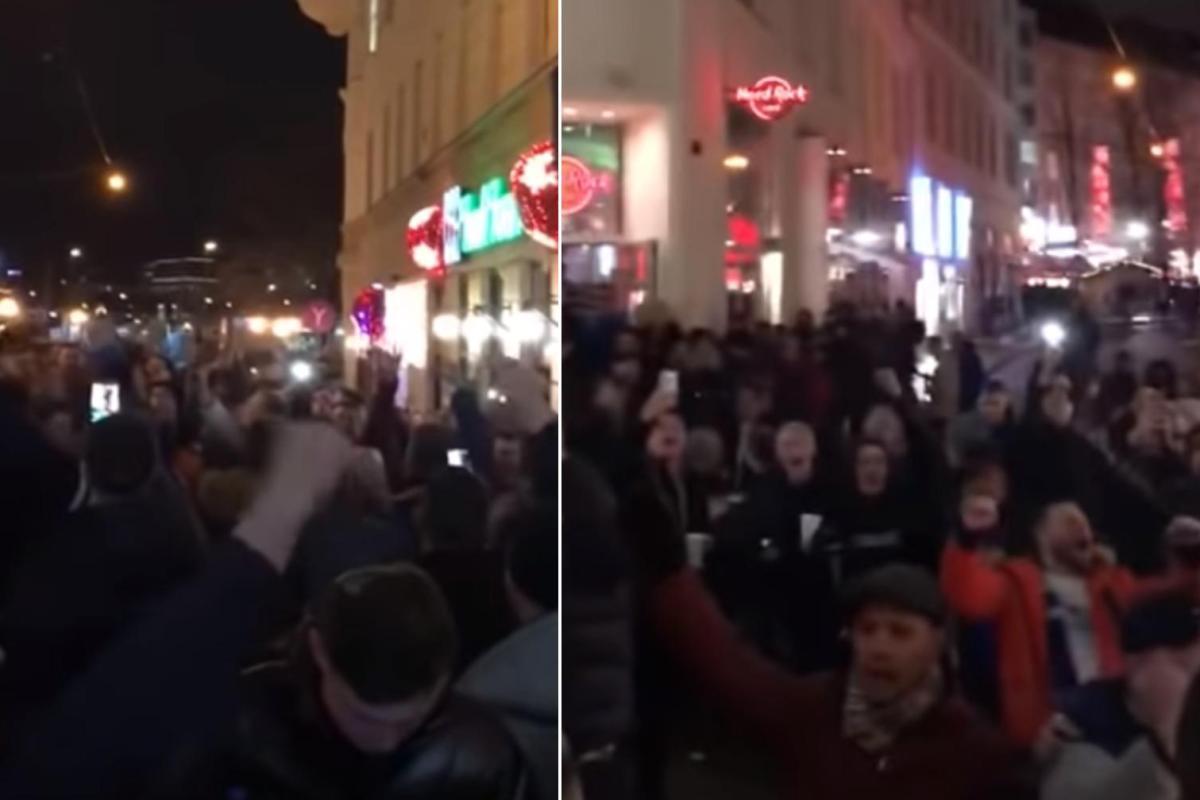 And here they are in Amsterdam, still not quite sure why they are getting the shit kicked out of them..
Lets just hope they never discover the identity of the pilots behind their exclusion from the plane…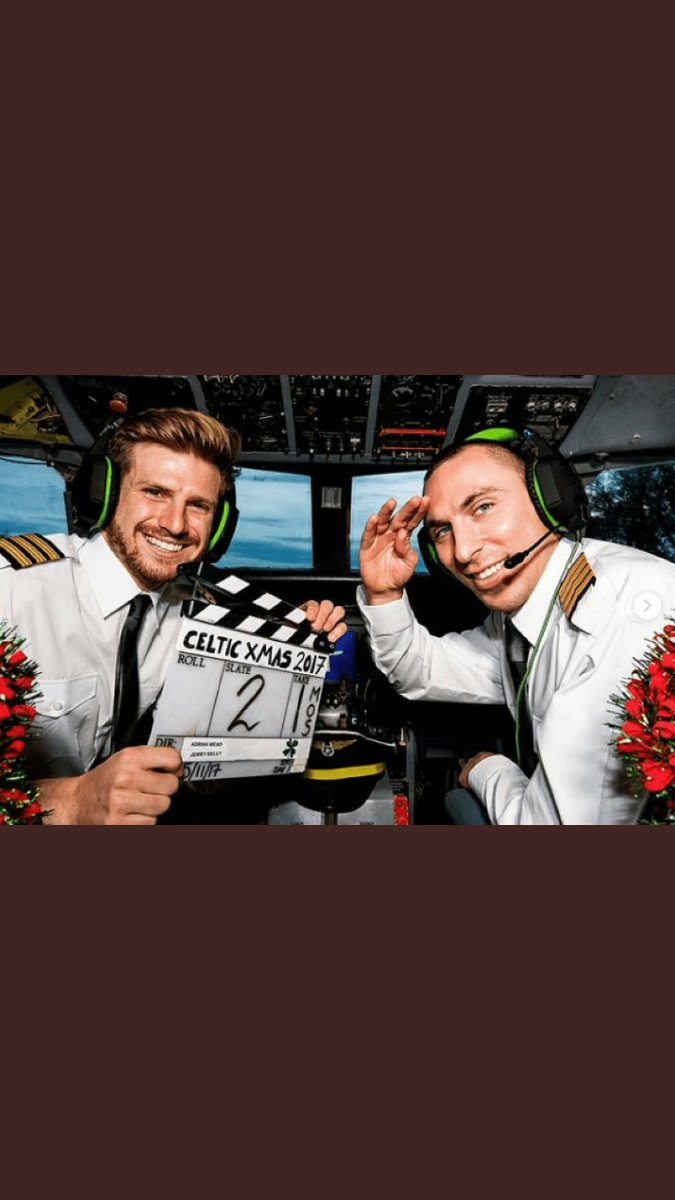 One wonders if its time for the SFA to prevent foreign travel for them, as they don;t seem to be able to behave themselves, and the chairmen of other clubs must surely be aware by now that the very brand they are trying to protect is intent on damaging the whole product line in the eyes of the world.
After all, their only concern is about getting caught…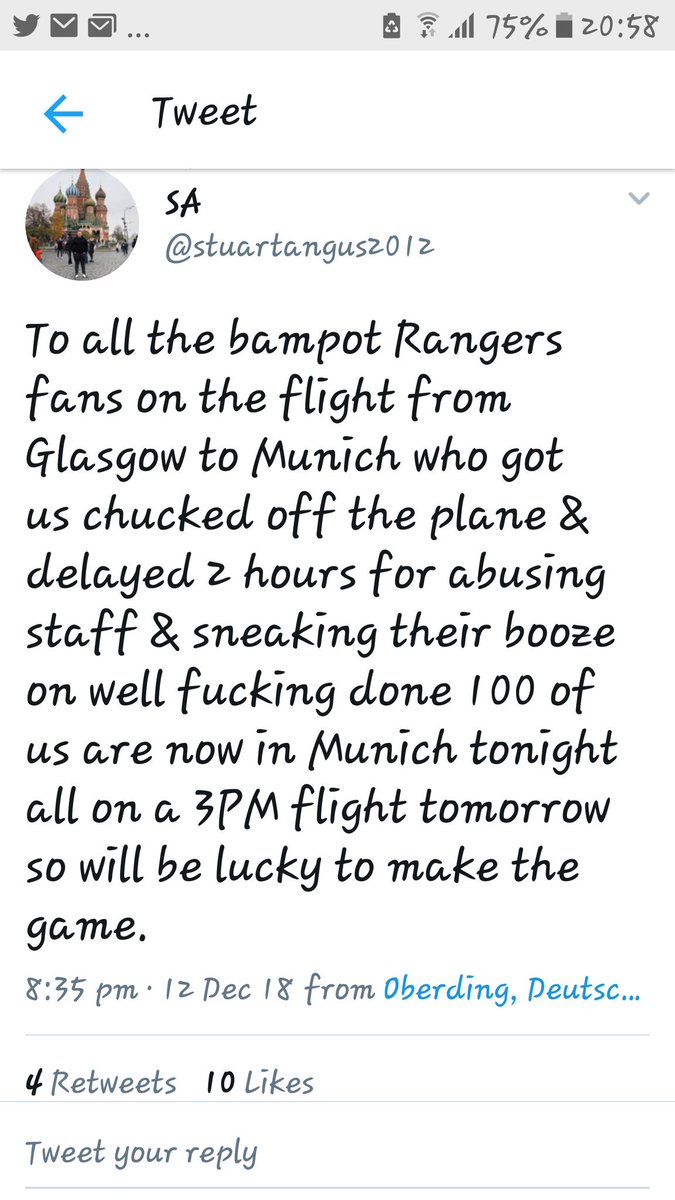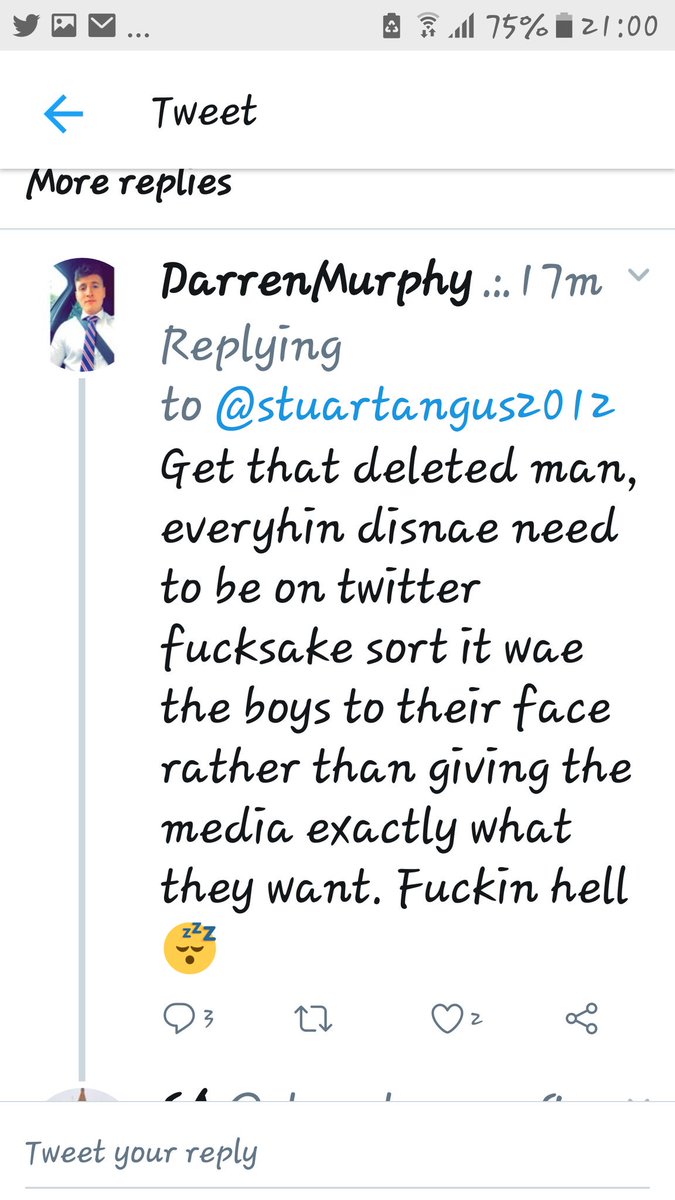 Those wonderful guys over at the Vanguard Bears website have had their balls chewed…you may remember them for the wonderful publicity piece they did on my good self and this website, and perhaps No Surrender may have to replaced as one of their logos as it certainly doesn't seem to be apt..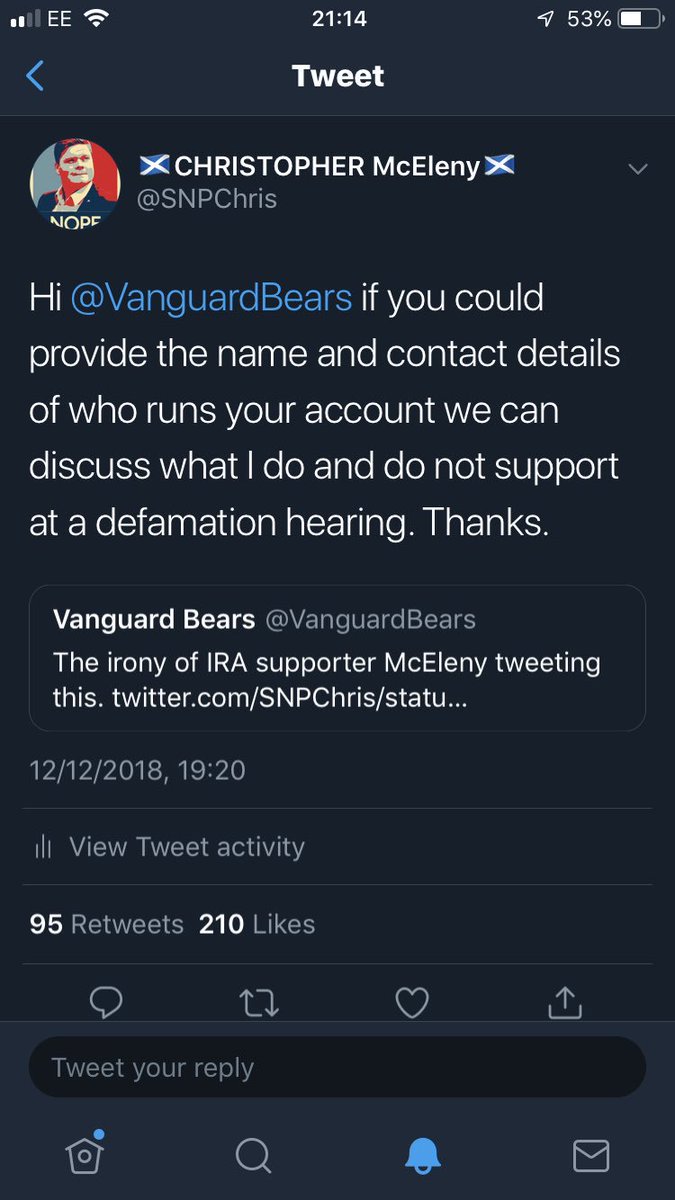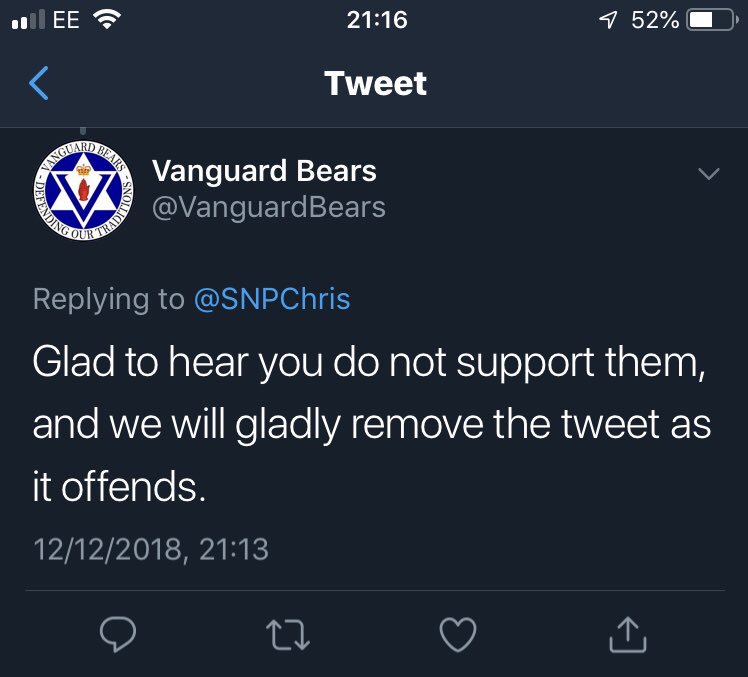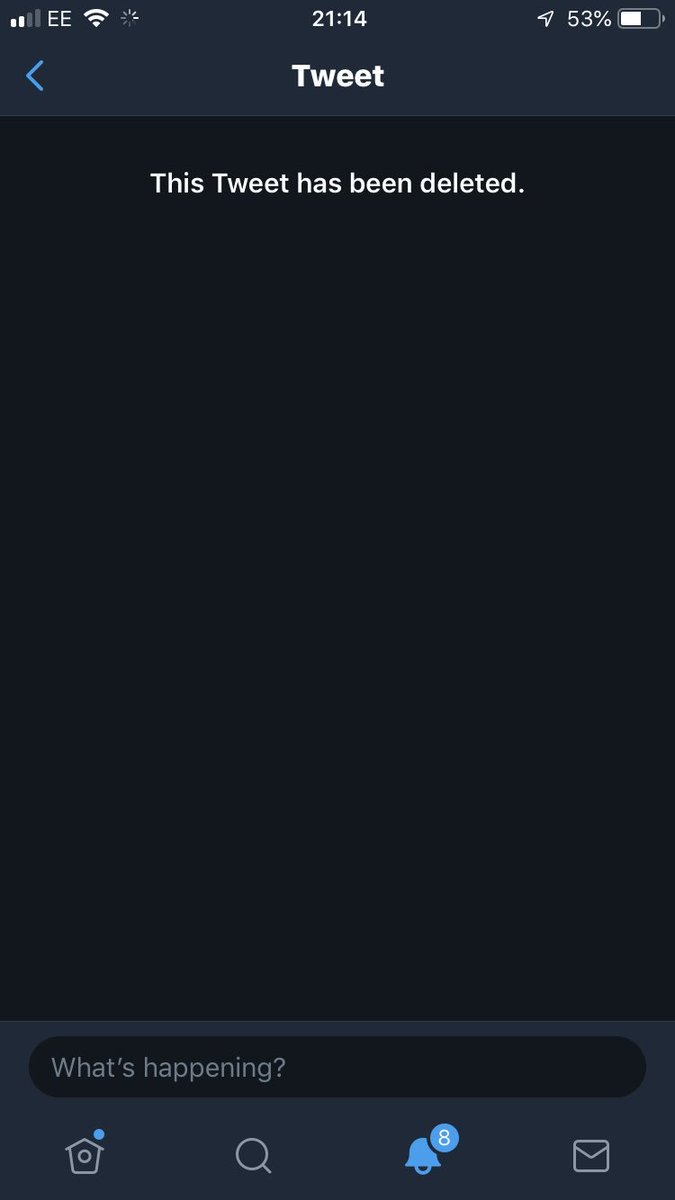 Its given me an idea, and as you know, I have considerable legal experience…
If you recall their article, I was pictured sitting in the Stoke City ground on the Macari Centre's homeless charity sleep out, which they inferred was a prison cell.
I too, would like those contact details….And I figure everyone else who has been defamed or had their livelihoods and safety put at risk by this website would as well.
Anyhoo, its time to start the music , as we are setting out a little early today, and by the time you read this we'll probably already be on the road.
Don't want to miss those lights…
Yesterday we had this…
There really was only one winner…