Celtic drew 1-1 in motherwell last night, taking their impressive away form this season to another level .
Ryan Christie scored after thirteen minutes, Filip Benkovic had a goal chalked of, presumably because he wasn;t standing up straight when he volleyed into the net, and Leigh Griffiths missed a penalty when he forgot what end of the park he was at and passed it back to the goalkeeper.
There are a number of reasons why the Celtic machine stuttered last night, and a umber of other things that any observer would have spotted, and with just three wins out of eight on the road in the league, its simply not good enough.
Before we dissect the performance, lets consider the fact that the usually vocal away support and their choice of traditional Irish songs might not be as inspiring as was previously thought…
Before I offer my tuppence worth-which some may consider a little over priced at tuppence-lets see what the manager had to say. Thats always a pisser when he's made an arse of it.
"It's good for a manager to see – players will knock and ask about why they are not playing and I need to see a game like that,"  
I suppose one does need to make mistakes in order to recognise when one is doing something right.
"When you bring in full international players you'd expect it to be ok," 
"You can't go through a season with 11 players. We have players out injured so yeah it was what we had to do.
"The result doesn't change the fact were comfortable at 1-0 and we have to see it out.
"The last four or five minutes doesn't change that." 
The manager made quite a few changes to the starting line up, the only one forced was the introduction of the never alert jozo Simunovic who replaced the injured Dedryck Boyata. Craig Gordon resumed his role on goal which was expected.
In came Olivier Ntcham, Scott Brown, Johnny Hayes and Leigh Griffiths.
None of those are regular full internationalists. Christian Gamboa is, but he plays for Costa Rica, which is more famous for the Jurassic Park movies than football.
It wasn't about the last four or five minutes though, as the malaise set in after half time, when Scott Sinclair came on for Olivier Ntcham, to give the supporters something else to moan about.
Rodgers explained this move…
"Ntcham change was tactical. We needed more – it was as simple as that." 
Sinclair was brought on to give us more. If only we knew exactly what it was he brings more of to the table.
The team weren't comfortable. the style of play that had worked so well over the last few weeks had changed, and it was down to the re-introduction of Scott Brown.
Sidieways football returned, which is okay when you're winning, but more importantly when Brown drops back to protect the defenders, there becomes a little bit of confusion in that back line and the old weakness in front of anyone who runs directly at the defence comes back into focus.
Motherwell took a while to spot it, but when they did, they had a couple of chances and a goal to show for it.
With Brown on the pitch the younger midfielders, MacGregor and Christie took his lead and abandoned their own natural game, which is to move the ball forward quickly, in favour of the patient , probing style that allows teams who have worked out how to play against that tactic to claw themselves back into the game.
There were a few disappointing individual performances, but none bad enough to demand that any players should never wear the jersey again.
Then again, Motherwell lost seven goals to "rangers " a few weeks ago. We should not have drawn with them. simple as that.
However, looking at the big picture, all thats needed is to realise that what didn't work earlier in the season isn't going to work now.
The result may have overshadowed yet another piss poor performance by a referee, as the disallowed Benkovic goal seemed perfectly legal to me, and there is an argument that man in the middle Kevin Clancy got more than one other decision wrong during the game, but this cannot be used as an excuse for the result.
And anyway, Kevin Clancy put in a top class performance compared to a couple of others last night, with Andrew Dallas leading the way when he awarded St Johnstone a penalty when one of their players fell over in the box with no contact at all.
Still, Dallas can take heart that at least this time the incident was in the box, which is an improvement of sorts.
Over at Ibrox, Steven MacLean, who has no connection to the new club there, since it was the old one his brother played for sent an Aberdeen player, the dainty Sam Cosgrove, for an early bath after he picked up his second booking when Conor Goldson kicked him in the back of his boot.
To be fair, MacLean sent off Alfredo Morelas as well, presumably because sooner or later someone had to to make it look like the chaps at the SFA were embarrassed by the revelation that one of their referees thinks the Colombian is merely a bit silly sometimes, as opposed to the rest of us who thinks he's a bit of a hothead with no respect for or even understanding of the rules.
Whilst Celtic , Aberdeen and "rangers " were going about their business, Stevie Clarkes Kilmarnock were a little quieter with how they went about theirs, and as a result they have knocked "rangers off their perch at the top of the league…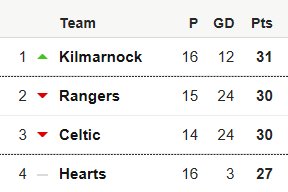 Of course, with games in hand, the table isn't exactly telling the truth, but if Celtic lose to Kilmarnock on Saturday, as they did earlier in the season at Rugby Park, then both teams will have earned exactly 78 points this year, 2018, which means that they, not Aberdeen or "rangers ", are in fact the serious challengers we've been waiting for.
Despite what you may read in the media.
Last night, if we take a nuetral stance, was an excellent night of football in Scotland. controversy, excitement, and probably even the goal of the season, with Adam Hamill of St Mirren from just inside the opponents half.
BBC Scotland, however, made us wait until the wee small hours before broadcasting  their highlights show, which meant that most of us would have missed it. to add insult to injury, the English games were on first, and that, in a nutshell, is why our kids and grandchildren will ask for the colours of Arsenal, Manchester United or whoever else is doing well down there just now.
Alright, we know that our clubs and their representatives undersell our game, but the least they could do is argue that in Scotland our game takes precedence over the English one.
It would be nice if just once, just once, someone in authority in the Scottish game would do something that is in the interests of the game, and not in the interests of their own pockets.
Yesterdays caption competition produced some quality replies again, and if you haven't read all of them, go back and have another look.
Today..