They really are out to get us.
Its a kind of flattery, but the campaign to derail the Celtic juggernaut is now becoming a full frontal assault.
This is Andrew Dallas, the man chosen by his dads pals at the SFA to referee the League cup final.
They chose him because the usual eleven v eleven set up might not be enough to stop Celtic winning the first leg of a treble.
Dallas is the orange that didn't fall too far from the tree, as they say, in that he's the son of Hugh Dallas, who was part of the furniture at the SFA until it was discovered he was a bigot after his emails were made public.
Thats not ,y only concern about this appointment, the fact is Dallas is a poor referee, and one wonders what criteria were used to elevate him to a showpiece final, as it cannot possibly be his ability.
Just to get it off my chest, Andrew Dallas should never be allowed to officiate any football match at any level, professional or not, ever again.
Absolutely clueless individual. 
 This tweet was published after the 5-5 draw between "rangers " and Hibernian back in May.
As was this one..
Six months later, he gets a cup final ?
This will be his first match involving Celtic this season,
Thu
15/11/18
UNL
Austria
0 – 0
Bosnia-Herzegovina
 x5
More info
Sat
10/11/18
CHA
Dunfermline At…
0 – 1
Falkirk
 x6
View events
More info
Sun
04/11/18
PRE
Kilmarnock
1 – 2
Aberdeen

Fourth official

View events
More info
Sat
03/11/18
PRE
Motherwell
1 – 0
Dundee

Fourth official

View events
More info
Wed
31/10/18
PRE
Hearts
0 – 0
Hibernian
 x7 
View events
More info
Sat
27/10/18
PRE
St. Johnstone
2 – 0
St. Mirren
 x6
View events
More info
Sun
21/10/18
PRE
Hamilton Acade…
1 – 4
Rangers
 x9
View events
More info
Sat
06/10/18
PRE
Hibernian
6 – 0
Hamilton Acade…

Fourth official

View events
More info
Thu
04/10/18
UEL
Real Betis
3 – 0
F91 Dudelange
 x4
View events
More info
Sat
22/09/18
PRE
Dundee
0 – 3
Hibernian
 x3
Looking at his record thus far, the Hamilton -"rangers " game stands out.
Its the one where the teams were level with six minutes to go, and Dallas gave not one, but two penalties to the Ibrox side …presumably to get back in their good books.
If his ego is anywhere near the size of his fathers, and his desire to please the hordes on a similar level, then we can confidently predict who will make the headlines on Sunday.
We cannot expect the club to comment on this appointment, but they should. If, or more likely when, he makes an honest mistake or two on Sunday, any comment will sound like sour grapes.
Something like..
Celtic FC are a little surprised that a referee such as Andrew Dallas has been appointed to a major cup final. This is because he's a talentless twat whose dad was sacked for sending sectarian emails. We would suggest that someone who understands the rules and knows how to apply them be appointed instead. Anyone else, in fact. Even Bobby fucking Madden. 
But we'll worry about that on Sunday.
Rosenberg away is tomorrow night-tomorrow teatime , in fact, and the nerves are already jangling.
Whilst the papers are reporting that the Norwegians are no longer interested in this particular tournament, they've won their league and have a cup final to prepare for, there is also a slim, very slim, chance , that they could still progress…
 The rules are quite complex when it comes to tied teams in the Europa League, and we are once again grateful to Moravcik 67 for explaining the possible scenarios…
Ahead of the game in Norway on Thursday, here are some tweets about the possible permutations of who qualifies from our group. Reminder. All 4 teams can still qualify or be knocked out. Obviously, Rosenborg qualifying and Salzburg going out are less likely.
 Before I start. Yes I agree that beating Rosenborg is the only thing that matters right now. But there has been a lot of talk about Salzburg lying down to Leipzig. And there's still a misunderstanding about what happens if the 3 teams finish tied on 12pts. 
There are 5 possible scenarios
a) Celtic finish ahead of Leipzig on points
b) Leipzig finish ahead of Celtic on points
c) (Only) Celtic and Leipzig finish tied on points
d) Celtic, Leipzig and Salzburg finish tied on 12pts
e) Celtic, Leipzig and Rosenborg finish tied on 6pts
I'll run through them in order
a) Straightforward. Celtic & Salzburg progress. We could top the group on the head to head with 2 Celtic wins, 2 Salzburg losses, and if Leipzig drop points to Rosenborg. But the most likely outcome in this scenario is Salzburg top. 
b) Again straightforward. Leipzig progress with Salzburg. As with scenario a) Salzburg are more likely to top the group. But Leipzig could on head to head, with the right results.
c) A 2-way Celtic/Leipzig tie. Leipzig go through on head to head, Salzburg top the group 
d) This is where there are misconceptions. A 3-way tie of Celtic, Leipzig & Salzburg can only happen if Celtic & Leipzig win both games and join Salzburg on 12pts In this scenario, the normal 2-way head to head rules won't apply. Beating Salzburg 2-0 won't put us through. 
7. If d) does happen it goes to a 3 way head to head – a new league table is drawn using results from the games between those 3 teams only. Any results v Rosenborg are ignored. See attached pic for the order of tiebreakers. Note: Leipzig will definitely qualify in this scenario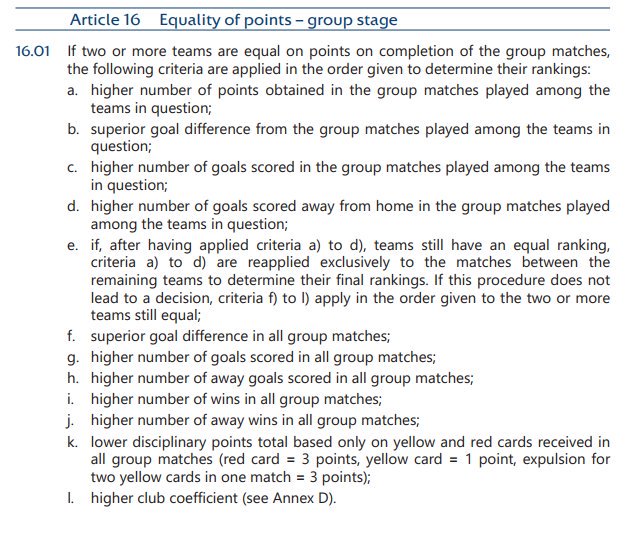 The 1st tiebreaker is points. This doesn't help. All 3 teams have beaten the others, and lost to the others. So we'd all be tied on 6pts. The 2nd tiebreaker is goal difference in games between the 3 teams. Currently that stands at Salzburg +3 GD
Leipzig 0 GD
Celtic -3 GD 
But as Salzburg would have to lose v Leipzig for it to happen, going into the final game the GD would be
Salzburg +2 (at best)
Leipzig +1 (at worst)
Celtic -3
Clearly this doesn't look to good for us, should we need to beat Salzburg to go through. 
Basically, the more Leipzig beat Salzburg by in this scenario, the less Celtic need to beat Salzburg by to go through. If Leipzig beat Salzburg by 1, we'd need to beat them by 3 to knock them out. We'd need Leipzig to win by 5 for us to only need a 1-0 win in the last game.
The 3rd tiebreaker is goals scored in games between the teams. In reality, Celtic can't win on this rule. Current goals Salzburg 6 Leipzig 5 Celtic 3 To match Salzburg we'd need to score at least 3 more than them in the last game. If we do that we beat them on GD, not goals
Finally,
e). This would require Celtic & Leipzig losing both their last games. There is no permutation in this scenario that could see Celtic qualify. Again, it would go to GD between the 3 teams. Currently Leipzig 3 GD Celtic 0 GD Rosenborg -3 GD 
As we would lose to Rosenborg, we would end up, at best, on -1GD. Whatever happens in the Rosenborg v Leipzig match, one of them would always have a better GD than us. This is by far the least likely scenario, though. 
Anyway, enough gibberish. One last point, in among all the talk of teams lying down.
Qualification is in our own hands. We don't have to rely on anyone else.
True, it might involve having to beat Salzburg by 3 goals, but it's still in our own hands. 
Which is all we can ask for really, and after the succesive defeats to Salzburg and Liepzig, its as good as we could have hoped for.
None of the above matters , though, if we don't beat Rosenberg.
Their manager said..
"We have to seriously consider the Cup Final, which is just a few days after we play Celtic. 
It's possible that some players will be rested for the Europa League match.
"It will be very difficult to pick two full strength teams against both Celtic and Stromsgodset. I wish it was possible.
"Hopefully, we can get some rest before the match.
"The good news is that we have almost fully fit squad which is the first time that has happened in a while and that gives me room to manoeuvre." 
Our manager said..
"We hope their title celebrations will have been tiring, but we know we have a big test. They've won their league and they have every right to celebrate. That's what you have to do.
"They will look at this as a game to ensure they don't come out of the group with nothing. They'll want to put on some sort of performance at home, but it's not new for us. It's a lovely stadium, we'll travel well and the hotel really looks after us. Thankfully the pitch is perfect so we'll really push to get the result."
Relaxed, and confident.
What is worth noting, regardless of who the Rosenberg boss picks, their players will have one eye on the cup final, and a high intensity robust approach from Celtic, from the off, will affect their desire to ,er, compete enthusiastically.
Piece of piss this management lark.
However,whether or not we think they will approach this game at one hundred per cent doesn't matter, its about what we do. On the night.
I'm confident a morale boosting win is achievable, but in all honesty i don't care if we score early doors and then spend eighty minutes booting the ball into the stand.
We need the win…
And thats the bottom line.
Theres no doubt the players are taking things seriously, they've cancelled their christmas night out in order to concentrate on a hectic and crucial month of football.
They have to be commended for showing that kind of focus.
One player who won't feature in Norway is Scott Bain.
He's being saved for the Hampden showdown which means we have two good goalkeepers who are both getting games and both therefore familiar with the defenders. Bain has featured in all the League cup games so far, and thoroughly deserves his chance to win a medal. looking at the bigger picture, it is indicative that the manager is aware of the size of his squad, and is doing what he can to keep them all happy.
Elsewhere, and the police assault designed to assert their credibility before the Janefield report is published became a little more sinister yesterday when Celtic Research looked into the details of those documents that the Record got their hands on, which led to claims that Celtic fans caused the "rangers " fans to riot…
Within the FOI request which Police Scotland has released on the Janefield Street Crush, there really are some staggering insights into the operation and mindset of our police. At the core is the deflection of blame. This is nothing new to football fans. 
Within the "Data 4" documents they are at pains to avoid the use of the word "crushing" despite the fact that they admit a few paragraphs earlier to referencing the Taylor report on Hillsborough and within another document a mounted officer calls in "dangerous", crowding.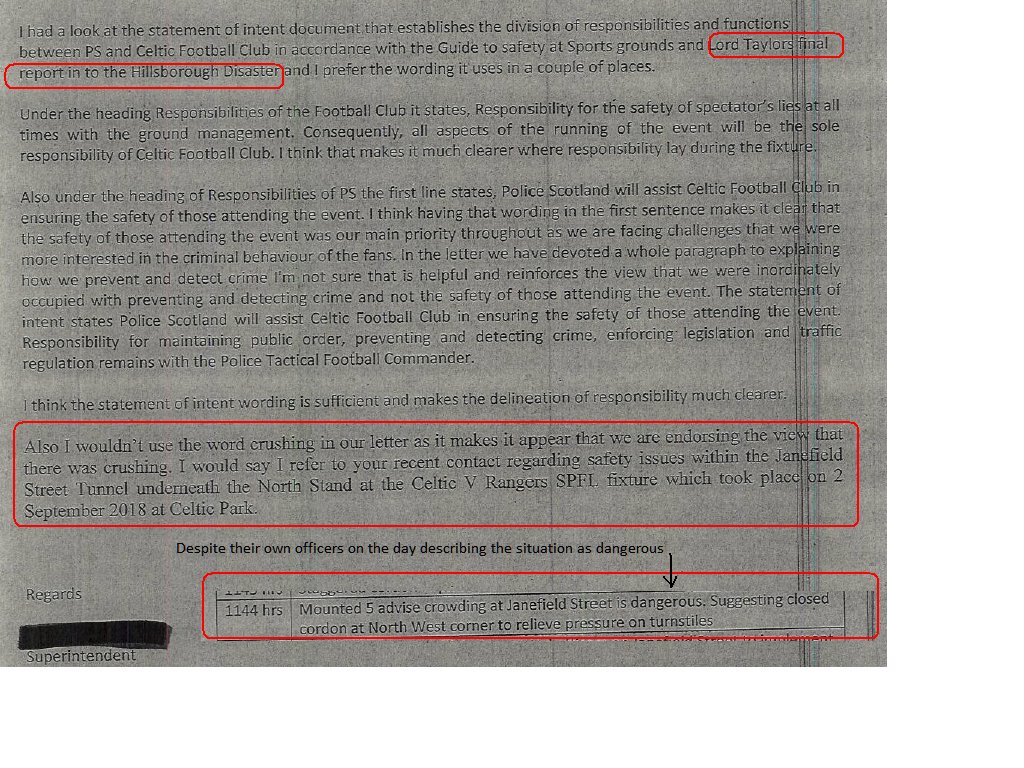 In the same letter we see clearly how they are looking to deflect responsibility away from policing & onto Celtic , "Consequently all aspects of the running of the event will be the SOLE responsibility of Celtic.." "I think that makes it much clearer where responsibility lay"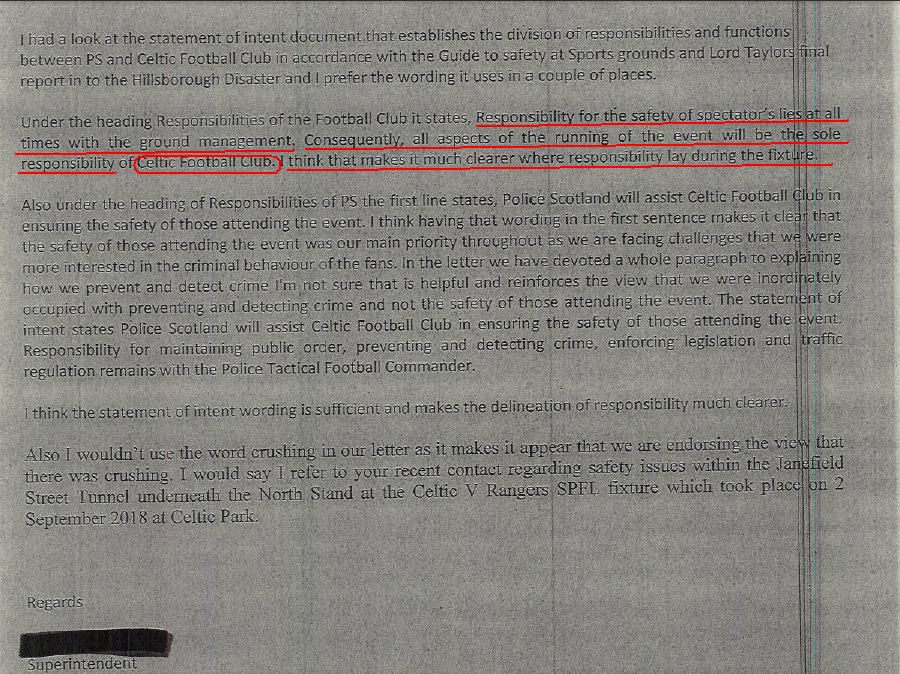 Given the crushing which we all knew happened pre-match, there was a rush from the police to release a statement stating that safety was of paramount importance in their policing of the game. However their document reveals a contradiction & the evolution of their statement..

They are very much aware of the view among many who attend football that their focus in terms of their PRIMARY responsibility for crowd safety is missing.. "reinforces the view that we were inordinately occupied with preventing and detecting crime"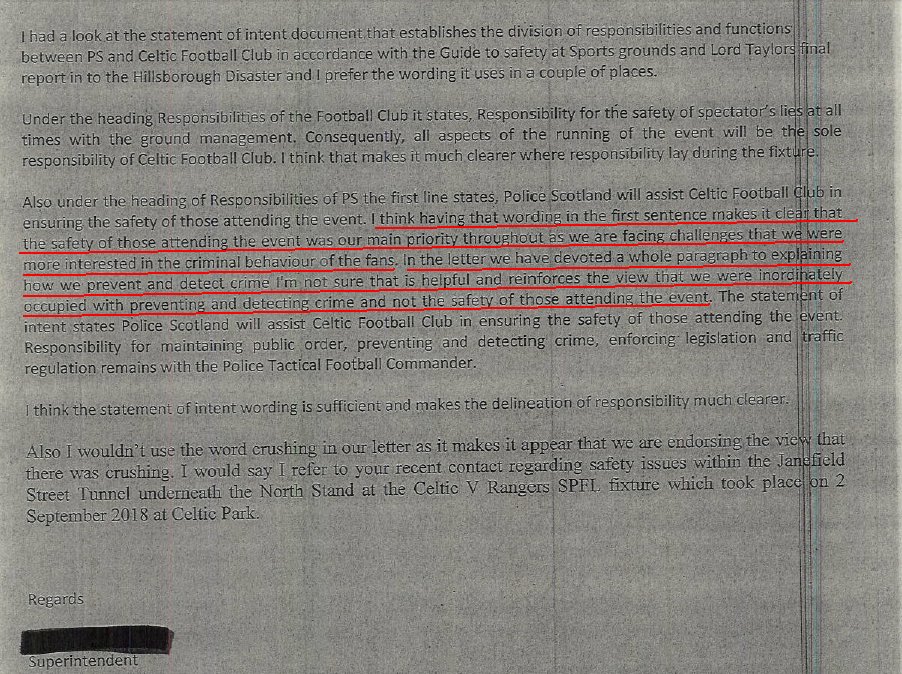 The fact that it is the police themselves who are reviewing policing at Scottish football, gives this match-going fan no faith that the fundamental shift in attitudes required in policing football, will happen anytime soon. These documents support very much support my view
The above is a top class piece of work, and today i'm going to buy a hat so I can tip it towards Celtic Research.
However, a word of warning…given the police attitude towards the club and our supporters right now, anyone going to Hampden should probably practice shouting "you'll never take me alive , copper " and improving their sprinting technique.
The club will remain silent on this…at least until that report comes out.
All of this mentioned above, from the appojntment of Dallas down to the police going on the offensve points to another one of those agendas that we used to use to explain our paranoia, back in the days when it was proved we weren't paranoid enough.
Its flattering, to an extent, as it shows the deep level of fear entrenched in our opponents, and this desire to pull out all the stops to prevent our ongoing success is reflective of that.
There's a feeling of deja vu settling over Scottish football just now, as the establishment rolls the dice in a last attempt to stop the charge towards the treble treble and ultimately ten in a row.
The club must be aware of it, and must take steps to call it out, like they didn't do with Resolution 12 and are now having to be cajoled by shareholders to take action retrospectively.
This time, we need to deal with it as and when it happens.
"rangers " had their AGM yesterday, and amongst the usual "we are the people " bluster from the Lying King it went unnoticed that they are yet again building a team on money they don;t have, and are unlikely to get any time soon..
Note the level of fantasy that is being encouraged over there, to deflect from the real issues.
This early candidate for Knob of the Week is a typical, insightful comment on the events of the AGM…
Andrew Dickson Retweeted Rangers Football Club
If they weren't already, I suspect an awful lot of Rangers fans will be adopting Liverpool as their English team for the simple reason that if they aren't doing well and Klopp goes at any point, this man is developing into a ready-made replacement.
Can you get Deja Vu twice ?
Given what happened back in 2012, can observers of a "rangers " bent not see what is happening here, though I suppose they won't see a pattern, having largely ignored and dismissed events back then.
I can though, and its shaping up to be the best Christmas pantomime ever.
Desi Mond and I recorded a podcast last night, its on the site today. There's a bit of an update on how Res 12 is looking, and where its going. Rest assured, its not going away.
And no, we're not kidding. Celtic could do worse than hire James Traynor…have a listen to see why.
Yesterday we had this picture..