Celtic increased their lead at the top of the imaginatively titled Premiership to two points with a fairly routine win over Hamilton at New Douglas Park, named after their director who will probably have to set himself up as a New Douglas Park if he continues his association with another Scottish club.
Ryan Christie, Scott Sinclair ( sort of ) and Leigh Griffiths were the scorers in a 3-0 win in a game that was probably forgotten by the support long before they got home from the game.
Hamilton had a couple of innovative ideas to try to get something from the game.
Courtesy of Video Celts, we can see how they tried the old schoolboy tactic of "backies in ", which allows multiple goalkeepers depending on who is closest to the attacker…
Then there was their unique interpretation of the regulations concerning the air pressure in the ball, rules demand a certain level, whilst Hamilton disagree, and claimed there was a shortage due to climate change..
Rodgers explained…
"Every ball we used seemed to be flat, all seven of them.
"I'm not sure if that was a tactic or what, but it was like passing a balloon. They've got all the tricks up here haven't they?
"Eventually we got our kit-man to go and get the pump and pump them all up." 
The shortage of air also affected the atmosphere, with the manager describing it as a
strange atmosphere though – there was a funny feel about the game.
"Maybe it was the early kick-off. I don't know whether a lot of our fans were out last night and came straight out on recovery! 
And in what way would that be strange, one can only wonder…
Tell you what was strange though, how did they know this was going to happen ?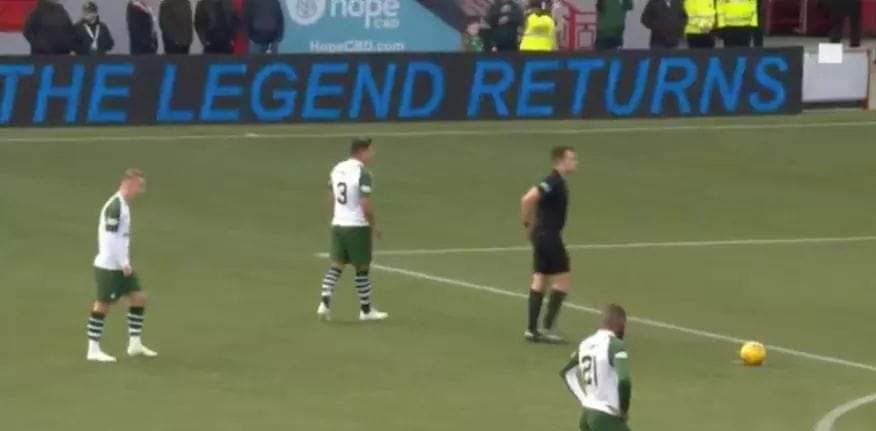 The billboard at Hamilton pretty much telling us that Griffiths would score that free kick…
But Rodgers seemed pleased with the first match after the international break…
.
..we had to generate rhythm and intensity in our own game and we did that well.
"Our passing was really crisp and we should arguably have been three up at half-time. I thought we should have had a penalty.
"But we trusted our ability to get there and we did.
"I think we've got our rhythm back, that's for sure. The players are gaining confidence from that
"We're creating and scoring goals. It's like the first year I was here, when we really controlling games. 
Create rhythym ?
Show us how..
Fair enough. not quite Strictly Come Dancing, but it seemed to work.
Results elsewhere , Hearts losing to St Mirren and "rangers " beating Livingston mean that Celtic have a two point lead over the club that could well end up being our main rivals this season, the boys in blue that are back from bankrupcy.
Expect the number 55 to feature in the next weeks newspaper coverage as the Ibrox club could go top of the league next weekend with Celtic playing the League Cup final against Aberdeen.
Just what the TV companies ordered !
And the bookies will be over the moon !
Hooray for the SFA, they truly are our saviours.
And all they had to do was allow the second Ibrox entity to run up debt the same way the first one did !
Simple !
They may yet be coming, but you can be sure they won't pay for their ticket.
Bookmaker involvement with football, or any sport, at any level is always uncomfortable. Where their money is involved, they will have their ears to the ground, their eyes in the sky and their arses on the line every time an important game comes up.
They will, as you would expect, do their best to avoid losing money, which is why these odds have me a little bit concerned..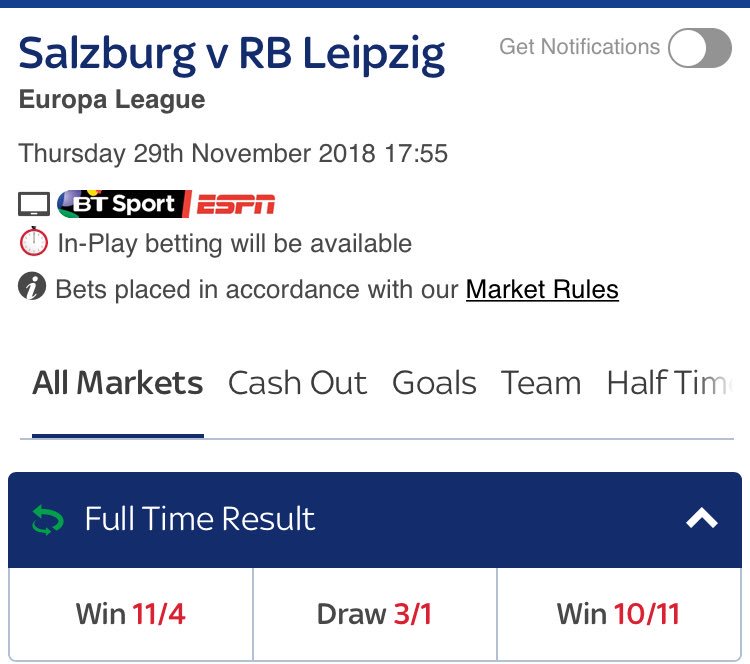 Why would a bookmaker think that Leipzig , away from home, would beat Salzburg, who have already beaten them in Germany ?
Does Red Bull give you Stings ?
Salzburg haven't lost a game at home since the Archduke Franz Ferdinand told his wife he fancied a day out in Sarajevo.
Liepzig lost in Glasgow to a side below them in the group, yet are fancied to beat a side who have won four out of four thus far in the competition ? Including a convincing win in Leipzig ?
Our club must comment on this publicly now, even if just to point out the inconsistency.
It'll be too late after the game… which is on Thursday…
We can also expect to see anti Celtic press over the allocation of tickets for Ibrox. With the club musing about the safety of supporters, the media seem to be unhealthily on the side of Celtic fans going to the game, telling us we'll all be fine.
Its not just the fans we have to worry about, its the actual stadium itself, as one observer noted;
Apparently, Stevie G was initially very complimentary about the ibrox groundstaff's respect for him until someone pointed out that the constant cries of "Gaffer!" were requests for tape to hold up the roof.
Would I go ?
Nope.
Would I encourage others not to go ?
Nope.
But if the police and stewards cannot protect players from missiles and personal attacks, how can we expect them to protect supporters ?
And anyway, it means more of them get to see their hopes and dreams shattered. We're used to winning at ibrox, and its kind of become routine.
Their fans seem to enjoy it, so perhaps its not a bad idea for more of them to see it.
They can tell their grandchildren about it.
Speaking of crowds and atmosphere, Graham Spiers has published a piece which is a lot more interesting and thought provoking than other pieces on community singing among the Celtic fans.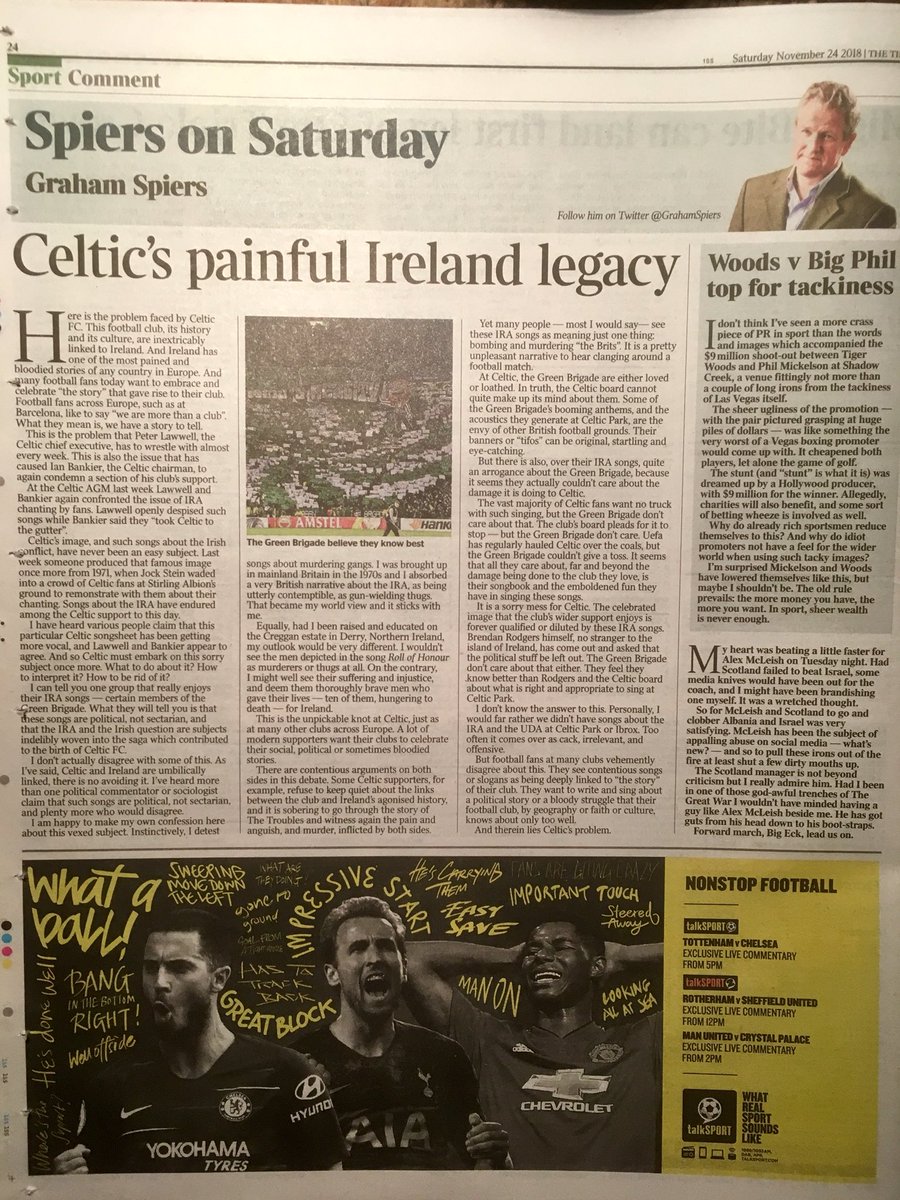 I'd take it further…I really would like to know why a section of our support feels its necessary to add the letters IRA to the beautiful sunday song.
As far as I know it, the only Sunday in Irish history that has any relevance to any song sung at Celtic Park was far from fucking beautiful.
But I'm sure they know that.
Dialogue between club and support, and its unfair to pin this one on the Green Brigade, as there is no evidence to suggest its this is one of their ditties, is needed, and all we have to do is work out exactly why the fans who sing this song, and others,  feel the players would be inspired by it.
Spiers recognises that there are differing viewpoints on the songs, and different people from different backgrounds will view events differently.
Thats a start, and whilst claims of "whit aboot the huns ? " will undoubtedly be shouted from the rooftops, who really gives a fuck what they do, or what they think ?
I'm concerned about our supporters, and the perceived image they have. Over the years Celtic Park has gained a reputation as " a must see " for the travelling neutral.
Lets build on that.
Or those fancy lights will highlight the bits we'd rather others didn't see.
And, and before you have a moan,  I say this as someone who adheres strongly to the "three pints time to Free Ireland " rule on the way to and from matches when the tunes are on.
But not in the ground.
Celtic Park is for football.
You know , its often said that Rangers died chasing the Lisbon lions, and it was nice to see just the other day that they've joined an elite list of their own, achieveing something that only a select few have achieved
Back to Friday for the caption competition
Finally, away from football, you've got to thank the police for letting us know about this..
Police are hunting for two men who stole tens of thousands of pounds worth of vodka from a Glasgow warehouse.
The men broke in during the early hours of Sunday November 18 and took over 140 cases of Ciroc Vodka from the premises on Deanside Road in Hillington.
The haul is worth around £60,000.
Detective Constable Craig Conway, Community Investigation Unit, said: "Our enquiries have revealed that two men are responsible for the housebreaking and theft of vodka and that they made off in a silver coloured vehicle that was parked nearby.
"I would like to speak to anyone who may have seen the men acting suspiciously in the area or carrying the cases of vodka into the car.
"I'd also like to hear from anyone who has been offered cut price Ciroc Vodka in the last week.
"The bottles are a very distinctive electric blue colour with a silver top."
It's not just the police who are keen to find these men. If anyone sees them give them my number as well.