Celtic Diary Tuesday November 20: Can We Have Our Game Back ?
Ahead of tomorrows AGM, it appears that some may be looking for Celtic to take the lead.
This letter, from Fans Without Scarves, dropped on the table of Michael Nicholson, the Celtic company secretary.
Dear Mr Nicholson,
I represent the group for SFA reform known as Fans Without Scarves. As a body we own no shares in Celtic though one of our 4 founding members fully supportive of these contents does. We retain a deep interest in the progress of the matter referred to in the title due to its potential implications for improving Scottish football governance for the better. To this end it is one of many troublesome issues relating to the stewardship of the game listed on our petition of no confidence at https://www.change.org/p/scottish-football-association-fundamental-change-at-the-sfa and which we write about on our website https://fanswithoutscarves.org/.
We have contacted the SFA several times for an update on their notice of complaint and possible reference to CAS in Strasbourg but received no response. It will be no surprise we have little confidence in their effective management of the game, but their processes have so far been trusted by clubs including Celtic to properly investigate and action an investigation into the circumstances of the 2011/12 licence applications.
The SFA took inordinately long to do this even after statements under oath in the Craig Whyte trial. When a case was finally brought it was restricted to the monitoring period – an issue we consider materially incorrect based upon evidence we understand you have been provided with regarding actions between member clubs and their finance providers and minutes relating to decisions of member clubs during the time of initial UEFA license applications.
It would appear that through the terms of the Five Way Agreement the SFA has no longer jurisdiction to commence such actions on a now defunct member club, though why it signed up to such an agreement that restricts its ability to govern properly has never been made clear. This should be properly explained to all stakeholders including fans.
In any case this issue has now stalled and the SFA appear to be particularly afraid of the consequences of referring this to CAS, presumably as it's own role in an area of extreme concern would have proper scrutiny applied.
As the club principally harmed by decisions which appear to be fundamentally flawed, the rest of the fans of Scottish football are looking to Celtic to stand up for the integrity and governance standards that we should be able to expect from those charged with providing them. To that end we would like to know:
1. Have Celtic themselves received satisfactory response from the SFA that would enable them to conclude the SFA handling of this since passing the issue to their processes in 2017 can provide the sort of confidence in the running of the game we fans are entitled to?
2. Are Celtic in a position to provide such information to such fans if it does exist since the SFA have failed entirely to do so despite one of their 'strategic pillars' being Trusted And Respected To Lead?
3. If such explanation has not been satisfactorily provided, can Celtic provide a proper explanation for continuing to trust in the SFA judicial process when it continues to drag on without communication or delivery? Or failing that a plan for how they expect to move this issue forward which is too important to continue to let fester?
4. Given in particular that agreements that have not been made public appear to have been signed with at least one member club which restricts historical actions that can be taken to improve accountability and governance of the game, but more generally also the compromised position of the regulatory bodies; are Celtic able to satisfactorily say to fans when selling to them that they are contributing to a fair game run on sporting principles with a completely empowered and impartial regulator?
5. Have Celtic sought the views of other clubs and supporters organisations on the above issue? We have so far over 4,000 signatories (many fans of Aberdeen, Kilmarnock, Hibs, Hearts etc) exasperated to the point that they have signed a vote of no confidence in the SFA, many using phrases such as corrupt, not fit for purpose, old boys club and biased in their justifications for doing so.
6. Given such concerns from the fans do the Boards of such clubs share and reflect these concerns? We are strong advocates for fan representation as our experience is often that clubs do not adequately represent the views and concerns of that biggest stakeholder and provider of income to the game. This is a chance for the club boards to show that they do listen.
7. Certain letters relating to the disputed relevant tax demands indicated that the avoidance scheme and actions to hide it were tantamount to fraud. There is evidence from testimony in the highest court in the land that those involved concealed and made false representations in relation to the disguised remuneration and the tax liability. The objects were to obtain sporting and financial benefits at the expense of competitors who did not break the law, rules of the game and set out to deceive. Given the possibility of fraud and that being a criminal matter, have Celtic contacted the police seeking investigation into this?
8. Given FFP within domestic football is considered part and parcel of good sporting governance, would Celtic lobby the SFA/SPFL for the introduction of ongoing regulatory financial reporting and restrictions within the domestic league to ensure responsible club management going forward?
9. Would Celtic support the sharing of domestic shared revenues being at least partially contingent on FFP compliance?
10. Would Celtic support and encourage the Scottish government to make public funding for football contingent upon set codes of sporting governance (similar to those already in place in England and Wales)?
Thank you for taking the time to read and consider the above. We would be very grateful for a response to these issues and would hope to be able to count on teams such as Celtic to drive forward much needed reform to the antiquated and dysfunctional model currently run. For 20 years the major clubs have tried to reform unsuccessfully from within by musical chairs on committees and holding key positions but the truth is that the model is broke. If Celtic is really a club for all, then let it be the one that stands up for all the fans in the Scottish game and brings the game back to those that really matter. Starting with these issues right now.
Kind regards,
[redacted]
Fans Without Scarves 
This is hugely significant.
It means that the Scottish football supporters are watching what happens tomorrow.
It also means that they well not need as much encouragement to join in any campaign to oust the SFa as we perhaps previously thought.
The fans of other clubs see Celtic and "rangers " as two cheeks of the same bottom, whether we want to be associated with them or not.
However, if pressed, apart from a minority entrenched in the seveteenth century, most of them can recognise a scam when they see it, and they too are looking for some sort of closure, some kind of justice, over the events surrounding the liquidation of Rangers.
We should encourage that support.
In the meantime, here's a few things to ponder ahead of the meeting, and perhaps even raise while you're there..
Last September ,before the 2017 AGM., Celtic entrusted the SFA to mount a thorough investigation into the circumstances of the UEFA Licence granted to Rangers FC in 2011.
Over a year later, after 7 months to investigate what transpired, the Compliance Officer referred the case to in May 2018 to the Judicial Panel Disciplinary Tribunal . (JPDT)
That JPDT process appears to have been thrown into disarray in July 2018 as a result of a  claim from The Rangers Football Club/Rangers International Football Club that CAS should be the proper authority to investigate..
This happened after the SFA had been notified in late June 2018 of concerns raised by the Res12 lawyer after evidence emerged late May that cast serious doubts on the legitimacy of the granting in April 2011 of the UEFA Licence. These concerns with the new evidence were also copied to Celtic.
Have Celtic questioned the SFA as a result of these developments (the new info/referral to CAS)  and have the answers the SFA provided given Celtic the confidence that the SFA are capable of the meeting the responsibility which they entrusted to the SFA over a year ago?
If yes, can Celtic explain on what grounds they are content to leave the matter with the SFA Judicial process?
If no, what do Celtic intend to do to meet shareholder concerns?
Based on what they now know are Celtic confident that when they sell tickets to supporters, they can assure them that they are paying to watch a game where the rules will be applied without fear or favour under the Judicial Panel Protocol that gives the SFA total control over what is to be investigated?
Are Celtic putting the above question along with the grounds for asking it to their fellow SPFL club Directors?
Do they share Celtic's concerns about the risks to the integrity of Scottish football where the rules can be circumvented by the SFA alone to provide a desired rather than just outcome?
By the way, if you want to raise any or all of these points , and cannot make the meeting, you can do it electronically.
Chariman Iain Bankier also had something to read, from John Clark of the Scottish Football Monitor
Mr I Bankier,
Chairman,
Celtic Football Club plc
Celtic Park, Glasgow G40 3RE
08/11/2018
Dear Mr Bankier,
"Resolution 12"
You will, of course, recall as clearly as I that, at the Celtic plc AGM in 2013, the Resolution bearing number 12 on the agenda was not formally debated and voted upon, but was adjourned indefinitely.
I understand that over the intervening years(!) a number of conversations and discussions have taken place between the Board and the immediate proposers of Resolution 12 (among whom, I should perhaps say, I was not numbered in 2013 and am not now numbered)As an eventual outcome of those discussions and conversations,as again you will recall,Celtic plc in September 2017, shortly before that year's AGM, entrusted to the Scottish Football Association [SFA]the task of undertaking a thorough investigation into the circumstances under which the Union of European Football Associations[UEFA] granted a UEFA-competitions licence to the then Rangers Football Club in 2011.
Unfathomably, it was not until May of this year that the Compliance Officer of the SFA referred the matter to the Judicial Panel Disciplinary Tribunal [JPDT]
In that same month of May 2018, evidence emerged that appeared to cast serious doubts on the legitimacy of the award of the UEFA licence to Rangers Football Club in 2011. Following careful consideration of that evidence, the legal representative of what is known as the 'Res.12 Group' informed both the SFA and Celtic plc of these doubts in late June 2018, passing to those bodies copies of the evidence which gave rise to the doubts.
In July 2018, The Rangers Football Club Ltd challenged the reference to the JPDT,arguing that the appropriate authority to which any such reference ought to have been made is the Court of Arbitration for Sport[CAS]
This challenge has apparently and inexplicably frozen all action by the JPDT.
To my eye, as a small shareholder , it appears that the Board of Celtic plc have been and continue to be at the very least dilatory and lukewarm if not yet totally remiss in looking after the interests of their shareholders.
It is now November: the reference by Celtic plc to the SFA was made over one year ago. Even by reference to the civil Courts let alone to the internal disciplinary body of a not very large Sports governance body such as the SFA, that is an unconscionably long time for a reference not to have been acted upon.I now feel obliged to ask the following questions:
Have the Celtic Board pressed the SFA to say what action they have taken vis-vis the challengemade to the legal powers of the JPDT to investigate the circumstances surrounding the award of the licence ?
If they have not done so, would they care to give their reasons why not?
If the response from the SFA was that the matter of the jurisdiction of the JPDT has been referred elsewhere ( to UEFA or to the CAS) , are the Celtic Board content with that response and prepared to take such subsequent monitoring action as may be necessary?
If the SFA have not referred the question of jurisdiction elsewhere, have the Celtic Board ascertained at what stage the JPDT's investigation is at, or even whether it has yet begun?
If the Board have been told that the JPDT has stalled, perhaps indefinitely, what does the Celtic Board propose doing to ensure that the investigation that they were assured would be undertaken will indeed be undertaken by the JPDT as a matter of priority, with a timetable for completion?
Does the Celtic Board actually trust the SFA/JPDT to investigate thoroughly, honestly and deliver true judgment? Is it not time that a vote was taken to pass 'Res 12', based on what is now known by Celtic plc, and the matter formally referred by Celtic plc to UEFA to investigate as thoroughly as was done in the recently reported cases of the Albanian, Serbian and Kazakhstan national associations?
The Celtic Board must keep in mind their obligations to shareholders. This would be especially so where there may be grounds for suspecting chicanery on the part of others, in consequence of which Celtic plc might have been denied an actual, defined sum of money and the opportunity potentially to compete for much more in 'prize' money. In such circumstances it would not be at all for the Board on its own authority simply to ignore the possibility of chicanery and dismiss the matter.
There are sufficient grounds for me to believe that the award of a UEFA licence to the then Rangers Football Club in 2011 may have been made in the knowledge that that club was absolutely not entitled to that award.
In my opinion, the granting of a UEFA licence to the then Rangers FC in 2011 is not merely a 'sporting' matter, but one which might conceivably, in the absence of acceptable responses from the SFA/JPDT, require reference to the Crown Office and Procurator Fiscal Service.
The failure to date of Celtic plc to insist that the SFA take urgent action to fulfil the commitment they made that a thorough, independent investigation would be undertaken urges me to make such reference on my own initiative as a citizen who suspects that a crime may have been committed.
However, before taking such a step, I think I will await your replies to the questions above if you would be good enough to provide such.
Yours sincerely,
name and address 
He's still waiting for a reply, as far as I know…
I can't think for the life of me why Etims has been dropped from the official club website links….
Something else may come up at the meeting tomorrow, and whilst it is being discussed, you could maybe ask who came up with the bright idea of letting Sky TV cover Scottish football again.
They have proved to be fairly consistent in treating it as a second rate product with piss poor presentation and scheduling, and someone , somewhere, has decided to let them do it for the next five years.
Sky used this image to announce the deal…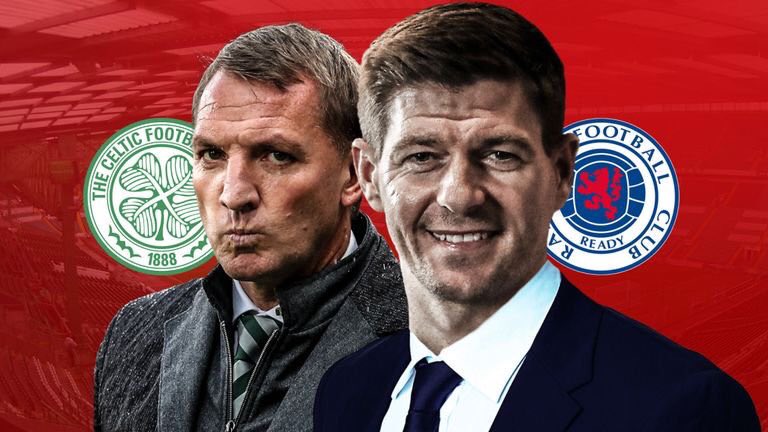 A smiling Steven Gerrard in front of a concerned Brendan Rodgers.
The sound of the collective groan from the rest of Scottish football's supporters has registered on the Richter Scale.
The SPFL tweeted…

SPFL announce TV deals. See full details here

Except, of course, they aren't the full details…
THE SPFL HAS AGREED A SERIES OF GROUND-BREAKING BROADCAST DEALS WHICH WILL SEE MAJOR INCREASES IN REVENUES FOR THE SCOTTISH PROFESSIONAL GAME.
The UK & Ireland broadcast rights for the Ladbrokes Premiership, Betfred Cup and IRN-BRU Cup from 2020-21 were auctioned and the winning bids were revealed to clubs by Chief Executive Neil Doncaster at a meeting at Hampden Park this afternoon. The Premiership clubs then gave their approval to each of the winning bids.
Whilst the commercial details of the agreements have not been revealed, under the new deals:
• Sky Sports will exclusively broadcast up to 48 Ladbrokes Premiership live matches per season, as well as up to six Premiership / Championship play-off matches, in each case for five seasons from 2020/21
• Premier Sports will exclusively broadcast between 12 and 16 Betfred Cup live matches and highlights per season
• Existing BBC Scotland television highlights and live radio packages have been renewed for five seasons from 2020, as well as up to 20 live Ladbrokes Championship matches per season for 2018/19 and 2019/20
• MG ALBA has agreed BBC ALBA will also broadcast one deferred Ladbrokes Premiership match each Saturday evening, live matches from the IRN-BRU Cup and the Ladbrokes Championship / League 1 and Ladbrokes League 1 / League 2 play-of finals for three seasons from 2020/21
SPFL chief executive Neil Doncaster, speaking immediately after the meeting with Premiership clubs at Hampden Park, said: "Every single deal is a major increase on our current contracts. Taken together, these deals represent the largest ever injection of broadcast investment since the SPL was founded over 20 years ago.
"Whilst we are not in a position to reveal exact figures, it's indicative of the sums involved that the clubs quickly voted to accept the deals put before them.
"Interest in the Scottish game is extremely high both at home and overseas and this has been reflected in the size of the commercial deals we have been able to strike in what is definitely a very challenging market.
"It has been a remarkably complex and time-consuming process, but we have definitely got the right result and our media advisor Phil Lines has played an important role in achieving this successful outcome.
"We're particularly pleased that we have been able to agree a deal for the Ladbrokes Premiership matches on an exclusive basis with a single live broadcast partner. Sky Sports has been at the heart of the football broadcasting revolution for many, many years and its determination to secure our rights and its commitment to ensuring excellence in its programming are extremely encouraging.
"We are also delighted to announce a deal with Premier Sports to broadcast the Betfred Cup and the continuation of our partnerships with BBC Scotland and MG ALBA.
"The significant, additional money which will come into Scottish football will be extremely welcome. The game can only benefit from the strong investment and widespread exposure these deals have secured."
Barney Francis, Sky Sports' Managing Director, said: "This is a hugely exciting time for Scottish football – something that has been reflected in the number of fans tuning in to watch on Sky Sports. With more games, in-game clips and highlights of every single Ladbrokes Premiership clash, fans won't miss a minute. Add in live coverage of Scotland's Nations League campaign, and every European Championship and World Cup qualifier and we've really got the Scottish game covered."
Michael O'Rourke, Premier Sports' Chairman, said: "I am genuinely delighted to secure the rights to the Betfred Cup for five seasons from 2020. This deal compliments our recently announced deal with the Scottish FA for their cup competition and completes a unique double for Premier Sports. We are looking forward to working with the SPFL in the years ahead."
Steve Carson, Head of Multiplatform Commissioning, BBC Scotland, said: "We are delighted to have agreed this new deal with the SPFL. We know there is a huge appetite for Scottish football amongst the audience and these deals will allow us to bring them more action than ever before from the top tiers of the game. It's great news for fans of the Scottish game and we're looking forward to delivering a multiplatform package of high-quality coverage across TV, radio and online."
Iseabail Mactaggart, Director of Strategy and Partnership at MG ALBA, commented: "We're delighted to secure this agreement with the SPFL. It means Gaelic-language sports programming remains open for all across Scotland."
 
The bit in bold….the important bit, which is not considered important enough to be included in a press release that claims to offer "full details ".
Though we are led to believe the going rate is around thirty pieces of silver.
Also not mentioned are which games will be covered, as its a sure bet they will cover only the away fixtures of Celtic and "rangers ".
As we have seen recently, should the most attractive match be a Celtic or "rangers " home game, and both clubs are only allowed four home games each under the present deal, then it won't be on.
Should that match not feature any of the two Glasgow clubs, it won't be on.
For those of you who still subscribe, a fair chunk of your money is distributed amongst English clubs who then head north to buy our better players, often before they have served their apprenticeship.
Sky TV is where they get their money, and they get it from subscribers in Scotland.
A couple of years ago, the diary urged people to ditch them in favour of going to games, or even finding another way to watch.
Celtic TV may not be great, but at least the money goes to the club.
One other point, Sky want four games featuring Celtic and whichever entity operates out of Ibrox. did they have a hand in the Five Way agreement that perpetuated the myth of the same club ?
BT Sport have probably done the right thing in backing out. Scottish football is not a product that sponsors want to be associated with. There's a storm coming whether its led by Celtic or by supporters.
And anyway, they have their own issues, as shareholder pressure and a change of leadership has them moving away from the expensive live sports market.
Hey, there's a thought…shareholder pressure…
Now, for something to put a smile on your face.
It did mine.
Bobby Lennox, who needs no introduction has a statue in his honour in his home town of Saltcoats… it was unveiled at the weekend…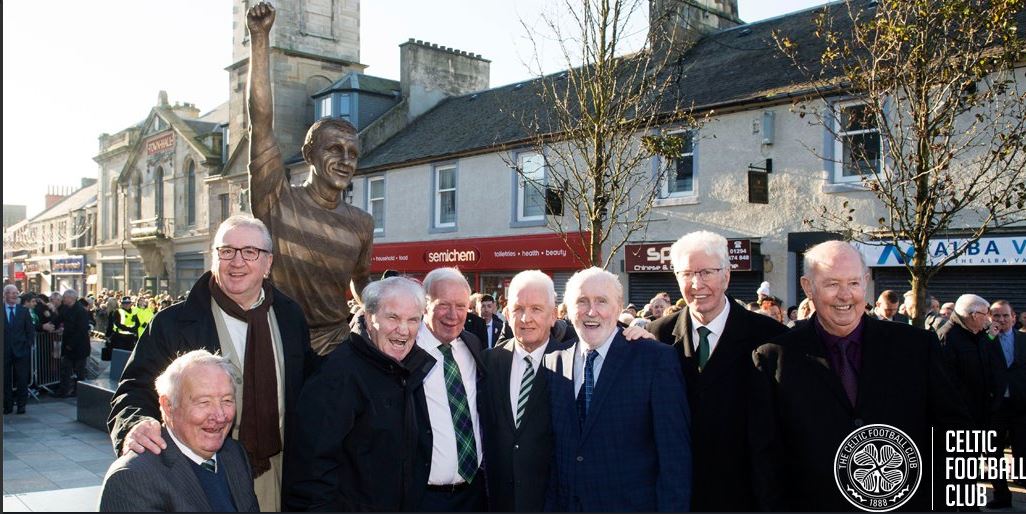 And there was much rejoicing.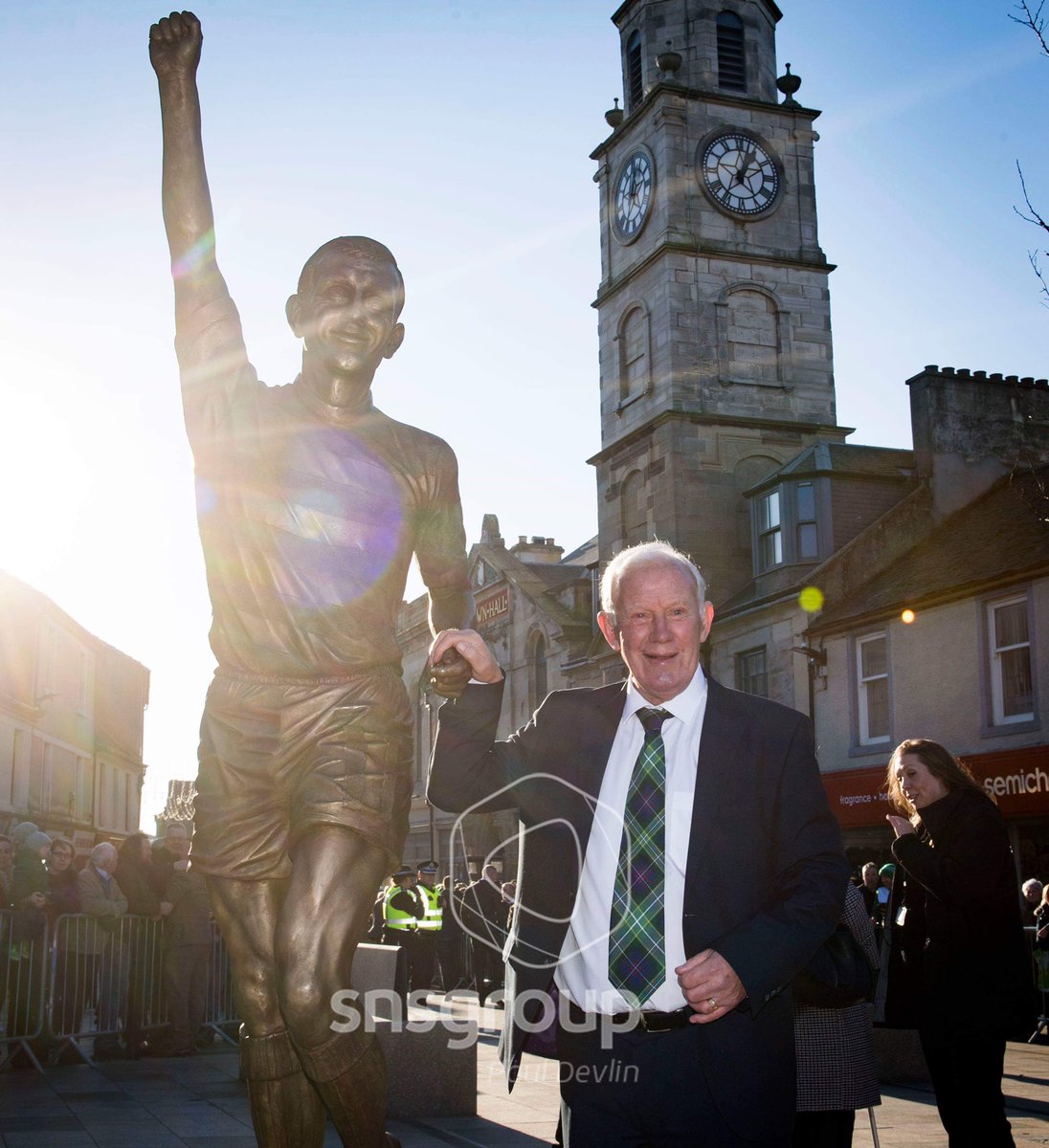 No one deserves it more.
we go back to Friday for the last caption competition, as the weekend was a bit of a recovery period for me.
I even forgot to get Mrs Ralph a birthday card, something that even the Postcode Lottery managed to do.
Oh dear, hope you get in the good books Richard! Maybe some flowers will help?

Now they're wanting to send her flowers…that will help.
On Friday we had this…