Celtic Diary Thursday November 15: How To Get The SFA Fined
Not that we would want to…of course…and perish the thought I may be  suggesting it…we'll come to that later.
Dolly Menga, who headbutted Ryan Christie during the game against Livingston, has accepted a two match ban for violent conduct, like everyone else who commits an act of violence does against Celtic.
Theres a pattern emerging this season, and the club needs to address it.
Either that or the players take it onto their own hands.
Oddly enough, when another glasgow club-or company-addresses their discomfort over referees, they get penalty kicks and sending offs in their favour…
Eight will be difficult, nine near impossible, and ten ? They'll just confess to UEFA that they cheated for years and have the league shut down.
Which reminds me… UEFA have made a statement on cheats…
Financial Fair Play (FFP) has led to a step change in the health of the finances in European club football. Seven years ago, European clubs had a cumulative debt of €1.7bn. Last year, it was a profit of €600m. Without question, it has been a success for the game across Europe.
FFP is a framework which clubs that wish to play in UEFA competitions agree to abide by. It relies on the cooperation of clubs to declare a complete and genuine financial position. While UEFA can test the information it receives, it relies on that information being fair and accurate reflections of a club's finances.
UEFA conducts an annual assessment of all clubs against the break-even requirements of FFP on a rolling three-year basis. This includes a thorough assessment of clubs' financial positions on the basis of both the information disclosed by the clubs (based on their independently audited financial statements), as well as a number of compliance checks and analysis undertaken by UEFA (including independent external audits). If new information comes to light that may be material to this assessment, UEFA will use that to challenge the figures and will seek explanation, clarification or rebuttal from the club concerned.
Should new information suggest that previously concluded cases have been abused, those cases may be capable of being re-opened as determined on a case-by-case basis.
This approach is applied universally to all clubs that apply for a UEFA licence and participate in European club competitions.
The bit in bold suggests that at least one club-or company -has a case to answer.
We drafted a list of quality Scottish journalists and asked them if they'd be looking into the matter.
We'll discuss the replies tomorrow, in a separate article, as its rather enlightening.
One in particular, when examined , suggests an editorial policy that most of us suspected was in play…
Whilst Celtic are now investing in players that they know, one or two former players seem to have taken that the wrong way.
John Guidetti, who spent a week or two at the club getting on everyones nerves a while back, may have misinterpreted the policy;
The Daily Record quotes a Turkish website claim that Guidetti wants to return to Celtic. I had a look at that website, and though my Turkish isn't great, it doesn't appear to say that…
CELTİC IS WANTED The only club that wants Guidetti is not Galatasaray. The Swedish star wants Celtic in the past. The 26-year-old played both the league and the cup championship while wearing the Celtic jersey. 
Then again, the Record's English isn't great, there are countless examples of them saying one thing when the reality is completely different.
Guidetti may indeed want to come back to Celtic, but I'd rather poke my eyes out with a spoon than see that happen.
Then I'd just bump into people all the time, like the other day when I bumped into Dave King, and he warned me to look where I was going.
I told him he should go where he's looking.
Poor Dave, he's lost another court case. This one was an attempt to stop the Takeover Panel from bringing contempt of court  charges against him, which was largely treated with contempt by the court, and when the judge finished laughing, she told him to fuck off.
And off he did fuck.
Meanwhile, back at the ranch, Mikey johnston has been sent home from the Scotland camp for not being fit enough to play for the under 20s.
Does he have some sort of injury that the Celtic doctors have missed ? Or was it just that he couldn't be arsed and said he had a bad back?
Yes, its international week, and Scotland face Albania and Israel in the European Nations League.
Alex McLeish has put out a public appeal for anyone with their own Scotland top and a pair of boots to report for training as nearly everyone he has picked has phoned in sick.
Peter Grant, who has acquired the knack of working for talentless managers over the years, pointed out that playing for Scotland was the "ultimate ", but he clarify exactly which ultimate.
Did he mean "waste of time ", or "humiliation ", or just "sacrifice "? As in career ?
Scotland play Israel at Hampden, and one wonders if waving Palestinian flags at the game would result in a huge fine for the SFA, or perhaps even a ban….
There is talk, though not from anyone who would know, that Dedryck Boyata is on the verge of signing a new deal at the club.
Which has prompted debate after his alleged refusal to play in a European qualifier earlier in the season. There seems little support for the Belgian to stay, but we need to remember that he has knuckled down and got on with it since, perhaps even playing the best football of his Celtic career, which doesn't sound like someone who just wants out.
Though an argument that he is in the shop window and out of contract holds equal weight.
If he is happy to sign, I'd sign him. But i'd be surprised if he turns down a big money deal elsewhere.
If its enthusiastic players we're looking for, maybe we should look no further than Josh Windass….wherever he is now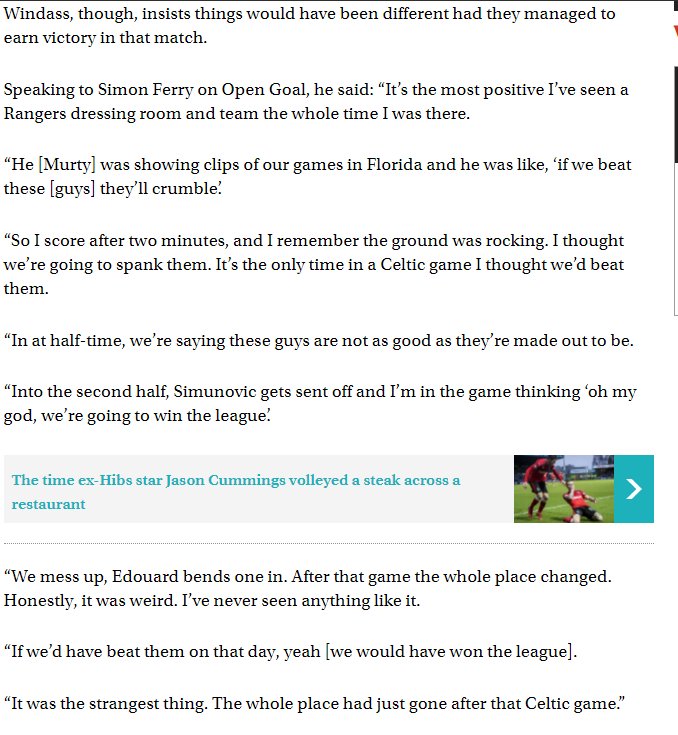 Its called reality. Something else that is gone from that whole place.
Another dose of reality for that club came from the ir website, which happily announced the opening of a new stand at Auchenhowie, with dressing rooms and everything..
"There have been a lot of people who have put a lot of work into it," he ( Head of Academy Craig Mulholland ) began, "mostly the Rangers Fans Fighting Fund, and we are very, very grateful for their support and the support of the fans to get us here.
"I think from a football perspective, the biggest thing is to make sure we get more players in the building more often, and the new dressing rooms and education suite will do that.
"I think the biggest purpose of it is to make sure that we can get our teams training more regularly, and to do that, we will need bigger facilities.
"We have five pitches here, but only four dressing rooms. So eight dressing rooms will mean we get more teams in more often, and the more they have a ball at their feet, the better Rangers players they will become."  
The fighting fund.
You'll note they do not mention the money they earned from Celtics group stage appearance in the champions League, which comes with the condition that it is spent on youth development.
And no thank you either.
There's no pleasing some people, you help them where you can and they spit in your face.
Meanwhile, there's another money spinner suggested by their fans-well, one of them..
So, a museum, with someone else paying for it.
Always about someone else paying for it, which is the principle reason their club died.
The new Sky deal appears to be drawing close, with the satellite broadcaster looking to get our game on the cheap to use it as a sublimnal comparison to the English league in the eye of the neutral.
A letter to Viz magazine explains perfectly the talent required to work as a summariser or commentator on one of their piss poor shows..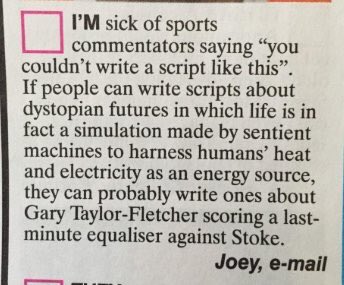 On tuesday we gave you this..
Today…