I thought for the title I'd stay in character from the podcast. Its on the site somewhere.
Celtic travel to Dens Park tonight , hoping to put on a hooptacular Halloween show of heart lifting football.
Its even on the telly, as broadcasters have now been given permission to film at Dens as there is no chance of frightening the kids or the dogs as they will not be exposed to the bitter and twisted face of Neil McCann, who has lost his job in the City of Discovery when they discovered he's only good enough to talk about being a manager, as opposed to actually being one.
From the outside, it looks like he's left his successor Jim McIntyre with too much to do , even this early in the season, to avoid the drop into the first division, as the Dens side have lost seven goals in their last two games.
Celtic have scored seven in theirs…well, if you don't count Liepzig.
Usually these midweek trips into OorWullieLand are dour and drab affairs, the idea being just to get in, get the points and avoid being accosted by single mothers.
Tonight, however, with the team having rediscovered its confidence domestically, we may be in for a treat ..
(Is that enough Halloween references ? ) (Aye, and leave Dundee alone-Ed )
However. in an almost Gerrardic defiance of reality, Glen Kamara of Dundee, says things aren't that bad at his club..
We have a good bunch of boys in there and if everyone pulls together, and we get firing, I think we can do it.
"Celtic is a tough game. We probably know what to expect already and hopefully we can get a result at home.
"We just need to do the right things on the pitch, working hard and working as a team as well so hopefully we can do that." 
So, whats different under McIntyre ?
Hard work, really hard work," 
"(He is) pushing the boys to work even harder in training and cutting out any slackness, which is good.
"Things are going well. Probably results don't show that but training has been good.
"We need to work hard and bed in what the manager wants us to do on the pitch and hopefully we can kick on from there.
"He has a different way of playing so obviously it is going to take a little bit more time so hopefully we can do it as soon as possible." 
The player was speaking to Dee TV, so I thought I'd reproduce his words here so that at least someone will be aware of them.
As for Celtic, there's no good news on Leigh Griffiths yet.
Manager Rodgers explained..
"He's getting better and his calf injury is coming towards its end. He's not on the playing field yet but he's working with the medical team and the sports science team to get as it as he possibly can
Olivier Ntcham and Eboue Kouassi are also doubtful, but Tom Rogic has recovered from the shock of playing a full ninety minutes at the weekend, and will travel. Simunovic and Mulumbu won't.
There was a wee boost for Rogic when whoever writes Kenny Dalglish's column for the Sunday Post said;
Tom Rogic missed the midweek game and I'm sure Brendan Rodgers didn't want to risk him as he is such an important player," 
"He is maturing into one of the finest players in the UK in the role he plays just off the main striker.
"If he is fit, he brings so much more quality to the Hoops." 
There should be a recall for Craig Gordon tonight, and he will sit behind Lustig, Boyata, Benkovic and Tierney. MacGregor , Sinclair, Forrest and Rogic to form a diamond perhaps, with Christie just slightly in front of Edoaurd.
Ryan Christie now has a chance to seal his own place in the team. He's up to the fitness standards required after a lengthy lay off from proper  training at Aberdeen, and appears to have the will to make a name for himself at Celtic.
As we discussed at length on the podcast-available elsewhere on the site-we may have unearthed a gem.
With Dundees poor form and Celtics resurgence, this game could be quite a spooktacle (No more with the Halloween -Ed )
Elsehwere, and theres a possible two match ban for Steven MacLean after his frantic fondling of Kouassi Eboue. He's been charged with violent conduct.
His manager, Craig Levein , said..
"Steven says he's been doing it for years,"
 "I did have a wee chuckle at that — he just seems to like doing it! 
That's fine, each to his own, but if I were to bring my hobby into work with me, ( which, incidentally, does not involve touching people where they wee wee ) I'm sure the gaffer would have something to say.
Brendan Rodgers was a little more serious about it.
"I haven't seen that since Vinnie Jones on Paul Gascoigne. It was a stupid thing to do – he was probably a bit emotional at the time, he'd been booked at the start of the game so he was probably fired up. We didn't make any comment on it; it'll be up to others to deal with it. " 
Emotional ? couldn;t he have just sent him some flowers or bought him a drink ?
Emotions are running high in  mainstream and social media with the news that James MacLean, now of Stoke City, isn't going to change his fundamental principles and wear a poppy this year.
Stoke City fanzine "The Oatcake ", named after a local delicacy made from flour and water that resembles a pancake and is wrapped around whatever you have for breakfast , presumably to hold it together, had this to say.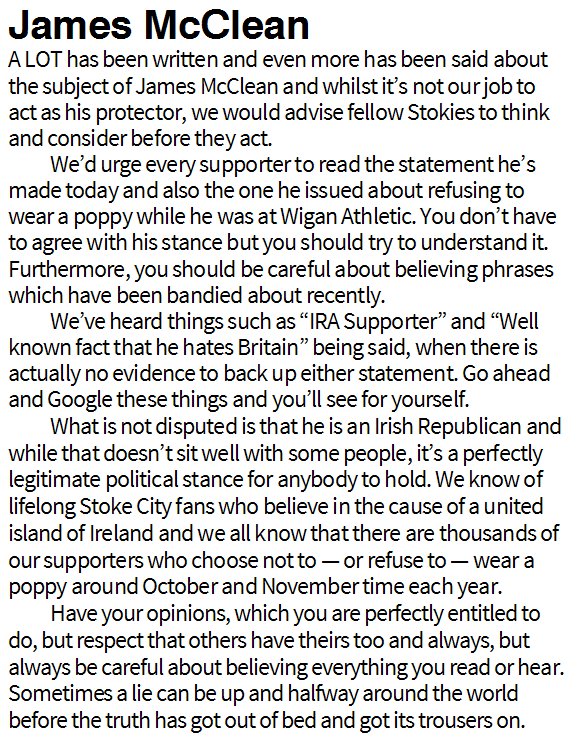 To my knowledge that is the first publication to differentiate between the terms "Irish Republican " and "IRA supporter ", and considering that a fairly significant amount of Stoke City fans could be considered to be a little British in their political outlook, its a brave statement.
Enlightened words such as these are rare these days, and the Oatcake deserves praise for raising what is seen as a contentious subject with intelligence and respect.
I might even buy one this week. The magazine, that is, not the delicacy. Although the taste would be similar.
There is a phone in show on Radio Stoke in the morning, and surprisingly, to me at least, there was significant support for McLeans stance.
Though one guy said that McLean should go back and work in Ireland, as his priniples didn't seem to stretch as far as not to take the English coin. The presenter did well to explain McLeans reasons, but that didn;t impress the caller.
I did feel the presenter missed a trick by not asking if the caller felt that all of those who had been victomes of Imperial aggression and their descendants shouldn't take the English coin either, but another caller shut him up by pointing out there were rather a lot of Germans living in England as well…
So, as you can imagine, they quickly cut back to the debate around the axing of Apu from the Simpsons.
The Simpsons is an American cartoon comedy centred around  a boorish white middle aged drunk of limited intelligence and his family, and in order to show they're not racist, they're going to ditch the Indian shopkeeper.
Emotions were high at a press conference at Ibrox as well, and it appears Stevie isn;t as staunch as we thought. The pressure is getting to him, presumably because he knows that he'll never get another high profile management job after this one goes tits…not only because he hasn't got the paper qualifications, but because he's being found out…
In order to get the full support of the dressing room, he put an arm around his players and said if they didn't improve he'd replace the fucking lot of them.
Oh dear, its that time again. We hear his replacement is being lined up and is head over heels with happiness at getting another chance…
Now its time for me to express an emotion…anger.
Are you still paying for Sky TV ?
I've long since cancelled this, as i don;t want my money, metaphorically speaking, to pay for Celtics top players to head south.
You see, with the television money paid out down south, you get this distortion in revenue…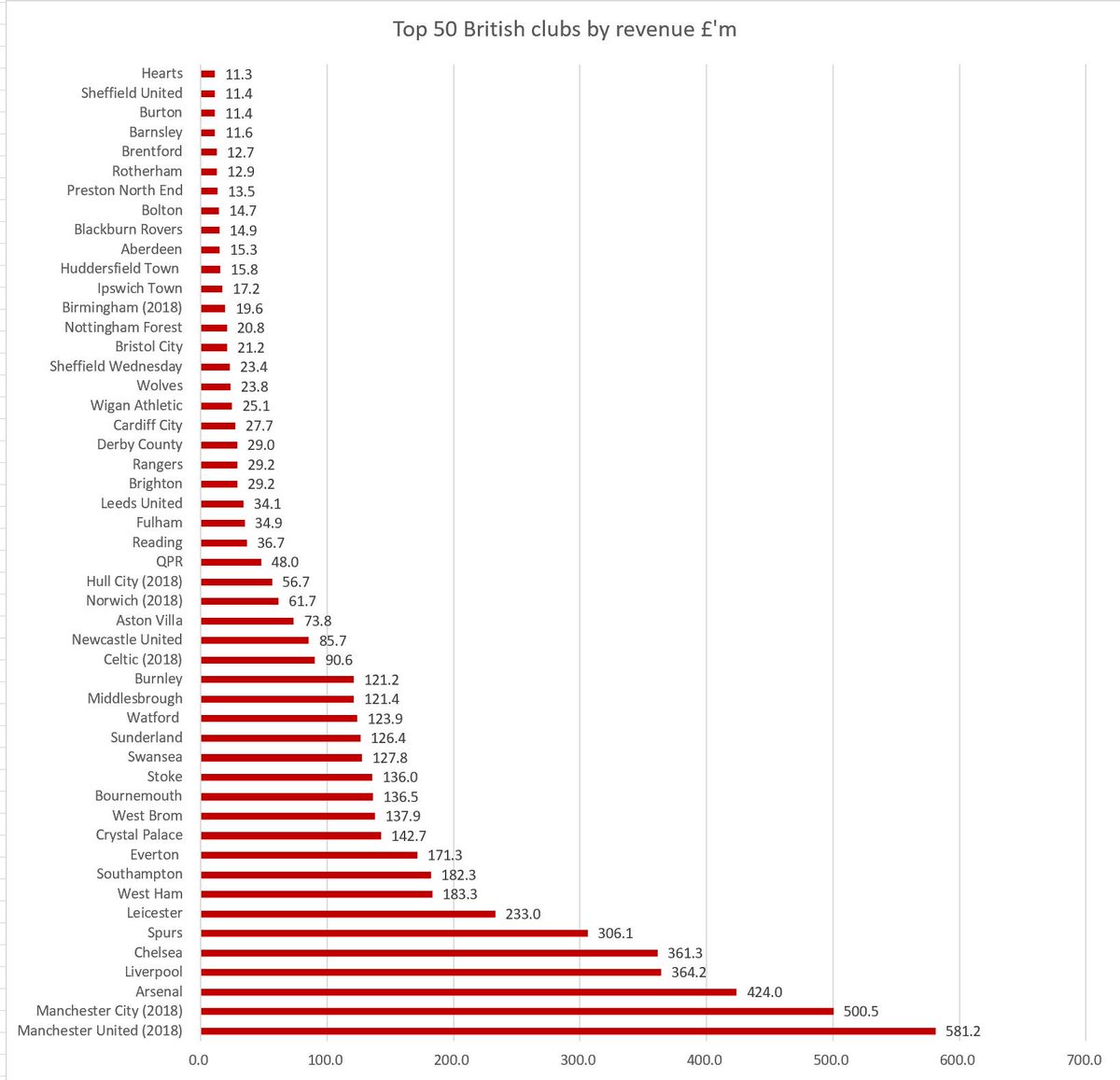 Now look at the revenue without tv money…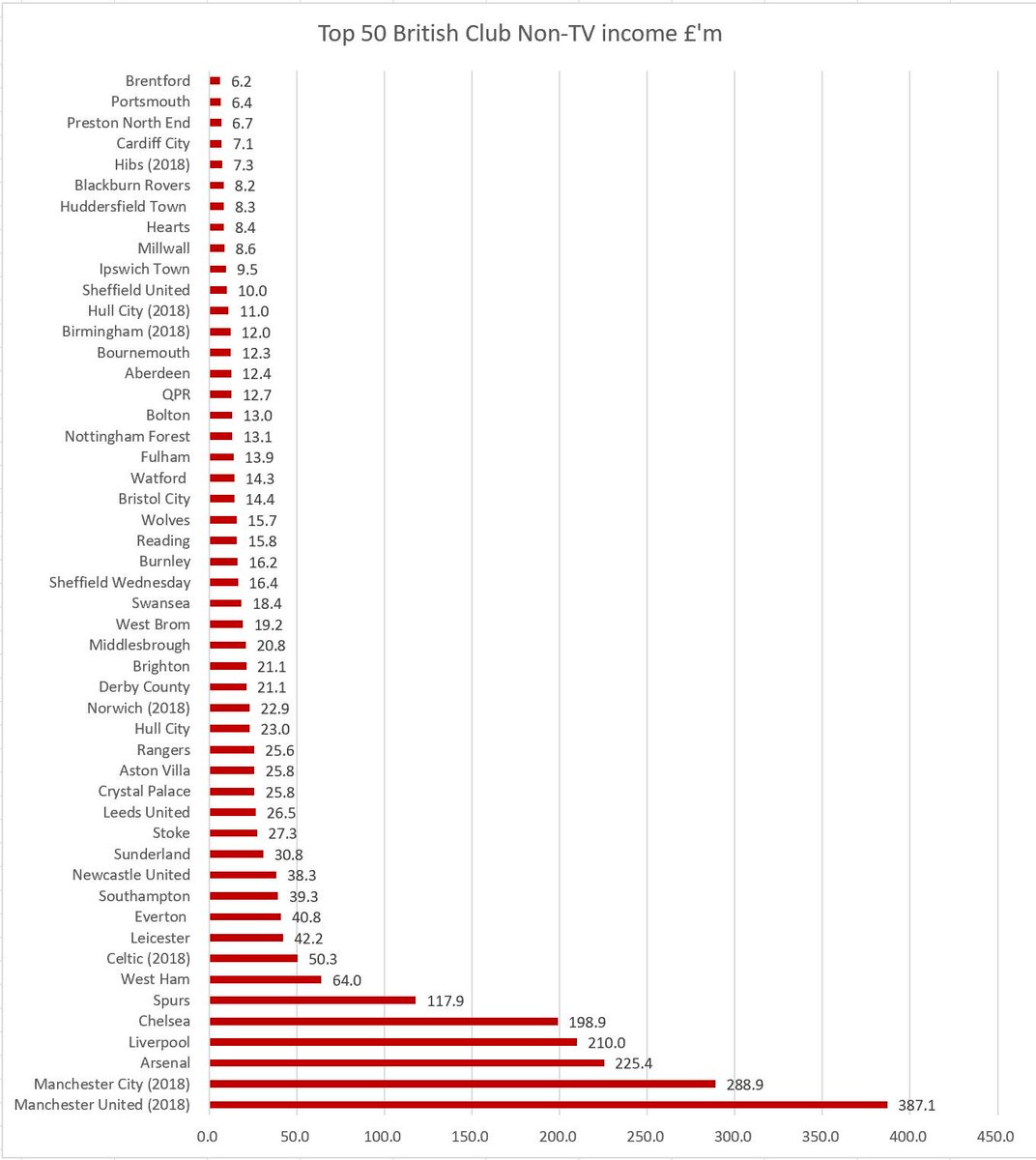 Which affects wages paid…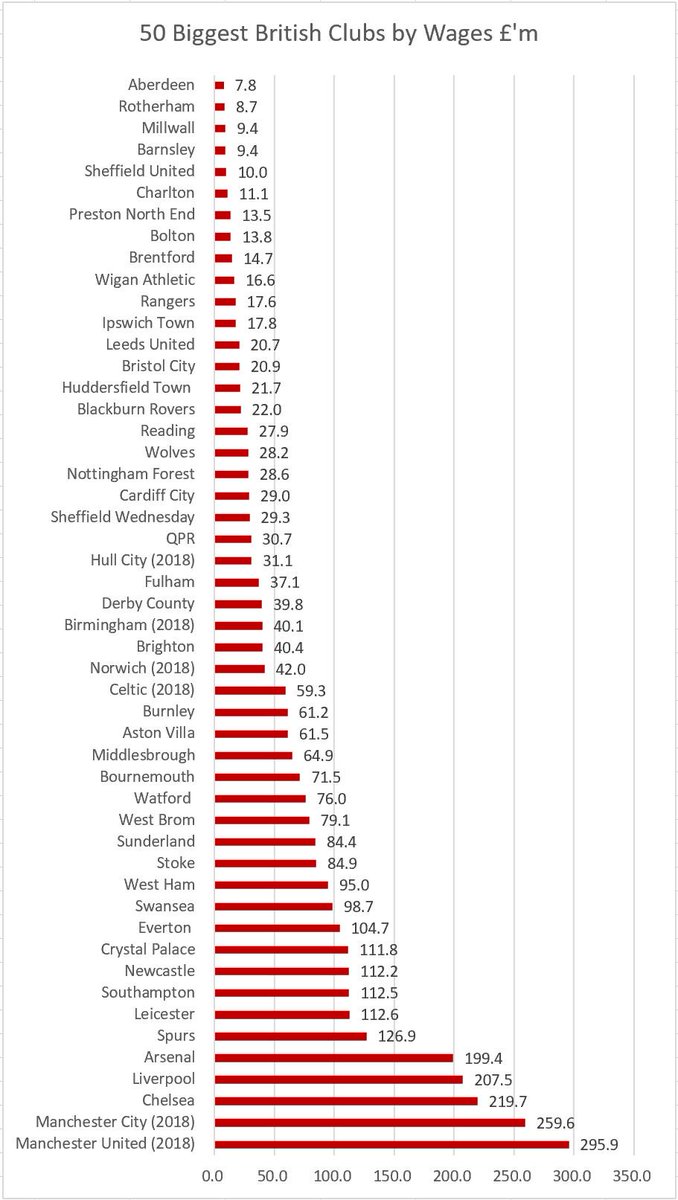 Can we get someone in to negotiate the next tv contract who is actually quite good at negotiating ?
Of course, we cannot expect to command as much money as the English league, it has a bigger audience and population base, but as we know, Sky sell to an advertising and betting market which includes Scotland…and therefore we should be getting a bigger slice of the pie.
Ten per cent of the English revenue would be fair.
After all, for tv revenue purposes in Europe, Scotland are included in the UK pool…which is the biggest..
Thanks to the huge BT Sports deal, the UK's TV pool is by far the highest in Europe at €164m, followed by Italy €115m, Spain €90m, France €75m & Germany €68m. Deducting 10% given to Scotland (if a club qualifies for Group Stage) meant €148m for England in 2017/18.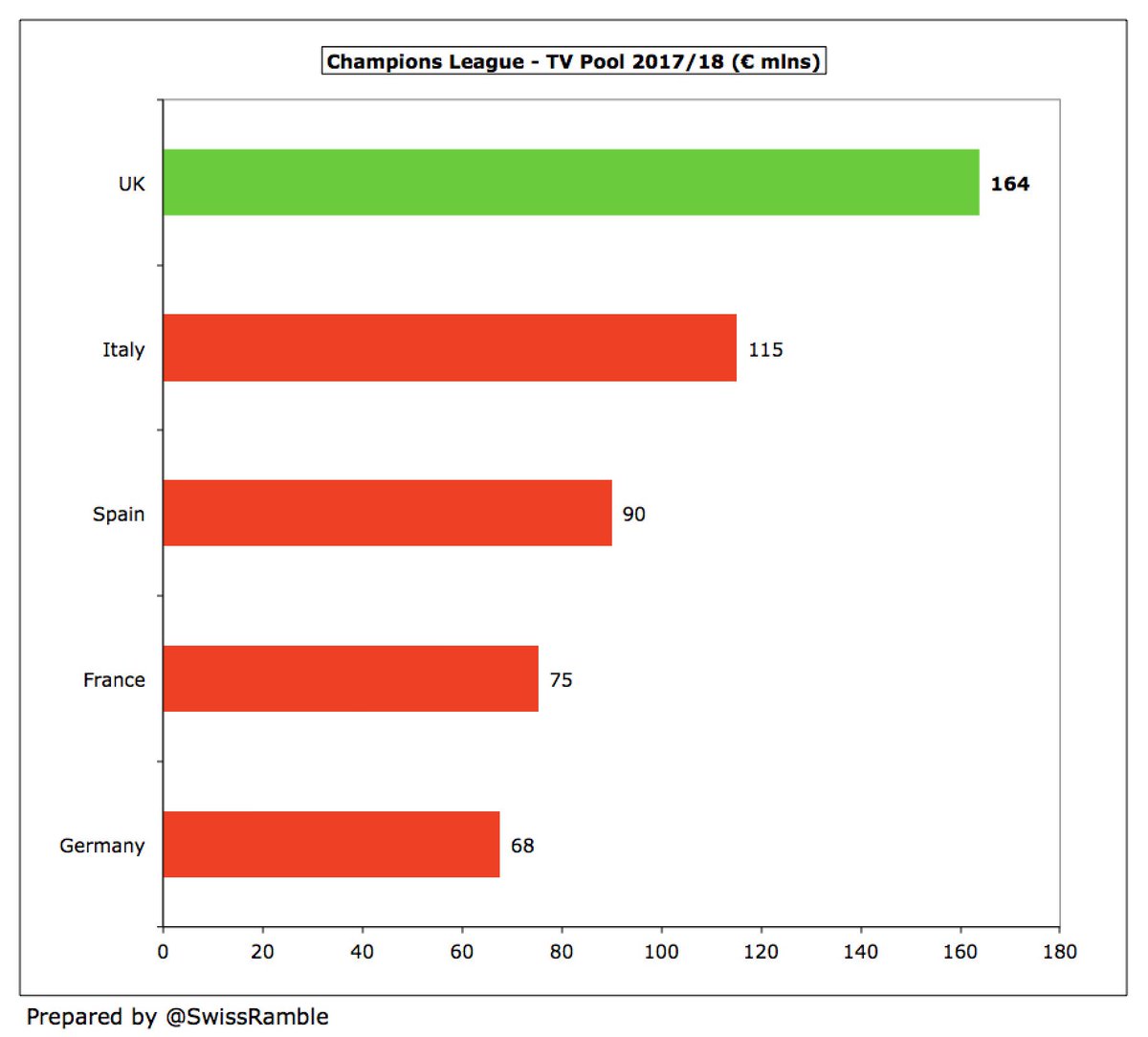 Yesterday, we had this picture..
Today.. what are they laughing at ?