They say a strong leader is essential to the success of any organisation, one who can make a decision and stick to it despite criticism. One who is capable of assessing a problem, working out the solution and carrying it through until the end.
Neil Doncaster may not be that kind of leader, but he is at least, perhaps for the first time in his career, acknowledging that he may have got it wrong over the schedule for the League Cup semi finals.
With this new level of awareness in the man, maybe its time to ask him to review every other decision he's made with the same self critical eye, and then hand him a letter of resignation to sign.
It now appears that the two semi finals won't be played at Hampden on the same day, and one pf them could well be moved to Murrayfield instead.
Doncaster explained how this sudden attack of common sense came about…
After the draw, we spoke to Hampden Park Limited to ask whether they would release us from a contractual obligation to host all semi-finals involving the Old Firm at Hampden," 
"They declined our request and we were unwilling to breach this contract and risk legal action.
"However, I'm pleased to report that we have been contacted this morning by SFA chief executive Ian Maxwell, who said that Hampden Park Limited has now reconsidered that position and have agreed to waive that legal obligation.
"This has enabled us to open talks to explore whether the match could be staged at an alternative venue in the timescales available." 
This has absolutely nothing to do with the barrage of criticism that came his way from all angles after the original announcement was made, of course.
The plan seems to be to move the Celtic Hearts game to Murrayfield, but we are led to believe that Celtic have spoken up-finally-and demanded a lottery to see which game does actually get moved out east.
Yeah, okay, that sounds legit..
Its not even going to be as straightforward as it seems. There's no guarantee Murrayfield will allow the game to take place.
They have their own schedules in place, including an international or two in November. Though this could just be their way of hiking up the price.
This doesn't appear to be settled yet, and even if it is, some sort of inquiry , led by the clubs, is needed to prevent a repetition.
We hear referee Bobby Madden has written to Doncaster demanding a decision, as he wants to book his pre match hotel early to get the best rates…
Perhaps a better option would be just to tell Doncaster to go. He's achieved the square root of fuck all in his time at the SPFL , and is showing no signs of improving.
Back at the ranch, and concentration has turned to the Salzburg game tomorrow night. Which is a relief.
Oddsone Edoaurd should be fit for the game, which is a major boost, as it will allow for the manager to foeld the same starting line up for a third successive game.
Kieran Tierney says he's fine, and thats good enough for me…
"He's fine – he's back training with us," 
"You saw the tackle. "It's one of those things you can't say too much about; you just need to get on with it and hope that something like that doesn't happen to you – you continue to challenge in a fair manner and hope that nothing bad happens.
"Odsonne got lucky because his foot hadn't been planted. It looked a really sore one at the time, though, so to have him back on the training ground is great for us.
"I saw the photograph that Odsonne put on social media – and I saw Broony's comment underneath it as well. [Scott McKenna] probably never meant to do it but it's just one of those things – anyone can mistime a challenge." 
It's still a penalty, mind, but with that referee we count ourselves lucky to be awarded a chance to kick off one of the halves. 
Alright , he never said the last bit, but there is that feeling when you see Madden take to the field.
Dermot Gallagher, the man who does a refwatch feature on Sky must be sick of looking at Celtic games this season already. He reviewed the tackle and said;
"I think a penalty and at least a yellow card.
"That really is not a good tackle but it got washed away.
"It's not one that was given. I actually think it would be easier to give a penalty there than not to be honest." 
John Fleming, who heads the SFA refereeing department, an appointment he got after years serving as their referee recruitment guy, has done little to offset allegations that his charges are , well, bloody useless, and perhaps the SFA might like to offer Gallagher the job of revamping the whole system in Scotland…unlikely as he'd not listen to the unique rules that apply over the border, but its what is needed.
Then again, identifying and dealing with a problem isn't a strong point among those who run Scottish football.
Here's a giggle.. from the BBC…
The referees strike of 2010 has not brought about the improvement in behaviour towards officials, says former referee Kenny Clark.
Assistant referee Calum Spence received a cut on the back of his head after a coin was thrown during Livingston's 1-0 win over Rangers on Sunday.
"Unfortunately, it didn't bring about the change in the culture we would have hoped for," Clark said of the strike.
"Somehow it is seen as socially acceptable to hurl abuse at football." 
What Clark fails to mention is that the incompetence of Scottish referees was shown in all its glory when the replacements from overseas turned out to be everything the Scottish referees weren't.
They were good at their job.
Thats why the strike was called off, as it had backfired spectacularly and even the SFA realised that supporters and clubs might demand that level of quality every week, and that it was beyond the ability of their own to provide it.
I've wandered off again, but thats what happens when I mention referees..
Calum MacGregor, one of Celtics most consistent performers on the European stage, spoke about his knack of scoring in these ties, and more or less told us to put a few quid on him to score anytime during the game..
It's just right place, right time,'
'I've managed to get some goals and maybe it's because the style is slightly different.
'The games tend to be more open than in Scotland. Both teams attack more. There is maybe more chance to find space in the box than I would get in the domestic game.
'Teams are more camped in during league games and that can be difficult. 
The more open the game, the more it suits our style of play. We can try to get overloads in the middle and get the boys wide to get crosses into the box.
'Salzburg will be looking to attack as the home team, so it has the makings of a good game.' 
Celtic will get chances, but can they put them away ?
Having two forwards on the pitch will help, as it will stretch the Austrians a bit, and if Celtic are confident enough to retain possession, and avoid daft mistakes, this game could go a long way to securing European football after christmas. which is the aim at the start of any campaign, No matter the route taken.
Of course, with any big game comes the usual guff from the mainstream media.
Charlie Nicholas, who works for Sky TV, offered his thoughts on the current tittle tattle surrounding manager Brendan Rodgers…
"I am not sure Brendan Rodgers will still be Celtic manager come the end of January. 
Presumably no one has told him the transfer window only applies to players.
It looks as if the relationship between Brendan and Peter Lawwell is broken.
"Major shareholder Dermot Desmond appears to have had to step in and have some strong words with them both.
"I disagree with Desmond on a lot of things but at least he has shown leadership qualities in trying to sort out any potential problems.
"The claims doing the rounds are that Rodgers has been told to get the team back on track while the chief executive has been told to do everything he can to back his manager.
"But if there has been a serious breakdown in their relationship then you can never get things back to what it was before.
"Rodgers and Lawwell might pose for the occasional photograph but it is clear that the relationship is no longer working.
It's also clear that the relationship between Charlies brain and mouth has become a little estranged as well, as he offers no evidence at all for his claims, and whilst i would not wish to be tagged as a cynic, maybe he has just decided to up his profile a little, for whatever reason..
After all, we've seen Kris Boyd and Kris Commons hog the limelight by repeating their own views on the subject of Celtic and Rodgers, and perhaps Charlie feels a little bit left out.
With those three on the case, Sky sports have found three stooges to talk Celtic down, and as Talkshite, their sister radio station have found, no one bites like a Celtic fan who thinks his club is being talked down…
Meanwhile, Police Scotland have named the guy who is to conduct a review of policing at Scottish football…he's from Yorkshire, the police force that covered up their mishandling of the Hillsborough disaster.
He's Deputy chief constable Mark Roberts, who also oversaw the behaviour of English fans in russia, which to be fair wasn't overly difficult as there weren't too many of them , and those that did go mostly hid under the tables until those Russians had gone.
That sounds promising.
Deputy chief constaable Will Kerr of Police Scotland  said..
"This review is not about a particular incident or match, but about the policing of football in a wider sense.
"Police Scotland has an enviable reputation around how it polices large events, including sporting events such as the Ryder Cup and Commonwealth Games.
"It is important, however, for a learning organisation such as Police Scotland to reflect on areas where we may be able to improve our procedures and learn from good practice elsewhere.
"I am very grateful that DCC Roberts has agreed to carry out this important review. I'm keen that he is able to speak to a number of stakeholders involved in football matches, from the SFA to SPFL right through to supporters' groups and football clubs."
Incidentally, there is still no word on the independent review being carried out by Celtic on what went wrong that day.
I'd kind of hoped they would hurry this one along, as this delay is kind of making it look like they are merely blowing smoke up our bottoms…which has kind of always been the case when our board get asked anything actually involves taking the side of the support.
That , I can assure you, will not be allowed to continue…
Yesterday, we showed you this, from the conservative Party conference..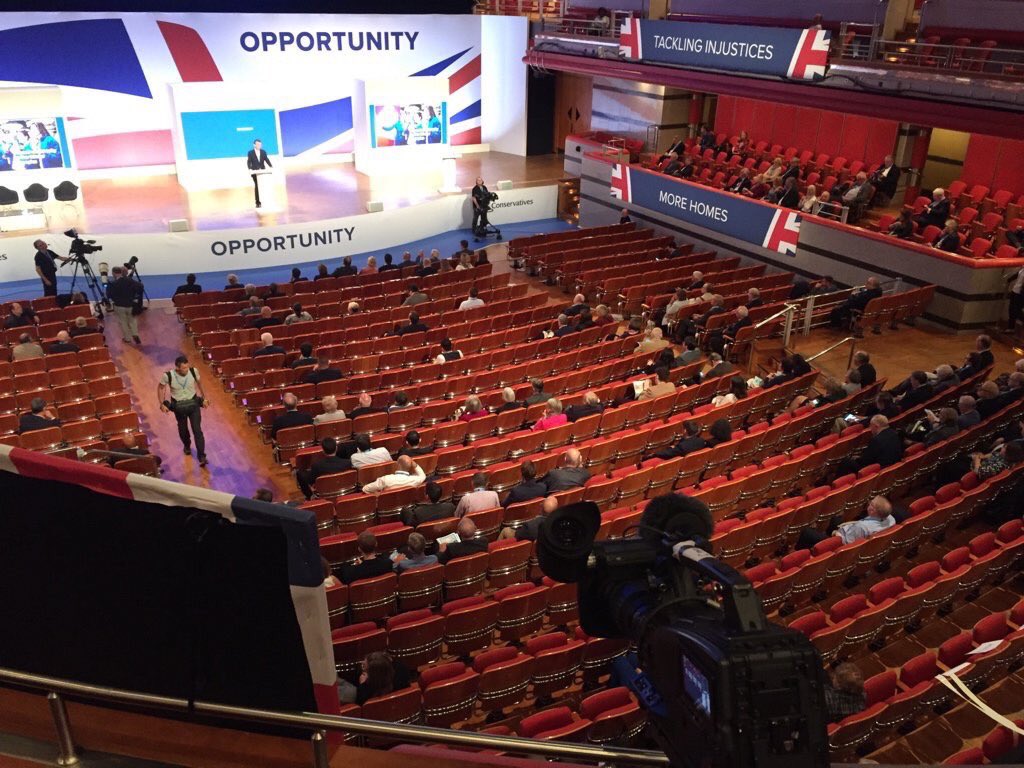 Steven R October 2, 2018 at 8:46 am · Edit ·   →
Caption: due to the lack of attendees at last year's Tory conference, they have decided on new slogans, such as "fuck the pope', and a new party anthem, entitled "the billy boys". At the end of the conference, instead of holding hands and singing Auld Lang Syne, there will be a ceremonial spitting at a priest. Trials of the new format are planned for their party conference in Glasgow, and representatives of the DUP have been cordially invited.
Based on this photo from the conference, of a probable future cabinet-look at whats written on the t shirts- I think I'd prefer the people who would be attracted to Stevens set up…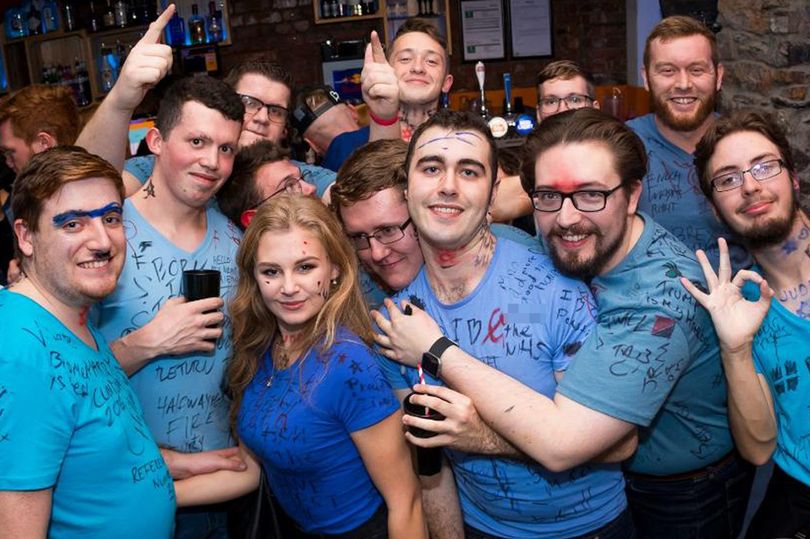 Today…
Finally, there was some good news on the financial front for Peter Lawwell yesterday, which may have escaped your notice.
That African kid he was sponsoring ?
He's been eaten by a lion.