Celtic Diary Tuesday August 14: Can We Start Again ?
Before the media dust out their old cracked crest templates, is there any chance that the manager could maybe pull in the players and put a few things to bed ?
Just to keep them focused ?
Oh, he has…
"I spoke to the players just to stabilise them a little bit.
"I think that, despite the noise, it's important that the players understand the real story. 
"I never once said that I was quitting Celtic. What I said was we wanted the squad to be stronger.
"So, collectively, in terms of spirit, we're fine. 
"It's just something that happens at this stage of the season of course. Like I say, we know we want to strengthen the squad. 
The bar we have set over the past couple of years, we want to continue that improvement.
"It's always a difficult period of the season, juggling your league campaign with your Champions League qualification.
"It's something we have to manage and navigate our way through, whether it's on or off the park.
"It's private. I don't need to go on any more about it.
"Stability is always important especially for football players. Every now and again, as a coach and a manager [you do it].
"It's always important to stabilise the emotions of players.
"I've done that a number of times and, like I say, what is said at Celtic will always stay within. It's nothing major. 
Just a stabilising effect that ensures we continue on the same direction." 
As long as everyone is on the same page, then Celtic have a chance of progression in Athens tonight, and there's certainly no point in writing of a squad who now have been through quite a bit together.
And they'll be hurting.
The players have a tremendous respect for the manager, and they'll be on his side for a game which is already looking like the pivotal encounter of the season.
Actually, it is the pivotal encounter. 
After a draw last week in the first game against ten men, Celtic managed to lose to Hearts at the weekend, and although one could argue their minds were elsewhere, or the grass was too long, or the referee had declared it Kick A Celt Saturday, its the result that will be remembered.
Its time to come out swinging,
The game is at 7pm tonight, and not the usual Champions League time of 7.45. So make a note of that, or you'll miss the first half.
Of course, if you get in at 7.45, and AEK are a couple of goals up, I think Eastenders will be on, and you can cheer yourself up by watching that instead.
Celtic will be without Kristoffer Ajer, who is suspended, and Dedryck Boyata who is a tosser.
If he wants to go, let him go.
It seems the appeal to his good nature to hang around and help in the qualifiers has fallen on deaf ears. Which it was always going to, but the manager had to try.
If the reported £10m fee for him is banked, then it needs to be spent wisely, but thats another argument for another day.
What has become clear, even this early in the season, is that the establishment, and you know who they are, are determined to stop the ten in a row. There's only three more chances to do this, and they are well into stage one, which appears to be to unsettle the manager.
A task, of course, made much, much easier when Peter Lawwell lost the controller for his FIFA pro manager football game, and decided that he could have a go for real, as he'd just raised a lot of money with the Dafabet deal.
The old Peter is back, and with it comes the same old problem.
Celtic have failed to capitalise on a position of strength, and whilst there's little chance of anyone stopping eight in a row this year, there are cracks appearing at the top that the media have gleefully begun to drive a wedge into.
Brendan does the football, Peter does the books.
Any attempt to deviate from that particular plan will cause the club to cease to function.
It really is that simple.
To do anything else encourages those who want to see us fail.
We even have Alex McLeish, the fuckwitted fraudster at the helm of the Scottish national team telling Leigh Griffiths he has to be playing for Celtic to be considered for Scotland…
"It would be difficult for Leigh to keep his level if he's not playing much and keep his match fitness. That's a concern but the challenge is for Leigh to bang in the goals.
"It would be very difficult to pick players when they are not playing. They lose match fitness – that's the obvious answer.
"I don't have anything else up my sleeve. I wish I had. We want Leigh back to top fitness because when he came into the team at the last qualifying he was on fire. 
At this point, and I'll come back to this in the future, all Scottish Celtic players should announce their international retirement.
There are other stories around, such as Ntcham to Porto, Edouard is injured and anything else you can care to make up yourself, which at least would save you the price of a paper, but it appears the players are being kept away from it.
On to tonight, and Celtic will unleash the results of their new secret weapon, according to the Times, at least..a cloning device.
No more will players be able to hold a club to ransom, known as Doing A Dedryck, as sports science is now at a new level, and we can simply make copies of the player and use that instead.
Too far fetched ?
Well, it's in the Times…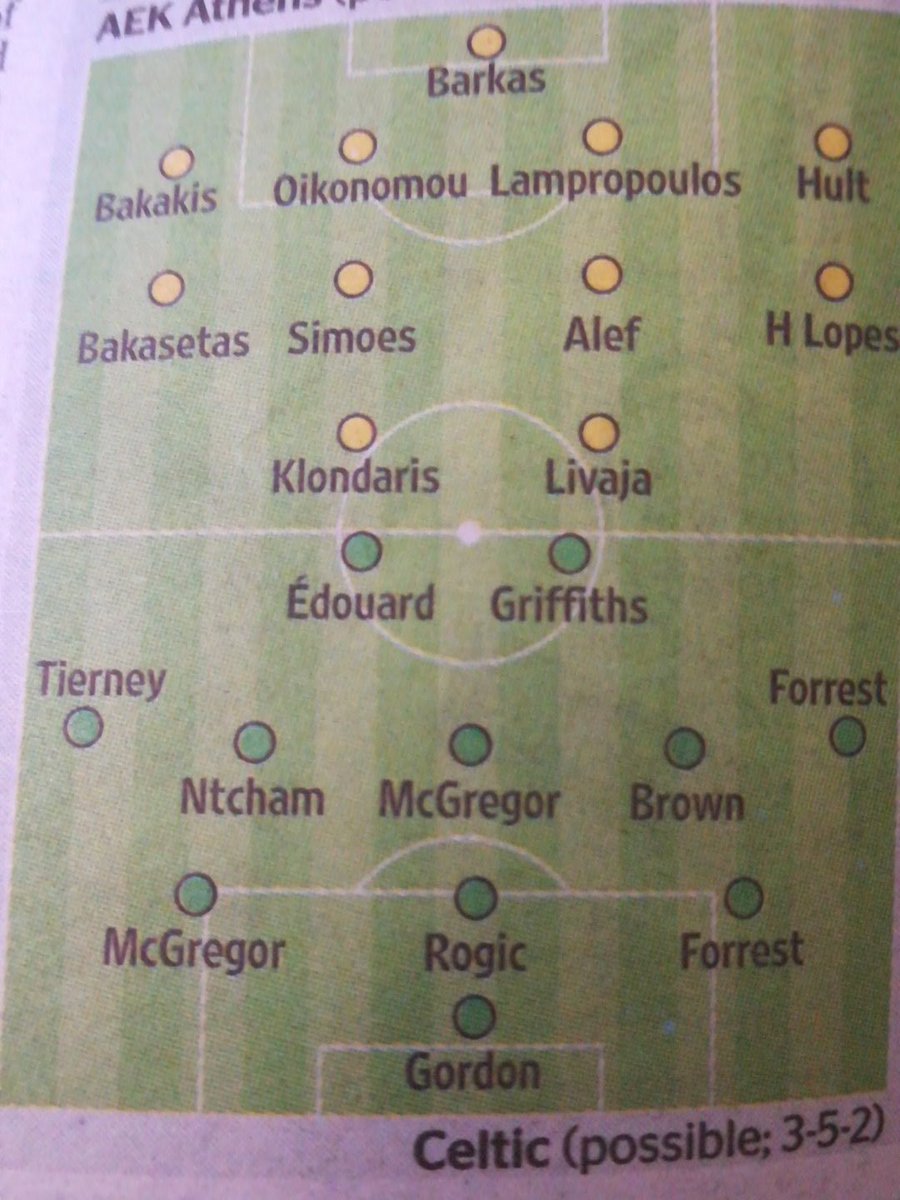 A fantastic idea which will leave the Greeks truly stumped…Forrest tears down the wing, and whips the ball over to…Forrest…
Well, if I had any doubts about tonight, they've well and truly been put to bed…
Right,  before you go out and buy one of those machines, and you really could have some fun with it, I was only kidding.
You can't actually buy one yet, and the only known  prototype is still being used to manufacture politicians.
According to one probably unreliable source, this is how Celtic will line up…
This season does have a feeling of deja vu about it…already…boardroom squabbles, manager being let down, players unsettled, but this squad has proven that it can come up with a result when its really needed.
Can they do it one more time ?
On Friday, we gave you this to consider..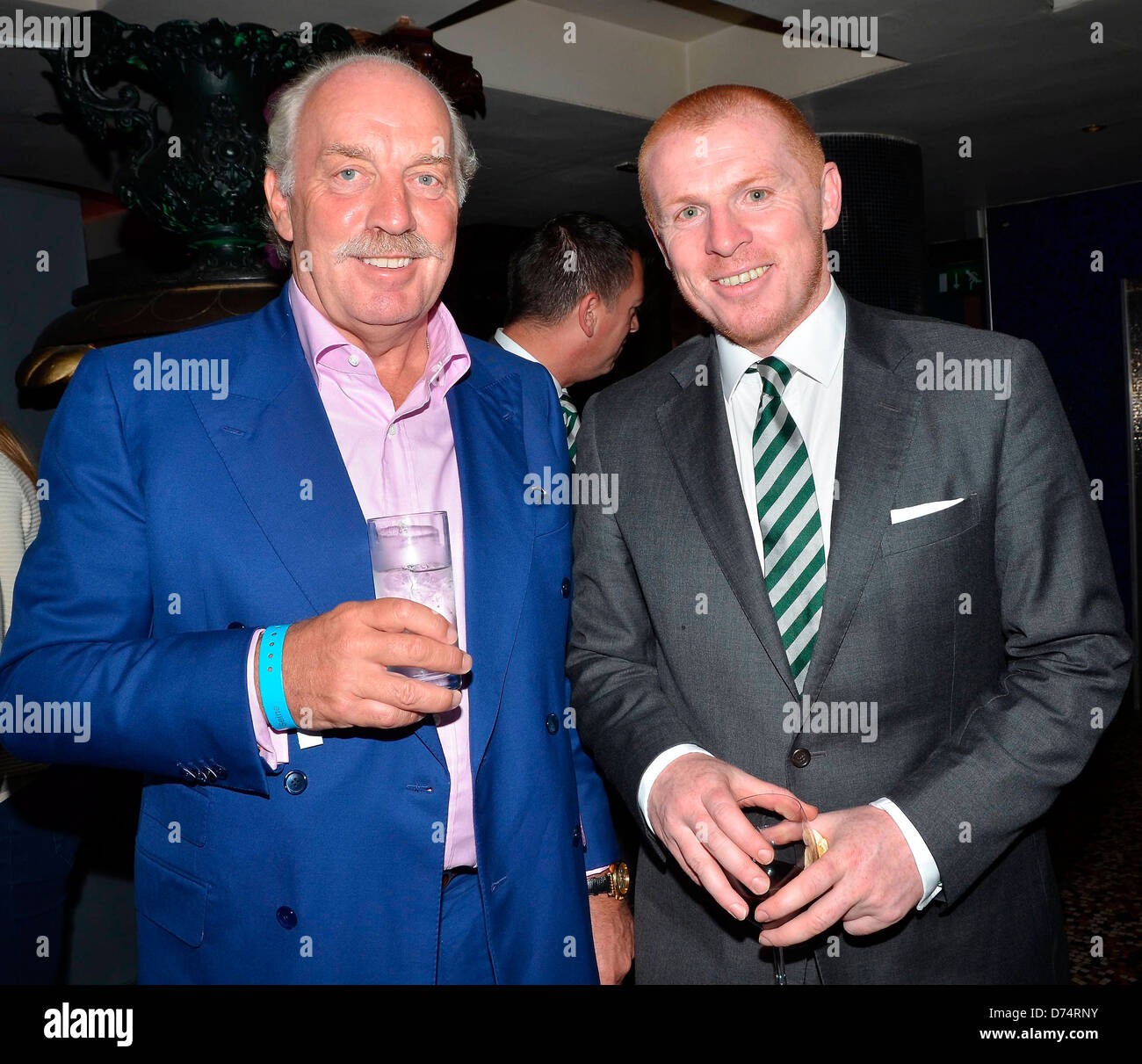 Today…
Thats if you think it needs a caption.