Perhaps the most interesting reply to yesterdays diary illuminates best the fact that Resolution 12, and those behind it,  are not going away…
The Res12 originator is currently considering the decision on whether the following organisation get the report regardless of the SFA's result, it has always been the choice of last resort but now it is being considered a moral imperative regardless of the result, however awaiting the SFA's result is intriguing and worth following.
https://www.cityoflondon.police.uk/advice-and-support/fraud-and-economic-crime/nfib/Pages/default.aspx 
Let battle commence.
Away from that for a moment, and tonight sees the first competitive home game of the when alashkert roll into town hoping to overturn a three goal deficit from the first leg of the first round UCL qualifier.
With Celtic looking very sharp even this early, you'd have to say they can;t be overly optimistic.
In fact, Brendan has told his charges to play the game at the level they would if it were Paris St germain they were playing..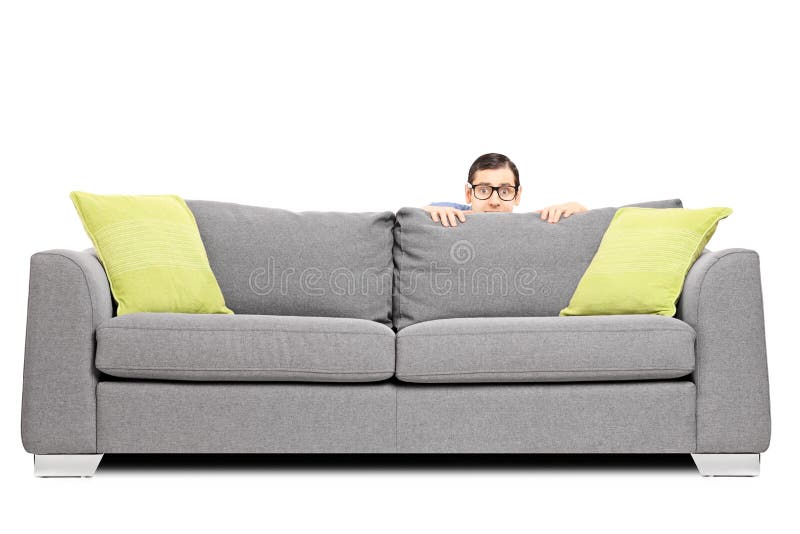 I think he meant with regards to the tempo.
Scott Brown is up for it. Then again, he's always up for it;
"We've got to go the same way," 
"It's still kind of pre-season for us so we'll try to get minutes on the park and get as fit as we possibly can for our season starting. But this is a huge game for us at Celtic Park. The pitch is looking good and the fans will be there to support us so we're looking forward to it. 
"I know we've got a 3-0 lead but we want to create chances, score more goals and make it as comfortable as we can early doors. They came for us early doors in the first game due to the heat, so it's going to be a different game them coming here to Celtic Park and us controlling the game." 
All about morale and confidence, and of course, if you don't do what the boss says, you won't be playing in the following game.
We want to get back in the Champions League," 
"We've done it the last two seasons but this season is going to be that bit harder with the fourth game as well. It's going to be difficult to do and we'll take it one game at a time but that's our main aim.
"We've got a great bunch of lads and good management staff as well. The club's going in the right direction so for us we should be pushing that as far we possibly can". 
The experience gained, and the continuity of the squad means that they should be ready for the challenge of the next few weeks, but I'm fairly sure there will be a few twists and turns before its all over.
Ask Apoel Nicosia, who were expected to overcome Suduva in their qualifier. They didn;t, and one or two other seeds, notably Red Star Belgrade and Celtic's next possible opponents Rosenborg, both of whom are treading a fine line in their ties.
Although reallistically it doesn;t matter who wins, as the team that gets through over two legs will be the stronger of the pair, and just becuase they are a lesser name, or had a good run last season, doesn't make any difference.
Make sure you brush your hair and clean your teeth tonight, as the police are back with their cameras trying desperately to justify their existence.
This time, they are making up the excuses as they go along, as was noted on Saturday..
Here they are filming…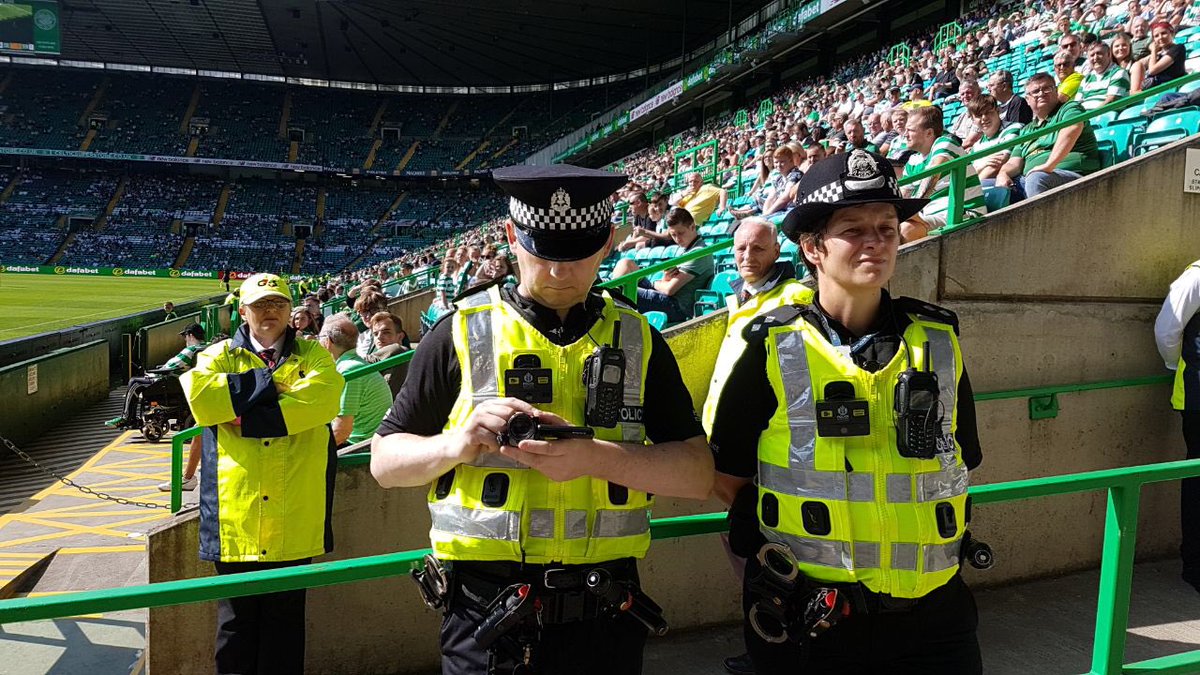 Have a look at the lass on the right of the picture..
Oops…she obviously left for work all of a fluster in the morn…
But its a football match, so perhaps it doesn't count ?
Er, no. It counts. It always counts.
The police officers , according to Superintendent John MacBride, were acting in response to an incident. Itself unusual for the police at a football match, who usually cause an incident.
"One of these officers was assaulted and both were subjected to verbal abuse. "If you don't want police filming supporters at the game, don't commit a crime." Superintendent John McBride 
Of course they were. It was in all the papers…
However, he was a little less forthcoming about another incident, before the game, which presumably also warranted the use of cameras…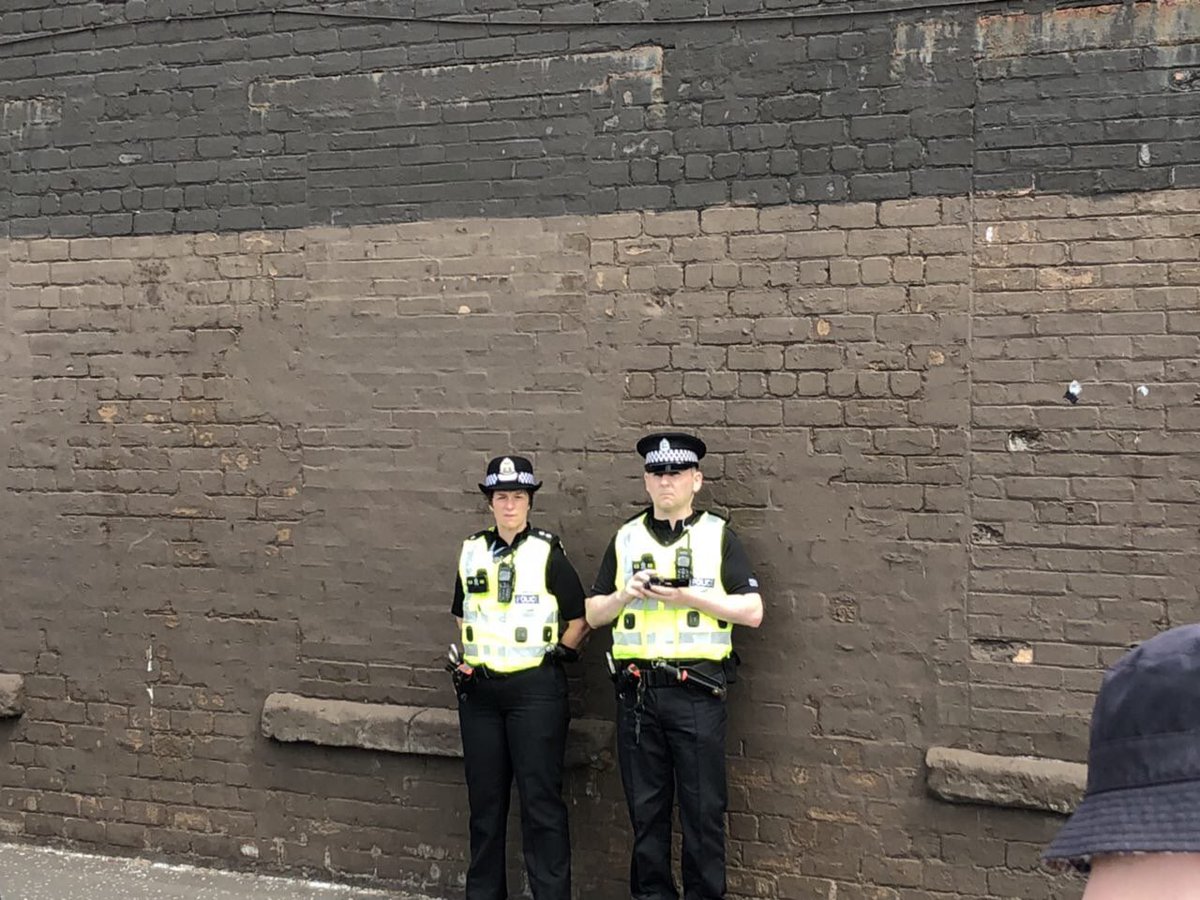 The police have long since lost the trust of the general public, and it doesn't look like they'll be getting it back any time soon.
Then again, Police Scotland sounds more like an order than an organisation…
The superintendent, given his penchant for the use of video images, must have some interesting footage available after he made it public that he was aware of the annual "Boyne Parade " , taken outside a church on the route, which would show us exactly who was spitting at and hurling abuse at the congregation.
There will be traffic disruptions in Glasgow city centre this Saturday as the annual Boyne Parade takes place. Superintendent John McBride has an important safety & travel message ahead of the event


For more information on road closures, visit: https://www.glasgow.gov.uk/index.aspx?articleid=19741 …
Must have just been a coincidence they went past a church as the mass was finishing…
Although it has to be said that the limited police presence at the march could have been down to officers booking the day off so they could enjoy a walk around the town with their mates…
Another battle which is still to be won….
Hey, here's a thought, be real careful tonight.
If you film the crowd, or any part of the game, you could be charged with impersonating a police officer ?
Away from that, congratulations to "rangers " who join Aberdeen in the second round of the Europa League after they eliminated Shupke 2-0 on aggregate after a brave and battling dislay of courage and endeavour in Macedonia last night.
The Scots staunchly defended their lead and refused to surrender to an onslaught from their opponents, and must be praised for punching above their weight.
Shupke have a bank account, a qualified manager and a deal in place which allows them  to sell their own kits , so the achievements of Stevie G's Hunny's cannot be understated.
Well done.
You see, Stevie G is different, and the media , themselves no slouches, have spotted this.
David McCarthy of the Record once warned us about the perils of hiring a great player and expecting him to be a great manager…
Yet they were right about Gerrard.
How do they do it ?
And the Ibrox  supporters did us proud as well, hardly abusing any young kids they came into contact with and videoing it.
There's a video doing the rounds, but only one, to be fair, which has to be an improvement.
And the songs, oh, they are so inventive, and proud of their new tunes, which hardly mention killing and hating catholics at all…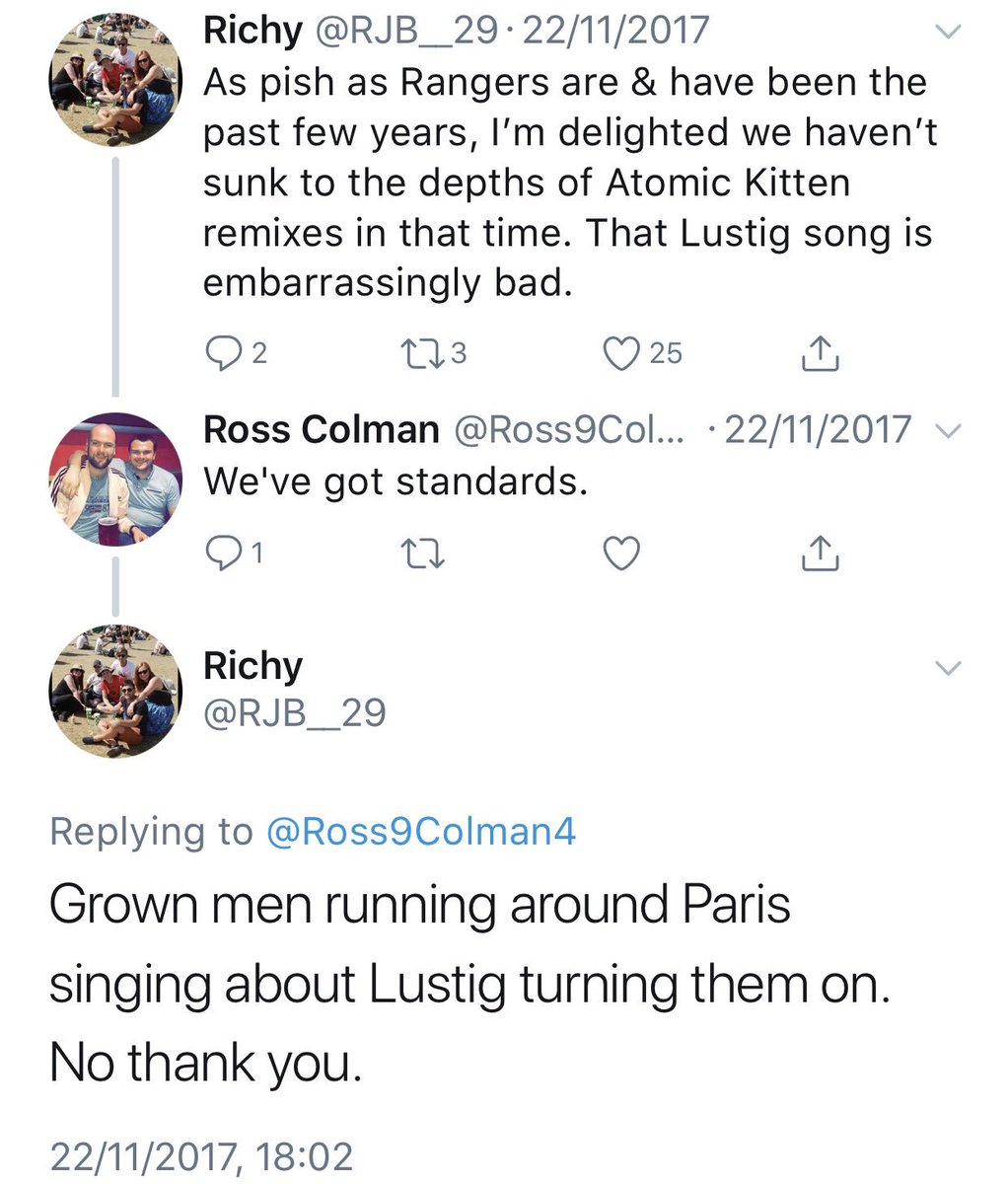 Oops.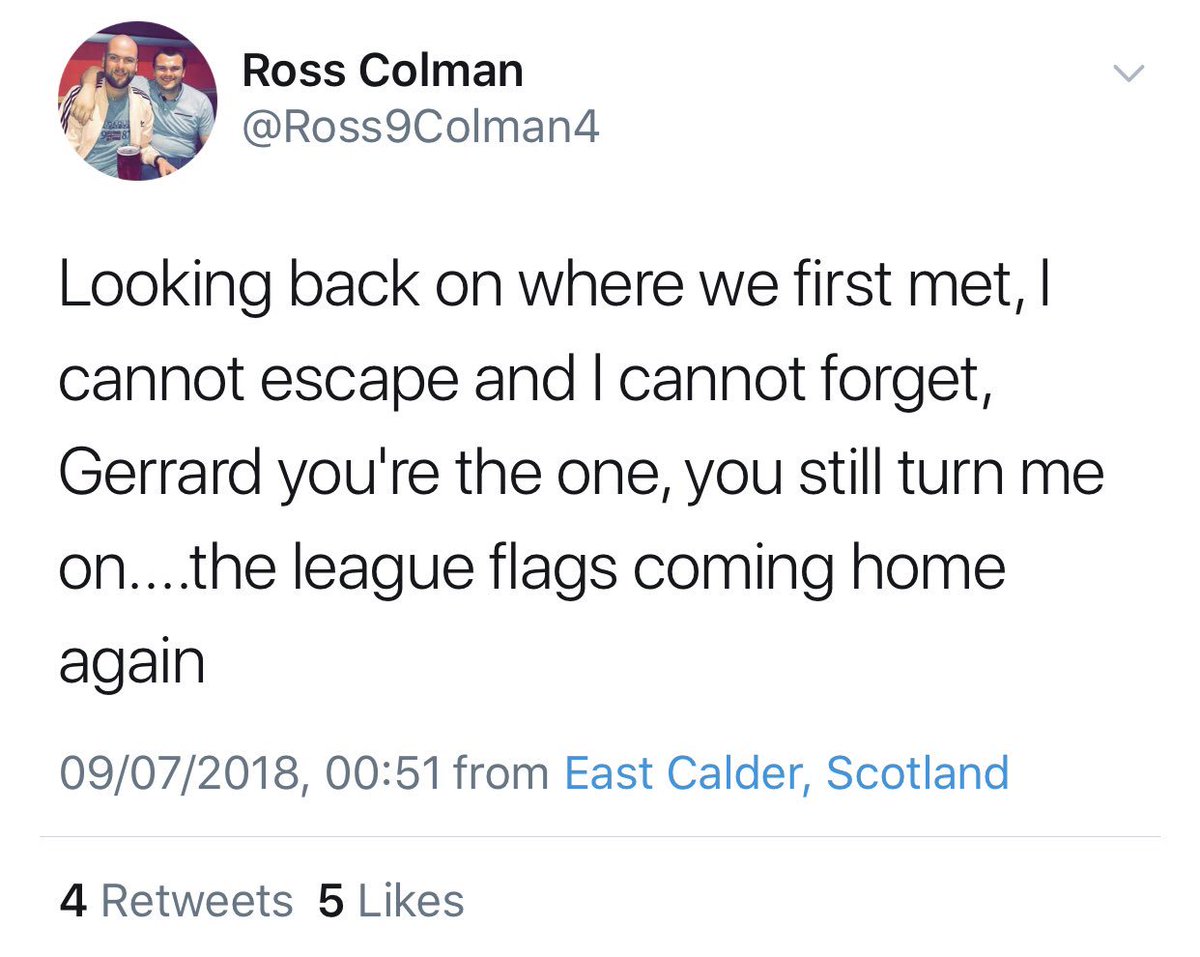 Caption competition from monday…